New Orleans Pelicans: Fixing the offense will not be a simple task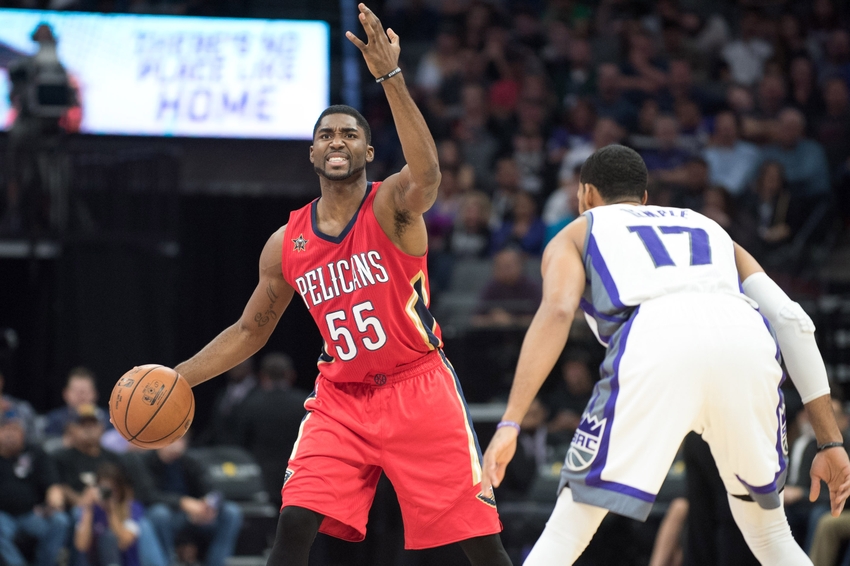 The New Orleans Pelicans are struggling to combine pace, rebounding, and chemistry on offense this season, and as a result they are underachieving.
One of the most obvious things about the New Orleans Pelicans offensive strategy this year has been their complete disregard for offensive rebounding. In pick-and-roll situations, it makes sense for the rolling big man to linger around the hoop with the intention of snatching a rebound off of the immediate shot attempt. In most other situations, however, the Pelicans are content to forego the opportunity to create another possession in favor of setting the defense up sooner.
This decision has been contentious among fans, and perhaps rightly so: To this point in the season, the Pels rank 29th in offensive rebounding rate and Offensive Rating, despite an otherworldly start the season for Anthony Davis and a pace that should lend itself to offensive advantage. Along with poor three-point shooting, it's an easy place to point if you're concerned with the offense.
However, history shows that there is a weak correlation between offensive rebounding and wins. That is to say there is little reason to believe that an 1-8 team ought to focus on that aspect of the game to deliver victories to its city:
Last season, the top five in OReb% featured two lower-tier playoff teams with long-range bombers (Portland and Detroit), a top-tier playoff team with long-range bombers (OKC), and two non-playoff squads out West. Last year's three winningest teams, the Cavaliers, Warriors, and Spurs  finished 9th, 19th, and 23rd in OReb% respectively.
In the seasons prior, only the Pistons show up on each list. The rest is a generally in flux based on dominance in a given year by that team's frontcourt (Memphis, Utah) or a particular high-octane approach from the offense overall in a given season (OKC, Portland).
However, as fans of this team over the past several seasons, it's understandable to equate this somewhat random statistic with good offense overall:
This chart shows that since Anthony Davis's rookie year in 2012-13, the Pelicans have generally performed best on that side of the ball when their offensive rebounding is a strength. This timeline goes across big men like Robin Lopez and Omer Asik, through two coaches with far different strategies, and over several hundred games.
Anthony Davis himself is a very efficient player, and he's never quite going to approach the upchucking offensive stylings of players like Damian Lillard or Russell Westbrook. His increased role in the offense each year does not explain this phenomenon.
Pace of play offers one possibility, as the Pelicans undoubtedly play much quicker now than they did under Alvin Gentry. In Monty Williams's final season with the team (still the best offensive team performance of Davis's career), the Pelicans ranked 27th in the league in possessions per game. The next season, Alvin Gentry's first, they rose to 9th in that category. When the game moves quickly, teams must recuperate right after they shoot, trudging back down the court to stop the other team's offense immediately.
However, there are several instances of fast-paced teams succeeding at the highest levels of NBA competition. Alvin Gentry himself brings quickness wherever he goes, and he is a decorated coach because of it. More precisely, the answer lies in the plan's execution.
There is no real difference between the Pelicans' approach to offensive rebounding in small lineups between the 2014-15 season:
And this season:
To explain the rebounding problems overall, you really have to look no further than Anthony Davis. Per nbawowy, while Davis was on the court last season, the Pelicans posted an OReb% of .201, a full percentage point worse than the team's overall mark of .212. This year over Davis's minutes, the Pelicans are sitting at .178 compared to their overall .161 mark. The dynamic athleticism and long reach that Davis clearly possesses do not contribute toward offensive rebounding nearly enough.
Considering that the status quo during his time in New Orleans has been to drop one big man under the rim to lock up the offensive rebound, and that that big is often Davis himself, it's a problem if he can't corral those misses. 
As far as the fast-paced offense overall, the Pelicans clearly haven't yet worked out the kinks of playing quickly. Last season, they were at a talent disadvantage due to health problems, but this year the expected crew is present (outside of Jrue Holiday), and things haven't run much more smoothly. They are wretched when defending in transition, a huge no-no if you're pushing pace.
However, with Davis on the court, opponents' overall effective field goal percentage (which values three-pointers over twos), is higher overall then it is following on-court actions we typically associate with transition: a defensive rebound or a turnover. By that decently telling metric (again per nbawowy), the Pelicans have been just as decent preventing transition buckets as they have been in protecting the basket overall.
The Pelicans clearly have a problem on offense, but it does not appear to be offensive rebounding. Though over AD's four-plus-year career the Pels have been most effective on offense when they rebound well on offense, it is not decisive indicator of overall success. There is a correlation between efficiency and OReb% for the Pelicans, but not for the league as a whole.
To play quickly, the team will need to adjust to these facts and overcome the statistical inconsistencies between how they aim to play, what makes a team successful in the NBA, and how they have been playing so far this season. 1-8 is a tall hill to climb, and this team is past the point of excuses. The game plan is clear, the leader is making his presence known, and now the Pelicans must congeal as a unit and move forward together to win some basketball games.
More from Pelican Debrief
This article originally appeared on