New Orleans Pelicans: First domino falls as team waives Anthony Brown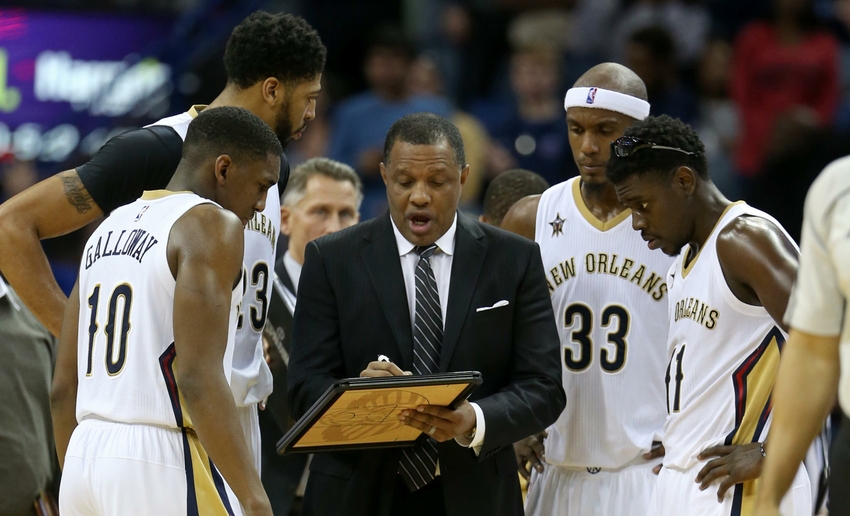 After a home loss to the Sixers, the New Orleans Pelicans are expected to make changes. Today, the changes began with the Pelicans waiving small forward Anthony Brown.
On Tuesday, I warned that games like the New Orleans Pelicans' loss to the Thunder on Sunday night are those which stand out most in our mind when moods sour and difficult changes are made. After last night's 11-point loss at home to the Philadelphia 76ers, we are now staring straight into the eyes of such changes.
An unexpected first:
ESPN sources tell @justinverrier and me: New Orleans is in the process of waiving swingman Anthony Brown. The Pels' roster will drop to 14.

— Marc Stein (@ESPNSteinLine) December 9, 2016
Brown had been solid, and played very little. Obviously, his release does nothing to change the direction up or down for this squad, but it is curious. It may simply be that his shot never came; the Pelicans signed him to improve spacing and pull defenders out to the three-point line, but when you shoot 25% from distance, that effect is nullified.
Yet his impact on the defense was noticeable– there were consistent possessions where his balance and focus were a perfect match for Anthony Davis and the team's other defenders. His ability to rotate and "help the helper" and then flex right back out to contest his man was sweet. Oh, well.
The move also is the worst kind of symbolism: It shows the fans that the team clearly thought of this game as an important one, too. Although I guess after last night, it would have been hard to fake any other direction. From Alvin Gentry:
"I really don't give a s— about my job status. I'm gonna work hard, and I'm gonna coach until the day they tell me I'm not the coach here anymore. It doesn't matter. I don't ever worry about that. That isn't anything that I spend five seconds worrying about."
He went on to articulate that rather than put his effort into pedanticism, he focuses all of his energy into working a high level of play out of his team. You have to believe the guy; after all, he's an NBA lifer. Coaching has probably been grafted into his DNA at this point . It makes the whole situation more troubling, and shifts blame back to where it rightfully ought to be.
Dell Demps is New Orleans' Most Wanted at this point, judging from the reactions of fans across the internet over the past week or so. It was he who sacrificed offensive talent to such a startling degree this summer, and who focused so many resources on retaining inconsistent frontcourt players to pair with his superstar. Together with Mickey Loomis (and Danny Ferry to whatever extent he's been involved), Demps has ruined two seasons of Anthony Davis's prime. And that's the true crime here.
Blame is a virus that spreads quicker than any known to man, and it's incurable. Once it catches someone, they never get rid of it. Like the Black Spot in pirate movies, sort of. The Pelicans can make moves on the margins like those concerning Lance Stephenson, Alonzo Gee, Archie Goodwin, and Cheick Diallo, but the truth is clear:
Alvin Gentry might have the Black Spot.
More from Pelican Debrief
This article originally appeared on