New Orleans Pelicans: Alexis Ajinca gets taught how to run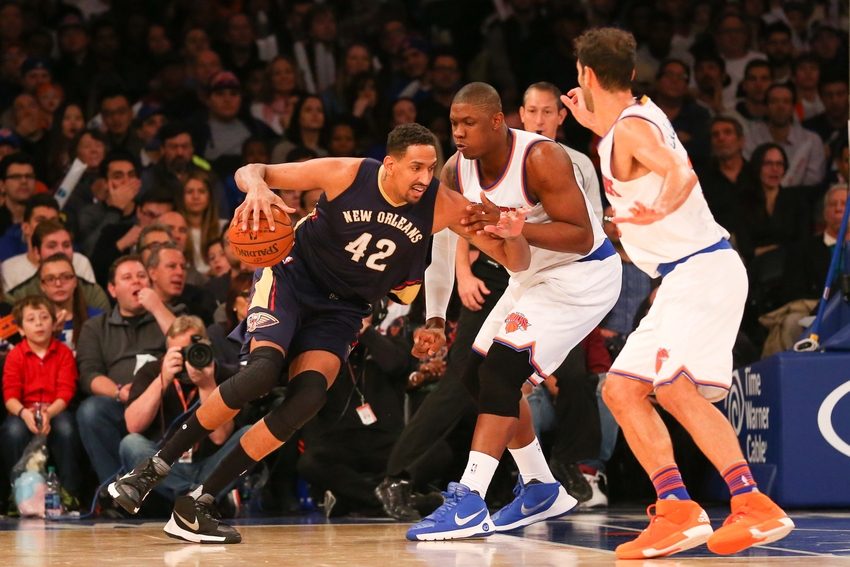 The following is an imagining of a meeting between New Orleans Pelicans Center Alexis Ajinca and the track coach he hired to re-teach him to run this offseason.
Ajinca: Hi. I've heard that you are in the business of coaching people to run well. I am in a bind– I recently promised a swarm of sports media members that I would be the starting Center for a New Orleans Pelicans team that has no business giving me that many minutes. The key to making this happening is for me to run better, says the Good Angel on my left shoulder.
Coach: Yes, I've been doing this all of my life. Generally, I begin with an assessment of my students' strengths. What are yours? 
Ajinca: I am a tall man.
Coach: I see that. Anything else?
Ajinca: I make $5 million per year.
Coach: Yeah, great! What about something that might help you become a more energized and strong runner?
Ajinca: No, I really don't think so. But I am GOING to start for a team that wants to improve on its pace, and signed a bunch of guys who are much better suited than I to function in that system.
Coach: What good habits do the better runners on the team use that you hope to emulate?
Ajinca: They are faster than me, have more stamina than me, and have a lower center of gravity than me. But I make more money than several of them.
Coach: I understand about the money. Let's try a practice lap, shall we?
Ajinca: I'm… I'm not sure I can make it quite that far. I'm out of practice.
Coach: I thought you wanted to play more this season, and start? What have you been doing all summer to get ready? 
Ajinca: I hired a track coach to help me run.
Coach: I can see that.
Ajinca: …
Coach: Run as far as you can, until you can't go any further. The key is using as little energy as possible while maximizing your stride and strength.
Ajinca: *runs as far as he can, until he can't run any further*
Coach: One eighth of a mile. That's… progress. Quite a bit longer than a basketball court, yes?
Ajinca: I am not sure how long a basketball court is. I am focused on starting at Center for the New Orleans Pelicans this season. I will use less energy, and I will run better. This will make me a starter for the Pelicans. Are we done with our lesson now? 
Upcoming

Schedule

10/18

at

Atlanta Hawks
10/20
at

Orlando Magic
10/26

Denver Nuggets
10/28

Golden State Warriors
10/29
at

San Antonio Spurs
Coach: Am I still getting paid?
Ajinca: Yes. No I will be able to start for the Pelicans, as promised to the media members on Media Day.
Coach: Okay, sure. Thanks Alexis!
Ajinca: Thank you, coach. I never knew I could run, and start at Center, just by using less energy! This is a break through. I will have to tell reporters how much I have learned and improved.
Coach: …Not so fast, buddy. You ran one eighth of a mile on a high school rubber track, and then told me you couldn't go any further.
Ajinca: This distance is like eight times the length of a basketball court! I will be fine come game time if I use less energy.
Coach: I've watched the Pelicans here and there. Aren't you concerned about athletes like Terrence Jones taking your minutes?
Ajinca: The coaches told Jones they didn't owe him anything. I have guaranteed myself a starting spot!
Coach: The coaches are on the same page here? That I did not know. Congratulations!
Ajinca: No, they have not penciled me in. This is why I hired a track coach. That is you.
Coach: Good luck Alexis.
More from Pelican Debrief
This article originally appeared on