New deposition clouds Derrick Rose's trial — and his image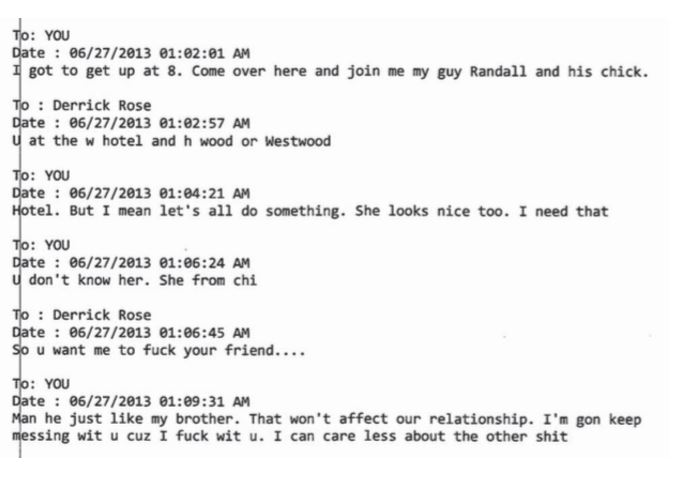 If you didn't know Knicks guard Derrick Rose is being sued for $21 million for allegedly gang raping his ex-girlfriend, you aren't alone.
Though the civil lawsuit alleging Rose and two friends sexually assaulted a woman Rose dated has been public for a year, it's only garnered media attention in the last few days, after Thinkprogress' Lindsay Gibbs outlined the allegations against the former NBA MVP. As bits of evidence and deposition testimony have leaked out, NBA fans have been shocked by claims that Rose routinely pressured his ex to engage in group sex with his friends, charges Rose freely admitted when questioned by the plaintiff's attorneys.
The allegations made by plaintiff Jane Doe aren't pretty. Over at The White Bronco, Dan Werly has put together a great trial primer, laying out both sides of the case and including (at least in part) many of the pleadings filed in this case, as well as the evidence each side is expected to introduce at trial. It's worth noting that Doe is being allowed to proceed anonymously over the objections of Rose's camp, who have sought repeatedly to use her name.
As of right now, there is no criminal case pending against Rose; all that's on the line for him in this case is money — and his reputation. Yesterday, several journalists took part in a conference call with Doe, her attorneys, and Katherine Redmond Brown of the National Coalition Against Violent Athletes. For over 90 minutes, Doe and her team took questions from the media regarding the facts alleged in the complaint, her motivation for coming forward, and what she hopes to gain from from the lawsuit. And while it's far from clear who will ultimately prevail before a jury, there is one matter many in the legal community agree on:  Derrick Rose's attorneys should have settled this case long ago.
Back when I practiced law, one of my mantras to my clients was this: "Sometimes, all an attorney can do is limit what's about to happen to you."
Granted, that's not exactly what a guy wants to hear when he's sitting in a jail cell protesting his innocence, but it's the cold, hard truth about the legal system and the limits of what attorneys can accomplish. Plea bargains and civil settlements are often not about right or wrong, guilt or innocence, liability or immunity. Rather, they're about limiting the damage to both parties before it spirals out of control.
In this case, it's hard to overstate the damage to Rose's reputation, whether the allegations are true or false. In Chicago, Rose has always been viewed as a shy, wholesome kid who worked his way out of one of the most violent neighborhoods in the city and elevated himself to become a global superstar. But a string of salacious texts between Rose and Doe, encouraging her to engage in group sex with Rose's friends, have more or less eviscerate that image.
The pleadings also made public texts from Rose to Doe on the night of the alleged assault:
Of course, nothing in these texts is illegal or even immoral, as long as consenting adults are involved. But the portrayal of Rose as constantly badgering Doe for group sex is probably one the NBA, the Knicks, and the companies Rose endorses could do without.
Keep in mind, these texts and deposition answers became public only as a result of the ongoing civil case. It's difficult to understand why Rose's attorneys didn't take steps to dispose of the case quietly and as quickly as possible. Civil settlements are often made without an admission of liability, meaning Rose could have reached an agreement with Doe without admitting any wrongdoing.
More importantly, a quick settlement could have prevented the release of evidence that flies in the face of the image Rose has spent years cultivating. Whether Rose will be able to survive the damage done to his reputation, particularly now that the national media has taken notice of the case, remains to be seen.
More disturbing still, the statute of limitations on criminal sexual assault has not yet run in this case, meaning Rose could still be criminally charged with rape. Yet Rose's attorneys allowed him to sit for a deposition and answer questions that speak directly to his guilt or innocence. Specifically, Rose admitted he couldn't define "consent" as it pertains to sex:
Rose's deposition answers only get worse from there, particularly when asked if he had any reason to believe Doe was willing to have sex with him and two co-defendants: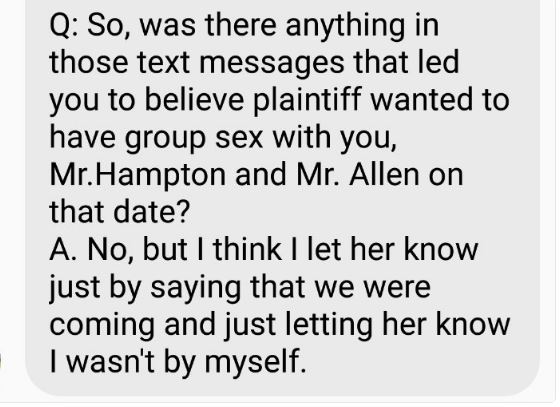 Whether a jury believes Doe consented to group sex with Rose and his friends will likely determine whether Rose or Doe will prevail in the lawsuit. In fact, it's the only issue that matters, as Rose has never denied orchestrating sex with Doe and his two companions. And it becomes much more difficult to argue that Doe actually consented on the evening in question when Rose can't define what consent is, or why he believed Doe had given it.
Complicating matters further, it turns out Doe had filed a police report with the Los Angeles Police regarding the incident. To date, the LAPD has declined to file charges, but that could change any time before the statute of limitations — six years for sexual assault in California — runs out. If criminal charges are filed, anything Rose said in the course of the civil case, particularly in his deposition and trial testimony, can be used against him.
For this reason, attorneys usually instruct clients to invoke their Fifth Amendment right against self-incrimination if there's even the slightest chance of a criminal case being opened. Unfortunately, Rose's testimony — that he doesn't know what consent is — could be exactly what L.A. County needs to file criminal charges. Moreover, if the NBA decides to investigate Rose for possible discipline, the league can now access a treasure trove of evidence regarding Rose's behavior off the court.
Rose's attorneys may be able to win at trial. What they can likely no long do, however, is limit the consequences Rose potentially faces. Already, the text messages between Rose and Doe, as well as Rose's inability to explain why his actions don't constitute sexual assault, have started making the rounds on the internet. Rose is currently listed at number 28 on Forbes' list of highest-paid athletes. The companies Rose endorses — Adidas, Powerade, and Giordano's — have yet to comment on the lawsuit, but it's difficult to image they want their brands associated with claims of pressuring a reluctant woman into group sex, much less allegations of gang rape.
If criminal charges are even filed against Rose, his attorneys will be hard pressed to explain why they allowed this lawsuit to proceed to the point of taking testimony at depositions.
In Chicago, many fans have long believed Rose was prone to heeding bad advice from his inner circle. Surrounded by a bubble of family members and friends, the narrative during Rose's time with the Bulls was that he lives in an alternate reality, failing to understand how his constant missteps with the press affect his relationship with the fans.
There is no more important interview than the one Derrick Rose will give on the witness stand on October 4, the day the trial on Doe's allegations is set to begin. It's high time Rose got some good advice. His attorneys could start by settling this case.
More from FanSided
This article originally appeared on