New Brandon Knight Trade Scenerios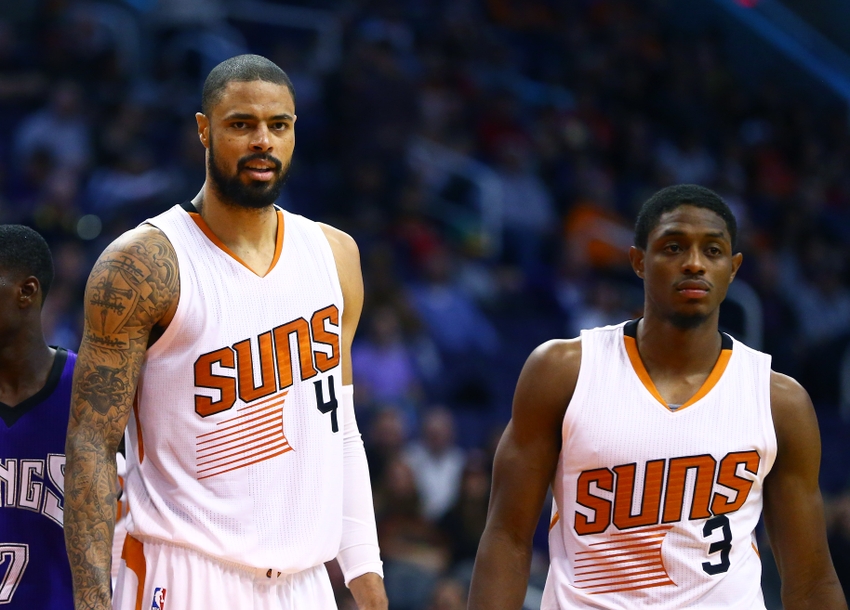 On Saturday, November 26, Matt Moore of CBS Sports postulated on a series of trades that the Phoenix Suns could involve themselves in centering around the trading of Brandon Knight and/or Tyson Chandler.
Those two players have been the central pieces in most trade rumors surrounding the Suns for many months now, and for good reason:
Tyson Chandler is an aging veteran center who – as his stats have shown this season so far – if placed on a contending team would be provide serious rebounding and defense. The Suns have no need or him in the future, so while he has become a fan favorite – and the team's statistical MVP – getting youth and draft picks in return for the veteran would further help the Suns' rebuilding effort.
Brandon Knight is a redundant figure on the Suns roster. He is paid way too much to be a bench/role player, and has rotational expectations that are far too high for the Suns to keep him indefinitely.
For a team in the process of a rebuild, one who needs to acquire as many young pieces to help further the plan along, the Suns most assuredly see Chandler and Knight asset acquiring players.
So, what does Matt Moore hypothesize could be trade moves for the Suns involving those two players?
Orlando Magic – He merely references how Knight could help the Magic, and does not offer a legitimate trade scenario.
New Orleans Pelicans – He does not specifically mention who the Suns would get in return, but believes that both Knight and Chandler would significantly boost the Pelicans playoff chances noting that the New Orleans roster has plenty to offer the Suns in return.
Brooklyn Nets – We have heard them mentioned in the past as a trade partner for Phoenix, and specifically mentions that if the Suns were to additionally part with some of their youth (I would speculate that Marquese Chriss would be the player) that the Nets might be willing to move Brook Lopez.
Philadelphia 76ers – Noting that with Marquese Chriss on the roster the Suns would not need Nerlens Noel (who is generally the most talked about trade piece on the Philadelphia roster) and that Jahlil Okafor would be a good fit on the Phoenix roster. (YES PLEASE!)
These are purely hypothetical trade scenarios (and very vague) and Mr. Moore does not reference that these are founded in any legitimate rumors that he has heard through the NBA grapevine.
Regardless, it is generally presumed that the Suns must be looking to move Knight and/or Chandler at some point. Additionally, several teams keep coming up as possible, or likely, suitors
More from Valley of the Suns
based on the makeup of their rosters and the presumed direction of their franchises – most notably Brooklyn and Philadelphia.
The Suns could look to improve any one position in the starting lineup if they could, expect for Shooting Guard with Devin Booker looking to be the starting number two for many years to come.
Eric Bledsoe too potentially could be entrenched for the next few years, but I would surmise that even he – since his name also seems to come up in trade rumors – could be moved, or at least someone could be brought in as a future upgrade to him (think Jason Kidd with Kevin Johnson and Steve Nash already on the roster).
T.J. Warren looks like he could be a centerpiece small forward for the foreseeable future, however, if the Suns are able to find an upgrade at a similar age, do not be shocked.
Power forward is still very much in flux for the Suns, but Marquese Chriss and/or Dragan Bender should be expected to lay claim to the position in the future. However, they are still very young and rough around the edges, and either one of them could be added to a package for a dramatic upgrade to the position, so do not consider them to be untouchable, or the spot to not be un-upgradable.
Tyson Chandler is not the future, and while Alex Len shows flashes of exactly what you might want from the position, he often leaves much to be desired. It seems that he should be a double-double machine (I still see Len potentially developing into a 14/14 kind of player in the future, but has yet to show that he is capable). Thus at this moment could still be expendable, or at least reserved for the realm of reserves on the roster.
With that all understood, what could the Suns possibly do with these four teams in a non-complex, two-team trade?
Follow Valley of the Suns on Twitter at @ValleyOfTheSuns and on Facebook at facebook.com/PhoenixSunsBlog
Want your voice heard? Join the Valley of the Suns team!
Possible Trade Scenerios
ORLANDO MAGIC
I highly doubt that Serge Ibaka is in the Magic's future as they too are rebuilding and he is in the final year of a contract. They will certainly at least ask around for someone younger and with a more manageable contractual future.
By trading for Ibaka's expiring contract and not re-signing him, the Suns open up an additional $12M+ in cap space this summer to potentially move for players that could be center pieces of the future.
By trading Chriss for Aaron Gordon, the Suns essentially get the same type of player with, in my opinion, the same relative upside, only Gordon is two years older than Chriss so he could be a little closer to reaching the beginning of his prime, thus moving the Suns' winning window up slightly.
NEW ORLEANS PELICANS
For the fun of it, I checked on Knight and Chandler for Anthony Davis (Moore did mention that the Pelicans might want both) and it worked. Uh, Ryan McDonough, have you called N.O. about this possibility yet??
Unfortunately, other than Davis, I do not know anyone else on the Pelicans roster that the Suns would want and that the Pelicans could logically offer to give up, especially that would matchup to the salaries of both Knight and Chandler. (Maybe this is why Moore doesn't mention who the Suns would get in return because he was looking at the scenario purely from the Pelicans perspective. Sure, the Pelicans would like to have either or both players, but they don't have anyone that the Suns could possibly want).
I could put together a more complex three or four team deal, but I refuse to predict those types of trades. Tell me a team that wants someone I have, and then I'll find someone on your roster I want in return. Multi-team deals become almost absolute fantasy, so I just do not see the value in even speculating on them.
BROOKLYN NETS
Moore specifically mentions Brook Lopez as a piece they would move. Would they trade him? Maybe, would they trade him for this package? Uuuuuuhhhhh…
In order to match Lopez' contract, the Suns would have to trade both Knight and Chandler. No big deal. The Nets would assuredly need additional talent in return since there is no argument that Lopez is, by far, the best player in the deal. Chriss is pacakged along as well.
Needing another guard on the roster as insurance, the Suns would also probably request Isaiah Whitehead in return. He is currently in the first year of a four-year deal that pays him no more than $1.2M per year.
This trade would significantly jump start the Suns' rebuilding process as Lopez would be a double-double candidate every night scoring over 20 points, almost at will. He is already 28 so he is in the midst of his prime, although with his past injury history there are no guarantees to what length that prime will be.
However, he most certainly could be a star for the Suns for at least another 4-5 years. Plus, having him on the roster with Devin Booker and Eric Bledsoe already, could open the Suns for a successive trade for a star, or the free agent signing of one this summer, immediately making them contenders.
PHILADELPHIA 76ers
This trade is my absolute favorite because of the centerpiece player the Suns would get in return, Jahlil Okafor.
Okafor is a centerpiece center for any franchise that doesn't already have Joel Embiid or Anthony Davis on the roster. And being that the 76ers have Embiid, suddenly he becomes as redundant to them as Brandon Knight is to the Suns.
In order to match Knight's $12M+ salary, the Suns would need to take on Ersan Ilyasova as well (although according to the ESPN Trade Machine, the 76ers can make the trade without Ilyasova involved).
Outside of the obvious future talent the Suns would receive in Okafor, Ilyasova is an upgrade to the Suns at power forward right away. His expiring contract of $8.4M would also be off the roster this summer giving the Suns more cap flexibility to add talent.
With Knight being the Suns' best piece leaving for Philly, additional young talent would have to be involved. I believe that Marquese Chriss would be the guy to go and so have added him in.
According to the Trade Machine Knight and P.J. Tucker also works as a two-player combo, and with the Sixers' plethora of young power forwards and small forwards (especially if by trading Okafor they decide to keep Nerlens Noel) then Chriss would too be redundant on their roster. However, I just don't see Philadelphia pulling the trigger on a trade for Knight and Tucker. (For the sake of argument, if the Sixers want more and the Suns are looking to ship Tucker off, Okafor and Ilyasova for Knight, Chriss, and Tucker also works).
So there you have it!
As I see it, I can find viable trades from three out of the four teams that Matt Moore references. My personal preference is, of course, Okafor. But I can definitely see a plus side for trading Knight and/or Chandler to both the Magic and Nets, for the packages that I outlined.
Where would you like the Suns to trade Knight and/or Chandler?
Do you have any trade scenarios that you would like the Suns work out?
Let us know in the comments page!!
Follow Valley of the Suns on Twitter at @ValleyOfTheSuns and on Facebook at facebook.com/PhoenixSunsBlog
Want your voice heard? Join the Valley of the Suns team!
120
114
This article originally appeared on