Nerlens Noel Is Becoming the Ideal Trade Piece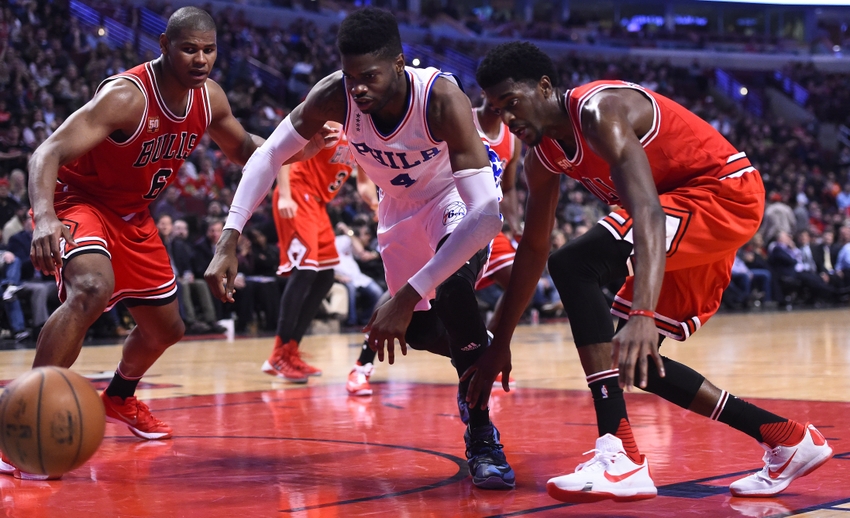 Nerlens Noel, despite not seeing the floor yet, is quickly being played out of a spot in the Philadelphia 76ers' long term plans.
The Philadelphia 76ers have found themselves once again off to a rocky start this season, with an 0-2 record somewhat overshadowing a few of the major positives that have emerged in the early stages of the new campaign. However, some of those overarching positives could be detrimental to the status of one key piece moving forward — Nerlens Noel.
I'll start this off by saying that I've been a long time advocate of trading Jahlil Okafor, as the debate between which big should be shipped off has been a central topic surrounding the team for quite some time. Noel is a budding defensive star and a legitimately special talent underneath the basket on that side of the ball, and he still fits the mold of a modern NBA five more fluidly than Okafor's back-to-the-basket offensive attack.
That, however, doesn't mean Noel is the best fit for the team itself. And at this point, with how the frontcourt has looked early on this year, there seems to be little need for Noel's unique set of skills.
We've seen Joel Embiid, even in restricted minutes, absolutely dominate during his time on the court. While he's not a polished superstar yet by any means, his footwork around the basket and raw physical dominance allowed him to outmaneuver and overpower the likes of Steven Adams, while he was able to keep Dwight Howard in check throughout their matchup with the Atlanta Hawks.
Embiid is not only on track to become the type of big-minutes player that would eat into Noel's court time once he returns, but the defensive prowess he has shown would render the former Kentucky stud unnecessary in the Sixers' game plan. Standing at 7-2 with a circa 7-5 wingspan, Embiid has the quickness and strength to block shots at a very high clip, and has showcased the ability to stretch out to the perimeter and hustle in transition at a level even Noel would struggle to match given Embiid's physical superiority.
Coupling that with Noel's offensive woes essentially removes him from much consideration in a featured role, and Okafor's ability to come in behind Embiid with his own offensive outbursts, when healthy, sets the team up for more success on their weakest side of the ball when the latter is on the bench.
With all that said, perhaps the factor that has most contributed to Noel's decreasing relevancy on the roster has been the play of one of last season's second round picks, Richaun Holmes.
The former Bowling Green standout has proven himself more than capable of filling the role Noel would likely be reserved to as a third-string in the frontcourt, and does so with more friendly contract options long term and a more compatible status with the team.
Holmes has been excellent in the time he's seen off the bench thus far, and his shot blocking and swift defensive production has been a welcomed aspect for a team that wasn't necessarily all that sure of his future prospects entering the offseason. Holmes provides, potentially, an even better offensive player from time to time as well, and gives a level of energy and willingness on the court that is sure to make both Brett Brown and the front office a fan for the remainder of the season.
Noel's injury has let the Sixers experiment with a group of big men that seem far functional than a rotation including Noel would end up being, and the looming locker room problems that are bound arise if a trade doesn't eventually happen only reassures that notion.
Embiid has the potential to be a cornerstone player for the foreseeable future if his health holds up, and the Okafor-Holmes accompaniment is something Philadelphia already appears to be planning around given the recent rumors of Embiid and Okafor eventually being able to play together on the court.
It wasn't that long ago when we saw ample rumors of Nerlens Noel's discontent feelings towards the Sixers' team, which was only followed by cryptic social media use and dubbing the Sixers' frontcourt situation "silly."
Now, with everything finally falling into place to some extent at the center position, Noel is looking more and more like an outsider on this team. It just seems reasonable to make him the clear, unquestioned focal point of trade talks moving forward — if he wasn't that already.
More from The Sixer Sense
This article originally appeared on