Nerlens Noel Could Still Be In the Philadelphia 76ers' Long-Term Plans.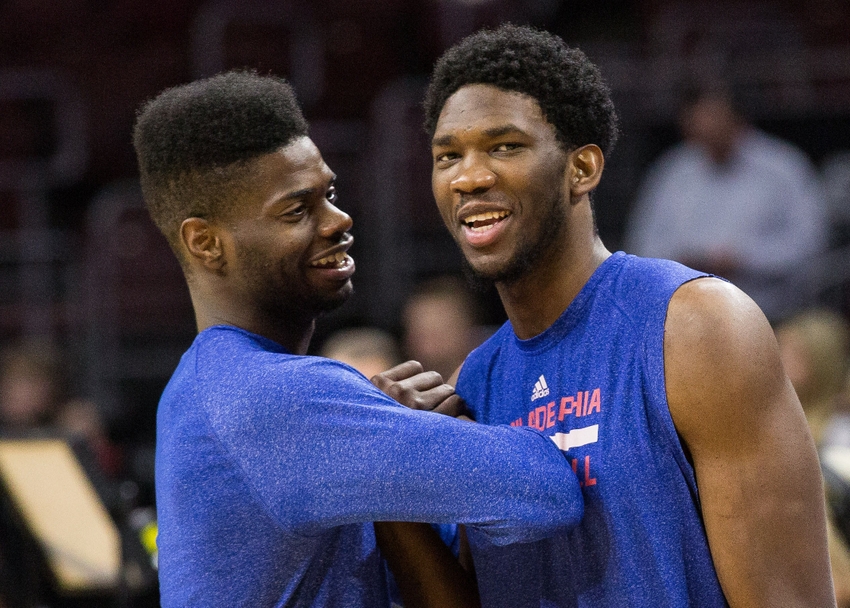 nce again, the Philadelphia 76ers are in the middle of trade rumors and it feels like a deal could happen any second. When it does, will it be the player you expected?
This offseason, Nerlens Noel was in the center of attention for his comments and criticism of the Philadelphia 76ers' roster situation. Last year, the natural center was forced to play power forward at times, to make way for rookie, Jahlil Okafor.
This offseason, he was viewed by some as the third big man on the depth chart. It seemed like a sure thing that he'd have been traded by this point of the season, but what if the Sixers' plan was, and has been, to keep him?
What is the Route of Nerlens Noel's Frustration?
Not only has Nerlens Noel voiced his opinion to the local media about his frustrations, but he also took it to Twitter, by symbolically removing his 76ers header and profile picture, as well as Tweeting, "I'm blessed to be from Boston. Love my city," on August 10 this offseason. The Boston Celtics are a team that has been heavily rumored in trade speculations with the 76ers.
What if his frustrations are generating from letdown? Is Philadelphia really where he wants to be?
More from The Sixer Sense
What if, after all, he's not demanding to be traded, through his tirade? There could be a chance that Noel is hoping that someone else gets moved (and we know who), allowing him to continue his career with a clear path in the Sixers lineup. Remember, Noel was the first piece of the rebuild puzzle, at the expense of Jrue Holiday back ion draft night in 2013.
A Cautious Approach
Remember, Nerlens Noel sat his first season, due to an ACL tear while at the University of Kentucky, after landing awkwardly on a block attempt in transition. With this said, the cautious approach that the Sixers have displayed with he, Joel Embiid (the last two years), and Okafor (at the end of last season) may have a hidden meaning in regards to the roster dilemma.
Noel had a minor procedure done to his left knee, which was the same leg that he injured in college, and it has caused him to miss the start of this young 2016-17 season.  Recently, he has rejoined the team, and there have been numerous claims that this procedure was done so that he'd be able to buy time, and avoid playing for the 76ers. But, what if this was the Sixers' decision, because of their aforementioned cautious-approach mentality? What if it was to display another player?
Jahlil Okafor Showcase?
Prior to Monday night's win against the Miami Heat, Jahlil Okafor was averaging 10.5 points per game on 49.5 percent from the field in 19.5 minutes. His numbers have dipped this season, and so have his minutes, due to restrictions (which have allegedly been lifted by the Sixers coaching and medical staff), but yet, he's playing. Could we be missing something?
Yes, he's logging time, unlike Noel so far, but is he 100-percent? Even though he's still regaining his legs — no pun intended — is there a chance that the Sixers have been doing everything (maybe forcing it) so that they can show other teams what he can do (on offense)? While he's on the floor on game nights, Nerlens Noel has been stored in safe keeping, rehabbing his surgically repaired plica. Is it possible that this has all been calculated by Sixers' General Manager, Bryan Colangelo?
Sam Hinkie's Selection of Jahlil Okafor
I am not going to delve into whether or not it was former GM, Sam Hinkie's choice to draft Jahlil Okafor over the New York Knicks' second-year phenom, Kristaps Porzingis. I will not argue, and make a case that one individual Sixers big man is better than the other (excluding Joel Embiid from the debate, because that's clearly no contest). I don't even want to say those two names in the same sentence. Anyway, while we chomp our lower lip and look the other way, did the Sixers draft Jahlil Okafor because they believed he was the most valuable trade chip, sitting at third overall in the 2015 NBA Draft? Maybe Sam Hinkie would have made a move by now, and maybe Bryan Colangelo has been trying to.
So, What Do We Make of This?
For all we know, the Sixers may already have something in the works. Whatever value they're able to receive, while alleviating the clutter, is a giant leap in the correct direction. After multiple months of us speculating about a Noel transaction, just imagine the irony if he's in their long-term plans after all.
This article originally appeared on