NBA Trade Rumors: Orlando Magic Targeting A Scorer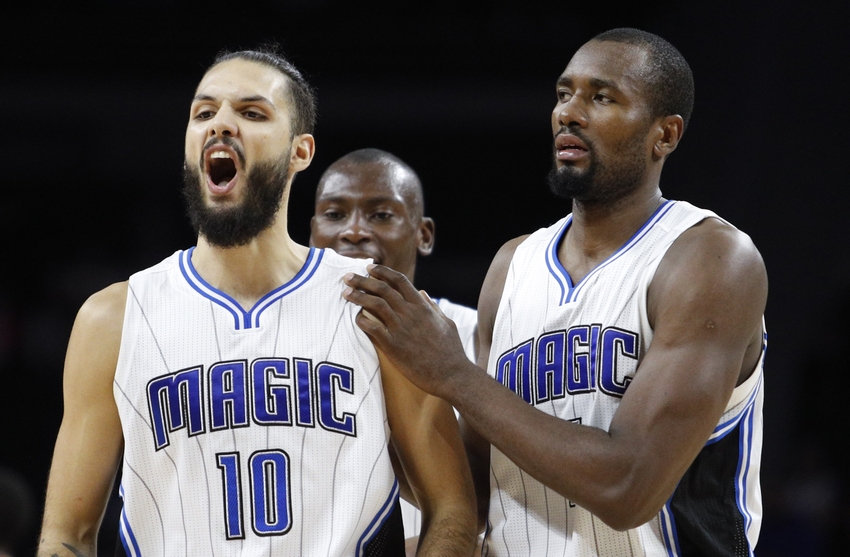 The Orlando Magic have been one of the league's worst offensive teams. To help turn that around, the latest NBA trade rumors have the team targeting a scorer on the trade market.
The Orlando Magic currently rank 29th in offensive efficiency and are arguably as bad as they were last season. According to Josh Robbins of the Orlando Sentinel, the latest NBA trade rumors have the team looking to add a scorer in the trade market.
This season has been nothing short of disastrous for the Magic. The team felt it was just a few pieces away from a playoff berth and made moves to improve their odds. They traded away their youth and handed out free-agent deals to Bismack Biyombo and Jeff Green.
Adding a scorer makes sense, as it's the the largest area of weakness for the team. But in once again reshaping the roster, the team should try to get all of its assets on the same page.
In adding Ibaka, they added an older player that plays the same position as their most promising player in Aaron Gordon. In addition to that, Green is another combo forward that took minutes away from Gordon.
Green wasn't the only confusing signing for Orlando. The addition of Biyombo seemed odd, especially after the team traded for Ibaka. Biyombo hadn't even started for the team early on, with Nikola Vucevic retaining his starting role.
Recently Biyombo has begun starting for Orlando, but that hasn't helped turn his season around. Biyombo is averaging 5.0 points and 8.8 rebounds on 33.3 percent shooting through five starts.
While adding scoring makes sense for Orlando, they must undo some of the more confusing moves they've made in building this team. They need to assemble a roster that is at the same point in their development curve.
In addition to that, they need to make moves to make their pieces fit together. With that in mind, let's look at some possible moves they could make.
Trade Assets For The Magic
As Robbins reported in his post, it's unclear who the Magic would be willing to part with in a trade. One of the most likely candidates may end up being Serge Ibaka. Ibaka will turn 28 years old next season and will likely command a max contract in free agency.
With things not panning out this season and the Magic far from contending, they may be best served in getting value for Ibaka rather than letting him walk for nothing.
While there may be some disappointment over the price they paid acquiring Ibaka, sometimes you need to know when to walk away.
Beyond Ibaka, Jodie Meeks and C.J. Wilcox are in the final years of their contracts. With the rising cap, expiring deals aren't as desirable as they once were.
But for a team that's looking to take the next step, these rental contracts could prove to be enticing sweeteners on a potential deal.
The other two candidates that may have their names shopped would be Vucevic and Elfrid Payton. Payton hasn't panned out in Orlando and the playmaking he provides doesn't outweigh his inability to shoot or finish.
Vucevic is a tremendously talented offensive center and a nightly double-double machine. However, his defensive deficiencies don't fit with Frank Vogel and with so much invested in Biyombo, it appears like it's time for the team to move on.
It wouldn't surprise me if anybody not named Gordon got moved at some point this season. General manager Rob Hennigan has been rumored to be on the hot seat and will likely do whatever it takes to try and make the Magic competitive.
With that in mind, here are some potential targets for the Magic:
Allen Crabbe
The Portland Trail Blazers matched the Brooklyn Nets' offer sheet to Allen Crabbe for four years and $75 million. Like the Magic, things haven't gone as planned for the Blazers.
While Crabbe is having a solid season, he lacks sufficient opportunities in Portland behind Damian Lillard, C.J. McCollum and Evan Turner.
The biggest area of weakness for the Blazers this season has been on the defensive end of the floor. Crabbe, a career 38.4 percent shooter from deep, in another situation may blossom into a legitimate offensive force.
At 22 years old, he also fits in with a youthful Magic team, while the Blazers would benefit from the interior defense of Serge Ibaka.
While more pieces would need to go into the deal, the framework for a mutually beneficial deal is in place. The Blazers aren't a free agent destination and with the money they spent this summer, their options for improving the team would need to come via a trade.
Ibaka would also benefit from playing a reduced role offensively and focusing on the defensive end of the floor.
The Blazers also have assets like Noah Vonleh, Ed Davis and Mason Plumlee to help get a deal done. The Blazers valued Enes Kanter in the past, an offensive center with defensive flaws.
So if the Magic could unload Vucevic with Ibaka and get Crabbe and other big man prospects in return, it could be an enticing deal for them.
Danilo Gallinari
This could be a tougher deal to work out for the Magic, as Denver would likely want Aaron Gordon in return. But if the Magic want to keep Ibaka and win now, it could be a move they pursue.
Danilo Gallinari would give the Magic a 6-foot-10 shooter that can play both forward positions, similar to what Vogel had in Indiana with Paul George. Unlike Gordon, Gallinari has proven himself as a knockdown shooter and fits at the small forward position.
If the team tries to acquire Gallinari without Gordon, then things get difficult. The Nuggets have a surplus of centers, which takes Vucevic out of the equation. They also have the bulk of their prospects at the guard position with Jamal Murray, Gary Harris and Emmanuel Mudiay.
While Gallinari is a realistic target and could help the Magic be a playoff team this season, giving up Gordon would be tough. The reason I include him as an option is that this feels like a very Magic deal to make. With the exception of Vogel, most jobs seem to be on the line in Orlando.
Failure to make the playoffs this season would be met with consequences and if that means moving on from the team's most promising long-term prospect to do it, that may be the direction they take.
While Gordon has a tremendous amount of promise, there seems to be little chance he blossoms into a true lead option on a contender. It's possible that doubts regarding the heights of his ceiling, combined with a slow start this season, may be enough to push him out the door.
Terrence Ross
It may surprise you to learn that Terrence Ross is fourth in the NBA in points per possession out of players with at least 100 touches. Ross has been off to a fantastic start for the Toronto Raptors and, with a bargain contract, could be an enticing target for the Magic.
The Raptors are looking to improve, specifically at the power forward position. While Pascal Siakam has been good for a rookie, neither he nor Jared Sullinger really would be enough to help the team overcome the Cleveland Cavaliers in the playoffs.
The Raptors tried to go after Serge Ibaka on draft night and failed. Now, with the asking price likely reduced there's a possibly that a deal could be swung. Ross would be the obvious first choice for the Magic. Ross will be turning 26 this year and could blossom in a scoring role with the Magic.
With DeMarre Carroll and DeMar DeRozan locked into long-term deals, the opportunity just isn't there for Ross. Norman Powell has also shown tremendous upside and presents the Raptors with a younger, cheaper option that fits better with the defensive identity they're trying to build.
Adding Ibaka would make the Raptors a legitimate force in the Eastern Conference and increase their chances of making the NBA Finals, while the Magic would be able to move Gordon to the power forward position next to Ross.
The Raptors also have plenty of assets to sweeten the deal, including their first-round pick, the Los Angeles Clippers' first-round pick, Cory Joseph, Delon Wright, Lucas Nogueira and more.
This type of deal would give them a younger option that fits, without sacrificing the potential of Gordon.
This article originally appeared on