NBA Trade Rumors: Five Teams Who Should Trade For Rudy Gay
NBA Trade Rumors: After essentially demanding a trade from the Sacramento Kings, we explore five teams who should try to trade for Rudy Gay
Rudy Gay has had enough.
Earlier this week, Gay essentially demanded a trade from the Sacramento Kings without actually…you know…demanding a trade.
According to Yahoo's Adrian Wojnarowksi, Gay has "informed" management that he doesn't plan on re-signing wit the Kings next summer when he becomes an unrestricted free agent. In other words, Gay is saying: "trade me or watch me walk".
Forward Rudy Gay has informed Sacramento Kings management that he plans to use his 2017 player option to become an unrestricted free agent and considers himself unlikely to negotiate a new deal to return to the franchise, league sources told The Vertical.

Gay's pledge to the Kings' ownership and front office that he's strongly leaning against re-signing with Sacramento is a declaration that could increase pressure on the organization to trade Gay sooner rather than later.
Woj also notes in that report that there have been several teams that have engaged the Kings in trade talks, but nothing of substance has gained traction.
Question is, which team out there is desperate enough to trade for Gay? On top of that, are they ready to give up a substantial amount for what could end up being just a one-year rental? Either way, I think there's a strong likelihood that Gay won't be on the Kings by the NBA's Trade Deadline.
I think that's a safe bet.
Assuming that holds true, here are five teams that should take a chance and trade for Rudy Gay.
Oklahoma City Thunder
I'm not sure what exactly the Oklahoma City Thunder would be willing to deal in order to bring in Rudy Gay, but a deal around Kyle Singler, Anthony Morrow and a filler would work on the trade machine.
Moving a pick would probably have to be the sweetener in this hypothetical trade, but I'm not exactly sure that's something Sam Presti would be willing to do. He's smart and moving a first-round pick for a potential one-year rental doesn't seem like the most intelligent move. Though, desperation makes knowledgable people do stupid things.
That could very well be in effect here.
Why would the Thunder want to trade for Rudy Gay, you ask? Well, they just lost Kevin Durant and don't really have anyone at the small forward position that could even begin to fill that role. Gay could be that guy, even for just a year. Plus, it keeps them somewhat relevant.
Miami Heat
The Miami Heat have already been connected to Rudy Gay, even though if it was just Gay stating that he'd welcome a move to Miami. Still, in today's rumor mill, everything gets reported as substance. Even if it isn't.
Though, this is kind of the Pat Riley move. This is what he does. He waits for the disgruntled star (although, Gay isn't a star) to demand a trade and then moves picks or expiring contracts to bring him in.
And after losing Dwyane Wade in free agency, this is something that should not be seen as surprising. In an effort to remain relevant, Riley could move some of their backcourt players for Gay. Perhaps even Goran Dragic (if that doesn't work out).
I think a lot of this hypothetical deal will depend on how Justise Winslow looks early in the season. His development is huge.
Cleveland Cavaliers
I know, I know.
However, in the event that J.R. Smith isn't re-signed, the Cleveland Cavaliers are going to need help on the wing. And that can be Rudy Gay.
The Cavs could send a deal entered around Iman Shumpert to the Sacramento Kings in exchange for Gay. Cleveland also has a few trade exceptions that they could theoretically use with their salary cap restrictions.
Trading for Gay would also be a move that a contender such as the Cavs would be inclined to do. Gay would be motivated to cash-in for a big contract next summer, and he could help Cleveland try to defend their title.
The likelihood of this happening is probably small and Cleveland would like to re-sign J.R. Smith, but you never know.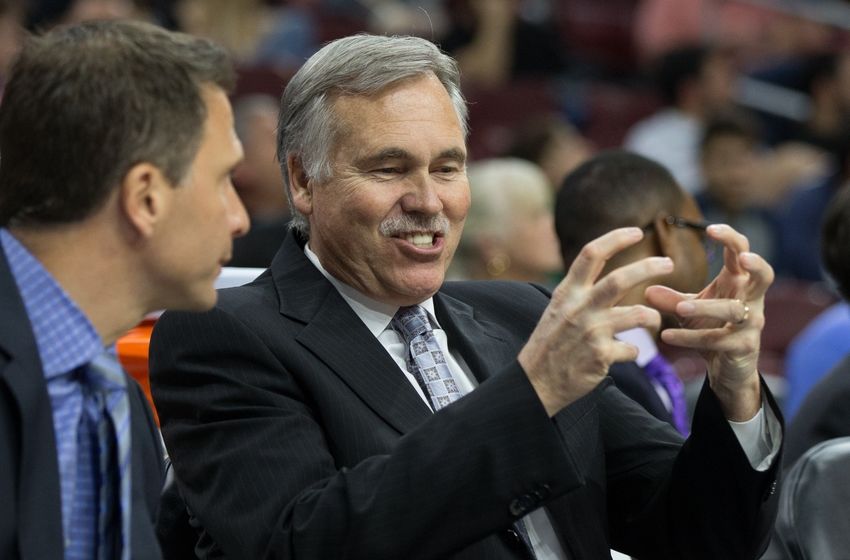 Houston Rockets
This is also such a Daryl Morey move. If he really wants to bring in more help for James Harden and company, perhaps trading for Rudy Gay wouldn't be the worst thing in the world.
A package around Trevor Ariza or Corey Brewer, two guys that have just flamed out in Houston, would likely be required. Houston would fill in another contract or two to make the numbers work, but this wouldn't be an all that difficult move to make work.
I'm not exactly sure how Gay would fit in Houston, but he could fit in Mike D'Antoni's up-and-down scheme. Perhaps he could find a role as a small-ball power forward, something that he's played some during his career in the NBA.
His measurables are actually ideal for that position. Though, his defensive limitations have prevented him from carving a niche as that over the last few seasons.
On the surface, the Rockets trading for Gay wouldn't surprise anyone.
New Orleans Pelicans
I don't think anyone would argue that the New Orleans Pelicans simply need some fresh talent on their roster. Even though they did the necessary steps this summer to accomplish that, most notably by drafting Buddy Hield, signing Solomon Hill, Langston Galloway and others, trading for Rudy Gay could take it a step further.
New Orleans has a plethora of expiring contracts that they could move, if that's something Sacramento would be interested in, and could add a pick to incline the Kings to pull the trigger.
Would adding a player like Gay make the Pelicans significantly better? Probably not, but he could add value as a veteran wing. Most of all, he's played 70 games in each of the last two seasons. He's somewhat durable.
Most of all, that's exactly what the New Orleans Pelicans need. And, hey, why not take a chance on a player like Gay? They're doing it with Lance Stephenson.
This article originally appeared on