NBA Trade Rumors: Could A Chris Bosh For Kevin Love Swap Work?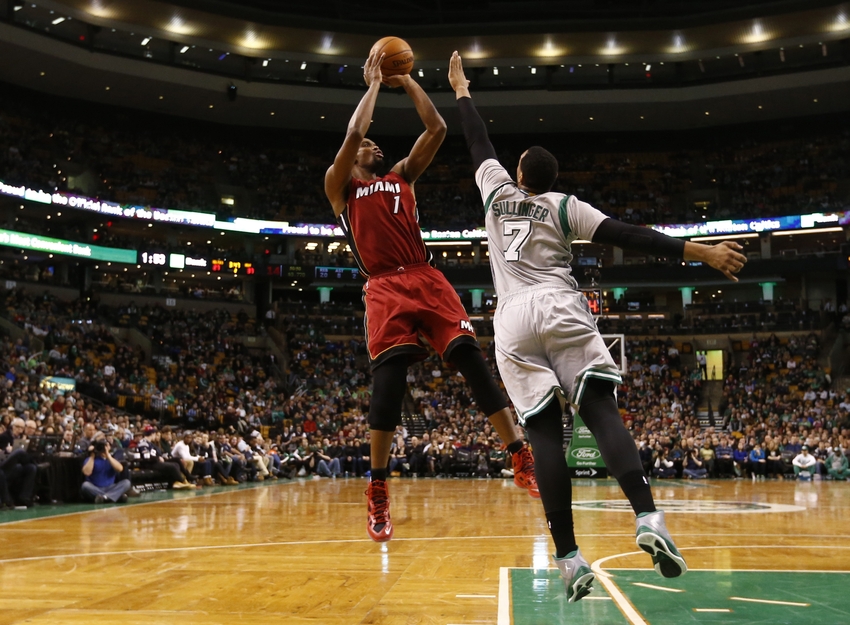 NBA Trade Rumors: With the hesitance on the part of the Miami Heat to clear Chris Bosh, we explore whether a trade to the Cleveland Cavaliers would work
As the Miami Heat continue to sit on their hands when it comes to Chris Bosh, who himself has begun his public campaign to return to the hardwood in 2016-17, it's difficult to envision this entire situation settling itself in an orderly fashion.
This is not going to be pretty, whether it be the Heat not clearing him or fighting it until the last minute. The bottom line, history is against Bosh ever playing in the NBA again. However, Bosh reportedly has a doctor that will clear him, which makes this all that much harder.
Problem is, it isn't the same Heat doctor. And if Bosh doesn't pass the physical with the Heat, then that's when this becomes a problem.
But what if there's another team out there that would be willing to clear him? What if that team was the Cleveland Cavaliers? Bosh has that LeBron James connection and was recently kicking it with Maverick Carter, LeBron's business associate.
I'm not going to start a rumor, but this brings up an interesting hypothetical trade – Kevin Love for Chris Bosh (H/T to Trisity on Twitter).
Just for fun, let's explore why it would/wouldn't work.
Why It Makes Sense
As mentioned before, all LeBron James has to do is have one conversation. And if the Cleveland doctors would be willing to clear Chris Bosh, this gets all the more interesting. Adding to the intrigue, Bosh was hanging out with Mav Carter earlier this week in Los Angeles.
Carter is LeBron's business parter. Connect the dots, people.
On the basketball side of things, Bosh is actually a better fit for the Cleveland Cavaliers than Kevin Love is. He's a better defender, better post presence and has been through the battles with LeBron before. He knows how to play the third fiddle better than Love, too.
Love also fits perfectly on the Miami Heat, which we'll discuss later.
Of course, this all hinges on the health of Chris Bosh. If he doesn't get cleared, there's no fun in this. And that's probably the biggest obstacle right now.
Why It Won't Work
As touched on, if the Miami Heat won't clear Chris Bosh, why would any other team in the NBA? If the team that has the most information on Bosh isn't willing to give him the go-ahead, then you have to believe that every other team in the NBA would hesitate from trading for him.
Considering that he still has three years, $75-plus remaining on his contract, I'd be hard-pressed to believe that there's another team in the NBA that would be willing to take that type of chance on Bosh.
Beside that, though, would Pat Riley make this type of move with the Cavs? It's a really interesting conversation to have. On one hand, adding Love to this Heat team could be intriguing. Love actually fits better with how the Heat want to play this season.
He can space the floor for Hassan Whiteside, and would be the ideal big to play next to Goran Dragic. He'd be the ideal pick-and-pop big to play in Erik Spoelstra's offense. Plus, his defensive weaknesses would somewhat be hidden in Spo's scheme – especially with Whiteside protecting the rim.
However, Riley never forgets – or forgives. I don't think he'll be doing a deal with the Cleveland Cavaliers anytime soon.
Bottom Line
The likelihood of this trade happening is pretty much nonexistent. This isn't happening. Though, it's actually quite funny how much sense this move would make for both the Miami Heat and Cleveland Cavaliers.
Of course, that's assuming that Chris Bosh is healthy.
Which is ultimately the biggest shame in all this. A healthy Bosh is what everyone involved would want to see in 2016-17. It's been too long since he's played a full season. In fact, the last time he did LeBron James was still a member of the Heat. Yes, it's been that long.
Make no mistake, this tug-of-war battle between the Heat and Bosh is a real thing. Miami wants to ensure Bosh's safety, which is simply impossible if he's on blood thinners, and Bosh just wants to resume his playing career. There's not wrong or right side. It's just all really unfortunate.
Hey, maybe we can do this Chris Bosh for Kevin Love swap in NBA 2K?
This article originally appeared on