NBA Season Preview: 5 creative sets you need to know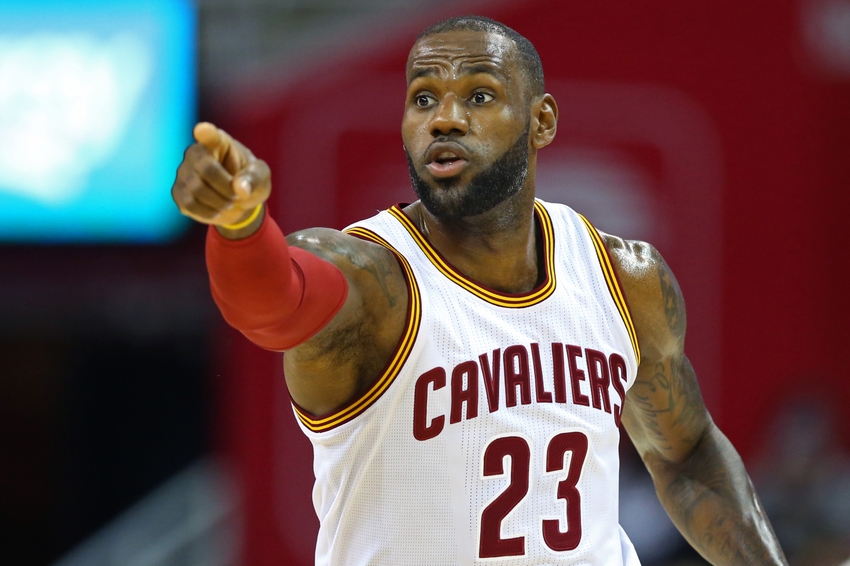 Due largely to the success of the Golden State Warriors and San Antonio Spurs over the last three seasons, we've seen two trends emerge in the NBA: Increased ball movement and a greater emphasis being put on layups and three-pointers.
Both of those come easy to certain teams. Having LeBron James, for example, fills a lot of the gaps because he lives in the paint and commands a double team on a nightly basis. Throw in his passing ability as a small forward, which is practically unparalleled for someone at his position and his size, and it's no wonder the Cleveland Cavaliers were amongst the league leaders in 3-point efficiency and scoring at the rim last season.
For the other teams that don't have that sort of firepower, there are certain sets they can run to help them move the ball and create those high quality looks — many of which are jazzed up versions of pick-and-rolls and post-ups. With that in mind, let's take a look at five in particular that are both unique and have the potential to take the league by storm this season.
5. Elevator
It seems like every NBA team has their own version of "Elevator" nowadays. Regardless of how it's put into action, though, what matters is the shooter sprints in between two players and pops out to the three-point line once the elevator doors have closed. When it's run for the likes of Stephen Curry and Anthony Morrow, both of whom have the quickest releases in the NBA, it puts a tremendous amount of pressure on the defense to react on dime.
Teams have begun to get creative with this set, too. The Golden State Warriors, for example, used the threat of Curry to get Draymond Green an uncontested basket in the fourth quarter of a tightly contested game against the Los Angeles Clippers last season. The Dallas Mavericks even put it in reverse on a perfectly executed out of bounds to get Devin Harris a layup instead of a jump shot.
It's still at its best when run for a three-pointer, but its rise in popularity has forced teams to adapt on the fly. That's why we could see greater variation this season.
4. Zipper Split
Beyond making an already terrifying pick-and-roll combination scarier, Kevin Durant's efficiency in the post opens the door for the Warriors to turn one of their favorite sets — "Zipper Split" — into an unstoppable pick-your-poison scenario.

Making the set difficult to defend last season was the combination of Curry's and Klay Thompson's shooting alongside Green's playmaking all contained to one side of the floor. Since the margin for error is minuscule anytime Curry and Thompson are involved in a play, the smallest of defensive breakdowns on the wings had a way of creating open shots for them.
With Durant taking Green's role on the block, the set can now act as an isolation in the post for Durant while Curry and Thompson draw defenders out of the paint. Durant was essentially the best scorer with his back to the basket last season, ranking in the 99.6 percentile with 1.23 points per possession. Green, on the other hand, ranked in the 19.7 percentile with 0.67 points per possession. That means teams won't be able to relax as much when the ball enters the post due to Durant's ability to pull of moves like this against the NBA's best defenders:
Once again, it's a good example of how the Warriors offense could be otherworldly.
3. 54 Dive Lob
With Andre Roberson being a non-threat from the perimeter up until this stage of his career, teams often ignore him in the halfcourt to pack the paint and send multiple defenders at Russell Westbrook. It's why 30.8 percent of Roberson's total shot attempts last season were wide open three-pointers, which was a rate few players in the NBA could match.
For the most part, the Oklahoma City Thunder are content with Roberson taking those shots, but there are times when they make opponents pay for leaving him by having him cut backdoor as soon as Westbrook runs a pick-and-roll with, say, Steven Adams. Because teams are concerned with Westbrook getting to the basket or Adams getting an alley-oop, it often leaves Roberson as an afterthought with a run to the rim for an uncontested lob.
It helps, of course, that Roberson is a big target at 6-7 with a 6-11 wingspan and 36-inch vertical. Still, for teams like the Chicago Bulls that don't have enough shooting on the wings, the Thunder's "54 Dive Lob" is a nice way to keep the defense engaged with timely cuts to the rim.
2. Horns Rub
The Cavaliers made this play famous in Game 4 against the Toronto Raptors in last year's playoffs when they used it to over and over again to overcome a double-digit deficit.
The reason "Horns Rub" is so effective is it creates five high quality options depending on how the defense reacts, with James acting as the facilitator at the elbow. He can turn the set into an isolation, where he'll use his speed and athleticism to blow by his defender, if teams are too focused on what's going on around them. Alternatively, he can use his pinpoint passing to set up cutters and find shooters.
However, it's when the Cavaliers turn James into a power forward that the play becomes unstoppable. With his skill set and physical tools, there isn't an answer to James setting a screen and rolling to the basket. It only made up 3.6 percent of his offense during the regular season, but James averaged 1.36 points per possession as the roll man to rank in the 95.4 percentile. He was even better in the playoffs with an average of 1.43 points per possession.
Those numbers obviously don't take into the account the shots James creates for his teammates by simply rolling to the basket, either. The threat alone usually makes help defenders leave their assignments.
1. Pistol Slip
"Pistol" is a common offense in the NBA when teams are looking to score quickly in the half court, and it works well for the Warriors because they have a number of playmakers and knockdown shooters on their roster. In this particular option, they have one of their bigs set a brush screen on Thompson around the perimeter and then slip to the basket for a layup.
The Warriors have the luxury of playing 5-out most of the time — just imagine a lineup of Curry, Thompson, Andre Iguodala, Durant and Green on the court — so the defense has to basically decide between giving up a three-pointer to one of the greatest shooters in the world or letting someone like Green or Durant cut backdoor for a dunk.
With more teams looking to play small in order to maximize spacing, it's a smart way to get the defense moving and force them into making that tough do-we-help-or-do-we-not decision.
This article originally appeared on