NBA Season Preview: 5 best stretch bigs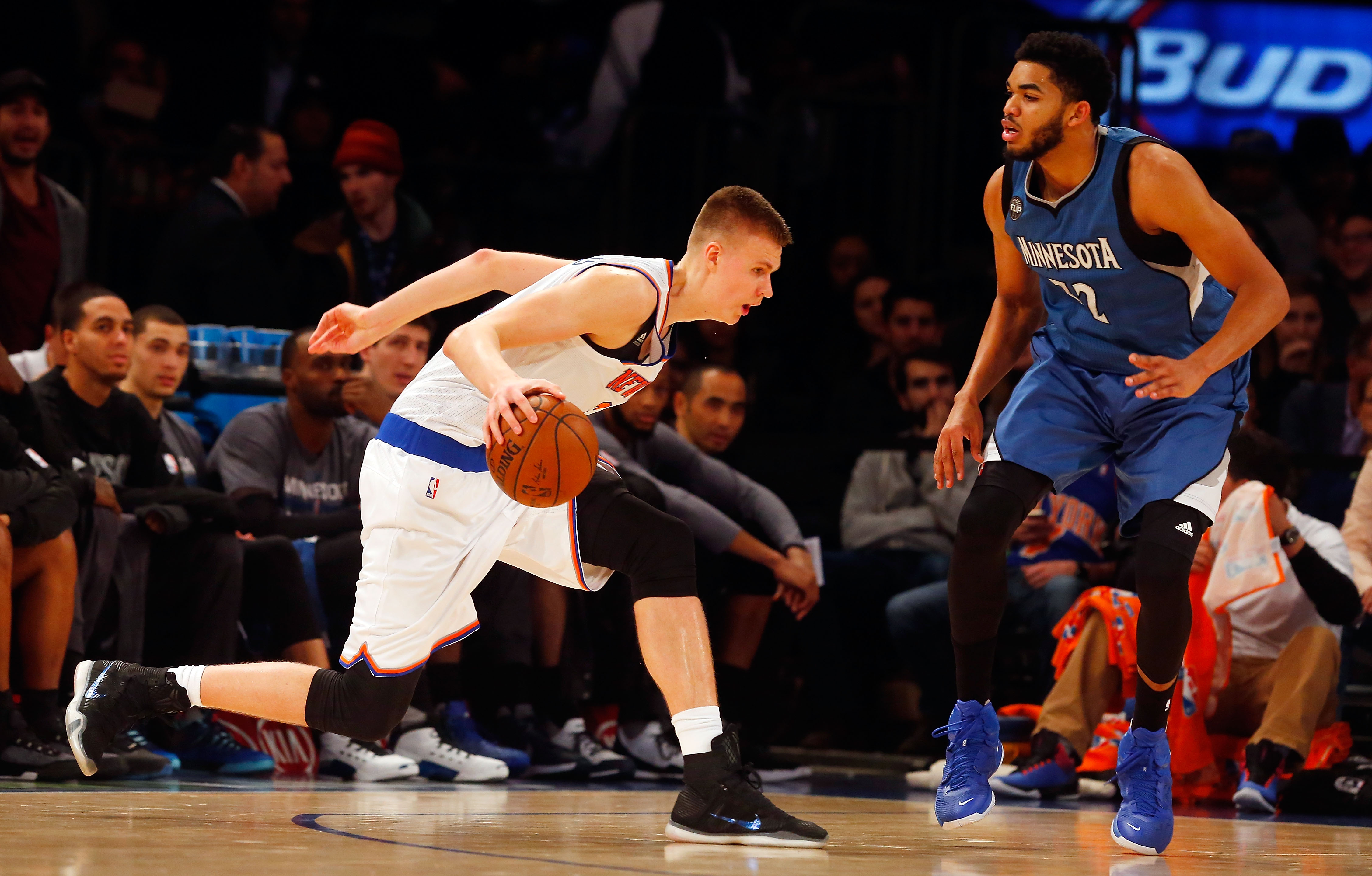 Whether at the 4 or 5, here are the season's best matchup nightmares than can kill you from inside or outside
The NBA is an ever-changing landscape. Sure, the other major U.S. professional sports leagues have evolved, but not quite like the NBA. Case in point: There was a time, back in the 60s, 70s, or even 80s, when a big man wandering out on the perimeter would appear lost and confused. "What is that large individual doing over there?" fans would presumably ask each other.
These days, especially in the last few years, bigs have a place beyond the arc. It was a gradual shift, but the concept of the stretch big — a power forward or center that can play outside on offense and force the opposing to defense to respond — is now the norm of the NBA. If you don't have at least one, you are way behind the curve.
Still the term "stretch big" is nuanced, as it originally pertained mostly to versatile power forwards (stretch fours), but now encapsulates rangy centers (stretch fives) as the league continues to evolve in the small ball era. There is no set criteria for the terminology, which often leads to heated arguments over its undefined mandates. The basic requirements for our purposes here are that you stand 6-9 or taller and can be wedged into the center spot in your team's ideal small ball lineup. And even those are not hard and fast rules.
Instead of looking at stretch bigs in a recent historical (say past five years) context, we are going to rank the top 5 stretch bigs for the upcoming 2016-17 season. All of these guys have been previously used in the role, in one way or another, but will be thrust into the mantle again in either an expanded role, a new team context or a revamped team context.
Before we get to the Top 5, here are some honorable mentions.
The up-and-comers
More on another Boston big later, but fourth-year center Kelly Olynyk deserves mention for his versatile game (1.2 threes, 0.8 steals, 0.5 blocks in 20 mpg) last season, even though he is the clear-cut backup center this year… Entering his fifth season, Portland center Meyers Leonard took a leap in production last year (1.4 threes on 37.7 percent shooting), but remains a defensive liability… Coming off a solid rookie season with Charlotte, Frank Kaminsky offers plenty of versatility on offense, but also needs to work on D to threaten for the starting center spot… Finally, Phoenix has a pair of intriguing stretch bigs in rookies Dragan Bender (7-1) and Marquese Chriss (6-10) who both have long range.
Missed the cut
Dirk Nowitzki is an inaugural inductee in the Stretch Big Hall-of-Fame and for that we salute him… Kevin Love averaged 2.1 made threes per game last season, most among power forwards and centers, as he finally embraces his role of floor spacer on offense for the reigning champs… If it wasn't for unfortunate health issues, Chris Bosh would definitely be considered one of the best all-around stretch bigs this upcoming season… While we love the idea of Boogie shooting threes (1.1 per game last season), DeMarcus Cousins is the best inside scorer in the NBA and should limit his long range shots… Same goes for Anthony Davis, who should focus more on staying healthy than adding the three-ball to his game.
5. Ryan Anderson
The Houston Rockets made some major changes this summer, saying goodbye to Dwight Howard in free agency while inking Mike D'Antoni as their new head coach. They also included two big free agent acquisitions to their starting lineup in veterans Eric Gordon (four-years, $53 million) and Ryan Anderson (four-years, $80 million), both coming from the Pelicans, giving the team a fresh look for the upcoming season.
Ranked third in three-pointers made (878) last season, the Rockets went and added two players (Gordon and Anderson) that averaged a combined 5.5 treys per game in 2015-16, while retaining their trio of shooters (James Harden, Trevor Ariza, Patrick Beverly) that combined for 6.9 threes per. Suffice to say, the Rockets are going to rival the Warriors in three-point attempts this year and will play arguably the fastest pace in the league after finishing seventh in the advanced stat last season.
Anderson, who is off to a hot start this preseason, will be a big factor in the Rockets' free-flowing offense. Long considered one of the league's premier stretch bigs due to his prowess from deep (career 37.7 percent), Anderson is now looked at as a somewhat outdated model due to his lack of athleticism and defensive ineptness. While he is no Serge Ibaka, Anderson is also being sold short by his critics as he is an adept scorer around the basket and a solid rebounder. In seven starts last season for an injured Anthony Davis, Anderson averaged 21 points and 9 rebounds, with a .452/.362/.826 shooting line.
The big question is how stretched out will Anderson be this season? The Rockets are presumably not going to play defense this season, but do have a capable, emerging rim protector in Clint Capela to start at center. Capela will be backed up by Nene Hilario, a capable yet aging defender, but if the Rockets want to play an elite, spread-out offense with Harden at the helm, it may require Anderson to play some center. It's not a lineup likely to receive legitimate burn, but even at his classic stretch four spot, Ryno has the chance to post a career year in his first starting gig since his last season in Orlando.
4. Al Horford
Another familiar face in a new place, Al Horford has developed into one of the best all-around big men in the league over his nine-year career. A four-time All-Star, Horford signed a four-year, $113 million contract with the Celtics to become their new starting center and the face of the franchise alongside fellow All-Star Isaiah Thomas. Horford has improved every facet of his game year-to-year, but finally incorporated the three-ball into his repertoire last season, making 1.1 per game at a 34.4 percent clip.
Joining a team that pushed the pace last season (third in the league) and finished sixth in defensive rating, Horford can only improve the Celtics in those areas. Praised for his versatile game, Horford, while undersized for a center at 6-10, has a seven-foot wingspan and is is a capable rim and perimeter defender. He thrives as a screen setter and can finish as a roller or shooter, while also possessing post moves that are hard to come by in the modern NBA era. He is also a great passer out of the post and on closeouts.
Horford is kind of just great at everything, although he will never be an elite rebounder due to his height and vertical limits. Still, he is a perfect fit on a Boston team filled with glue guys where he will serve as the ultimate glue guy. He is a marked improvement over the departing Jared Sullinger in every category save rebounding and will likely open opportunities on offense for a team that was awfully inefficient from deep last season, finishing third to last in three-point percentage (33.5 percent).
The most exciting element of Horford joining the Celtics will be his pick-and-roll game with Thomas, which will also incorporate outside shooters like Avery Bradley and Jae Crowder getting open looks off of collapses. Horford will continue to work on the perimeter in some offensive sets and in transition, doing most of his work from the top of the key. If Horford can improve as a three-point shooter in his second year of being one, he can turn the Celtics into one of the most versatile, hard-to-defend offenses in the NBA.
3. Draymond Green
The ultimate Swiss Army Knife in the NBA last season, Draymond Green is either the prototype of the modern day stretch big or a player so unique that he is unlike anyone else. After breaking into the league as a tweener/combo forward, Green has embraced the role of starting at power forward and sliding up to center when the Warriors unleash their Lineup of Death. (Which, oh by the way, replaced Harrison Barnes with Kevin Durant during the offseason.)
Green's ability to move between the 4 and 5 spots is mostly attributed to his stellar all-around defense. Despite standing at just 6-7, Dray can literally defend any position on the floor, swallowing the pick-and-roll with ease and switch assignments in an instant. While he may perennially finish second to Kawhi Leonard for Defensive Player of the Year, there is no defender in the league tasked with a similar, all-encompassing role like Green, outside of maybe LeBron James.
On offense, Green is just as versatile if not more so. He had one of the most well-rounded seasons in recent memory in 2015-16, averaging 14 points, 9.5 rebounds, 7.4 assists, 1.5 steals, 1.4 blocks and 1.2 threes per game, shooting 49 percent from the field and 38.8 from distance. Granted, Green fell from a 42 percent three-point shooter to 33 percent after the All-Star break, but he will always remain a threat from his spots and should be required to shoot less this season with KD on board.
While Zaza Pachulia is a serviceable starting center and the Warriors' best rebounder, it's curious to wonder how much the Warriors will use their reloaded death lineup after last year's rendition (Curry-Thompson-Iguodala-Barnes-Green) logged a total of 172:51 minutes together in the regular season. That total is roughly 380 minutes less than the starting unit with Bogut, so when you consider Durant's projected minutes edge over Barnes from last year and the fact that Zaza doesn't provide the defensive presence of Bogut, the gap between starting lineup and death lineup should close considerably.
2. Kristaps Porzingis
The 2015 NBA Draft brought with it some great big man prospects, specifically players who were able to showcase their budding skill sets right out of the gate. We mentioned some emerging stretch bigs earlier, but didn't even scratch the surface on guys like Jahlil Okafor and Myles Turner, who have some range with room to grow, or Trey Lyles, who has already exhibited some of his long-range prowess.
There were two players taken very early in the draft, however, who stand out from the pack. They represent the future of the league, possessing all the size fit to print and evolutionary, potentially devastating skill sets on both ends of the floor. While Horford and Green have the proven experience, these two guys have untapped potential, ceilings so high we can't even see them. (Ok, that's enough hyperbole for now.)
Before we bury the lead any longer, let's talk about Kristaps Porzingis of the Knicks. There was a good deal of uncertainty with Porzingis heading into the draft, as is the case with any foreign player creeping into top 5 lottery pick discussion. But the Zinger acclimated himself with a promising Summer League before taking the NBA by storm in the regular season. Porzingis averaged 14.3 points, 7.3 rebounds, 0.7 steals, 1.9 blocks and 1.1 threes as a rookie. He did so without really having plays run for him (despite a steady 24.5 percent usage rate), and his role is expected to grow significantly in year two.
Porzingis will be more involved in pick-and-roll and pick-and-pop plays, and will further benefit from more catch-and-shoot threes playing with two point guards, in Derrick Rose and Brandon Jennings, who thrive at penetrating. The 7-3 Latvian also said his ball handling has improved, to go along with a strengthened core that can enhance his developing post game. Porzingis has already proven he can be a rim defender with his immense size, so any improvements to his all-around game set up a truly frightening scenario for opposing defenses.
Porzingis is slated to start at power forward, where he will play alongside an already proven rim defender in Joakim Noah who can also orchestrate the offense from the post. With so many strong supporting pieces around him this season, Porzingis has the opportunity to take his game to new heights and fully morph into a basketball unicorn.
1. Karl-Anthony Towns
All the hype and praise that has been heaped on Porzingis only multiplies when Karl-Anthony Towns enters the discussion. Last year's first overall pick, it's almost shocking to think there was a point in time when Towns or Okafor was a legitimate question. And Okafor is still a very good prospect, a potential All-Star. Towns, who posted a line of 18.3 points, 10.5 rebounds, 2 assists, 0.7 steals, and 1.7 blocks during his rookie season, is already considered one of the best players in the league. And it's totally justified.
Towns (who also had a disturbingly efficient .542/.341/.811 shooting line for a rookie center) is the latest in a line of NBA talents to do things we never though were possible at their size. LeBron is a great example of this, as a guy who plays like Magic Johnson crossed with Julius Erving in what has grown into Karl Malone's body. LeBron is 6-8, however, and a forward no matter how many positions he has admirably defended during his 13-year career. Towns is 6-11 as a 20-year-old. Will he grow taller? Probably not, but it doesn't matter. He has elite size, the perfect size for the modern day stretch five.
Indeed, Towns started 79 of 82 games at center last year and it will remain his position due to his elite presence as a rim defender. Towns is an excellent athlete with the ability to run the floor on breaks and the short-area foot speed to switch on defense if need be. He has the diversity Porzingis possesses, but with already established power and quickness. He also increased his assist average from 1.4 before the break to an even 3 after so, yeah, there is literally nothing this kid can't do.
Towns, like Cousins mentioned earlier, should mostly focus on being a post scorer. Especially in instances when Minnesota goes small and Gorgui Dieng is on the bench, Towns will need to stay down low and new head coach Tom Thibodeau knows that.
Having said that, Towns' emergence as a three-point shooter is every hoops junkie's best kept secret. He only attempted 1.1 treys per game last year, but as is the case with Porzingis, KAT will be unleashed this season and should have more opportunities to freelance on the perimeter. The Wolves have endless guards who can penetrate in Ricky Rubio, Andrew Wiggins, Zach LaVine and rookie Kris Dunn, so the catch-and-shoot opportunities will be there for Towns.
The hype may have reached unfair elevation, but it doesn't seem like KAT is phased by any of it. His development into one of the league's most unstoppable forces is a big reason the Wolves are in the mix to clinch their first playoff berth in 12 years.
Who do you think is the best stretch big in the NBA? Share your answers in the comments.
This article originally appeared on