NBA Season Preview: 5 best rim protectors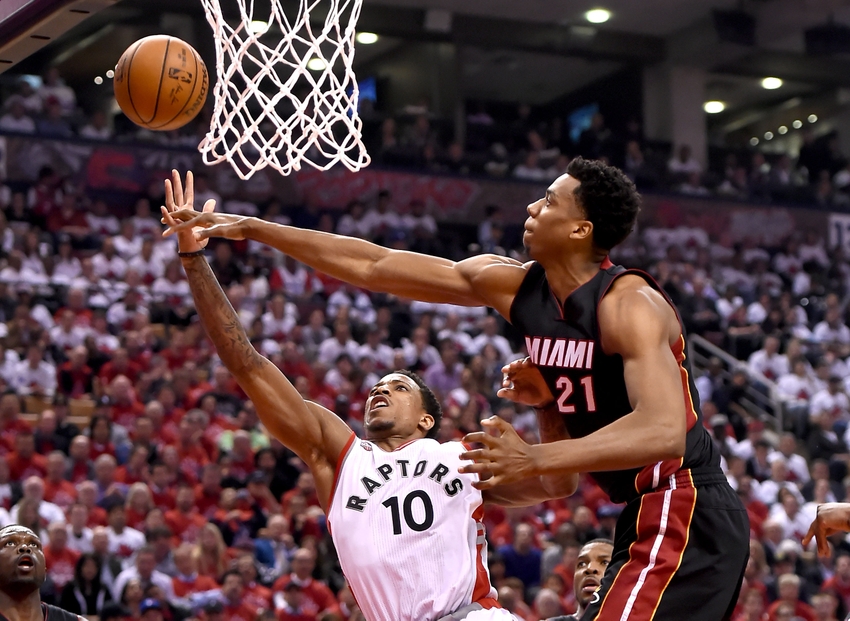 Rim protection has always been a crucial element for a good team defense. However, over the past few years our understanding of the art and the metrics which use to measure it have gotten a lot better.
For a long time, blocks and rebounds were the best measures we had for a big man's ability to control the paint on defense. Those measures, while important fall far short of painting a complete picture of rim protection. Play-by-play data and the public player tracking data at NBA.com have opened things up and made it possible for a more detailed view.
The rim protection data at Nylon Calculus combines play-by-play and player tracking and evaluates rim protectors on three elements — how opponents shoot against them around the basket when they are the closest defender, the percentage of an opposing teams interior shots for which they are the closest defender, and the rate at which opponents attempt interior shots when they are on the floor.
Instead of just looking at blocks, we can now evaluating rim protectors on the results of all shots they challenge, how often they challenge shots, and whether their presence seems to deter opponents for shooting inside the paint at all.
As with any statistic, these rim protection numbers are not perfect. They are influenced by small sample sizes, a player's teammates, and the defensive scheme which they operate within. However, looking at them for the past two seasons, and acknowledging the softer science of context, we can hone in on a list of the players who are truly exceptional at defending around the basket.
5. Timofey Mozgov
Mozgov's reputation sank like a stone last season as he struggled to replicate his performance from the Cleveland Cavaliers' 2015-16 playoff run, ultimately falling out of the rotation. The four-year, $64 million contract that the Los Angeles Lakers signed him to seemed like an enormous overpay, even given the rising salary cap and the league's new financial climate.
While it remains to be seen just how much value Mozgov provides the Lakers for their investment, they can probably count on a boost to their interior defense. Among players with at least 1,000 minutes played, Mozgov ranked ninth in points saved per 36 minutes (a measure that compares him to an average center) during the 2014-15 season. Even during last year's frustrating campaign, he still ranked 14th in the same measure.
Part of Mozgov's strength as a rim protector is his ability to defend in space. By helping deter dribble penetration from the pick-and-roll, Mozgov dramatically reduces the number of interior shots an opponent is able to get off. The Cavaliers allowed just 20.4 rim attempts per 36 minutes when he was on the floor last season. Only four qualified players had a lower mark with their teams.
The Lakers are hoping that Mozgov will bounce back in several areas, but when he struggled with the Cavaliers he was still one of the better rim protectors in the league.
4. Serge Ibaka
Early in his career, Ibaka was seen one of the elite defensive big men in the league. The perception of him is not nearly as high right now, mostly because his defensive reputation was heavily tied to his block numbers which have declined (per game/minute/possession) for four consecutive seasons. During the 2011-12 season, Ibaka blocked 6.9 shots per 100 possessions. Last year, that number tumbled all the way to 2.9.
As we've mentioned though, there is more to rim protection than blocking shots and Ibaka still makes a huge impact. One of the reasons Ibaka's block numbers have declined is that teams have spent more time attacking him in the pick-and-roll, hoping to pull him away from the basket. The percentage of opponents' interior shots he contests while he's on the floor is closer to average — roughly the same as Frank Kaminsky and Zach Randolph last season.
However, that's related to the Thunder's defensive scheme and how opponents attack him. When Ibaka is contesting a shot he's still one of the most effective. Only four players forced the opponents into a lower shooting percentage last season when they were the closest defender. He had the second-best mark in the league in the same measure in 2014-15.
Ibaka may not be getting to as many shots as he used to, but when he gets there he's just as hard to score over as he ever was.
3. Andrew Bogut
Bogut has long had a reputation as one of the league's best defensive bigs. What he accomplishes around the rim is done with positioning, anticipation, strength, and solid understanding of his team's scheme. He is not a hyper-athletic high-flyer in the mold of many other rim protectors.
This understated excellence shows up across his defensive measures as well. Among players with at least 1,000 minutes played, only Hassan Whiteside saved more points per 36 minutes with rim protection last season. Only Ibaka and Rudy Gobert held opposing players to a lower field goal percentage at the rim when they were the primary defender. Just four players contested a higher percentage of the opponents' interior shot attempts. Bogut is not necessarily the best at any one area, but his production across the board is what makes him so special.
All of this may be bad news for the Golden State Warriors. As part of their financial calisthenics to make room for Kevin Durant, both Bogut and Festus Ezeli were jettisoned this summer. Durant is an exceptional talent but he cost the Warriors two of the best rim defenders in the league. Ezeli played just 757 minutes last season so I have largely left him out of the discussion here. However, among all players, regardless of minutes played, Ezeli has led the league in points saved per 36 minutes with rim protection each of the last two seasons.
The Warriors still have plenty of firepower but their interior defense might not be nearly as strong this season.
2. Hassan Whiteside
The debate about Whiteside's defense has raged since his breakout began two years ago. In many ways, Whiteside's gaudy block totals and poor on/off numbers seem like a perfect example of the holes inherent in more traditional ways of evaluating the defense of big men. Whatever other defensive shortcomings he might hold, his blocks are not just empty noise.
Among players with at least 1,000 minutes played, Whiteside led the league in points saved per 36 minutes with rim protection last season. Opposing players shot a reasonably healthy 46.9 percent around the rim when Whiteside was the closest defender, about the same as Mike Scott and Tiago Splitter. However, he was the only player over 1,000 minutes last season who contested at least 40 percent of the opponents' interior shots while he was on the floor.
This aggressiveness has its costs — the common refrain that chasing blocks leaves the Heat vulnerable to offensive rebounds and dump-off dunks. However, the simple fact that Whiteside gets to so many shot attempts spreads his value around. His ability to contest nearly everything, and do it reasonably effectively, does seem to make the good outweigh the bad.
1. Rudy Gobert
Rudy Gobert has become the anchor of the Utah Jazz defense and solidified his position as the best rim protector in the league. While he did not finish number one in overall impact this season, he did in 2014-15. And in both this season and last, he held opponents to the lowest field goal percentage in the league on shots around the basket.
At 7-4 with an absurd wingspan, Gobert does most of his damage with length. However, he's mobile enough to hold his own in space and offers enough on offense that the Jazz can keep him on the floor and really build their defensive structure around him.
Gobert struggled with injuries last season, which limited him to just 61 games and hampered his effectiveness when he was on the floor. However, Gobert is healthy and should be ready for a strong, bounce-back season. When he is on the floor and healthy, there is simply no one as imposing at turning away shots around the basket.
This article originally appeared on