NBA Season Preview: 5 best post-up scorers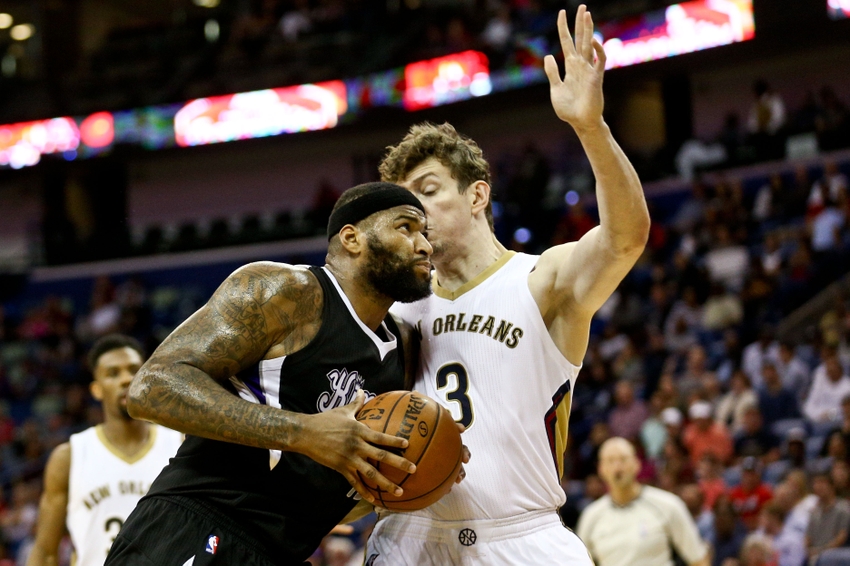 The NBA is getting smaller and the low-post game is dying, but it is not completely dead yet. These five players are keeping the post game alive.
Current talk about the NBA would have you believe the low-post game is dead.
The Golden State Warriors run out a lineup with 6-8 Draymond Green playing center. More and more teams use three-point shooting to spread the floor. The Charlotte Hornets turned down multiple draft picks to select a three-point shooting center in Frank Kaminsky.
The league is downsizing it seems. Space is more important than anything else. Everyone has to be able to shoot. And the center is typically only needed to roll to the basket and finish lobs and clean up misses. Size, it would seem, is needed for defensive rim protection rather than scoring around the basket.
There are just not many teams that make it an emphasis to slow the game down, dump the ball into the post and let a player go to work. These players do still exist though. And while they are not as abundant as they might have been in the 1980s and 1990s. Giants like Al Jefferson, Brook Lopez, DeMarcus Cousins and Marc Gasol are among the players who carry on this great post tradition.
These players may be increasingly rare, but they still produce. They are still All-Stars in the league.
And now that they have become even rarer, they are especially difficult to handle and prepare for.
The low-post game though has evolved. With more space and more bigs able to hit the perimeter, even guards are getting to the act more and more in the low post. Players like Chris Paul, Joe Johnson and Arron Afflalo have taken the mantle and worked the post to their advantage. That follows in Kobe Bryant and Gary Payton's footsteps as players who went into the big man's territory to use it as their own.
The low-post game though is still primarily the big man's territory. The best players at it are the giants who need this skill to stay involved in the offense.
They might be dinosaurs facing extinction in the age of the three-pointer, but they still have a special place on the low block that no one can truly replace or duplicate with a fancy three-pointer. Something has to suck the defense in to the paint to free up those shooters.
Here are the five best low-post players in the NBA today:
5. Dirk Nowitzki
Dirk Nowitzki has been driving NBA defenses crazy for a long time now. Eighteen years to be exact.
The moves are familiar at this point. The step back, one-legged fadeaway. The turnaround jumper. Even a good hook shot every once in a while. Or a duck-in to the basket.
Nowitzki has done this for two decades. And even as his skills have somewhat diminished in the last few years with age, Nowitzki keeps going.
He averaged 18.3 points per game and on a 50.3 percent effective field goal percentage last season, at 37 years old. There is no sign of him slowing down. On offense, at least.
And certainly not in the post.
Last year, Nowitzki averaged 5.3 points per game in post-ups last year and scored 1.02 points per possession on posts-ups last year, according to NBA.com. He still is a maestro in the paint and with his back to the basket.
Even with Nowitzki slowed down (do not ask about his defense, it does not exist anymore), he still can put a player on the block or in the mid-post and pivot him to death, back him in to suck the defender in before hitting that patented jumper.
4. Paul Millsap
Paul Millsap is one of the most under-the-radar players in the league still. Even after three straight All-Star appearances and leading the Atlanta Hawks to relevancy the past three seasons, Millsap is not even the poster child for the new power forward in the NBA.
Millsap was Draymond Green before Draymond Green. He is a strong defender and an extremely refined offensive player. All while building himself up as a player as a second round draft pick.
Millsap averaged 17.1 points per game and 9.0 rebounds per game with a mix of power and finesse both around the rim and on the perimeter. He is a player in the mold of everything the NBA wants today. The modern model.
And Millsap has that natural toughness to work well in the post. He is just very underused there.
According to NBA.com, Millsap score 3.0 points per game in the post. But he had 1.04 points per possession from the post, a very efficient number. The Hawks just didn't use it much and he only posted up in 16 percent of possessions.
That number could very well go down with Dwight Howard joining the roster. His pairing with Al Horford was perfect and perfect for the Hawks' motion offense.
Howard's addition to the roster will eat up a lot of post time for Millsap and take away what might very well be one of his best skills. And that is saying something.
3. LaMarcus Aldridge
LaMarcus Aldridge is known throughout the league as the true dinosaur.
He is one of the most efficient mid-range jump shooters in the game. Plop him into any game from the 1980s and 1990s and he would fit in perfectly as a power forward. He has good size, a great mid-range jumper and the ability to post up players.
Aldridge is an All-Star in his own right. With the Spurs shifting their lineup some with Tim Duncan's retirement, Aldridge will take on even more of an emphasis. HIs ability to work in both the high and low-post should pair well with Pau Gasol. And he is mobile enough to keep up with the movement the Spurs involve in their offense.
At his heart though, Aldridge is a strong low-post player. And he produces in that space for the Spurs.
Last year, more than one-third of his possessions came in post-up situations. He scored 5.8 points per game in the post and averaged 1.00 points per possession in the post.
Aldridge has all the skills necessary to work in the low post well. He can face up and hit jumpers, allowing him to use his strength and athleticism well to free up his own shot.
Aldridge is just workmanlike. His game may look somewhat mechanical at times, but it is extremely effective. And Aldridge should be in for another big season on the block and inside the three-point line.
2. Brook Lopez
Brook Lopez is a throwback. He is a big 7-foot, slowed by foot injuries and seemingly immobile. Defensively, Lopez does not have much value and even in the pick-and-roll, Lopez is not much of a threat to roll. He is not the picture of athleticism.
But put Lopez on the block, and he is still magical. He will produce and score there and do so efficiently.
Lopez averaged 18.3 points per game for his career and posted 20.6 points per game last year. He just scores and scores a lot. With the Brooklyn Nets lacking a lot of offensive options, Lopez will likely put up another big scoring season.
That means a lot more work in the post where he is good at using his size and adept with his footwork to create space. He has some great touch around the basket too. Lopez proves speed does not matter on the post if you are crafty with getting into an opposing player and have good footwork.
Last year, Lopez averaged 5.8 points per game in the post and scored on 0.95 points per possession on post ups, according to NBA.com. He has a solid jumper, so he can compliment his game and pop on ball screens. But his best value is very clearly in the post. This is what makes him a NBA player and a borderline All-Star, if only his team were any good.
Lopez will again be the Nets' fulcrum this year in the post and should be ready for another big individual year.
1. DeMarcus Cousins
To some, the post can be an art form. A dance of footwork and pivoting that send people off their feet and get them off balanced to create a hole. The coordination from big men to do this is magical.
To some, the post is a grind. A beat down of physical proportions that has no room for fluff and touch. Get to the basket and score using size and strength to do so.
Certainly, this list is full of guys who know how to use their finesse. Paul Millsap is certainly a guy who does both. But the most feared and best player in the low post is not a guy who is going to pull off a dream shake and flip the ball into the basket.
The best low-post player in the league is DeMarcus Cousins, a bull of ducked shoulders and drop steps, screening his defender away from the basket and getting to the rim. Sometimes that means literally bulling through the player in front of him.
Cousins has that finesse in him. He can do the spins and moves the others can. But his strength allows him to back his man in before turning a quick hook or getting into his move. There is no slow move.
And it is extremely effective.
Cousins is considered one of the best bigs in the entire league. He is a scoring machine, averaging 26.9 points per game. That was big in the post too. He averaged 5.4 points per game in post ups and had an average 0.96 points per post-up possession.
He is not the most efficient, but he produces and throws back to the glory days of post-up players when the NBA was a much more physical league.
Cousins is a bull. A very difficult player to handle physically and around the basket. He demands attention at all times and is one of the last stars who makes his living with his back to the basket.
This article originally appeared on