NBA Scout Shares Thoughts on Bulls with The Crossover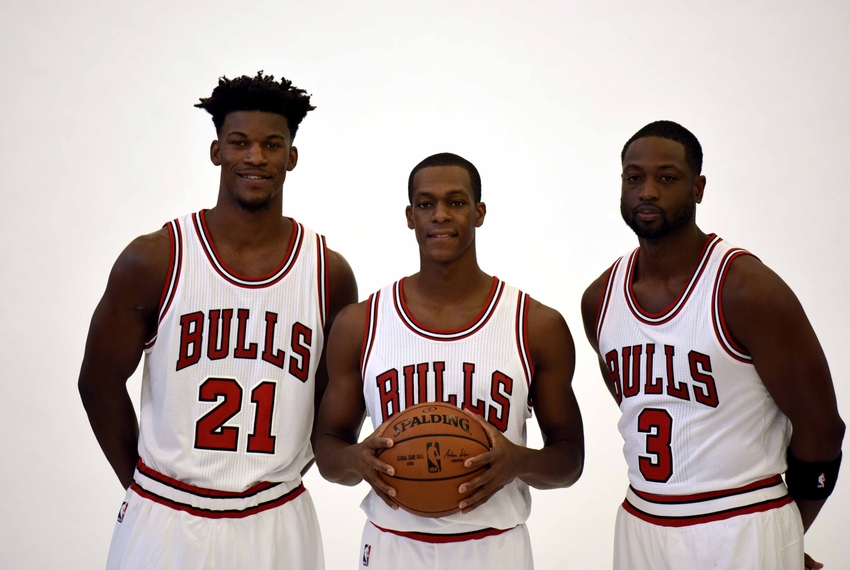 On Thursday, The Crossover dropped takes from anonymous NBA scouts on every Eastern Conference team and there was a lot to say about the Chicago Bulls, the Three Alphas, playoffs and rebuilding.
The Crossover, which is the newly christened SI NBA vertical, dropped a great piece featuring anonymous scout takes on each team in the Eastern Conference. Of course, that includes the Bulls.
There is a lot of information provided on Chicago, so let's pick at a few of their stronger takes and see if we think they nailed it or were off base:
"I feel really bad for Fred."
Sure, why not? He's not doing great, but he's kind of being railroaded with a roster that he (hopefully) didn't ask for.
"They like to dribble, they like to hold the ball, stop the ball."
Yup.
"Rondo and Wade are very undisciplined defensively at their age. They'll gamble a lot. They take shortcuts. …"
In his current state, Rajon Rondo could be considered undisciplined for a defender of any age, all the way down to AAU.
"I like Mirotic. He's one saving grace for that team. He takes some weird shots, but he can shoot, he can pass. They need him to play a lot of minutes alongside those other guys to give them enough space to operate. …"
It's hard to follow along with the "one saving grace" aspect of Nikola Mirotic. To date, he's been a very talented player that is inspiring when he's on, but that has been rare. He's also feeling the pressure to compete for the starting position this season. He's the logical choice because he does create more space with his ability to shoot from beyond the 3-point line, but as the preseason progressed there was a steady erasure of the calm, patient version of Mirotic. He stopped letting the game come to him and has been trying to force his shot more. The reality of Gibson finally starting for Chicago might be playing on his mind and instead of thriving, he's flailing.
More from Pippen Ain't Easy
"Look at it like this. Harrison Barnes is sort of a bad version of Jimmy Butler. And Mark Jackson was iso'ing Harrison Barnes all the time in Golden State, then Kerr went away from that, and Barnes didn't get as many touches, but he got better looks. …"
This is going to be a huge thing this season. It feels like Jimmy Butler and Fred Hoiberg don't have the same public issues that they did last season, but there is still the question of Hoiberg getting Butler to buy in and play his role. That friction is sourced in the view Butler has of himself as a star, compared to how the coach view has to be fitting that star into a system. No easy task. Rondo, Dwyane Wade and Butler have all been saying the right things, but what happens where their separate ideal realities all collide with the one reality that will be the 2016-17 Chicago Bulls?
"But they've staked themselves on this idea that we're going to be better without Thibs, whereas the right thing to do would've been to assess the team last year, see that it was basically at the endpoint for that core, and start a rebuild around a younger group. They couldn't admit that the team needed to be rebuilt. So they went the other direction and just tried to win the press conferences."
Nothing to disagree with, but maybe a little to expand on. The Bulls weren't going to be better without Thibs, but they probably weren't going to be better with Thibs. The team had reached full potential. Maybe they could have repeated that for a couple more years, slowly sliding further down the regular season standings in the East, still failing to deliver in the playoffs. There was a massive misreading of the situation by the front office in Chicago.
When it comes to winning press conferences, they've been just as inept. They called a press conference to end the season as an impromptu event that ran past the deadline for beat writers. Then they beat the drum all summer about being younger, more athletic and then went out and bought two players who have to start, both on the wrong side of 30 who consider moving – the ball, their own bodies, on defense – optional.
"It wouldn't stun me if they were the 7th or 8th seed. More likely they are 9 or 10. But that's their range."
This is exactly where we put them as well, though it's all about those previous comments that build into this projection. This team has a real chance to fight into the 40-win range, but regardless of 38, 40, or 42 wins, they aren't a contender and those numbers won't put them in a good position for the 2017 draft class. The Bulls could reasonably steal one game from a team like Toronto or Indiana, if those teams slip into the two-seed, but if they end up facing Cleveland or Boston, it could be over quickly. So, they aren't built to contend for the second round of the playoffs, forget championship.
So what if they go under those numbers and end up in the 9 or 10 spot? Then they're still too far from Markelle Fultz, Dennis Smith, and Josh Jackson.
The dirt that's being dished on Chicago is mostly accurate. It's a frustrating picture to paint for Bulls fans. The team isn't bad enough to truly rebuild, but they aren't a playoff threat, either. The biggest takeaway is that rebuilding isn't something just discussed here at Pippen Ain't Easy, NBA scouts seem to be on the same page.
This article originally appeared on