NBA's Future: Which Teams Shine Brightest
Zack Geoghegan/FanSided via Hoops Habit

Fansided
The NBA is filled with talent that has yet to be seen. Here are the teams next in line to put that talent on display.
The bottom half of the NBA is filled with immature players, bad records, and hungry fanbases who are searching for just the tiniest taste of success.
For some teams, the future seems bleak. Unproven talent and questionable coaching combined with poor front office decisions puts teams such as the Sacramento Kings, Phoenix Suns and Orlando Magic in a position that is going to take a lot more than just luck to get out of.
On the flip side of that, there are plenty of teams who have more than enough talent that, while undeveloped, shows signs of great promise.
Smart front office moves and utilizing lottery picks in recent years has teams such as the Milwaukee Bucks and Los Angeles Lakers (although overpaying Timofey Mozgov and Luol Deng was completely unnecessary but the draft picks have been an A-plus) in great shape.
Out of all of the teams in the lower half of the league, there are some teams that show more promise than others heading forward. A plethora of young guys with unlimited ceilings and even younger coaches who are proving they are here to stay.
I ranked the top five in order of which team has the "least" bright future to which team may be destined for an NBA ring.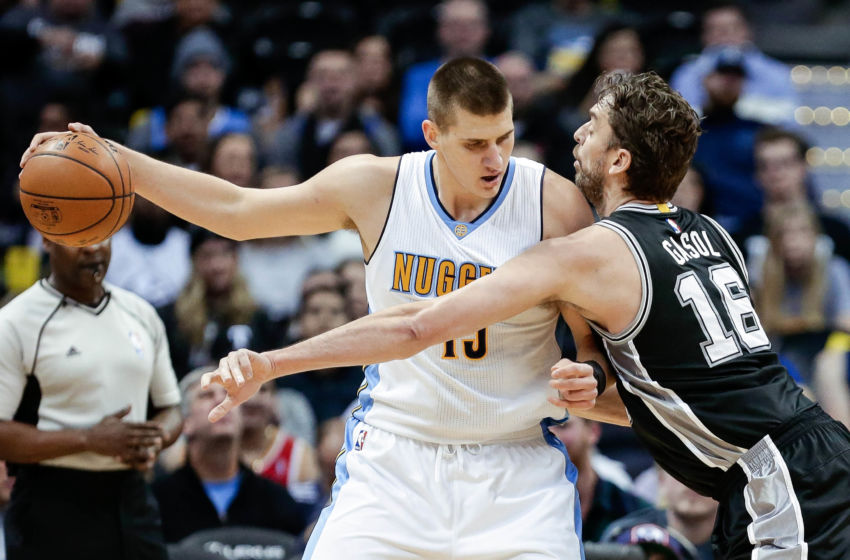 5. Denver Nuggets
The Denver Nuggets actually have a decent number of productive veteran guys on their roster such as Wilson Chandler, Danilo Gallinari and Jameer Nelson, along with Kenneth Faried, who is in his sixth season.
What makes the Nuggets so interesting is how many young and talented players they have to complement those veterans.
Rookies Jamal Murray and Juan Hernangomez have provided some good minutes for the Nuggets. but Hernangomez hasn't had much opportunity to display his true talents, unlike Murray.
Murray has scored 10 or more points in 10 of his 38 games played, including a four-game stretch where he scored 18, 24, 23, and 20 respectively. Murray is a pure sniper, but his game is still very raw; luckily he's only 19 years old.
The young backcourt duo of Emmanuel Mudiay and Gary Harris is one the Nuggets can ride for the next few years.
There have been some questions regarding Mudiay's decision-making as a point guard, but he has the potential to become a capable scorer (Mudiay has six games of at least 20 points this season including a 30-point showing against the Celtics) with plenty of time to learn.
Gary Harris may be one of the more underrated players in the NBA, which may be due to his injury issues, but when he's healthy he becomes an excellent shooter and an above average face-up defender.
Will Barton is freaky athletic and may be a valuable trade asset in the future.
The two big bodies, Nikola Jokic and Jusuf Nurkic, are poised to be great players in this league, especially Jokic, who is a point guard living in a giant's body with some definite possibility of becoming an All-Star one day.
So many young guys makes it understandable as to why the Nuggets haven't shown much this year, but with more veteran players than the rest of the teams on this list, it's concerning that they have a 15-23 record and one of the worst defenses in the league (if not the worst), ranking 29th in Defensive Rating (112.4) and 28th in Opponents Points Per Game (111.2).
Going forward plenty of young talent, veterans and trade assets such as Faried and Barton could make the Nuggets a Western Conference threat in the coming years.

4. Los Angeles Lakers
The Los Angeles Lakers are absolutely loaded with young talent at pretty much every position.
Jordan Clarkson, who is 24 years old and one of the "older guys", recently signed a deal with the Lakers for $50 million to keep him in L.A. for the next four years, which may turn out to be an incredibly valuable contract as the salary cap continues to go up.
Julius Randle is in his second (well, technically third) season in the NBA and has already put up two triple-doubles this season. He has the potential to turn into a Zach Randolph or Draymond Green type-player with a spin-move that at times is practically unguardable.
The sophomores, D'Angelo Russell and Larry Nance Jr., give the Lakers a point guard that they can develop a team around along with a man who can jump to the moon if he so chooses to do so.
Rookie Brandon Ingram isn't exactly off to a spectacular start, as his offense is a huge work-in-progress, but he has shown signs of promise on defense.
It's too early to tell if Ingram can turn into the shooter that drew comparisons to Kevin Durant, but if he works on his defense first, he could follow the same path players such as Kawhi Leonard, Jimmy Butler, and Paul George took.
Get the defense into lock-down mode, then let the offense come over time.
Even the older guys such Lou Williams and especially Nick Young (who is shooting 43 percent from 3, well beyond his career-best mark), are necessary contributors to the team in their effort to rebuild, providing leadership on the court (unless Russell isn't snitching).
Head coach Luke Walton is proving himself in his first season as an NBA coach on the offensive end. However, getting so many young guys to play defense for a full 48 minutes is becoming apparently difficult.
The Lakers rank in the top third of the league in second and fourth quarter production (ranking sixth in the NBA in both quarters), but rank in the bottom half of the league in first (20th) and third (19th) quarter production.
The massive deals that Luol Deng and Timofey Mozgov signed are what put the Lakers in the fourth spot. Veteran players are extremely valuable, in my opinion, but not when you have to pay them almost $140 million over the next four years with very limited production.
They have a first round pick in either 2017 or 2018 (depending on whether or not the pick to Philadelphia goes in '17 or '18), a second round pick in 2017, and two second rounders in 2018.
The draft has been kind to the Lakers recently, adding another young and talented piece for cheap is never a bad thing.
I'm not sure I even understand the reasoning behind signing of Metta World Peace so I'm not even going to try to make sense of it.

3. Philadelphia 76ers
The Philadelphia 76ers struck gold when they drafted Joel Embiid in 2014 with the third overall pick.
What was once an extremely controversial pick has turned into nothing but hope and excitement for Sixers fans.
Joel Embiid is a freak, an unstoppable force with Hall of Fame-type capabilities. Playing only 25 minutes per game due to restrictions placed on him by the team, he still manages to average 19.6 points and 7.6 rebounds.
He can step back and shoot the 3, go into the post and nail a hook shot, block any shot that comes near him, and is quick enough to stay in front of almost anyone.
There aren't many flaws to his game (I would consider his Twitter account one of the best things about him) at the young age of 22. He is the future of not only the 76ers, but the NBA.
Lost in the Joel Embiid hype is, well, the rest of the team.
The No. 1 pick in last year's draft, Ben Simmons, will most likely miss the entire season due to injury, but his ceiling is yet to be defined (maybe because he hasn't played?).
If Simmons can come in and be anything close to the player fans and scouts think he could be, his future will be fine. However, once again, he has yet to play an NBA minute, so as of now he is an unknown.
The Sixers' group of young talent doesn't just stop there. Players such as Robert Covington, Nik Stauskas and Nerlens Noel are all in their third or fourth year in the NBA and they have all shown that they are capable NBA players.
Covington has the potential to be an excellent two-way player in the NBA as his defense is already at an above-average level. Stauskas has become a reliable three point shooter compared to his first two seasons.
Nerlens Noel has been playing so well, especially on defense, that he straight up stole all of Jahlil Okafor's minutes.
The other rookie, Dario Saric, is showing signs that he is bound to be an excellent stretch 4 and a prolific rebounder. He's no Embiid, but then again, no one else is.
The list of young players goes on even longer. T.J. McConnell (who recently hit this nasty game-winner over Carmelo Anthony and Kristaps Porzingis), Richaun Holmes, Timothe Luwawu-Cabarrot, Sergio Rodriguez and even Jahlil Okafor.
With plenty of draft picks over the next few years and so many players that could be used as trade bait (i.e., Okafor), the Sixers are set to shoot up the Eastern Conference standings and it may happen sooner rather than later.

2. Milwaukee Bucks
The future of the Milwaukee Bucks may actually be happening right now.
Coming into the season, the Bucks weren't expected by most (including me) to show any signs that they could make a playoff push this season. The loss of Khris Middleton in the offseason really put a damper on any playoff talk, but the Bucks responded by winning … and winning a lot.
The Bucks are currently 20-18, which is good enough for fifth in the Eastern Conference, and it is due in large part to the improving play of the NBA's next superstar, Giannis Antetokounmpo.
Giannis is averaging 23.2 points, 8.8 rebounds and 5.6 assists per game while shooting 52 percent from the field. At 6'11", his incredibly lengthy arms and long body allow him to shoot, pass and rebound over just about anyone.
He can play/defend any position on offense or defense without worry. At 22 years old, Giannis has the ability to take over the NBA, to do the same things that players such as LeBron James and Michael Jordan did (or even couldn't do).
While Giannis is a talent that the NBA has never seen before, he isn't the only reason the Bucks are playing well. The improved play of Jabari Parker has created a scoring duo in Milwaukee that is hard to compete with on a nightly basis.
Parker, who is younger than Giannis at 21 years old, is averaging more than 20 points per game while shooting almost 50 percent from the field, but the number that really sticks out is how quickly he has improved his 3-point shooting.
In his first two seasons, Parker averaged 25 percent from long range on 0.5 attempts per game. This year he's shooting 42 percent from 3 while taking 3.5 attempts per game.
The surprising play of rookie Malcolm Brogdon has given the Bucks a point guard that they can go forward with in the future (sorry, Matthew Dellavedova). Even Tony Snell has improved since being traded from the Bulls earlier in the year, turning himself into the 3-and-D guy he should be.
Greg Monroe has improved in his new role off the bench as John Henson has become a much-improved player on defense; however, his physicality is still an issue.
Other young guys such as Rashad Vaughn and Thon Maker have yet to see enough court time to predict them as players. Maker's unique skill set alone will get him playing time, whether or not he can utilize it is yet to be seen.
Head coach Jason Kidd has had a roller coaster start to his head coaching career, but it would appear that he knows what he's doing.
His decision to bench Monroe and make Giannis the primary ball-handler seemed hasty at the time, but both moves have positively benefited the team.
The Bucks, a team that was suppose to be in rebuilding mode, have an offense that is currently ranked eighth in Offensive Rating, while their Defensive Rating is 15th in the league.
As far as future draft picks, they don't have many, but with how far ahead of schedule they are without their best shooter, Middleton, puts the Bucks in a great spot in the East going forward.

1. Minnesota Timberwolves
The team that had the most hype coming into the season was the Minnesota Timberwolves and they have done just about everything but live up to it.
It's nothing to stress over. This team is young, and when I say young, I mean they are essentially a bunch of children running around an orange ball.
The main attraction for the Wolves is the trio of Karl-Anthony Towns, Andrew Wiggins and Zach LaVine.
Towns is a special talent, one that comes around only every so often. He's a giant body that can move as fast as any guard, while being capable of scoring from practically anywhere.
He's averaging 22 points and12 rebounds per in his second season, which has only been done by a handful of all-time greats that includes guys such as Wilt Chamberlain, Kareem Abdul-Jabbar and Shaquille O'Neal.
If KAT can learn to limit his mistakes (i.e., constantly taking contested 3s when he has an obvious mismatch), he can become an unstoppable force comparable to a Shaq or a Wilt.
Andrew Wiggins is a bonafide scorer with multiple 40-point games this season and a jump shot that is steadily improving. If he can become the lock-down defender he is capable of being, his potential is through the roof.
Zach LaVine is the best dunker the NBA has to offer and he displays it every chance he can get. But LaVine isn't all about dunking. He's shooting better than 40 percent from 3 this season while averaging almost 21 points per game.
His decision-making is iffy at times, but his athletic gifts make him difficult to leave off the court.
The list of young guys goes on for the T-Wolves; Gorgui Dieng, Shabazz Muhammad, Adreian Payne and Tyus Jones are all young and talented players that the Wolves can pick and choose from to help develop their future.
Head coach Tom Thibodeau is known for his brilliant defensive schemes. but motivating this young Wolves team has proven to be a challenge.
The Wolves are one of the worst second-half teams in the league despite the fact that they are ranked sixth in the NBA in first-quarter production (ranked 24th in the third quarter and 22nd in the fourth). It's obvious they have the skill, they just lack the experience.
For this team to properly develop, it'll take time and lots of patience. If this team can continue to grow and if Thibodeau doesn't run anyone into the ground, there could be a new Big 3 in the NBA, and it came all through the draft.
This article originally appeared on