NBA Rumors: Lakers' D'Angelo Russell To Miss 2-3 Weeks With Knee Injury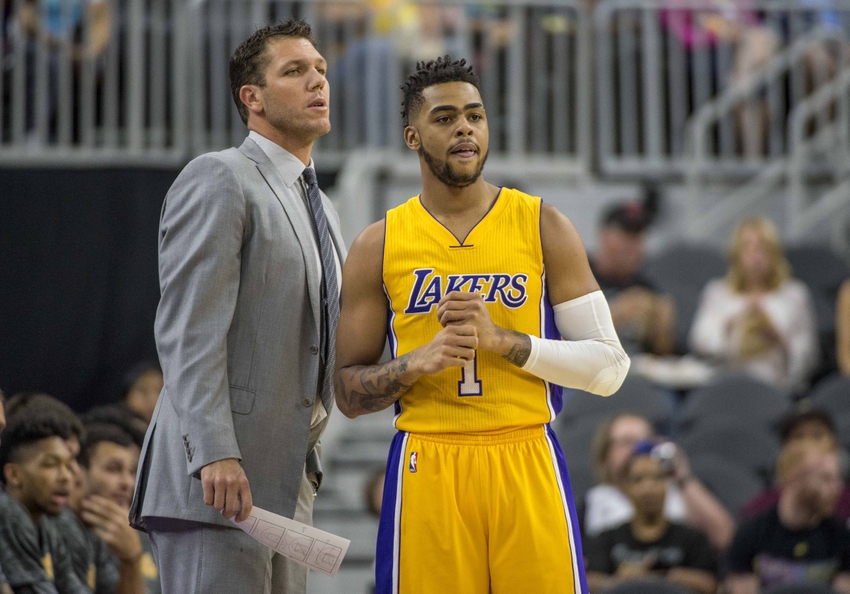 NBA Rumors: Los Angeles Lakers guard D'Angelo Russell is expected to miss 2-3 weeks after undergoing treatment for a knee injury
After a rocky rookie season, one that even included a team scandal, D'Angelo Russell was off to an improved start in 2016-17. However, he's now expected to be sidelined for at least two weeks after undergoing platelet-rich plasma treatment in his sore left knee.
Russell was averaging 16 points and five assists per game on 37 percent shooting from three-point range so far this season. He was the team's second leading scorer and ranked third in minutes per game. Simply put, his loss is going to be felt.
In his absence, the Los Angeles Lakers could start Jordan Clarkson. Or, if they want to keep Clarkson in a bench role, they could give the starting nod to veteran Jose Calderon.
More from Sir Charles In Charge
[via ESPN]

Los Angeles Lakers starting point guard D'Angelo Russell will miss at least two weeks after receiving a platelet-rich plasma treatment injection in his sore left knee, the Lakers announced Wednesday.

The Lakers say that Russell is expected to be out a minimum of two weeks and will be re-evaluated in one week. The procedure was performed in Los Angeles by Dr. Steve Yoon, the Lakers noted in a news release.
The news couldn't have come at a worse time for the Lakers. LA was finally injecting the city with joy again. The Lakers, for the most part, had been a borefest for the last few seasons. If you went out to see the Lakers the last couple of seasons, it was only because of Kobe Bryant.
Now that he is retired, though, it was important for the Lakers to prove that their youthful brand of basketball could deliver promise. That's exactly what the team was doing through the first month of the season.
However, even if Russell only missed two weeks, it's going to hurt the team.
Russell will be re-evaluated in one week.
This article originally appeared on