NBA Rumors: Is George Hill The Long-Term Answer At PG For The Jazz?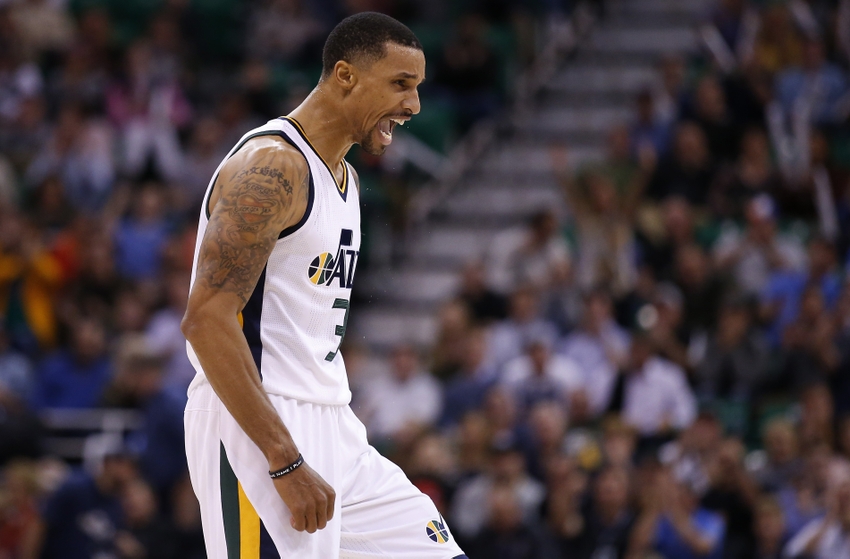 NBA Rumors: After being traded to the Utah Jazz this past summer, it appears that both sides are willing to commit to each other long-term
George Hill is most known for being the "other guy" in the Kawhi Leonard trade. Though, he's a lot more than just the answer to a trivia question.
Even though he was often overshadowed by Paul George during his time with the Indiana Pacers, there's no question that is impact was felt. Heck, just look at how much the Pacers are struggling at the moment without Hill's stability – it doesn't help that Jeff Teague has been practically a disaster for Indy, in fairness.
Nevertheless, I think it's safe to say that the Pacers miss Hill. He was never the flashiest player on the roster – other than the time he bleached his hair – but there's no question that he was one of the most consistent.
More from Sir Charles In Charge
And he's brought that consistency to the Utah Jazz, something that they've craved from the point guard position for quite some time.
He's impressed the Utah Jazz so much that they're ready to commit to him long-term. According to ESPN's Tim MacMahon, the Jazz could seek a long-term extension with Hill this summer.
[via ESPN]

The Jazz see PG George Hill as a long-term fit and could attempt to sign him to an extension this season, preventing him from hitting the free agency market in the summer. "If that's the case, then I would be very interested in that," Hill told ESPN. "But I'm going to let them take care of that and just do what I can control."

…

"I'm not the type of guy that likes to move around and go from team to team," Hill said. who leads the Jazz with . "I really like it here. My family likes it here. I've got some friends here. The city's been great for me so far, and it's a nice place to raise a family, so hopefully I get an opportunity to re-sign here if they would love me to be here."
The Utah Jazz are 3-2 this season and are fresh off beating the red-hot San Antonio Spurs on the road; an impressive victory, to say the least. Oh, and that was without Gordon Hayward, arguably their best player.
Hill has been a big part of this team's success. He's averaging 21.4 points and 4.6 assists per game thus far. To put those numbers in perspective, Hill ranks in the top 10 in scoring for point guards.
The only other PG's ahead of him are Russell Westbrook, Stephen Curry, James Harden (technically), Kyrie Irving, John Wall, Kemba Walker, Isaiah Thomas and Damian Lillard – not bad company to be in at all.
However, if the Utah Jazz do in fact decide to move forward with George Hill, you have to wonder what that means for a player like Dante Exum, who the team drafted in the top 5 just two years ago.
This article originally appeared on