NBA Rumors: 5 Big Names Allegedly On The Trade Block Right Now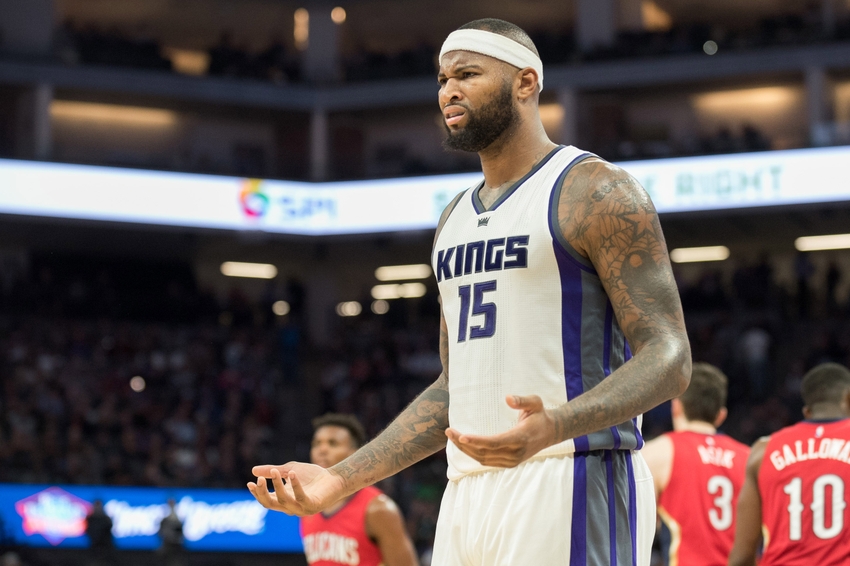 The NBA rumor mill is starting to heat up, and these five big-name players have been recently mentioned as potential trade pieces.
It's only the middle of November, and the NBA rumors are already flying around like pumpkin pie at my family's Thanksgiving feast. The pace is sure to pick up as we get closer to February's trade deadline, but it's still noteworthy considering the rumor mill is already churning out some douseys.
What you're here for, though, are the big names currently being tossed around as potential trade targets. And as we've all come to expect from the NBA, there are bound to be some blockbuster moves early in the season.
So who are some of the stars currently trying to ignore the rumors?
Well we've got quite a few players on one particular team that are allegedly being shopped. One has been on the block for years, so it makes plenty of sense. We've also got a couple of superstars–one on a terrible team and one on a team overflowing with star power.
Enough with the idle chatter, though. Here are the five big names currently mixed up in the latest NBA trade rumors as we work our way through the early part of the 2016-17 campaign.
Klay Thompson, SG – Golden State Warriors
As you've probably heard by now, rumors cropped up this past weekend regarding the potential trading of Klay Thompson. Obviously it led to plenty of talk around the league, as you'd expect from the potential movement of one of the NBA's best scorers.
The rumor started with Brian Scalabrine, who claimed he read something that the Golden State Warriors were interested in trading him. He also mentioned the Boston Celtics as a potential landing spot.
Obviously the rumor was quickly shot down. CSN Bay Area's Monte Poole tweeted that he heard from two inside sources that Thompson wasn't on the trade block.
Then Warriors head coach Steve Kerr came out and gave his two cents, saying Scalabrine "hasn't called me yet" (via ESPN's Ethan Strauss).
Scalabrine has connections to both franchises–he played for the Celtics for five seasons and was an assistant coach for the Warriors for a year. It was interesting to see the rumors, but it was nothing more than a few poorly connected dots.
The only reason Thompson is on my list is because this rumor garnered a lot of interest. If you still had any hope of this coming to fruition, please put it to bed.
Willie Cauley-Stein, PF/C – Sacramento Kings
There appear to be a number of Kings on the trade block right now. One of the more intriguing players would be Willie Cauley-Stein, who is supposedly peeved about his current situation in Sacramento.
According to ESPN's Marc Stein, the 2015 lottery pick is unhappy with the amount of minutes he's received so far in 2016-17. It's gotten to the point where he's even seen some Did Not Plays so far this season and is getting only 13.8 minutes per game.
By what Stein said, Sacramento is open to moving him.
However, a report from CSN Bay Area's James Ham claimed that the Kings don't plan on shopping the youngster. The conflicting reports paint an interesting picture, but it's a scenario worth keeping an eye on regardless.
With so many players rumored to be on the block, who knows what the Kings' plans are as the trade deadline inches closer. Chances are they'll move at least one player, with up to four allegedly available at this moment.
Will Cauley-Stein be the guy to go? Maybe.
Nerlens Noel, PF – Philadelphia 76ers
Since the end of last season, there's been a lot of talk about the 76ers moving Nerlens Noel. The former lottery pick has proven himself to be a capable contributor during his days in Philadelphia, but has become a bit irrelevant as a result of injuries and a crowded frontcourt.
Especially with Noel set to be a free agent in 2017 and Joel Embiid emerging as a star, a trade seems all but imminent. A re-signing is unlikely, and it just so happens the 76ers have plenty of potential trade partners.
Several teams, including the Celtics (via the Boston Globe) and Toronto Raptors, have been mentioned as interested parties. Both teams could use the added talent in the frontcourt, and have the assets necessary to make a trade worth Philadelphia's while.
Realistically, Noel has the potential to be a star in the NBA. While he still hasn't quite lived up to the billing as the No. 6 pick of 2014, he's shown an ability to dominate the paint as a rebounder and shot blocker.
Adding that type of production (when healthy) would be an intriguing option for just about any team at this point in the season.
Of all the players on this list, Noel is the most likely to be moved before the trade deadline.
DeMarcus Cousins, C – Sacramento Kings
It seems like the Kings have had DeMarcus Cousins on the trade block for years. However, it sounds like they're finally serious about making a move as we inch closer to 2017.
According to Sporting News, one Western Conference GM believes he could be traded as early as December.  While the Kings aren't off to a miserable start in 2016-17, a few more losses could make them more willing to part ways with Cousins.
It also doesn't help that he isn't expected to re-sign in 2018, when his current contract ends. That makes finding some sort of return for arguably the NBA's best offensive center all the more important.
And at his current price, there should be plenty of teams looking to insert him into their lineups.
Now we can't overlook the fact that Cousins does come with some baggage. He's a hothead on the court, and has dealt with his fair share of off-the-court issues with staff during his time in Sacramento.
That means he'll realistically need to land in a strong locker room if he's going to be successful with his next team.
Either way, he'd be an excellent asset for any NBA frontcourt. Some team should find a way to pry Cousins away from the Kings before February's deadline.
Anthony Davis, PF – New Orleans Pelicans
Based on the rumors mentioned on this list, the Celtics are going to be busy in the next three months. In fact, they've even been mentioned as players for Anthony Davis, one of the NBA's biggest superstars.
As we've seen this season, the Celtics could use some help on the boards. They've been battling injuries, and have two of their top power forwards scheduled to hit free agency next offseason. So why not add one of the league's top big men to the mix?
According to CSNNE.com, Davis could be in the team's crosshairs between now and February.
Obviously it would depend on whether or not the Pelicans would be willing to part with Davis. While highly unlikely, he could demand a trade if New Orleans continues to be one of the NBA's worst teams.
Superstars tend to want out when the going gets really, really tough–and it's trending that way.
As CSNNE.com mentioned, the Celtics have more than enough assets to make a trade worth the Pelicans' time. Still, it would be difficult for New Orleans to part with its franchise player no matter what Danny Ainge offered them.
Just like everything else on this list, this is just a rumor and nothing more–at this point. If the Pelicans continue to tank, though, you better believe trading Davis could become an actual possibility.
This article originally appeared on