NBA: Ranking Every Team's Starting Backcourt Heading Into 2016-17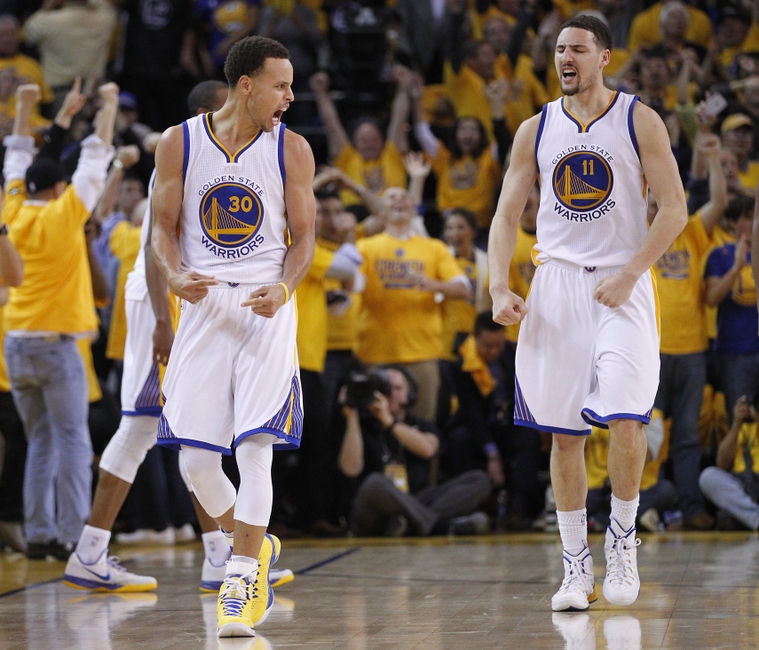 In the darkest days of the offseason, let us shed some light and look at the best projected backcourts in 2016-17. This is the latest installment of NBA Power Rankings
Not all rosters are set in stone for the 2016-17 season by any means, but that won't stop us from speculation, including ranking the NBA's best backcourts heading into the new season.
Please understand that this is just the opinion of one writer (myself) and I have compiled these rankings as unbiased as possible. Also, note that these are projected starting backcourts – not every player is locked in as a starter next season.
Training camps haven't even opened yet, so some shifting along the depth chart (including the starting backcourt) is bound to happen.
So just sit back, relax and (hopefully) enjoy as I take you through every NBA team's starting backcourt, from the worst to the best.
30. Philadelphia 76ers 
Starting Backcourt: Jerryd Bayless and Gerald Henderson
Jerryd Bayless and Gerald Henderson are not bad players by any stretch of the manner, it's just that they're not exactly high quality starters on an NBA team, either.
Both served as backups in Milwaukee and Portland, respectively, last season, providing solid contributions to their teams.
However, now starting in Philly, they'll be going up against tougher units than the bench units they were accustomed to facing last season, something they are yet to prove they can do well against individually and as a backcourt duo.
Even though Henderson has been a starter before in the NBA, he's not the type of two-guard that is on any good team's first unit, unfortunately. Bayless has seen spot starts throughout his career, but there's a reason why he's been (mostly) a career backup.
29. Sacramento Kings 
Starting Backcourt: Darren Collison and Arron Afflalo
Just two seasons ago, Darren Collison averaged 16.1 points and 5.6 assists a game in a Kings uniform. A mere three seasons ago, Arron Afflalo put up 18.2 points a night as a member of the Orlando Magic.
Now, together in California's capital, they will be far behind DeMarcus Cousins and Rudy Gay (if he's still on the team) in the line for field goal attempts. This doesn't mean they won't be able to contribute – Collison will likely rack up many assists and Afflalo take some attention off Cousins – but it just won't be at the volume they're capable of.
However, it is yet to be seen how the two will mesh and if they still have the capability of being a good starter for an NBA team, and that's why they are ranked 29th.
28. Denver Nuggets 
Starting Backcourt: Emmanuel Mudiay and Gary Harris
Emmanuel Mudiay was the second-worst (qualified) shooter in the NBA with a 36.4 percent accuracy clip. If that wasn't bad enough, Mudiay was ranked 424th in RPM (Real Plus Minus) last season, ahead of only two other players that are projected backcourt starters next season (Derrick Rose and Devin Booker).
So, how are the Nuggets even ranked above the Kings? One word – Potential.
Mudiay is still very young and whilst he showed glimpses post All-Star break last year, he will need to improve more if the Nuggets wish to start accelerating their rebuild and push for the playoffs.
High flyer Gary Harris is also young at 21 and while he may and Mudiay may not be there yet, demonstrated by their ranking, fans can hope that they will begin their ascend this season.
27. Brooklyn Nets 
Starting Backcourt: Jeremy Lin and Randy Foye
Above is a photo of Jeremy Lin when he was notified that Randy Foye will likely start next to him in his first year in Brooklyn (this is not actually a reaction photo but you get the point).
The only reason the Nets are even rated this high is due to the excellence of Jeremy Lin. Lin finished 7th in Sixth Man of the Year voting last year and was an integral piece on a Hornets team that clinched a playoff berth and took the Miami Heat to seven games in the first round of the playoffs.
He may not be "Linsanity" anymore but he has shown flashes of that brilliance from time to time (see: vs the Raptors and Spurs in 2015-16). Regardless, he is worthy of a starting point guard gig and, who knows, maybe being back in New York makes Lin even better than he is now.
26. Dallas Mavericks 
Starting Backcourt: Deron Williams and Wesley Matthews
Injuries suck. And I don't think any backcourt knows that better than the tandem of Deron Williams and Wes Matthews, who have succumbed to injuries within the past few seasons.
Williams isn't the All-Star he used to be – he hasn't been for a long time – and frankly, no one is expecting him to produce at that level anymore anyway. Matthews, meanwhile, is trying to live up to his big contract after overcoming his torn achilles.
And he was actually pretty good last season, considering the circumstances.
Neither player is spectacular nor below average but with such a wealth of talent in the backcourt these days, the Mavs find themselves ranked at 26th, unable to climb higher.
25. Atlanta Hawks
Starting Backcourt: Dennis Schroder and Kyle Korver
With Jeff Teague now in Indiana, Dennis Schroder will finally be given the opportunity to be a starting point guard with the Atlanta Hawks.
Alongside him will be former NBA All-Star and sharpshooter Kyle Korver, who will no doubt help draw some attention away from the new starting floor general.
We are yet to see what Schroder is truly capable of so until that happens, the Hawks are relegated to the bottom 10. With that said, don't be surprised at all if they can slowly transform into a top 20 backcourt this season.
24. Orlando Magic
Starting Backcourt: Elfrid Payton and Evan Fournier
Orlando must really like what Evan Fournier offers if they chose to keep him rather than Victor Oladipo as their shooting guard of the future. Either that, or they simply got tired of waiting on Oladipo to take the next step.
Fresh off signing a new, lucrative contract, Fournier will be out to prove that last season wasn't an anomaly whilst his backcourt running mate will be looking to take the next step as a leader on the floor for the Magic.
Payton averaged 6.4 assists a game last season but he still shot only 43.6 percent from the field and 32.6 percent from beyond the arc as well, allowing teams to play off of him.
If Orlando wants to make the playoffs, they will need Payton to improve his shooting and just keep on dishing those assists.
23. Indiana Pacers
Starting Backcourt: Jeff Teague and Monta Ellis
Although this backcourt seems very talented, at the very least on paper, I am of the opinion that Jeff Teague and Monta Ellis were not made to play next to one another.
They are both very similar in the way that they need to have the ball in their hands to be effective but unfortunately, for the Pacers, there is only one ball to go around and limited playing time available.
Teague and Ellis have shown what they are capable of but now they need to show they can still do that playing at one another's side. Not to mention that Ellis had a bit of a down year during his first season with the Pacers.
22. New York Knicks
Starting Backcourt: Derrick Rose and Courtney Lee
For all the hype surrounding New York's new starting lineup, it might come as a surprise that I have the New York Knicks ranked so low.
But with Derrick Rose's constant injuries and Courtney Lee having an underwhelming half-season with the Charlotte Hornets, I'm not confident enough to declare the Knicks' backcourt a top 20 one just quite yet. There's just too many questions.
Hopefully, for the sake of Knicks and Rose fans alike, the former MVP can stay healthy and treat his fans to some magic in his first year in The Big Apple as he approaches the open free agency market in 2017.
21. San Antonio Spurs
Starting Backcourt: Tony Parker and Danny Green
The San Antonio Spurs, this low? I could hardly believe it myself when I found myself putting this duo in the bottom 10.
However, I believe this is a fair assessment due to the rapid regression of Tony Parker, partly due to age, and the sudden poor shooting from Danny Green last season.
While Parker is still very much a serviceable starting point guard and Green is still an elite perimeter defender, the talent of other teams' backcourts are too much for this tandem to overcome, especially at the point guard position, where Parker is no longer elite and often a defensive liability.
20. Memphis Grizzlies
Starting Backcourt: Mike Conley and Tony Allen
Speaking of elite defenders, even at 34, The Grindfather (Tony Allen) is still grinding. Meanwhile, Mike Conley is cashing in.
Conley will earn an insane $153 million over the next five seasons, making him the highest paid player in NBA history. Until next summer, of course.
Obviously, Conley isn't one of the greatest players in NBA history but with the rising cap, Memphis did all it could to keep its All-Star caliber point guard. It was a move that needed to be made.
The duo of Conley and Allen has never been sexy or exciting, but it has always helped carry the Grizzlies to the postseason. Injuries and age, however, will help determine how good this duo can be in 2016-17.
19. Los Angeles Lakers
Starting Backcourt: D'Angelo Russell and Jordan Clarkson
One of the youngest backcourts in the NBA, D'Angelo Russell and Jordan Clarkson  are only scratching the surface of their capabilities, especially the former.
After a tumultuous rookie season, the 2015 number two pick will be looking to bounce back from his incident with Nick Young and come into this season fresh and ready to learn and improve under new head coach Luke Walton.
Clarkson will also be hoping to once again make a leap after two superb seasons and signing what I believe to be the best value contract of the offseason. If the duo can keep improving this season and beyond, they won't be stuck in the bottom half of the NBA much longer.
18. Miami Heat
Starting Backcourt: Goran Dragic and Tyler Johnson
With Dwyane Wade gone, Goran Dragic has been left with primary ball handling duties all to himself for the first time since making the move to Miami.
Dragic's days with the Suns proved that the more the rock is placed in his hands, the better the outcome. He averaged 20.3 points a game, won Most Improved Player and garnered an All-NBA nod in his last full season in Phoenix – when he was running the show.
He simply didn't have that luxury last season with the Heat. Perhaps that's something to monitor this year.
Next to him will be either newly re-signed Tyler Johnson or sophomore Josh Richardson, but make no mistake the fortunes of the Miami Heat are solely in the hands of the newly appointed floor general.
17. Milwaukee Bucks
Starting Backcourt: Matthew Dellavedova and Khris Middleton
This backcourt could be rated even higher if head coach Jason Kidd decides to start wunderkind Giannis Antetokounmpo at point guard permanently.
For now, though, let's just assume he's starting at small forward and new addition Matthew Dellavedova is assuming starting point duties.
Even with Delly starting, this Milwaukee backcourt is still very promising. Middleton is an excellent scorer (18.2 ppg last season) and Delly is a defensive pest and reliable three-point shooter when he's open.
The future is bright in Milwaukee and the backcourt is no exception.
16. New Orleans Pelicans
Starting Backcourt: Jrue Holiday and Tyreke Evans
For all the slack they receive, Jrue Holiday and Tyreke Evans are good, sometimes great, players when they are healthy. The problem is they are hardly ever healthy and even less healthy at the same time.
Evans played only 25 games last season but when he did play, he averaged 15.2 points and 6.6 assists per night – which is a solid rate, especially for a shooting guard.
Meanwhile, Holiday was one of the best sixth men in the NBA last year after returning from injury and having to be on a minutes restriction. With the two returning to New Orleans for another run at the playoffs, a healthy season from the two could propel the Pelicans back on track.
15. Utah Jazz
Starting Backcourt: George Hill and Rodney Hood
It's funny because even though the Indiana Pacers acquired a recent all-star in Jeff Teague, I think they downgraded from George Hill, who will now be playing alongside Rodney Hood in Utah.
Although not exactly an "exciting" player, Hill is a very capable ball handler and excellent perimeter defender that should help Utah finally return to playoff basketball. They've been the trendy pick of the summer.
At the shooting guard position, Hood should continue to show teams why he was such a steal in the 2014 draft, as he looks to improve upon the 14.5 points he put up per game last season.
14. Houston Rockets
Starting Backcourt: Patrick Beverley and James Harden
The sheer brilliance of James Harden lifts this duo into the NBA's top half of backcourts. Despite his team's struggles, Harden was one of the best individual players last season, averaging 29.0 points, 6.1 rebounds and 7.5 assists per game.
Even though Harden is by far the dominant player, it would be foolish to ignore his running mate in Patrick Beverley.
Beverley has been a defensive pest since his inception into the NBA and has polished himself into a solid three-point shooter, which he proved last year with his 40 percent clip from downtown.
13. Chicago Bulls
Starting Backcourt: Rajon Rondo and Dwyane Wade
Now, this will be interesting. Two non-shooters who like the ball in their hands an awful lot playing together for the first time. Why does this sound familiar? Because the Pacers have the same problem.
However, unlike the Pacers, Rajon Rondo and Dwyane Wade are more than likely much better than the tandem of Teague and Ellis, even with age starting to hamper the two.
I'm not sure what to expect from these two this season but if champions truly do always find a way to win, the Chicago Bulls backcourt will be looking very scary this season.
On paper, they're awfully talented.
12. Minnesota Timberwolves
Starting Backcourt: Ricky Rubio and Zach LaVine
Although I believe that Rubio will be traded before the end of the season, for now, he is the projected starter next to Zach LaVine in Minnesota and, boy, doesn't it look exciting in Wolves Land.
He may not be as young as his counterparts but Rubio is still just 25 and he is an exciting ball handler and passer, averaging 8.7 assists per game in 2015-16.
On the other side, I expect LaVine to take a huge step forward this season and compete as one of the most explosive shooting guards in the NBA. With Thibs now as his coach, let's hope that he keep LaVine at shooting guard, where he plays his finest and can improve at the best rate.
11. Detroit Pistons
Starting Backcourt: Reggie Jackson and Kentavious Caldwell-Pope
Yes, the Pistons are this high in my rankings. If you didn't catch my article on the rise of Kentavious Caldwell-Pope, you might not understand why I like the Pistons' backcourt so much.
Apart from the major fact that Reggie Jackson is a borderline All-Star after averaging 18.8 points and 6.2 assists per game last season, I am of the belief that Caldwell-Pope is one of the most elite perimeter defenders in the NBA with his ability to lock down players.
So, with a scoring and distributing point guard and lockdown defending shooting guard, I think that the Pistons are more than worthy of the 11th position in these power rankings.
10. Boston Celtics
Starting Backcourt: Isaiah Thomas and Avery Bradley
The Boston Celtics are a lot like the Pistons – except a bit better. Isaiah Thomas actually was an All-Star last season and averaged 22.2 points per game to go along with his identical 6.2 assists to Jackson.
At the shooting guard position, Avery Bradley shot better than KCP from deep and was also successful in garnering an All-Defensive First Team nod.
That edge over the Pistons pushes the Celtics into the top 10 and deservedly so.
9. Phoenix Suns
Starting Backcourt: Eric Bledsoe and Devin Booker
If Eric Bledsoe could stay reasonably healthy, he would be an All-Star. 20.4 points, 4.0 rebounds, 6.1 assists and 2.0 steals per game scream "All-Star caliber." Unfortunately, Bledsoe only managed 31 games before injuries once again ravaged his season.
Booker is coming off a fantastic rookie season in which he was named to the All-Rookie First Team after starting 51 games for the Suns, one more than the injured Brandon Knight. Knight is likely to be moved to a bench role to make room for Booker's development.
With a hopefully healthy Bledsoe back in the fold and Booker still extremely young and primed to grow at only 19, this backcourt should have no trouble keeping up with the best of the rest in the NBA.
8. Cleveland Cavaliers
Starting Backcourt: Kyrie Irving and J.R. Smith
The champs come in at No. 8 even though J.R. Smith has not yet officially re-signed. Nevertheless, how can you not give a top 10 ranking to the guys that just helped their team lift the Larry O'Brien trophy?
Irving's excellence never ceases to amaze his fans as he bounced back from injury to perform extremely well in the playoffs and then in the NBA Finals, especially in Game 5 when he poured in 41 points with the Cavs on the brink of elimination.
Smith has been nothing short of superb since his arrival in Cleveland, as his underrated ability to hit threes and get hot finally caught some attention as he started punishing teams in the playoffs on his way to capturing his first NBA championship.
7. Charlotte Hornets
Starting Backcourt: Kemba Walker and Nicolas Batum
Kemba Walker finally took the next step last season as he averaged 20.9 points, 4.4 rebounds and 5.2 assists on his way to a second-place finish in the Most Improved Player voting. He also led the Charlotte Hornets back to the playoffs, losing to the Miami Heat in seven games in round one.
Nicolas Batum also rebounded from a poor final year in Portland by contributing around the board (14.9 points, 6.1 rebounds, 5.8 assists) to be considered as an all-star level player beside Walker.
If both of them can prove that last season wasn't a fluke, then the Hornets are a likely bet to earn a second consecutive playoff berth.
6. Oklahoma City Thunder
Starting Backcourt: Russell Westbrook and Victor Oladipo
No Kevin Durant, no problem.
I'm just kidding, of course, as the departure of Durant leaves the Oklahoma City Thunder with obviously less talent but that is expected to fuel Russell Westbrook as he begins this season as one of the NBA MVP frontrunners in Vegas and a chip placed firmly on his shoulder.
With a new partner in crime in Victor Oladipo, who is still looking to make more improvements in season number four, it's up to Russ to not only to carry the Thunder's backcourt but also the whole team to success in this year's playoffs and beyond.
The potential is there for this backcourt. Question is, will they reach it?
5. Portland Trail Blazers
Starting Backcourt: Damian Lillard and CJ McCollum
When you have two players who can average 20 points per game each in your backcourt, you're in pretty good hands.
And that is exactly what the Portland Trail Blazers have here in Dame Lillard and C.J. McCollum. Believed by some not to be the greatest fit together, the duo set out to prove that theory wrong last season as they carried the Blazers to not only a surprising playoff appearance but also a first round series win against a beat up Los Angeles Clippers squad.
The only thing stopping the Blazers from rising even higher in these rankings are their defensive troubles, something that, if fixed, could definitely make them a top 3 backcourt in the NBA.
4. Washington Wizards
Starting Backcourt: John Wall and Bradley Beal
You may not know this but John Wall is actually younger than Lillard, and Bradley Beal is younger than McCollum. This isn't why they are ranked higher but it does prove that they may have more time to grow before they reach their peaks.
Anyways, the reason the Wizards rank above the Blazers is mainly due to the utter brilliance of John Wall. Not only is Wall an excellent scorer (19.9 points per game in 2015-16), he is also an elite passer (10.2 assists a game) and one of the best defensive point guards in the NBA.
Lillard boasts the same if not a better scoring prowess than Wall, but only Wall can pass and defend as well as any other lead guard in the NBA.
3. Los Angeles Clippers
Starting Backcourt: Chris Paul and J.J. Redick
It doesn't matter how much Chris Paul ages, he will always remain one of the purest and most intelligent point guards the NBA has ever seen. He has the will to score at any time he wants (he averaged 19.5 points per game last season) but he sees more value in getting his teammates involved (10.0 assists per game).
One of the primary beneficiaries of that passing is sharpshooter J.J. Redick, who averaged 16.3 points last season on an amazing career-high 47.5 percent clip from three. Yes, that is not a typo – Redick shot 47.5 percent from deep in 2015-16.
With Paul's point guard wizardry still as unbelievable as ever and Redick's god-like shooting stroke, the Clippers grab a spot in the top 3 in the power rankings.
2. Toronto Raptors
Starting Backcourt: Kyle Lowry and DeMar DeRozan
The Raptors are one of only two teams to possess two 2016 All-Star backcourt players. I think you can guess the other team (SPOILERS: They're ranked number one).
They are also the only team to have their starting backcourt playing for Team USA as both Kyle Lowry and DeMar DeRozan helped bring home gold in Rio just a few months after leading the Raptors to a franchise record in wins and their very first Conference Finals appearance.
People can debate how good they are individually, especially DeRozan who is a notoriously poor shooter at times, but it is undeniable that their chemistry is the biggest reason for their regular season and postseason success.
Without Lowry and DeRozan, the Raptors wouldn't even sniff the playoffs. With them, they are contenders.
1. Golden State Warriors
Starting Backcourt: Stephen Curry and Klay Thompson
I mean, seriously, who else did you expect to see occupy the number one slot? The last slide wasn't even really a spoiler because you probably knew who would be here before you even clicked on the article.
Do I really even need to explain? The Warriors have the NBA's two-time reigning MVP and possibly most exciting player since Jordan at the point guard and one of the best shooters the NBA has ever seen (alongside Curry) at the shooting guard.
The Splash Brothers were the best backcourt in the league last year and there is no doubt that they will continue to be in 2017 as they try to redeem themselves after a tough Game 7 loss in the 2016 NBA Finals.
Agree? Disagree? Leave your opinion in the comments below!
This article originally appeared on