NBA Preseason: Top 5 breakout players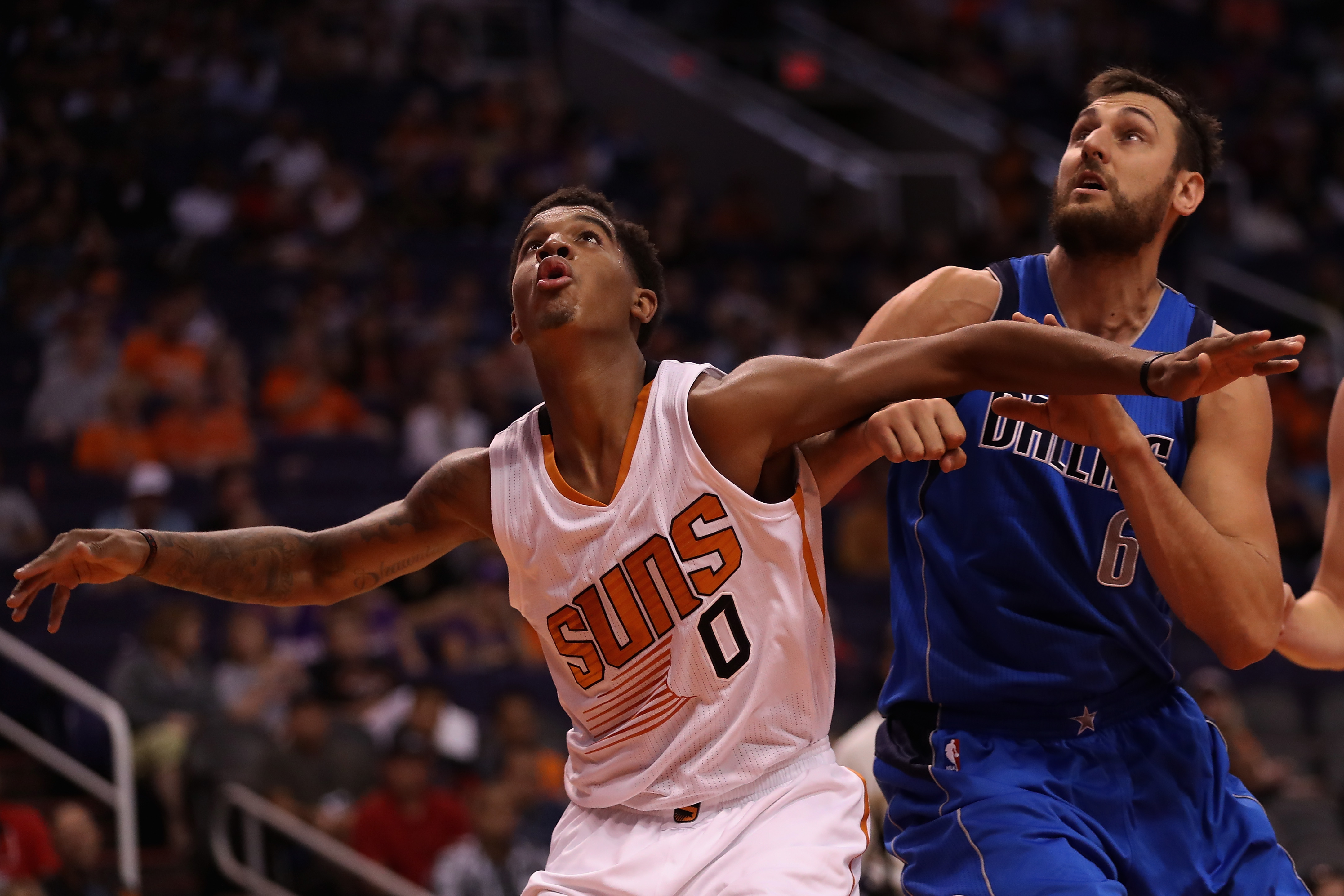 Sure, the preseason is just a month-long tease, but here are five players who stood out during exhibition play.
The NBA preseason has come and gone, and games that count are just a few days away. The season will tip-off Tuesday with a star-studded opening night, as the reloaded Knicks take on the reigning champ Cavs, the buzzy Jazz visit last year's surprise Blazers, and the Death Star that is the Warriors host the post-Duncan Spurs.
While many scoff at the preseason for being too long or having little value, there is plenty to glean from the performances on the court. Whether it be familiar faces in new places, rookies looking to showcase their skills or second-year players looking to break out, there are some performances you cannot ignore during exhibition play.
So whether you are scouting talent for the season, determining which teams are improved, or simply trying to unearth some sleepers for your fantasy hoops league, here are five players that have stood out during the 2016-17 NBA preseason.
Before that, though, here are three superstar performances of note.
Kevin Durant: While we all know what Durant is at this point (i.e., the most dominant and versatile scorer in the league), some were still curious how he would mesh in Golden State, as far as shot volume and being surrounded by elite shooters in Steph Curry and Klay Thompson. Averaging just 25 minutes per in seven games, Durant finished with a 70 true shooting percentage and 28.3 usage rate. His upside on offense is that of a second 50-40-90 season and a career-high in assists, while another scoring title is not out of the question despite playing alongside last season's reigning champ. Durant is going to be unstoppable this season.
James Harden: The most telling stat line from Harden's preseason is the 10.7 assists per game. It is by no means a fluke stat, however, as Harden will take on the the role of point guard this season for the Rockets, a role that was in the works even before it was announced Patrick Beverley would miss three weeks due to a knee scope. While Harden bringing the ball up the court is nothing new, his dedication to giving the ball up should only increase this season now that he is surrounded by more shooters in Ryan Anderson and Eric Gordon. Leading the league in scoring and assists is a truly remarkable feat, and while it is probably unlikely for Harden, his importance to the Houston offense will only increase in his fifth season with the team.
Karl-Anthony Towns: So, this guy is pretty good, huh? It started to feel like the KAT Season 2.0 buzz was reaching unfair levels heading into the season, but he impressed mightily in October averaging 17.3 points and 9.3 rebounds in just 23.7 minutes of action. While Towns has not been elite from the field (46.2 percent), free throw shooting continues to be most unheralded part of his game. KAT was 88.9 percent from the stripe in the preseason, and a more impressive 29-29 through his last three games (including 17-17 against Memphis on Oct. 19). Already a dominant scorer down low and an emerging one on the outside, if KAT is going to make teams pay from the line late in games, there is simply no limitations to his skill set and we are just entering year two. Terrifying.
5. Evan Fournier – Orlando Magic
Fournier has been one of the more underrated shooting guards in the league for two years now, coming off a career-best season in 2015-16 when he averaged 15.4 points per game with an impressive 46.2/40/83.6 shooting line. He improved that mark to 17.9 points and 49 percent FG shooting after the All-Star break. It should be noted that of all the guards to score at least 17 ppg last year, only Curry (50.4 percent) shot better than Fournier's post-break mark of 49 percent.
Having already established himself as one of the most efficient guards in the league, Fournier's role will now grow with Victor Oladipo gone from Orlando. Fournier started 71 games last season between shooting guard and small forward but is now locked into the starting two guard role. The Frenchman will be asked to carry a heavy burden of Orlando's scoring on the perimeter with only second-year player Mario Herzonja and (currently injured) Jodie Meeks as real competition for shots among wing players.
In the preseason, Fournier looked ready and able to take on the challenge in year five of his NBA career. He averaged 18 points per game in 29.5 minutes, shooting 50 percent from both the field and three-point line. Fournier can definitely afford to beef up his rebound and assist numbers, but on a team loaded with so many bigs, he will be asked to shoot at will. He will also be called upon more as a playmaker on an offense devoid of them outside of starting point guard Elfrid Payton, who really lacks scoring chops.
4. Terrence Jones – New Orleans Pelicans
It's been a trying first four seasons in the NBA career of former Kentucky Wildcat Terrence Jones. While many of his former alumni have reached almost instant success in the NBA (DeMarcus Cousins, John Wall, Anthony Davis, Karl-Anthony Towns, Devin Booker, the list goes on…), Jones has yet to reach his potential after being taken 18th overall in 2012 and has been plagued by one injury after another, missing 81 games over his last two seasons.
Jones was given a career restart this summer, signing a one-year deal to join the Pelicans and play alongside his former Kentucky teammate in Davis. While the pressure wasn't huge to contribute after signing a minimum deal, the opportunity was immense on a team that lost two key players in free agency (Ryan Anderson and Eric Gordon) while also dealing with the absences of Tyreke Evans and Jrue Holiday from its roster. New Orleans needs literally anyone to step up, after making minimal other splashes in free agency with signings of E'Twaun Moore and Solomon Hill.
So far, the results have been very promising for the once promising prospect. Jones averaged 17.3 ppg during the preseason (good for 12th best in the league) in just 25.8 mpg. Jones also showed the versatility that made him such a tantalizing prospect, averaging 1.5 threes and 1.3 blocks through his four preseason games. Jones will need to stay healthy (he already missed a few games with a knee injury), but hopefully, the change of scenery will finally give him the opportunity to shine on a team desperately in need of contributions of any shape or form.
3. Marquese Chriss – Phoenix Suns
The Suns have a roster loaded with lottery talent, which means minutes may be hard to come by for three of its newest acquisitions. Phoenix had a bountiful draft, adding three players who figure to earn some burn in the rotation in Dragan Bender, Tyler Ulis and Marquese Chriss.
While all three players have shown glimpses of their potential from summer league through the preseason, one has stood out, not just among Suns' rookies, but among rookies league-wide. Chriss, the 6-9 power forward from Washington, was the eighth overall pick in this year's draft, but some scouts had him pegged as a top-three prospect from an upside perspective. As an otherworldly athlete with range out to the three-point line, Chriss was viewed as a "raw" project player that could pay huge dividends if all the skills came together on the NBA stage.
While his role on the team is still uncertain, currently behind Jared Dudley on the power forward depth chart, Chriss has shown what he is capable of in preseason action. In 25.4 mpg, he averaged 12.2 points, 5.5 rebounds, 1.7 steals and 1 block, while making three of eight attempts from deep. Chriss may still be raw from both a player development and team basketball perspective, but the early returns have been very impressive. (He really passes the eye test with his athleticism.) While he may be barred from a big role in 2016-17, he will have his moments and the future is as bright as can be.
2. Steven Adams – Oklahoma City Thunder
While he may have made headlines last season as being a crotch magnet for Draymond Green's foot, Adams had his best season as a pro in 2015-16. It did not show up so much on the year-to-year stat sheet, but the Thunder's trust in Adams grew as he became a vital defensive presence at the end of games and formed a great tandem with the more offensive-minded Enes Kanter. Adams even came close to breaking the double-digit points barrier in the second half of the season, averaging 9.3 ppg after the All-Star break.
Now, with the departure of players like Kevin Durant and Serge Ibaka, Adams' role and minutes are expected to grow even greater. He is a good bet to see his minutes tick up to 30 per game for the first time in his career, as he will be the cog to OKC's defense in the new (just) Russell Westbrook era. While defense and rebounding will remain the keys to the Big Kiwi's game, Adams will start receiving more opportunities on offense in the upcoming season.
In just 19.2 mpg of preseason action, Adams managed an impressive 14.7 points per game on 59.4 percent shooting, to go along with seven rebounds, 1 steal and 1.3 blocks. It's a low sample in just three games (including one against Real Madrid), but Adams still had his best effort against NBA competition, scoring 16 with 11 rebounds and four blocks against the Wolves. If Adams can take his offensive game to a new level this season, the Thunder may shock some fans who thought they'd fall down (or out of) the playoff rankings sans KD.
1. D'Angelo Russell – Los Angeles Lakers
The summer hype train on D-Russ rolled right into the preseason, and for good reason. Russell was the Lakers' second overall pick in the 2015 NBA Draft, a somewhat bold selection over Jahlil Okafor who was long considered the 1B to Karl-Anthony Town's 1A prospect status. The Lakers, obviously aware of the direction the NBA is going with scoring point guards like Stephen Curry and Damian Lillard, took the Ohio State phenom and it's a move they surely have not regretted.
Russell had a decent rookie year averaging 13.2 points, playing in the midst of the Kobe Bryant retirement tour. With Kobe gone, the ball will now be in Russell's hands a lot on a team loaded with young talent in this year's second overall pick, Brandon Ingram, and third-year players Jordan Clarkson and Julius Randle. Russell will be at the helm of the show and will have to balance his urge to take over as a scorer with the team's need to facilitate for others, especially Ingram on the perimeter.
Russell was one of the brightest stars of the preseason, averaging 17.8 points (2.4 threes), 5.4 assists, 2.8 rebounds, and 1.6 steals in 29.6 minutes per game. Russell's emergence as a deep shooting threat in just year two really opens things up for the offense, as far as how other teams have to defend him. He probably needs to focus on his maturity just as much as his court skills, but the Lakers have to be thrilled with both Russell and Ingram (21 points against Warriors on Oct. 19) looking like a prolific offensive duo for years to come.
More from FanSided
This article originally appeared on