NBA Power Rankings: LA Clippers Are Real, And They're Spectacular
In the latest installment of our NBA Power Rankings, we profile the LA Clippers. They're real, and they're spectacular
The LA Clippers are sitting atop the NBA standings, at 12-2.
LA has the NBA's second-best offense and second-best defense in the NBA. They have the NBA's best Net Rating, by a lot, at 13.8. Chris Paul is having an NBA MVP type season and is catapulting this team to greatness.
A couple of weeks ago, the Clippers knocked the snot out of the San Antonio Spurs, in the way of a 116-92 win. The Clippers are doing everything that they're supposed to be doing right now. They're winning, and impressively.
As Jackie Chiles would say, "they're real and spectacular."
Here are this week's NBA Power Rankings.
30
Dallas
Mavericks
2-10
Last week:
0-0
Last rank:
28
It's actually quite fascinating what has transpired to the Dallas Mavericks. After a season in which they surprised the masses by making an unexpected run to the playoffs, the Mavs currently have the NBA's worst record through the first few weeks of the season.
Even though Harrison Barnes is averaging a nice 21 points and six rebounds per game, he hasn't made that much of a difference – not the one you'd expect from a max player, at least.
It's going to be interesting to see how the rest of this season shapes for the Mavs. Will they concede and move pieces in exchange for future assets? Or will Rick Carlisle spin his magic wand and find a way to turn it all around again?
The Washington Wizards might've hit rock bottom. Washington is 3-9, have lost six out of their last eight games and just dropped a game to the Philadelphia 76ers a few nights ago. Yuck.
John Wall is a sight to see and Bradley Beal will fill it up from time to time, but this is not a good team. It's not even an OK team. The Wizards can't play defense (they're ranked 27th in the NBA) and even when they do come up with a stop, they struggle enough to score.
I'm not sure when the "should the Wizards trade John Wall" think pieces will begin to flow in, but I'm pretty sure we're close.
If you were a Philadelphia 76ers fan before the tanking began, and didn't feel that you could take immense losing, I think now is a safe time to jump back onto the Sixers bandwagon.
Even a limited Joel Embiid is better than anything the Sixers have had at the helm in years. YEARS. You're going to want to be a part of this next era of Sixers basketball. If Embiid can stay healthy, they have a really good – potentially great –first piece. Of course, the health issue is important.
Just wait until Ben Simmons returns later this season. It will only get better.
Even though the Brooklyn Nets have really competed so far in this young season, they've hit a bit of a rough patch as of late. After going through a stretch in which the team won three of five games, the Nets have now lost four-straight contests.
Knowing that this should not come as a surprise, it's a little disheartening for any team to lose that many games in a row. If nothing else, we've learned that the Nets need Jeremy Lin back as soon as possible.
Unfortunately, he's still out with an injury and has no return date set in stone at this time.
The Phoenix Suns have lost 10 of their first 14 games. Yes, we know that this team doesn't have the talent of most of their peers in the Western Conference, but something isn't right with this team.
And they need to figure it out, or sell their veteran assets in order to go all-in with their youth movement. We know Devin Booker, who is averaging nearly 20 points per game, is a nice young piece. Are they sold on Dragan Bender? How about Eric Bledsoe? Do they consider him a part of the future? What about Brandon Knight?
If Phoenix wanted, they could get some nice returns on some of their "veteran" assets. If they want.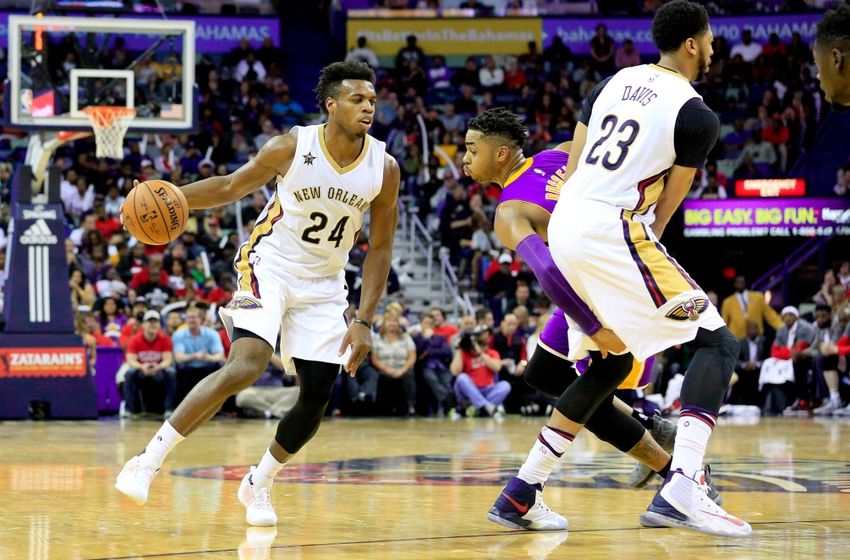 The New Orleans Pelicans are red-hot. They've won two games in a row and have welcomed the return of Jrue Holiday, who had missed the first few weeks of the season attending his wife and her unfortunate illness.
However, at least for the moment, it appears that he's officially back with the team. Automatically, that should signal an improvement moving forward. During the first three weeks of the season, this team simply didn't have enough talent to compete on most nights. Holiday will help change that narrative.
Will it be enough to turn this season around for New Orleans? Unlikely. However, this is good news for a team that was desperately looking for a spark.
After dropping two of their first 10 games, the Miami Heat have recovered slightly by picking up back-to-back wins this past week against the Milwaukee Bucks and Washington Wizards, respectively.
Even with those two wins, the Heat clearly have the issues. While they're an above average, perhaps even a really good, defensive team, the Heat are bad, if not terrible, on the offensive end.
When Goran Dragic is off the court, this team struggles mightily on that side of the ball. Hassan Whiteside isn't a natural post-up big and other than Dion Waiters, this team doesn't have another guy that can create his own shot. Miami isn't that 2-8 team that we saw open the season, but they're going to continue to struggle this season.
I still don't know what the Orlando Magic are going to be when this season is said and done, but credit them for putting together a bit of a redemption week. Orlando has won three of its last four games, including a nail-biter against the Oklahoma City Thunder.
There's still plenty that needs to be settled for the Magic, but the fact that they're playing better basketball as of late – even if it is against lesser competition – is good news for this team.
This can't be another wasted season. It just can't be.
Through roughly the first month of the season, I don't think it's unfair to say that the Minnesota Timberwolves have been the most disappointing team of the season. Many projected them to hit the 50-win mark this year. And even though that was probably an unfair projection, I don't think anyone thought they'd be 4-8 through the first 12 games.
The talent on this roster is better than that start, which makes their rough first few weeks even more confusing. The talent is there, there's no question about it. I'm sure Tom Thibodeau will get this operation turned around, sooner rather than later.
However, their start is concerning. And if you thought they were going to hit 50 wins this season, think again.
The Sacramento Kings have a big problem on their hands. They have one really good piece, but no one else seems to want to play in Sacramento. Heck, we're not even sure if DeMarcus Cousins wants to play for the Kings.
Rudy Gay has already made it clear that he wants out, and intends to be in a different uniform next season – if the Kings trade him this year or not.
The big question, however, is if Boogie will be in a Kings uniform next season…
The whispers are coming. Just wait.
The Denver Nuggets are close. Then again, I feel like this is what we're always saying about Denver. Specifically, against the Toronto Raptors, the Nuggets nearly pulled off their best win of the season.
Denver lost to the Raptors in OT, but showed some promise. Problem is, they don't show it enough. In a way, Emmanuel Mudiay is a microcosm of what Denver represents. There are nights when Mudiay looks good. Really good. Then, there are times when he looks like a bust.
Inconsistency has been Mudiay's downfall through the first year, and some, of his career. Perhaps most concerning, Mudiay is averaging more turnovers than assists per game in November. No bueno.
The Milwaukee Bucks are struggling, to say the least. After a surprisingly solid start to the year, the Bucks have lost five of their last six games. This could mean one of two things, but I believe the prevailing thought – or stance – here is that the absence of Khris Middleton is finally catching up with this team.
It's easy to get through 2, 3 or even four weeks without one of your key guys, but the longer it goes the harder it becomes. I believe the Bucks are falling victim to that belief.
At the same time, there's reason for the Bucks to be encouraged. Jabari Parker and Giannis Antetokounmpo have looked great this season.
Credit the New York Knicks. After perhaps their worst loss of the season, in which they simply could not stop the Washington Wizards onslaught (for some reason), the argument could be made that the Knicks put together their best performance of the season.
New York topped the Atlanta Hawks without Joakim Noah Sunday. When the Knicks needed a nice, signature win the most, they came through. Still, even with a nice notch on their belt, I find it hard to believe that this Knicks team is anything more than a .500 ball club. Maybe they can muster together 45 wins, but even that's pushing it.
After a stellar start to the season, the Detroit Pistons have lost six of their last eight games, a stretch which was punctuated by a two-point loss at the hands of the Boston Celtics.
Perhaps the absence of Reggie Jackson is finally taking its toll on the Pistons, and who can blame them? This team is going to continue to struggle until their get their leader back.
Until then, it looks like it's going to be another rough stretch for Detroit. The good news is, though, that Jackson is making strides in his rehab and is even participating in 5-on-5 drills. Which could indicate that he's close.
The Indiana Pacers' up and down play has continued to plague this team. The fact that Paul George, this team's saving grace, is a bit banged up doesn't help either. Heck, just look at what happened when George missed a game with said injury – they lost to the Phoenix Suns by 20.
The Pacers will only go as far as George can take them, now on his bum ankle. The right move is to let George heal up, if that isn't the case already. However, with a mediocre record, even in the Eastern Conference, isn't a great sign for this team moving forward.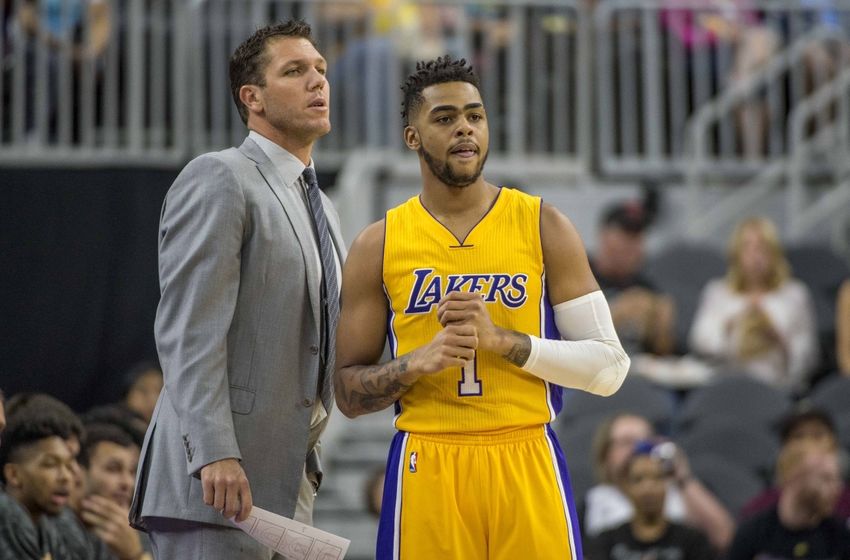 Enjoy the Los Angeles Lakers. They're really fun to watch, if nothing else. Compared to the Lakers that we saw in Kobe Bryant's final few years, it's a blessing to see the Lakers and fun basketball in the same sentence.
Yet, here we are. D'Angelo Russell is one of the NBA's rising young stars, and Julius Randle looks like he could be a young Draymond Green. Larry Nance Jr can flat out jump out of the gym, and Brandon Ingram will show a glimpse of greatness every so often as well.
What Luke Walton is doing with this team is incredible. It's night and day, the difference between Walton and Byron Scott.
After getting off to a 7-4 start, which included one huge win over the San Antonio Spurs, the Utah Jazz have hit a bit of a rough patch. The Jazz have lost four games in a row, including one particularly bad loss to the Nuggets.
With all respect to Denver, that isn't a game that Utah should be losing. In fairness, bad nights are had. And that's OK. Thing is, this isn't something that the Jazz should fall into routine with.
Many expected the Jazz to win close to 50 wins this season. I'm not sure losing four games in a row is something 50 win teams should be doing.
After an absolute terrible – and inexcusable – loss to the New Orleans Pelicans, the Boston Celtics had an opportunity to redeem themselves, and then some. The Celtics had a chance to send a message to the rest of the NBA, specifically the Eastern Conference.
Even though they did send a message, it wasn't the one that many expected them to make. The Celtics proved that they're not ready to compete with the NBA's best. In the way of a 16-point loss, the Celtics fell to the hands of the Warriors.
In fairness, the Celtics have been battling through injuries. Still, this team simply hasn't been what many expected them to be this season.
I love the Portland Trail Blazers. I love what they've done this season, building off the momentum that they built last season. However, there's one big problem with this team. They don't have enough "other guys" in order to be taken seriously as a contender in the Western Conference. Unfortunately.
Listen, go watch the Blazers on NBA League Pass. They're fun as hell. You're going to have a great time watching them. Just don't get invested in this team. Damian Lillard and C.J. McCollum may be fun to watch, but they're not much more. Not yet, at least.
The Blazers need one more piece. I'm not sure if he's on the roster, though.
Quietly, the Memphis Grizzlies are recovering from their mediocre start to the year. The Grizzlies have won four-straight games and five of their last six collectively. If there is any concern with this team, it's the fact that Mike Conley appears to already be banged up.
He's battling through another Achilles injury. I'm not sure how serious it is, and it doesn't appear to be, but the fact that this is a similar injury that cost him the latter portion of last season is concerning.
As is the case with many teams, health is the No. 1 indicator. And if the Grizzlies aren't healthy, they simply aren't going to get that far.
The OKC Thunder continues to beat the weaker teams, and struggle against the playoff teams in the NBA. And with a favorable schedule coming up for Russell Westbrook and company, expect their record to only look better and better over the course of the next week and a half.
Westbrook is putting up insane numbers, of which we haven't seen in a very long time. If he continues to perform at this frantic pace, he's only going to receive more and more consideration for the NBA's MVP award, as he should.
Still, expect the Thunder to make a move via trade over the next few months. They want wing depth, and perhaps a shooter. Rudy Gay is a name to keep an eye on.
With the exception of one of their losses, you can make the argument that the Rockets have only lost to teams better than them this season. The problem, of course, is that there's that many teams better than them.
James Harden is going to make the headlines, because of the insane numbers that he's going to post on a day-to-day basis. However, if this team doesn't make a move before the NBA Trade Deadline, we should expect this team to be anything more than fun.
Watch the Rockets. You won't get bored. Though, I'm not sure if they're good enough to make much noise out West. But at least you'll get a nice night out of them?
The Chicago Bulls are a bit of an enigma at this point in the season. One night, they look like world-beaters. On that same night, Dwyane Wade could look like Ray freakin' Allen. Then, on the next, they look like a team destined for the lottery. And Dwyane Wade looks, well, like Dwyane Wade.
Question is, who is the real Bulls team? I think it's safe to say that they're somewhere in-between both of those extremes.
In other words, the Bulls aren't a great team. They aren't terrible either. Chicago will probably make the playoffs as a 6, 7 or 8 seed. However, they likely won't inflict much damage when they get into the dance. Unless, of course, Dwyane Wade decides to go completely insane again, like he did against the Charlotte Hornets last season.
In the battle of the two "other" really good teams – based off their hot starts – in the Eastern Conference, the Charlotte Hornets narrowly bested the Atlanta Hawks in a classic of a game a few days ago.
So far this season, the Hornets are proving that they're going to be a force to reckon with this season. Even though many expected them to take a stepback after the number of contributors that they lost in the offseason, the Hornets have actually improved.
A big part of that has been Kemba Walker's exceptional play. Coming off a season in which he posted career highs, he's doing the exact same thing this season. That's not easy to do.
Of course, they HAD to go on to lose to the New Orleans Pelicans. Talk about ending the week on a negative note.
The Toronto Raptors are good. Let's not get that twisted. We knew this coming in, and they've confirmed that through the first few weeks of the season.
The question now, however, is whether or not they have another level – in comparison to last season. Toronto made it all the way to the Conference Finals a year ago. Do they have a higher ceiling than that?
I don't think we can conclude that yet. However, if it's any indication, DeMar DeRozan has gotten off to an insanely hot start.
Despite dropping a game recently to the Charlotte Hornets, in a battle between two of the top three teams in the Eastern Conference, the Hawks have still managed to get off to a solid start.
If nothing else, Atlanta has proved that they're not going to just go away – which many expected after they lost Al Horford to the Boston Celtics during free agency. Instead, this is a team that's going to continue to battle and remain in contention in the Eastern Conference. Keep an eye on the Hawks. I'm not sure if they're as good as years past, but they're solid.
After back-to-back losses to the LA Clippers and Houston Rockets a couple weeks ago, the San Antonio Spurs decided to right the ship and get back to their winning ways.
The Spurs have won five-straight games, and look every bit as impressive as they did when they started the season. Kawhi Leonard is a true NBA MVP candidate and LaMarcus Aldridge is really playing at an underrated level right now.
San Antonio is going to win a lot of games this season. As is always the case, it's going to come down to seeding and who this team plays in the playoffs.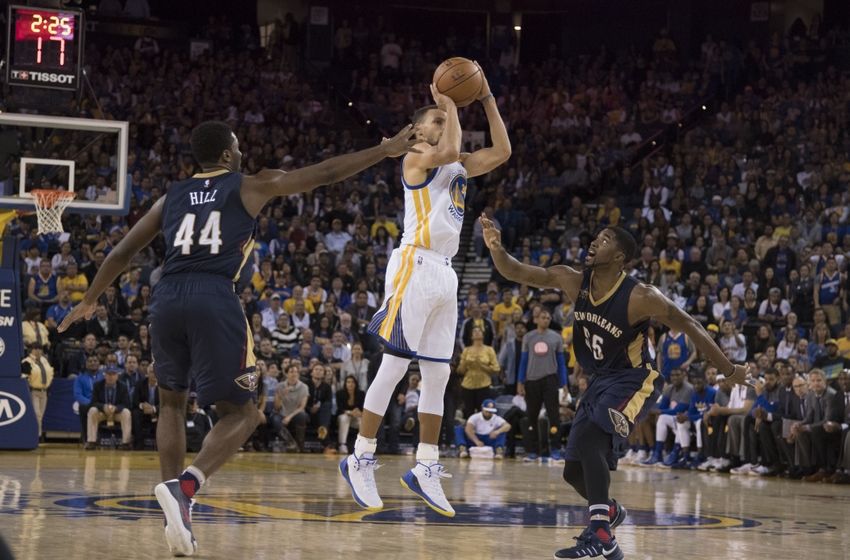 If you thought the Golden State Warriors needed time to figure things out, you can make the case that all they needed was three weeks. After a slow start to the season, which included an embarrassing blowout loss at the hands of the Los Angeles Lakers, the Warriors have turned around and won seven in a row since that disappointing showing in LA.
Another positive note from the Warriors' recent play is Klay Thompson. After an incredibly poor start to the year, shooting-wise, their sharpshooting all-star has begun to turn it around.
The Warriors are coming. Are you ready, NBA?
At 10-2, it's difficult not to be impressed by what the Cleveland Cavaliers have managed to do through the first few weeks of the NBA season. Even with giving LeBron James the occasional night off, the Cavs have still been able to display their dominance.
At the same time, the fact that they're already giving LeBron a night off shows how exactly Cleveland plans on tackling the long season.
Still, I have it hard to believe that any team will have enough firepower – and depth – to beat out the Cavs for the No. 1 seed in the East.
Even though the LA Clippers hit a bit of a bump on the road, in the way of a loss to the Memphis Grizzlies, it's hard to deny what they've been doing through the first few weeks of the NBA season.
The Clippers are 12-2 and are beating teams rather impressively. Of their 12 wins, they have eight double-digit wins. They sport the NBA's third best offense and second best defense. I'm not sure the Clippers could've dreamed of a better start right now.
You can actually make the case that Chris Paul – and his 18 points, nine assists and six rebounds per game – is the NBA's MVP and the Clippers are the best team.
Do you agree with our NBA Power Rankings? Are the LA Clippers the best team in the NBA?
This article originally appeared on