NBA Power Rankings: Are The LA Clippers, OKC Thunder For Real?
In this week's edition of our NBA Power Rankings, we explore whether the Oklahoma City Thunder and LA Clippers are for real
When watching the LA Clippers through two weeks of this season, you may notice something different about them. They aren't the same old Clippers.
These aren't the same Clippers that are going to outscore you night in and night out. Instead, these are some Clippers that will lock you down on the defensive side of the ball, and then use that to open up the offensive end.
Through Monday, the Clippers had the NBA's best defense – only allowing 90.7 points per 100 possessions. If LA can continue to play this level of defense this season, they're going to be a pain come April and May.
Another team in the Western Conference that has looked almost equally as impressive is the Oklahoma City Thunder, which comes as a bit of a surprise.
After losing Kevin Durant in the summer, many expected the Thunder to take a HUGE step back. Instead, almost the opposite has happened. Led by Russell Westbrook, the Thunder have gotten off to a 6-1 start.
As the Clippers and Thunder both trend up, we jump into this week's installment of our NBA Power Rankings.
30
Philadelphia
76ers
0-6
Last week:
0-4
Last rank:
30
The Philadelphia 76ers may be the most impressive 0-6 team you've ever seen. Heck, this team nearly pulled off an upset over the Cleveland Cavaliers a few days ago.
(Note: if you haven't seen the Joel Embiid block on LeBron James, go check it out)
The Sixers don't have many appealing pieces on the court right now – with Ben Simmons and Nerlens Noel both recovering from injuries – but anytime Joel Embiid is on the court, he's a much watch.
You can actually make the argument that he could be the best center in the NBA already. Just wait until he gets the minutes restriction pulled off.
The New Orleans Pelicans are 0-7. Anthony Davis doesn't deserve this. Heck, Pelicans fan don't deserve this. But, here we are.
New Orleans is bad. Really bad. And there doesn't seem to be any light at the end of this year's tunnel. Perhaps the biggest disservice here is that there's absolutely nothing that Davis can do about it. He's locked under contract until the end of the 2019-20 season.
Yup. Get used to this. Davis is going to put up great numbers, but will continue to lose. Hopefully, the Pelicans can figure this out. The last thing we need is for Davis to waste away his prime years for a 10-72 team.
The good news is that the Dallas Mavericks are no longer winless. The bad news is that they're still bad. Really bad. And with the expectation that Dirk Nowitzki will miss some time with an injury, this could get a lot worse before it gets better.
Thankfully, Dallas managed to best – if that's what you want to call it – the Milwaukee Bucks, who possess issues of their own.
Dallas has a lot of decisions to make this season, electing to tank should be one of them. The Mavs will probably miss the playoffs this season, and that's OK. Dirk has to decide if it is with him, though.
Credit the Brooklyn Nets. For a team that was picked to finished with the worst record in the NBA – not one of the worse records, THE WORST – they actually aren't that bad.
Even without Jeremy Lin for a while, the Nets have proven that they're going to compete night in and night out. They have two wins on the season – over the Pacers and Pistons. Not bad.
The Nets don't have much to look forward to this year, but the fact that Sean Kilpatrick is averaging 17 points on 41 percent shooting from three is nice. Also, keep an eye on this team potentially moving Brook Lopez. It's been rumored in the past, and this team really needs to regain some of its lost assets.
Devin Booker is phenomenal. I don't 'think anyone can argue that. He has this silky-smooth jump shot that has helped him develop into a natural scorer. Heck, in just his last two games, he's scored 38 and 39 points respectively.
Oh, and he's only 20 years old. The man is going to be an absolute monster in this league. Booker is barely scratching the surface of what he can really be in the NBA. As long as the Suns don't stunt his growth and continue to surround him with good young talent, this team's future is bright. They won't win many games this season, but this team will continue to be one of the better watches in the league this season.
The Miami Heat have been exactly what we all should've expected them to be. Through the first two weeks of the season, the Heat have beaten the two bad teams on their schedule – the Orlando Magic and Sacramento Kings – and have lost to the good teams on their schedule – the Charlotte Hornets, San Antonio Spurs, Toronto Raptors and Oklahoma City Thunder.
With that said, again, none of this should come at a surprise. The Heat are one of those teams – and now we know through two weeks into the season – that this is a team that will beat the bad teams and lose to the good teams. Nothing more, nothing worse.
However, I'm concerned about Justise Winslow's jump shot. If he indeed put in work the entire summer to fix it, the fact that he's shooting 34 percent overall and only 17 percent from three, isn't great.
Despite having John Wall, the Washington Wizards still leave a lot to be desired – and I don't think anyone would argue with that. Maybe it's because Bradley Beal, who is shooting sub-40 percent from the field, hasn't developed as many expected him to by now, or maybe it's because this team's talent simply isn't up to par with many of its contemporaries.
Either way, the bottom line is that the Wizards simply aren't that good. At least not yet.
If you want to shed some positive light on Washington, though, go no further than how well Markieff Morris has performed this season. He's off to a solid start.
So maybe the Orlando Magic aren't so bad after all. After opening the season with three straight losses, the Magic have won three of their last four with their lone loss coming against the Chicago Bulls, who have been really good so far this season.
Orlando still has a ton of questions, but this team does have talent to make a run once they've figured it out. My question is whether they have enough in the backcourt to keep up in today's NBA.
Is Elfrid Payton really the future point guard of this team? I'm not so sure.
The Minnesota Timberwolves are one of the weirdest team in the NBA right now. Before the season started, the Wolves were easily one of the trendiest picks in the NBA.
However, at 1-4, it's pretty evident that the Wolves simply aren't going to be that 50-win team that many expected they'd be. Interestingly, the statistics tell another story.
Minnesota is top 10 in both offensive and defensive rating. They're also top 10 in net rating. Yet, this team has only won one game. So, there could be two things working here. Either the Wolves are a lot better than their 1-4 record indicates, or this team is a stat-stuffing machine. Either way, it's something to follow.
After an impressive victory over the Chicago Bulls, the New York Knicks nearly spoiled Gordon Hayward's return. However, the better team prevailed Sunday afternoon – and I don't think anyone would argue with that assessment.
With that said, I don't think the Knicks should necessarily declare this season lost just because they lost to the Utah Jazz on a Sunday afternoon in November.
The Knicks have proven, at different points this season, that this team does have talent to compete. Though, they've had real trouble in putting it all together.
New York needs time to gel, there's no question about it. Question, once they gel, will it be enough?
The Sacramento Kings have won three games this season – against the Suns, Timberwolves and Raptors. Yup, that pretty much sums up what the Kings are in a nutshell.
DeMarcus Cousins is one of, if not the, best centers in the NBA, and he's – for the most part – being wasted away in, as Rudy Gay references it, Basketball Hell.
I don't want to play the will they/wont they game again when it comes to this team moving Boogie, because they never do the smart thing anyways.
Expect the Kings to pick in the top 10, again, in the 2017 NBA Draft, inject false hope in their fans and then fall flat on their faces again.
Many have questioned Emmanuel Mudiay over the course of this season. At least for one game, he answered the call. In their impressive win over the Boston Celtics earlier this week, Mudiay scored 30 points on only 18 shot attempts.
Now, the question is if he can find some sort of consistency. The talent is there, clearly. He just hasn't been able to put it all together.
As for the Nuggets, they've shown potential. They're 3-3, and what they've been six games into the season is likely what they're going to be the rest of the way. They're going to be OK, pretty good – just not good enough to make things interesting in the West.
The Indiana Pacers have all the pieces. Looking at their roster, it's easy to see why many NBA heads – myself included – believed they'd be better than the 3-3 record that they've posed through six games.
At the same time, when watching the Pacers it's easy to see why they've struggled thus far. Their defense stinks, and that's putting it nicely. It's almost as if Frank Vogel took the team's ability to play defense when he made the move to Orlando. Maybe he did.
The Pacers are 26th in the NBA in defensive rating, allowing nearly 109 points per 100 possessions. Perhaps more troubling, Indiana has allowed at least 100 points in all of their games except one.
The Memphis Grizzlies have lost to two non-playoff teams and two playoff teams so far this season. No matter how good Marc Gasol has looked, this team isn't anything better than mediocre at this point in the season.
After the big money that they fed Mike Conley and Chandler Parsons, that has to be considered disappointing. In fairness, Parsons is barely making his way back from injury. He's played 21 minutes in a Grizzlies uniform. He will get better. So should the Grizzlies.
So far, though, this doesn't look like a team that is going to make much noise in the West. Just looking at their roster, that isn't great.
The good news for the Milwaukee Bucks is that they're shown the ability to beat bad teams. After getting off to a shaky start to the season, the Bucks have won three out of their last four games – save for an embarrassing effort against the Dallas Mavericks.
Perhaps the better news is that Rashad Vaughn has looked better than OK through the first two weeks of the season. When the Bucks needed shooting most, after losing Khris Middleton for the season, Vaughn has shown the ability to be a consistent chucker from distance.
Vaughn is shooting over 40 percent from the field from three. Oh, and Giannis is really good. Scary good.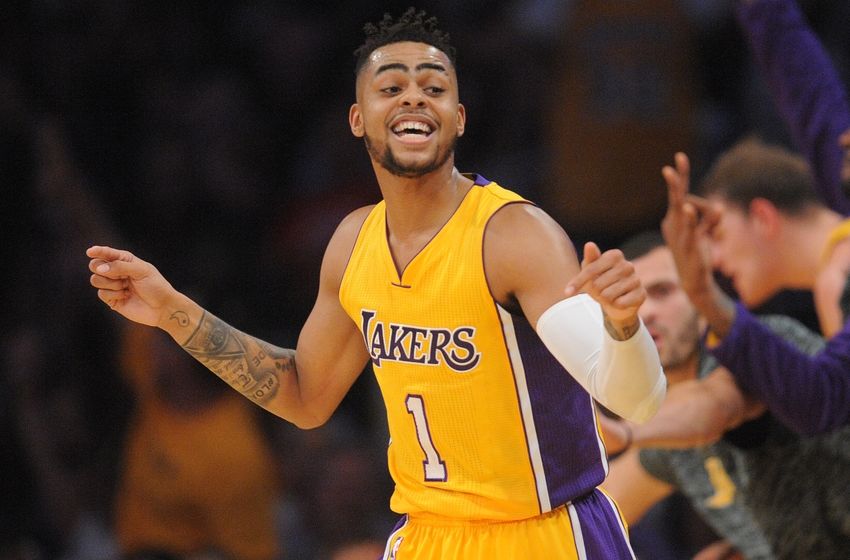 Here are the top three scoring teams in the NBA: the Cleveland Cavaliers, the Golden State Warriors and the Los Angeles Lakers – wait, what?
These aren't last year's Lakers. They're almost the polar opposite of what they were last season. They're interesting, exciting and can score points (and hit threes) – everything that last year's team wasn't.
Is it all Luke Walton? Probably not. The departure of Kobe Bryant? Probably not, either.
But you can't deny the fact that this team actually looks like they're having fun on – and off – the court, something that you simply couldn't see last season.
The Houston Rockets have a great offense. Specifically, they're ranked sixth in offensive rating. Problem is, they're dead-last in the NBA in defensive rating, and check in with a negative net rating.
At the end of the day, if Mike D'Antoni can't get this team even to play just average defense, the Rockets aren't going to do much winning. They're 4-3, sure. But they're not going to win the games they need in order to make a serous case for a playoff push.
James Harden can put all the insane numbers he wants – at this point, he's averaging 32 points and an NBA-best 12 assists per game. However, if the Rockets can't fix their issues on the defensive end, all of those stats will feel empty.
The fact that the Detroit Pistons have not only managed to stay afloat but look good while doing so without Reggie Jackson is a great sign for this team moving forward. Stan Van Gundy has managed to coach around without their best point guard, and the fact that Tobias Harris – who is averaging 19 points and five rebounds per game – is leading the way is another pleasant surprise.
We're going to find a little more about this team this week. The Pistons hit the road this week for four games, including meetings with the Clippers and Spurs.
Can the Pistons continue to show that they've made progress this summer?
In an early-season road trip, the Portland Trail Blazers passed with flying colors – well, maybe not that high. But, they passed. Don't get me wrong, the loss to the Phoenix Suns was disappointing. However, they did recover to beat the Dallas Mavericks and Memphis Grizzlies.
The thing with the Blazers is that I'm not sure if they're necessarily good enough to be a "thing" in the Western Conference. I mean, they're awfully fun to watch. I'll give them that. And Damian Lillard is insane.
Problem is, beyond Lillard, this team doesn't necessarily much more in appealing assets. C.J. McCollum is nice, but this team still hasn't discovered who their third option is going to be this season. And Evan Turner has been an utter disappointment.
This is so Chicago Bulls – at least so much of what we've come to know from them over the last few years. After opening the year with three-straight wins, the Bulls have dropped their last three – against the Celtics, Knicks and Pacers.
While neither of those games are actually "bad losses", this isn't a good sign for this team moving forward.
The good news for this team is that Dwyane Wade and Jimmy Butler are still shooting roughly 48 percent from three-point range. If they can keep those numbers up, which according to history seems unlikely, the Bulls will be fine and will look more like the team that won their first three games.
If not, this team could fade really quickly.
For all the hype that was surrounding the Boston Celtics to begin the season, they've somewhat disappointed this season. After getting off to a hot 3-1 start, the Celtics have dropped two-straight games.
In fairness, the Celtics only have one really bad loss so far – against the Denver Nuggets. However, it's still not great. Perhaps most concerning, the Celtics are still getting beaten up on the boards. They're the third worst team in the NBA in rebounding and the second-worst team (statistically) in defensive rating.
The only saving grace for the Celtics this season has been their second-ranked offense. Can they afford to lean on that for an entire season, though?
After opening the season with three-straight wins, the Atlanta Hawks followed their hot start with two bad losses – against the Los Angeles Lakers and Washington Wizards.
Even though they managed to get back on track win a win against the Houston Rockets, the verdict is still out on the new-look Hawks.
It's going to be interesting to keep an eye on Bud's squad this week, as they travel to Cleveland to play the defending champs and then play host to the Chicago Bulls.
Gordon Hayward made his return to the Utah Jazz lineup Sunday, when they defeated the New York Knicks. Not only did Hayward return to the lineup, but he did it the only way he knew how to – in a big way.
In his first game back, Hayward finished with 28 points and five rebounds. The Jazz had already gotten off to a solid start even without Hayward in the lineup to begin the season. He's return will only help this team even more. Without a doubt, this is definitely a playoff team in this year's watered-down West. Question is, are they the top 4 team that many expected them to be?
With Hayward now back, we'll find out sooner rather than later.
Looking at the standings, the Oklahoma City Thunder stick out. They're 6-1 and are currently on top of the Western Conference. However, if you saw how this team looked compared to the Golden State Warriors, it was no question difficult to watch.
Russell Westbrook and his big stats are going to look awfully pretty on SportsCenter and in the stat sheets. However, they're not good enough to take this OKC roster anywhere near the level of some of the better teams in the West.
The Thunder will probably make the playoffs, but this team shouldn't instill fear in any team once they get there. They simply don't have enough talent. And that's OK.
The Charlotte Hornets, being 4-1, should not be a surprise. Even though I didn't expect them to get off to such a strong start, this team has enough talent to be one of the four best teams out East. I just didn't expect it to happen. I believed that losing Jeremy Lin, Courtney Lee and Al Jefferson would hurt this team more than Michael Kidd-Gilchrist would help it. I was wrong.
The Hornets are going to be one of those teams that will beat the teams they're supposed to beat and split the games against the good teams. That should be good enough for this team to carve out a nice playoff spot out East.
Kemba Walker has been insane this season. He's averaging 24.4 points on 47 percent from the field and 42 percent from three – all career highs.
The Toronto Raptors have been the second-best team in the East through two weeks. I can confidently say that. And a big part of that has been DeMar DeRozan and his amazing start to the year.
DeRozan is averaging 34 points and five rebounds per game this season. He's also shooting it at an efficient 52 percent from the field. Even though it's unfair to expect DeRozan to play this well for the length of the season, it's a good sign that he's gotten off to such a good start.
For better or worse, through two weeks, the Golden State Warriors have proven that they will indeed be human this season. Of course, that's assuming that Klay Thompson continues to shoot 38 percent from the field and 20 percent from three-point range.
If that doesn't change, this team will continue to look beatable on some nights. That's exactly what we saw in their game the other night against the Los Angeles Lakers. It also didn't help that they were fresh off an emotional victory the night before.
The bad news is that the Warriors will only get better as the season continues to unwind. Their best basketball is yet to come. Believe that.
After their hot start to the season, starting the year 4-0, the San Antonio Spurs' schedule hit a bit of rough patch. They played the Utah Jazz twice and then hosted the LA Clippers.
The Spurs went 1-2 through that stretch. For a team that looked like the class of the Western Conference – at least until the Golden State Warriors figure things out – losing two out of three is never a great sign.
Perhaps more concerning, when LaMarcus Aldridge and Pau Gasol are on the court together, the Spurs are being outscored 25 points. Not great.
These are not the same old LA Clippers. These are the Clippers that are going to try to outscore you on a night-to-night basis. The Clippers are in the middle of the pack in offensive rating (16th) and the BEST defensive team right now.
LA is only allowing 90 points per 100 possessions.
To put that into perspective, the Clippers allowed 101 points per 100 possessions last season. That's quite the improvement.
Even though it's almost unrealistic to believe that the Clippers will continue to post historic defensive numbers, the fact that they've been this good on that side of the ball for about two weeks has to be considered a really good sign. These aren't the same old Clips.
The Cleveland Cavaliers, fresh off winning their first NBA Championship, are off to their best start since the 2000-01 season. The Cavs are 6-0 and can make the case for being the best team in the NBA right now, especially with how up-and-down the Golden State Warriors have looked thus far.
Perhaps most interestingly, the Cavs don't look like a total train-wreck when LeBron James isn't in the game. And that's quite the development, considering that this year more than ever LeBron was going to need his teammates to step up in a big way.
So far, so good. This is definitely a great sign for this team moving forward.
Do you agree with our NBA Power Rankings this week? Are the Cleveland Cavaliers the team to beat through two weeks? 
This article originally appeared on