NBA Power Rankings: 2016-17 Training Camp Edition
In our first installment of NBA Power Rankings for the 2016-17 season, we breakdown each NBA team as training camps open
NBA training camps are finally here, and officially open this week.
After the offseason frenzy that was the 2016 summer, in which it saw numerous NBA stars switch jerseys and retire, it's finally time to begin a new era in the Association. One that could potentially include the best team we've ever seen (Golden State Warriors) or one that could feature one of the most important title defenses in league history (Cleveland Cavaliers).
Either way, the 2016-17 season will surely showcase the necessary talking points that you've always come to expect.
Starting with the first installment of our NBA Power Rankings of the season, where we breakdown each team as training camps open.
The good news is that the Brooklyn Nets are no longer heading into a dead end. With the hiring of Sean Marks as the team's new fearless leader, the Nets at the very least have some direction. And that's important, and something that we probably couldn't have said about this team in each of the last few seasons.
Brooklyn may not have a first-round draft pick this in 2017, but they don't have to worry about making the playoffs. This team knows they don't have the talent to compete much, if at all. The Nets should worry about getting better every single day.
Perhaps the one hope this team has is the fact that Brook Lopez is still on this roster. He's the only player that's going to keep this team honest – and competitive. An interesting storyline to follow, though, is whether they explore a potential trade.
There's no question that the Philadelphia 76ers are going to be significantly more talented during the 2016-17 season. However, the question is, will that automatically equate to more wins on the basketball court?
And that's a valid question.
Philly added Ben Simmons, Dario Saric, Jerryd Bayless and Gerald Henderson this summer – that's talent. Nerlens Noel and Jahlil Okafor should also be better, on progression alone, and if Joel Embiid is healthy, that kind of changes this team's whole dynamic too.
The biggest question, roster-wise, for this team remains in the backcourt. Who will emerge to take command at the guard position? On paper, there aren't many candidates. The hope, I would assume, is that Bayless can work as something more than just a stopgap.
But I have a hard time buying into that theory.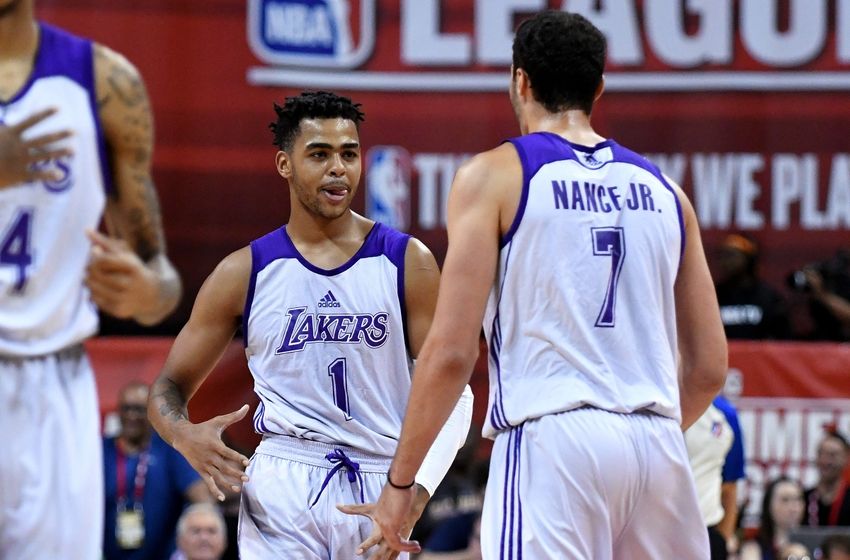 Much like the Philadelphia 76ers, there's no question that the Los Angeles Lakers will be better in 2016-17. At the very least, on paper. However, there's still no guarantee that this team will win more than 30 games this season.
The additions of Brandon Ingram, Timofey Mozgov, Luol Deng and others will certainly help. Though, perhaps what this Lakers' season hinges on most will be the progression of D'Angelo Russell, Jordan Clarkson and Julius Randle.
If those three players make the necessary – and perhaps expected – jump in their games next season, then this team could be one to watch. Still, even that's pushing it. In a tough Western Conference, expect more growing pains from a team that no question has a bright future.
The Lakers just aren't there yet. And that's OK.
To say that I'm not a fan of the Sacramento Kings and their roster construction would be an understatement. I do, however, love their move to hire Dave Joerger as the team's head coach. He has talent and has a proven track record.
Question is, will he be able to get through to DeMarcus Cousins? If that answer is no, then this franchise is back where they started.
Sooner or later, the Kings are going to have to make a decision on Boogie. Right now, it's OK to drag this along. I suppose. If the Kings get off to another false start, though, there's no reason why Sacramento shouldn't begin looking into moving their former face of their franchise.
Yes, former.
I feel bad for Anthony Davis. I really do. And not just because of the injury bug that he's had to fight through his entire career, but because none of his supporting pieces have been able to stay healthy, either.
And that's probably the team's biggest issue. If the Pelicans could steal LeBron James' ability to sidestep injury, I think they'd be a lot higher on this list. Unfortunately, they can't. With a bit of a changing of the guard, the hope is that their new slate of talent will be able to do what Eric Gordon, who is no longer with the team, was able to do.
One player to keep an eye on is sharpshooting rookie Buddy Hield. If he's every bit the player that many expect him to be, this is going to be one interesting team to watch this season.
The Phoenix Suns may be one of the younger teams in the NBA, led by Devin Booker and rookie Dragan Bender, but let's not forget that this team still consists on Eric Bledsoe and Brandon Knight. That's important, and I feel like that's something that often gets forgotten.
Bringing back Jared Dudley will help, too. He's one of the most underrated players in the NBA, and can do a little of everything. He's the type of glue guy that keeps everything together. Every team needs a Jared Dudley.
If the Suns can remain healthy for the length of the season, this team likely won't be as bad as they were last season. In fact, I feel pretty comfortable guaranteeing that they won't. Though, guaranteeing that this team will remain healthy is an entirely different thing.
The Dallas Mavericks may have felt that they got the steal of the NBA offseason, in signing Harrison Barnes away from the Golden State Warriors, but this team is just not on par with the majority of the other teams in the Western Conference.
Dirk Nowitzki and Deron Williams are both a year older, and while Andrew Bogut doesn't nearly get enough credit, he's not a difference maker. The hope, I suppose, is that Barnes relishes as one of the team's top scoring option, and Wes Matthews, a full year removed from his achilles injury, begins to look more and more like his former self.
Still, even assuming the best-case scenario, I'm still not sure this Dallas Mavericks team makes the playoffs.
Listen, I love the roster that the Denver Nuggets have compiled over the last few seasons. However, they're still a couple years away from being a true contender to make the playoffs in the Western Conference.
Emmanuel Mudiay is going to be a very good point guard in the NBA. Gary Harris is probably the best shooting guard that no one's heard about. Danilo Gallinari is lethal on the offensive end, when he's healthy. Kenneth Faried, while he has his faults, has his bright spots as the energy guy for this team.
And Nikola Jokic…well, you better learn his name. He's good. Really good.
The Orlando Magic may have been very active during the offseason, trading for Serge Ibaka and signing Bismack Biyombo and Jeff Green in free agency, but there's still something off with this team.
Even though I love the hiring of Frank Vogel, I'm not sure if we're going to be able to see his true impact on this roster in year one. Apart from that, I'm not sure where this team's offensive fire power is going to come from.
Plus, is this finally the year that Elfrid Payton and Aaron Gordon make the big jump to stars in the NBA? The Magic kind of need that to happen sooner rather than later. They're betting on those two players, especially after deciding to move on from Victor Oladipo.
The Milwaukee Bucks should be higher on this list. Unfortunately, because of the injury to Khris Middleton, I can't see them any better than a fringe playoff team at best. However, in an improving Eastern Conference, I would assume that the loss of their best offensive and most durable player, will cost them a season.
This won't be a lost season for the Bucks necessarily, but it will be one that they'll have to throw away. Without their best player, I'm not sure what the Bucks can expect out of their 2016-17 season.
Adding Michael Beasley might help, but it wouldn't be fair to expect him to replace Middleton. He simply can't.
Now that it appears we have closure in the whole Chris Bosh dilemma, we can accurately rank the Miami Heat among the rest of the NBA. And, even on paper, this team isn't that impressive. That's OK, though.
For the most part, this is one of those young teams that will only get better as the season moves on. And a lot of what Miami wants to accomplish in 2016-17 has to do with what we get from the Goran Dragic-Hassan Whiteside combination. Also, with the development of Tyler Johnson, Josh Richardson (who will likely miss the start of the season) and Justise Winslow.
Miami might look impressive to start the season, but my estimation is that this team is going to look like a completely different group by the end of the year.
There's a good chance that by the end of the season, the Washington Wizards could be a lot higher than 19th. In fact, if they're not I feel like this would be just another disappointing season.
No one can deny that this team has the talent to make the playoffs in the Eastern Conference, at the very least. Heck, this team was a John Wall injury away from making an Eastern Conference Finals appearance.
Now, they're just hoping they can make it back to the postseason. It's amazing how much can change in the matter of one full season.
In the end, it's going to come down to health for the Wizards. If John Wall and Bradley Beal can remain healthy, this team will reach its potential. If not, all bets are off.
Ah, the new-look New York Knicks. Or, as Derrick Rose calls them, the NBA's newest Super Team. Yes, checking in at No. 18. That's not a misprint.
With the additions of Derrick Rose, Joakim Noah, Brandon Jennings and Courtney Lee, amongst others, the Knicks certainly look good on paper. I don't think anyone would argue that. However, it's almost impossible to project a team that is destined to fight the injury bug all year long.
Two of the most important players added this summer are known as injury-prone. That's not something you can just brush off. It certainly shouldn't be overlooked.
Maybe Carmelo Anthony has a season to remember and catapults the Knicks to a top 4 team in the East, but I'd have a hard time seeing that come to fruition.
After years of developing, this could finally be the year for the Minnesota Timberwolves. With that said, I'm going to temper my expectations on the young Wolves. Now led by Tom Thibodeau, it's easy to see why many expect them to be a top 5 or 6 team in the Western Conference.
Karl-Anthony Towns is coming off an amazing rookie season and Andrew Wiggins continues to quietly makes strides in his game. This could finally be the year it all comes together for those two, in addition to a healthy – and fed up – Ricky Rubio.
Throw in an underrated Zach LaVine, the best-kept secret in the NBA (Gorgui Dieng) and Kris Dunn, who impressed in Summer League, and the Wolves could be ready to make a step into the playoffs.
The argument could be made that the Detroit Pistons should actually be ranked higher than 16th. While I wouldn't exactly disagree with that, I just have to see a development stage made before moving them up the rankings.
Although, you'd assume that this team is in for a big season. After gaining invaluable experience in the playoffs last season (even though it was short lived), Andre Drummond, Reggie Jackson and Tobias Harris should all be better entering next season.
The expectation is that the Pistons WILL be better in 2016-17, and that they're barely beginning to scratch the surface of what this team can really be.
Re-signing Nicolas Batum was a necessity for this team, there's no question about it. However, because of that, the team wasn't able to pay Jeremy Lin and Al Jefferson. And I really think those losses are going to hurt this team than many believe.
Sure, the return of Michael Kidd-Gilchrist will definitely help this team but I'm not sure this team's bench will have the same punch it did last season.
And that was a big part of their ability to play through the loss of MKG. Plus, coming off arguably the best season of his career thus far, are we sure Kemba Walker is ready for an encore performance?
I'm just not sure about this team.
Any team that has James Harden on it is always going to have shot. Even if the difficult Western Conference.
However, I still wonder whether this team is going to be good enough on the defensive end, especially after the loss of Dwight Howard, to make noise in the West. They have enough talent to make the playoffs, especially if Eric Gordon and Ryan Anderson can remain healthy.
Though, this team's fate might ultimately fall in the hands of Mike D'Antoni and his return to the NBA head coaching bench. That and whether James Harden can return to elite form.
I've already been on record stating that I believe that this team has two of the most overrated players in the NBA. With that said, you can't deny that the combination of Jimmy Butler and Dwyane Wade offers quite the intrigue.
Even though I don't believe those two players won't live up to the expectations, I still think this team has the ability to be a better-than-average team. Robin Lopez is better than perceived and Rajon Rondo quietly had a nice season with the Kings a year ago.
The biggest question for me is whether this team can remain healthy. That, and I literally have no idea what to expect from Fred Hoiberg.
After quite the impressive 2015-16 season, in which they surprised the masses even after losing four starters in free agency (including LaMarcus Aldridge), the Portland Trail Blazers are expected to do even more this season.
Making a run to the second round, before being eliminated by the Golden State Warriors, is going to be awfully tough to top this season, though.
Even though I fully believe in Damian Lillard and C.J. McCollum, I'm simply not too crazy about the team forking over big money to Evan Turner. I'm not sure it was the guy that this team needed.
What I did love, though, was the signing of Festus Ezeli. He has the opportunity to have a really big season in Portland.
Even though this team lost Kevin Durant in free agency, the Oklahoma City Thunder are still very much a talented group. Led by Russell Westbrook, I still believe that this team will have the capability to make some noise in the Western Conference.
The additions of Victor Oladipo will help, even though the team had to part ways with Serge Ibaka to make the deal come to fruition. If he ever takes another step in his progression, he could turn out to be a really good player in the NBA.
As Westbrook takes more of a leadership role this season, it's going to be interesting to watch how the rest of the Thunder follow. If nothing else, watch Russ going completely bonkers every night is incentive enough to watch.
Losing Al Horford will almost certainly hurt. There's no doubt about that. Question is, can Dwight Howard make the transition away from Howard seamless? If he can, then perhaps this team won't miss much of a beat this season.
Though, that's a lot to ask from Dwight, who is coming off one of his most frustrating seasons in recent history.
Trading Jeff Teague also hurts this team, their depth if not much more. Is Dennis Schroder ready to be a starting point guard in the NBA? That's something that we simply can't answer right now. It's also something that the Hawks are rolling the dice on.
I really liked this team's roster before the offseason began. Because of injury, this team narrowly missed the playoffs last season. You'd have to think that if they were able to remain healthy, we'd be having a different conversation right now.
However, the fact that this team added key veterans George Hill, Joe Johnson and Boris Diaw this summer makes me fall in love with this team even more.
Assuming that Gordon Hayward, who's entering a contract year, Derrick Favors and Rudy Gobert continue their progression upward, this team has the potential to be really good this season. If they can stay healthy, I fully expect them to be.
After landing Al Horford in NBA Free Agency, the Boston Celtics appear to be everyone's darling heading into the 2016-17 season. However, let's pump the brakes on their hype.
Did they improve? No question. It's impossible for a team to add Horford and NOT improve. Although, I was never that big on Isaiah Thomas and the fact that this team still hasn't addressed their outside shooting issues worries me.
The Celtics are certainly talented on paper, and will probably be a top 4 seed in the Eastern Conference. However, I don't take them as a serious threat to knock off a team like the Cleveland Cavaliers in the playoffs. Not yet, at least.
Maybe I'm a little too high on the Indiana Pacers this season. Though, the fact that this team has the second best player in the Eastern Conference gives me confidence that Indiana has a great chance to make some noise in the Eastern Conference this year.
Paul George had a sensational season a year ago, and that was with him having to do most of the heavy-lifting on both sides of the ball. Now, with an improved supporting cast, which features Jeff Teague and Al Jefferson, George could be in line for an even bigger season.
The only thing that concerns me with the Pacers is their coaching staff. While it was fine that Larry Bird thought it was time for a change in leadership, even though I loved the work that Frank Vogel did, I'm not sure Nate McMillan is the answer.
The Memphis Grizzlies are another team that I really like in 2016-17. Although, this team's fate almost squarely depends on their ability to remain healthy. Assuming that Mike Conley and Marc Gasol recover fully from their respective injuries, this team has all the ability in the world to make some noise in the West.
Adding Chandler Parsons should pay dividends for this team, as it addresses their lack of outside shooting and helps with their ability to play more small ball (when needed).
I'm not sure what this team's ceiling is next season, but a trip to the Western Conference Finals could be in their future if the playoff bracket falls the right way.
Either way, this team should not be slept on.
Some things never change. Despite the rest of the Eastern Conference taking a bit of a face lift, the good old Toronto Raptors will still be a force. Led by DeMar DeRozan and Kyle Lowry, the Raptors figure to still have a say in who comes out of the East.
Even though this team lost Bismack Biyombo in free agency, the combination of Jared Sullinger and rookie Jakob Poeltl could be the start in replacing him. Though, I'm not sure either one of them is the answer.
Nevertheless, with the continued progression of Jonas Valanciunas, this team should be set to perhaps make another trip to the Conference Finals.
Even though the Los Angeles Clippers have disappointed in the playoffs over the last few seasons, they still have one of the most talented rosters in the NBA. And, if nothing else, this team is going to win a ton of games in the regular season.
On top of that, the stars could be in line for this team potentially making their first appearance in the Conference Finals. With the Oklahoma City Thunder taking a step back, this could be the Clippers' best chance at making a deep run in the playoffs.
Though, it's also a bad time. You know…considering that the Golden State Warriors have constructed one of the NBA's best teams on paper.
Tim Duncan may not be a member of the Spurs anymore, but San Antonio is still going to be really good this season. The ultimate question with this team is going to be is whether this their frontcourt will be up to the task on the defensive end.
With Duncan no longer in uniform, the defensive onus falls on Pau Gasol and LaMarcus Aldridge, two players who aren't exactly known for being elite rim defenders.
This team's ability to remain one of the better defensive teams in the NBA could be the difference from the Spurs being a good or great team.
Then again, Kawhi Leonard's greatness could overcome all that. Yes, he's that good.
During this offseason, after blowing a 3-1 lead in the NBA Finals, the Golden State Warriors decided to go big or go home. In short, they went big. Huge.
After signing Kevin Durant, and letting Harrison Barnes walk, the Warriors have constructed one of the best teams on paper. Stephen Curry, Klay Thompson, Kevin Durant and Draymond Green. It's not going to be fair. At all.
Even though the Warriors will probably make their way to a third straight NBA Finals, one that they'll probably be favored it, I still couldn't put this team ahead of the Cleveland Cavaliers. Not yet.
The defending NBA Champions will begin the 2016-17 season as the No. 1 team in our first Power Rankings of the season. How can you blame us? This is a team that overcame a 3-1 NBA Finals deficit against the best regular season team that I've ever seen in my lifetime.
Sure, you can make the argument that the Cavs might've not even won the championship if Stephen Curry wasn't injured. But, there's really no way of knowing that.
With the best player (still) in the world, the Cavs appear to be in a good spot to make a return to the NBA Finals in order to defend their crown. That's, of course, if this team can figure out a way to get J.R. Smith signed.
Whether you want to believe it or not, the Cavs are going to need Smith this season.
This article originally appeared on