NBA Positional Power Rankings: Westbrook, Leonard Are Red-Hot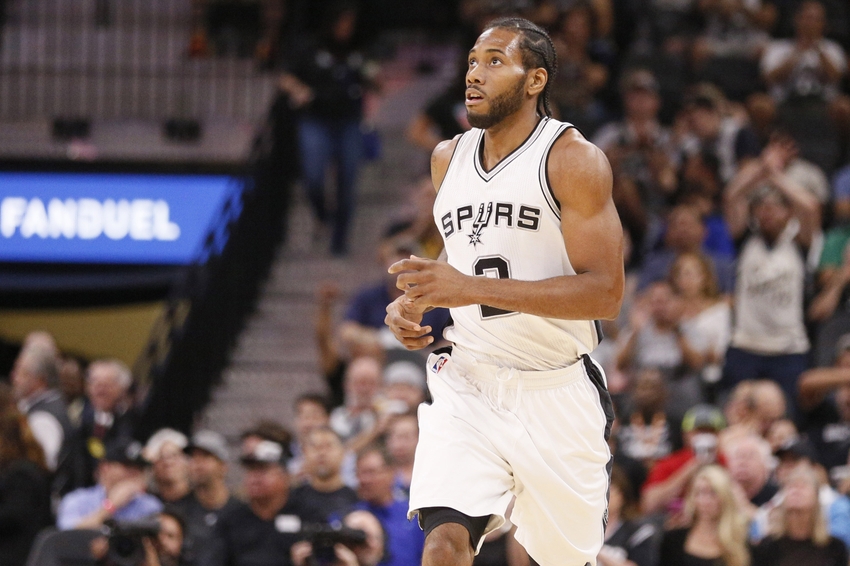 In our first installment of our NBA Positional Power Rankings, we explore Russell Westbrook's hot start and the sudden rise of Kawhi Leonard
Welcome to the first ever positional power rankings for this 2016-17 NBA season. In this section, we'll be going over the NBA's three best players at each of the five positions.
This list will be updated once every two weeks. For now, the inaugural list is simply composed over what's gone on through the season's first three weeks.
From the hot start of Russell Westbrook to the sudden rise of Kawhi Leonard, we take you through what has transpired – individually – through the first few weeks.
So, without hesitation, here is the best players by position in the midway point of November.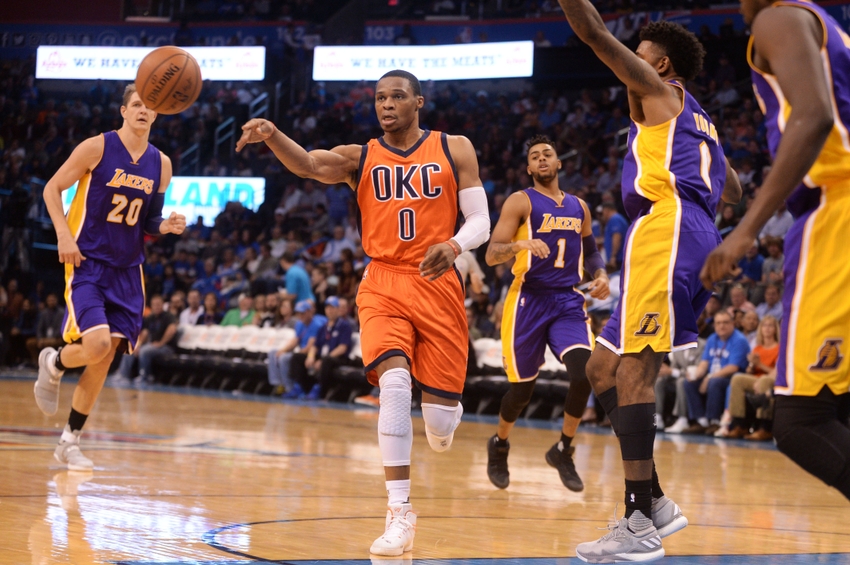 Point Guards
Stats: 32 points, 10 assists, 9 rebounds 
Maybe Westbrook should join a league that's more advanced than the one he currently is in. Okay, I know that's a complete joke, but quite frankly Westbrook is performing at incredulous levels, averaging 30.9 points, 9.4 assists and 8.9 rebounds a night while carrying a make-shift Thunder squad to surprising 6-5 record.
There shouldn't be an argument for who the best point guard in the NBA is at this point. RW3 is re-defining the game of basketball every time he steps on the floor; penetrating, shooting, and defending his way into a category that very few players can attest to.
Can you say MVP front-runner?
2. Damian Lillard
Stats: 30 points, 5 assists, 5 rebounds 
I hope no one is forgetting about Damian Lillard. Dame is posting sterling numbers such as a career-highs in points (30.6) and field goal percentage (49.7 percent).
He may not be producing the same number of assists, nor the low-level of turnovers that Westbrook has thus far, but he is still making a case for being a top three point guard in the NBA right now.
On top of his impressive numbers, Lillard has also led his Portland Trail Blazers to a 7-4 record, which is good enough for top 4 in the Western Conference.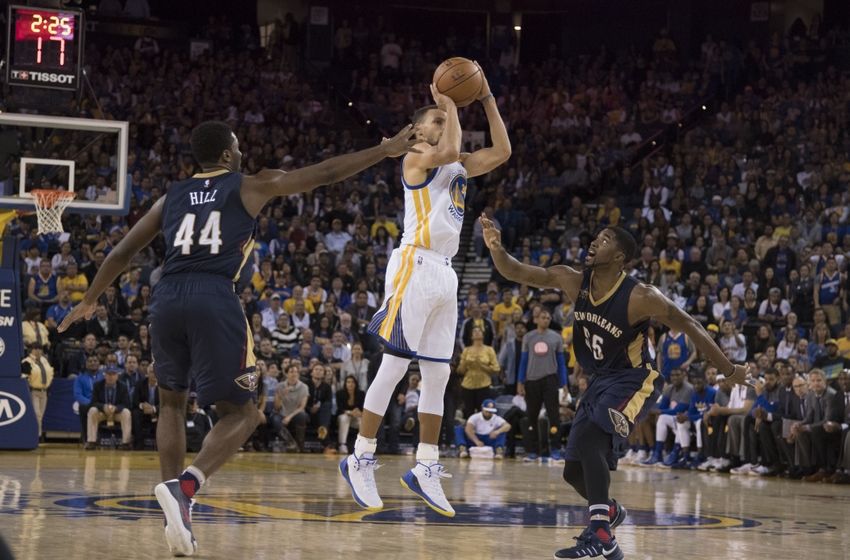 I can't leave off the reigning two-time NBA MVP. It wouldn't be fair to.
Sure, Stephen Curry's assist-to-turnover ratio might be slightly down, but he's still putting points up at an illustrious pace. Steph is averaging 26.9 points and dishing out six assists a night, to go with a ridiculous 63.1 effective field goal percentage.
And, oh yeah, did I mention he broke the NBA record for most 3-pointers in a single game with 13? Yeah, Chef is doing alright. He's probably not going to get the same attention or praise that he got the last two season, because of Kevin Durant, but he's still REALLY good. Don't get that twisted.
Shooting Guards
1. DeMar DeRozan
Stats: 34 points, 5 rebounds 
Consistency, consistency, consistency. No other words reign true for DeRozan who has achieved eight 30+ point performances throughout the Raptors' first nine games this season. While you can label this as a "small sample size", you can't scoff at the numbers that DeRozan is putting up.
Through the season's first three weeks, DeRozan is currently the leading points scorer in the NBA – averaging 34 per game, and is sporting career-highs in rebounds (4.8 per game) as well as eFG percentage (53.8 percent). DeRozan's shortcomings may still lie from the perimeter, shooting only 21.4 percent, however that proves to be the only aspect of his game that's lacking at this point.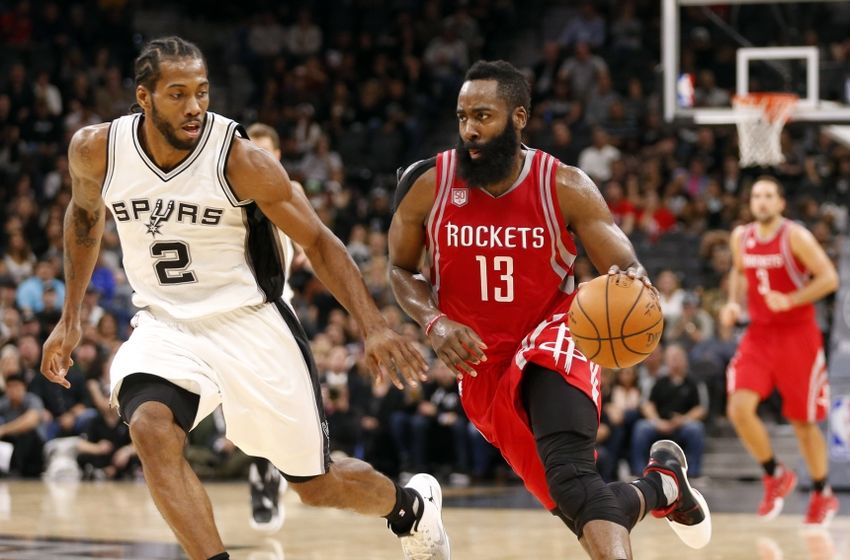 2. James Harden
Stats: 30 points, 13 assists, 8 rebounds 
Do you remember hearing the old adage "Learning from your mistakes will only make you better"? Well, through 10 games this season, it appears as if Harden has overrode his prior shortcomings, dominating in all facets of the game.
So far, Harden has posted career-highs in points (30.6 per game), rebounds (7.8 per game) and in effective field goal percentage (58.2 percent). In the process, the "Bearded One" has busted the preconception of "not being a team player", averaging 17.1 assists per 100 possessions.
3. George Hill
Stats: 20 points, 5 assists
Amidst all of the free agency turmoil this past offseason, the Utah Jazz were heavily criticized for snagging 30-year-old Hill from the Pacers off the scrap heap. Through his first eight NBA seasons, Hill was nothing more than a 11 point, three rebound per game contributor.
Now, here we are nearing the middle of November, and the Jazz might have acquired the biggest free agent steal in recent memory.
To this point, Hill has seemed to gel admirably in Utah, producing career-highs in points (20.4 per game), assists (5.2), and field goal percentage (54.1 percent) through eight games.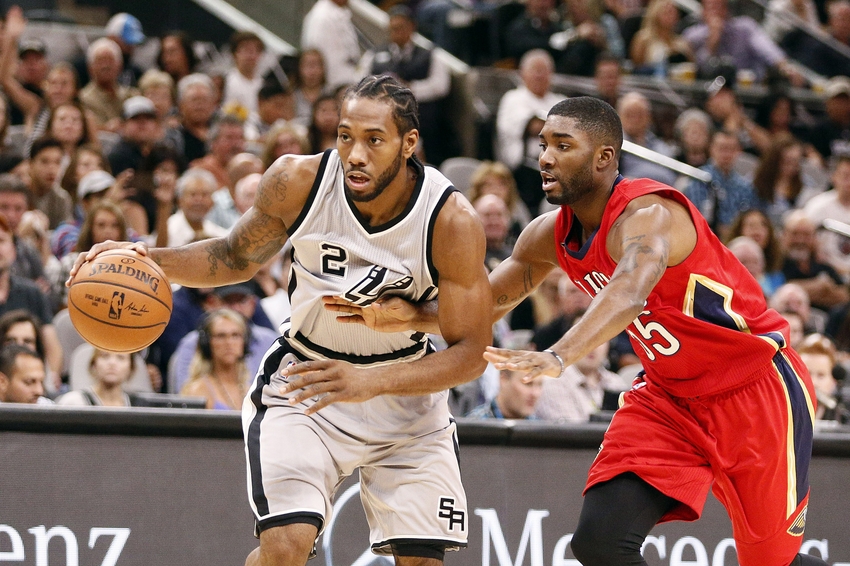 Small Forwards
1. Kawhi Leonard
Stats: 26 points, 5 rebounds 
Game after game. Season after season. The 25-year old Leonard continues to mature, continues to inspire, and continues to develop at least a part of his game any way possible. This season, it appears to be in the form of scoring (averaging 25.6 PPG) as well as getting his teammates more involved (3.1 APG).
For a Spurs' team that's starting to see the deterioration of point guard Tony Parker and wing Manu Ginobli, Leonard stands as the unquestioned star and possibly the best two-way player in the game today.
2. Kevin Durant
Stats: 27 points, 8 rebounds, 4 assists
While Durant's monumental streak of 73-consecutive 20+ point performances may have snapped the other night versus Denver, he is still stuffing the stat sheets routinely.
Through nine games, KD is averaging 27.6 points, 7.8 rebounds, and is actually shooting his best from the field in his career at 57.3 percent.
With Klay Thompson not playing to the best of his abilities thus far, Durant has carried the load just about as well as you can early on for the Warriors. Though, at some point, the Dubs are going to need Thompson.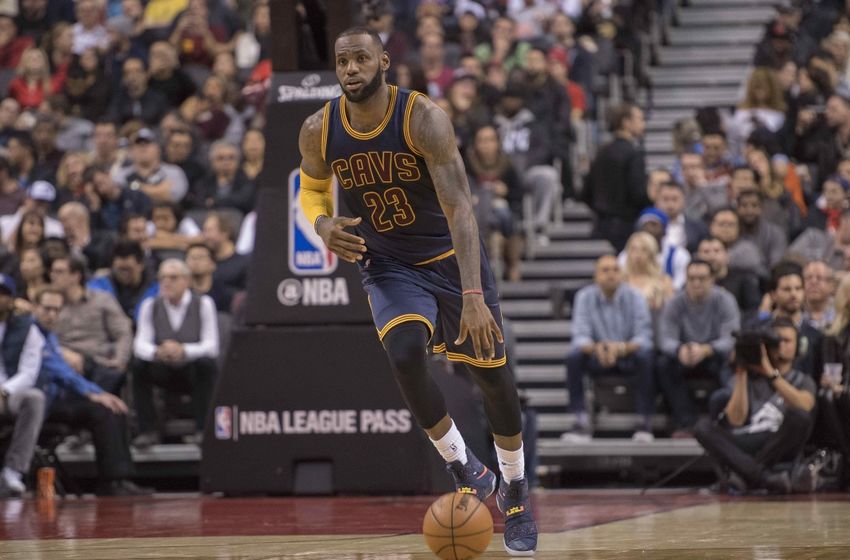 3. LeBron James 
Stats: 23 points, 9 rebounds, 9 assists 
It feels like a crime to not put The King himself on this list somewhere, right? LeBron is operating at a prolific pace once again, averaging a near triple-double every night – 23.5 points, 9.0 rebounds as well as 9.3 assists. Last week, James passed Hakeem Olajuwon for 10th on the NBA's all-time scoring list and he made more history on Friday night in becoming the youngest player in NBA history to score 27,000 career points.
So far this season, it appears that Cleveland has caught its second wind early, as they've raced out to a 8-1 start, best in the league.
Power Forwards
1. Anthony Davis
Stats: 31 points, 11 rebounds, 3 blocks 
There's two sides to this story, one of which is good and the other is bad. Let's start with what's good. Barely four weeks into the season, there hasn't been a more imposing PF in the NBA than Anthony Davis. The Brow is damaging rims, grabbing boards and shattering the hopes and dreams of every big man who have foolishly shared the paint with the almost 7-foot giant.
After his performance against the Lakers, Davis became the 10th player in NBA History to have 300 points and 100 rebounds in his team's 1st 10 games (via Elias Sports). Unfortunately, the bad part is that he plays for a New Orleans Pelicans team that's 1-10 and possess no signs of getting better.
2. Blake Griffin
Stats: 20 points, 10 rebounds
Although the LA Clippers meteoric rise to the top of the Western Conference is a shocker to many, Blake Griffin's consistency shouldn't bat an eye.
The seven-year 4-man is playing the best basketball of his career defensively, issuing a 1.3 BPG average while sporting a 91 DRtg per 100 possessions. Griffin remains a mainstay for LA down-low, administering 20.1 points and 9.7 rebounds per game.
He's also led the Clippers to an impressive 10-1 record thus far.
3. Kristaps Porzingis
Stats: 19 points, 6 rebounds
There's been no signs of a sophomore slump for Kristsaps Porzingis. The 21-year-old Latvian forward has increased his production in nearly all of the offensive metrics throughout the season's first month.
While averaging 18.4 points per night, Kristaps has also flashed efficiency in mid-range as well as long-range shots. For example, per 36 minutes, Porzingis is netting 48.0 percent of his shots from the field and a startling 39.6 percent from deep.
Considering that Joakim Noah and Kyle O'Quinn have refused to show signs of life offensively, Porzingis may be asked to produce more than what he already is in the front-court. And that could prove to be detrimental to New York.
Centers
1. DeMarcus Cousins
Stats: 26 points, 9 rebounds 
Boogie Cousins has picked up right where he left off following an All-Star season in 2016. Through 11 games, Cousins is pouring in 26.9 points and 8.6 rebounds per game and a 5.1 BPM.
In addition, Cousins might be finishing the best of any frontcourt player at the rim this season, netting 62.3 percent of his shots attempted five feet from the basket.
Even though the Sacramento Kings are on their way to another disappointing season, it won't be because of the lack of production from Boogie. He's the real deal. He just hasn't been given enough help in Sacramento.
2. Hassan Whiteside
Stats: 18 points, 14 rebounds, 3 blocks 
Early on, it's safe to say that Hassan Whiteside is the Miami Heat's most important (and best) player. The 7-foot giant is first in the league in rebounds (13.8 per game), third in blocks (2.6), and fourth in points (17.8) amongst qualified centers, respectively.
Whiteside isn't shooting quite to the level he did last year, making only 52.3 percent of his field goals attempts – which is probably due to the fact that he's being leaned on more so far this season.
However, he is doing his best as the Heat are clearly suffering from the ramifications of losing Dywane Wade, and others, in free agency.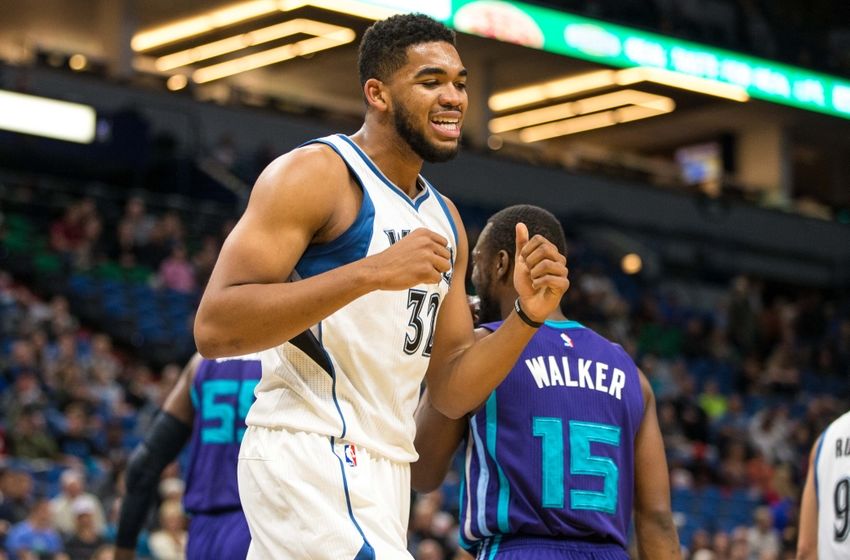 3. Karl-Anthony Towns 
Stats: 22 points, 9 rebounds
Karl-Anthony Towns has endured a slight roller coaster in production thus far, registering three games of less than 15 points and two with 30+.
Through it all, however, KAT remains to be Minnesota's most impactful force down-low, issuing a 25.6 usage rate (highest of the team) over the course of nine games.
Towns' rebounds (12.6) and field goal percentage (52.4 percent) per 100 possessions have taken a slight decline from a season ago, although he's still issuing a 20.4 PPG average (4th best among qualified centers).
This article originally appeared on