NBA: Northwest Power Rankings- Is OKC the Best?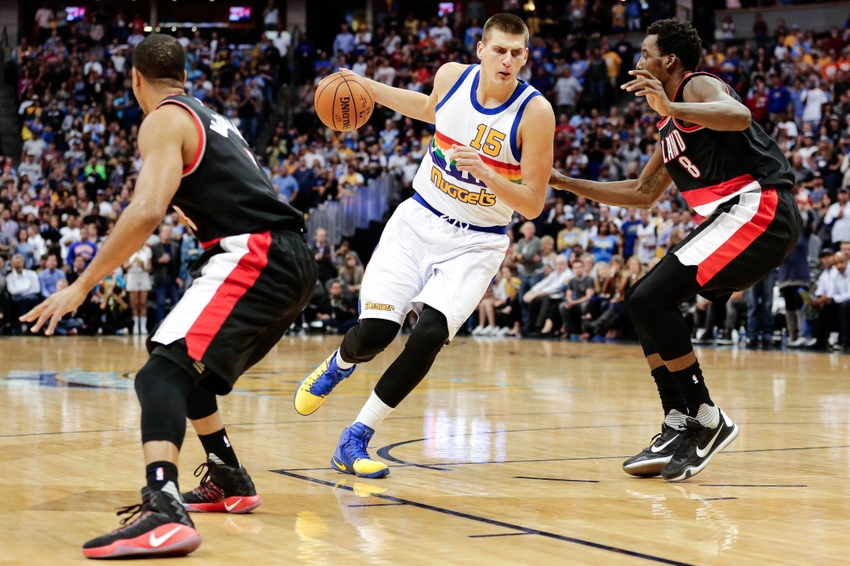 With every NBA team getting their seasons started, we are already seeing some teams beginning to separate themselves as contenders. There are under-achievers, big performers, and in my opinion, some pretenders. The Northwest division has been no different.
The Northwest could be a heavy favorite for one of the NBA's best divisions. With all the teams looking to make the playoffs, the sky is the limit for each team in this division, and it will only continue to reach new heights.
The standings of the Northwest division after the first week go as follows:
1. Oklahoma City Thunder (3-0)
2. Portland Trail-Blazers (2-1)
3. Utah Jazz (1-2)
4. Denver Nuggets (1-2)
5. Minnesota Timberwolves (0-2)
I will be not only discussing what each team has been doing in the past week, but this is a power rankings as well. So without further ado, let's jump right in.
5. Minnesota Timberwolves.
Before the season started, and the NBA preseason was underway, I did a preseason power rankings of the Northwest division and placed the Wolves last.
Well, after seeing them dismantle the Nuggets in preseason play I immediately regretted my decision. I thought that they could be good enough to nab that third spot, or even higher.
I guess what they say is true, preseason is preseason, because the Wolves have not looked very impressive to start their campaign. They haven't won either of their first two games, even though they have each been pretty close. Don't get me wrong, the Wolves could come out and shake off this early season slump, and it's not fair to fully judge a team's full potential after only two games.
Their leading scorer is their young star of a small forward, Andrew Wiggins, who is averaging around 27 points per game. Ricky Rubio leads the team in assists, with about 6.5 assists per game, and they are averaging right at 100 points per game.
Their two losses have come against the Memphis Grizzlies and the Sacramento Kings, both games that were played very closely. I know that the Wolves are dangerous to put low in the division, but I just need them to give me more of a reason to move them up on the list. Their upcoming schedule includes the Memphis Grizzlies, Denver Nuggets, and Oklahoma City Thunder.
4. Utah Jazz.
This is a team that I expect to possibly get a good place in the playoffs this season. The Jazz have a young core who looks ready to prove themselves and become possible contenders.
But that should come later in the season, and the Jazz have not been very impressive so far. In fact, their only win has come against the Los Angeles Lakers, a team who had the second pick in the NBA Draft last season.
Unlike the Wolves, the Jazz's two losses have not been very pretty, as the lowest total they have lost by was to the Trail Blazers, by nine. There is still time, I mean, they've only played three games, to get out of this small hole.
Their scoring and assist leader is their newly acquired point guard, George Hill, who is averaging about 20 points and four assists per game. Utah has been a very defensive team, as they have only averaged about 92 points per game while only giving up around 97 points.
Their two losses have come from the Portland Trail Blazers by nine and the Los Angeles Clippers by 13. This team is better than the fourth team in the Northwest, but when it comes to the current power rankings I have to place them here. Don't worry Jazz fans, this team will be back.
Their upcoming schedule includes the San Antonio Spurs twice, Dallas Mavericks, and New York Knicks.
3. Denver Nuggets.
Call me biased, but the Nuggets have shown some flashes of a great team in their first three games. They need to learn to play a complete game, but they have shown what they are capable of.
Denver Nuggets: DFS Picks for the Season Opener against the Pelicans
They have won a game and lost twice, like the Jazz, but I firmly believe that the Nuggets have looked like the better team after three games. Even though Mudiay has had some struggles, he has shown flashes of the player that he can be.
This being said, they haven't been perfect, especially in the turnover category. In their first game against the Pelicans, they had over 20 turnovers as a team, and still won the game. This game featured that many turnovers, and Anthony Davis dropping 50, just under half of his team's points.
The leading scorer for the Nuggets is Will Barton, who has averaged about 19 points per game. The assist leader is young point guard Emmanuel Mudiay, who is averaging only 3.5 assists per game. This isn't the most statistical team, although they are currently 3rd in the NBA in points per game, in which they average 110 per game.
As I stated before, the Nuggets have lost two games, one to the Toronto Raptors and the other to the Portland Trail Blazers in overtime. These two have been close to the end, and could have gone either way very easily. Their win was against the New Orleans Pelicans, with Anthony Davis leading a charge.
Their schedule in the next week has the Minnesota Timberwolves, Detroit Pistons, and the Boston Celtics.
2. Oklahoma City Thunder.
I hope you're ready, because I may get some criticism for what I'm about to say here. Russell Westbrook has been playing well so far, I won't deny that. However, his performance has not been as incredible as it may seem.
Yes, he's averaging a triple double, which is incredibly difficult to do, and yes, he is averaging over 35 points per game, but he is only shooting around 45 percent from the floor. For example, in his triple double win against the Suns, he had 51 points, 10 assists, and 13 rebounds, while making 17 shots. Sounds mind-boggling right? Well, he shot 17-44 in that game. He shot the ball 44 times, and only made 17 of them? That's only 38 percent, which with that many shot attempts, one should expect more made.
Want your voice heard? Join the Nugg Love team!
Again, I'm not saying that he has been anything short of fantastic, but I think we need to slow down on the hype. Westbrook has led to the Thunder to a 3-0 start, and look like they are just fine without their former superstar, Kevin Durant.
So why aren't they the best team in the division? Well for one, a team that is pretty much led by only one person is a recipe for disaster, no matter who it is. Also, it's cool that the Thunder are undefeated, but they really haven't played too many good teams to open the season. In fact, their first three games have included three of the four worst teams in the league last season.
Their three wins come against the Philadelphia 76ers, Phoenix Suns, and Los Angeles Lakers. These games haven't been blow-outs either, as the other teams were able to keep it close.
The Thunder will play the Los Angeles Clippers, Golden State Warriors, and Minnesota Timberwolves.
1. Portland Trail Blazers.
I'm sticking to my guns in saying that the Blazers are the best team in the Northwest Division. They're 2-1, and they have an MVP candidate in point guard Damian Lillard. There's still a great supporting cast led by C.J. McCollum.
Over and Back: Was Kareem vs. Walton the NBA's great lost rivalry?
This is a team that has looked better than its record may show, as Lillard has been playing some beautiful basketball to open up the season. I made the prediction before the season began that this would be the best team in the Northwest and a team to watch out for. Even with their one loss, I still stand by my statement.
They haven't been the best team in the West so far, but they're definitely up there. This is a team that was a dark-horse in the playoffs last season, and could still be flying under the radar of the Western Conference this year as well.
Their scoring and assist leader is none other than Damian Lillard, who I can't talk about enough. So far he is averaging around 35 points and five assists per game. In my opinion, the only two people who have outplayed him so far this season are Russell Westbrook and Anthony Davis. The team is averaging about 111 points per game, as they have the second highest total in the league.
They have one loss to the Los Angeles Clippers while having two wins against the Utah Jazz and Denver Nuggets. Their upcoming schedule includes the Golden State Warriors, Phoenix Suns, Dallas Mavericks, and the Memphis Grizzlies.
This division will continue to be fun to watch as they try to take the NBA by storm in an extremely mighty Western Conference.
This article originally appeared on