NBA League Pass: Top Games of the Week 11/20-11/26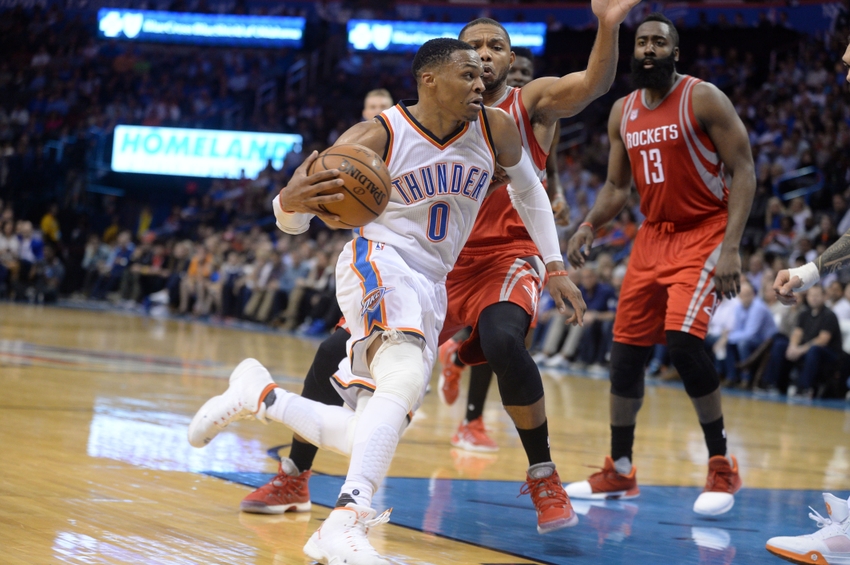 National televised games may get the most attention, but there are plenty of games to look out for on NBA League Pass week-in and week-out. This week is no different with several fun matchups.
Sunday, November 20th
Indiana Pacers (6-7) vs. Oklahoma City Thunder (8-5): A match-up of two perennial MVP candidates in Paul George vs. Russell Westbrook is sure to bring excitement. Oklahoma City is heating up once again after they fell off from a tremendous start to the season. The same can be said for the Pacers after they beat the Cleveland Cavaliers albeit if Lebron-less. The battle among centers should be fun also with two youngsters in Myles Turner and Steven Adams going head-to-head.
Chicago Bulls(8-5) vs. Los Angeles Lakers (7-6): Two of the more surprising teams thus far in the 2016-17 NBA season. Many expected the Bulls to struggle offensively with three ball dominant guards in the starting lineup. However, currently they rank seventh in offensive rating and eighth defensively. On the Lakers side, head coach Luke Walton has his young squad playing better than anyone thought. Julius Randle has improved exponentially, garnering a lot of Draymond 2.0 talk. Also, this is an L.A. nightlife game for the Bulls after playing the Clippers Saturday night.
More from Sir Charles In Charge
Monday, November 21st
Memphis Grizzlies (8-5) vs. Charlotte Hornets (8-4): Two teams expected to be in the thick of each conference's playoff picture battle of inter-conference teams. The sharpshooting Marc Gasol and the rest of his former grind-house gang are just two games above .500, but have impressed many. Mike Conley has looked great despite being listed questionable in almost every game this season. The Hornets are well-coached by Steve Clifford and are led by potential all-star guard Kemba Walker sitting at 8-3, third in the Eastern conference.
Toronto Raptors (8-4) vs. Los Angeles Clippers (12-2): Two teams that were an almost consensus to finish second in each respected conference have people buzzing early. The Clippers have the best record in the league at 11-2, while DeMar DeRozan for Toronto is off to a ridiculous start averaging 33 points per game through 12 games. This may be the last go around season in Los Angeles for three of the Clippers four stars and will continue to make a statement early on by beating one of the East's best teams.
Tuesday, November 22nd
Wednesday, November 23rd
Toronto Raptors (8-4) vs. Houston Rockets (8-5): Back at it again with the Toronto "Drakes" as two of the league's top five scorers face off, DeRozan and James Harden. I failed to mention in the first section, but Kyle Lowry is another fun watch. This game is bound to be high paced which will benefit both the Toronto guards. I'm interested in who will get the defensive responsibilities of Harden. He is averaging 28.5, 8.2, and 12.8 so it is a pretty large assignment.
Los Angeles Lakers (7-6) vs. Golden State Warriors (11-2): Once again the Luke Walton led Lakers here. This time against the team he was an interim coach for, leading them to 39-4 last season. The Lakers have one of the worst defensive ratings in the league, so expect a fast-paced Warriors attack as usual. The last match-up between these two teams ended in a shocking 20 point loss for the Warriors so expect revenge from Steph Curry, Kevin Durant, and Klay Thompson.
Thursday: HAPPY TURKEY EATING!
Friday, November 25th
San Antonio Spurs (10-3) vs. Boston Celtics (7-6): This game is super intriguing if Al Horford and Jae Crowder are back and playing full minutes. It has been hard to get a gauge on the Celtics so this could be a nice test to see where they stand in late November. On the other side, the defensive assignments in this one could be interesting with Tony Parker playing poorly on that end this season as there isn't a player he can hide on. Kawhi Leonard should do Kawhi Leonard things so must-watch.
Atlanta Hawks (9-3) vs. Utah Jazz (7-7): Dwight Howard vs. Rudy Gobert. Two defensive anchors that play their role well on offense to go with two great coaches that always have fundamentally sound teams. This should be a nice test for both teams as the Hawks are off to a hot start, and the Jazz are still trying to distinguish themselves from the rest of the pack in the Western conference.
Saturday, November 26th
New York Knicks (5-7) vs. Charlotte Hornets (8-4): I'm expecting a big game from Porzingis here with no one to guard him unless Nic Batum or Michael Kidd-Gilchrist slide over to him despite being undersized. Two tales of defense here as the Knicks rank 29th in defensive rating and the Hornets are 2nd. The Hornets are also 6th in offensive rating. Therefore this one could get ugly unless Carmelo Anthony or Zinger explode for a big game.
Minnesota Timberwolves (4-8) vs. Golden State Warriors (11-2): The future vs. the present. What will Karl Anthony-Towns do against the Draymond Green and the Warriors defense? A height mismatch so he could have a big game that could be his coming out party for anyone that has refused to take notice of him. The Timberwolves defense has had its holes early on so Steph and the gang should slice them up with ease so may not be a close one.
Some of these games are exciting based on match-ups and certain players. Others are due to them being crucial in how the NBA world will view them. Regardless the NBA never fails to produce a great product and we are in for another great week as the first month of the season winds down.
This article originally appeared on