NBA History: All-Time Scoring Average Leaders By Position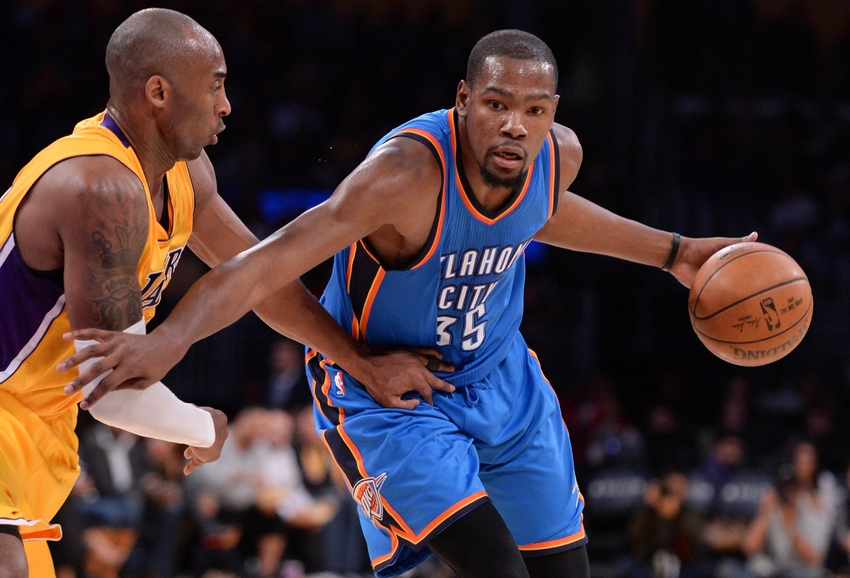 Longevity stats are impressive, but who truly dominated the game? Here's the NBA's all-time starting five with the career leaders in scoring average.
---
The 2016-17 NBA regular season is shaping up to be one of the most historically significant campaigns in league history. The titans of the game have either teamed up or been granted an opportunity to go from No. 2 to No. 1.
Perhaps more important than the immediate repercussions is the historical implications that the 2016-17 season holds.
Whether appreciated or otherwise, some of the greatest players in NBA history are active during the modern era. That's no more true than with the scorers, who are beginning to transcend era and enter all-time territory.
The question is: who are those scorers chasing and how difficult is the task of surpassing the all-time greats?
Scoring volume is a matter of longevity and the good fortune of remaining healthy, which are two virtues unto themselves. Scoring average, however, is a matter of pure and unfiltered dominance in putting points on the board.
The question is: who are the most dominant scorers in the history of the five NBA positions?
Point Guard: Oscar Robertson
Years Active: 1960 to 1974
Team(s): Cincinnati Royals, Milwaukee Bucks
Career Scoring Average: 25.68 PPG
Career Points Scored: 26,710
The man who averaged a triple-double is also the most dominant scorer in the history of the point guard position. A 6'5″ goliath who would've physically overwhelmed point guards in any era, Robertson had it all.
With a career average of 25.68 points per game, Robertson checks in at No. 1 in scoring average by a point guard and No. 10 on the overall list.
Robertson's size was a strength in the 1960s, just as it would be a strength in the modern era. He was a crafty scorer, as well as an elite facilitator, who overcame the presence of all-time big men with a smooth midrange game and craftiness around the rim.
Keep in mind, Robertson was forced to drive against legendary big men such as Wilt Chamberlain, Bill Russell, and Nate Thurmond—overwhelming tasks.
With 77 career 40-point games, Robertson built his career scoring average with both individual displays of brilliance and full seasons of explosive play. He had six seasons above 30 points per game, including his famous triple-double season.
For what it's worth, Robertson also scored more points than any other point guard in NBA history with 26,710.
Shooting Guard: Michael Jordan
Years Active: 1984 to 1993, 1995 to 1998, 2001 to 2003
Team(s): Chicago Bulls, Washington Wizards
Career Scoring Average: 30.12 PPG
Career Points Scored: 32,292
You know how the younger generation who didn't quite get to watch Michael Jordan play says he's overrated? Well, Jordan played in one of the greatest big men eras of all-time, routinely drove the lane, and didn't shoot a high volume of 3-point field goals.
Even still, Jordan is No. 1 on amongst all NBA players in career scoring average at 30.12 points per game.
Jordan won an NBA record 10 scoring titles during his unprecedented and incomparable career. That doesn't include his rookie season, when he led the league in total points scored with 2,313 in 82 games—26.5 points per game.
With eight seasons above 30 points per game, including the crown jewels that were the 1986-87 and 1987-88 campaigns, Jordan set the standard for scoring by a shooting guard.
In 1986-87, Jordan averaged 37.1 points per game on 48.2 percent shooting from the field. A season later, he poured in 35.0 points per game on 53.5 percent shooting from the field—the year he also won Defensive Player of the Year.
Jordan also averaged 32.5 points and 8.0 assists per game in 1988-89.
With a career average of 30.1 points on 49.7 percent shooting from the field, it simply doesn't make sense how productive and efficient Jordan was.
How's that for overrated?
For those who prefer longevity, Kobe Bryant is No. 1 amongst shooting guards with 33,643 career points scored.
Small Forward: Kevin Durant
Years Active: 2007 to Present
Team(s): Oklahoma City Thunder, Golden State Warriors
Career Scoring Average: 27.40 PPG
Career Points Scored: 17,566
Kevin Durant is the only active player whose name surfaces on this list. It goes to show just how dominant a scorer Durant truly is, and it's not just his career scoring average that should be garnering a golf clap.
Durant has four career scoring titles, which puts him in a class with some of the greatest scorers in NBA history.
The only players in NBA history who have won at least four scoring titles are Wilt Chamberlain, Durant, George Gervin, Allen Iverson, and Michael Jordan. Four of those five players are already in the Hall of Fame.
Durant has already booked his ticket with four scoring titles, an MVP award, and five All-NBA First Team nods—accolades shared by just he, Chamberlain, and Jordan.
Durant is still an active player, but he's nine seasons and 641 games into his NBA career. That gives him a sample size that's more than big enough for him to be listed on this list of legends.
If Durant were excluded, then Elgin Baylor would take the small forward spot with a career average of 27.36 points per game.
On the volume front, LeBron James leads all small forwards with 26,833 career points scored. Durant could catch him by career's end.
Power Forward: Bob Pettit
Years Active: 1954 to 1965
Team(s): Milwaukee/St. Louis Hawks
Career Scoring Average: 26.36 PPG
Career Points Scored: 20,880
If you're surprised to see Bob Pettit's name here, don't be. Pettit is one of the most criminally underrated players in NBA history, which likely derives from the fact he played during the same era as Wilt Chamberlain, Oscar Robertson, and Bill Russell.
The reality is: Pettit is one of the greatest players in NBA history, and his scoring was one of his defining strengths.
Along with Dolph Schayes, Pettit was the NBA's original stretch 4. He could shoot from anywhere in the half court, all the while possessing the post game and tenacity on the offensive glass to dominate any caliber of opponent.
A fearless competitor who wasn't afraid to get physical or dive for a loose ball, Pettit is the prototype for the modern power forward—and he played in the 1950s and 1960s.
An NBA champion, two-time league MVP and two-time scoring champion, Pettit could've dominated any era. The fact that he dominated the era he did is made more impressive by his leading the St. Louis Hawks past the Bill Russell led Boston Celtics in the NBA Finals.
Pettit should be held in much higher regard than he is.
As for pure production, Karl Malone checks in at No. 1 amongst power forwards and No. 2 all-time with 36,928 career points scored.
Center: Wilt Chamberlain
Years Active: 1959 to 1973
Team(s): Philadelphia/San Francisco Warriors, Philadelphia 76ers, Los Angeles Lakers
Career Scoring Average: 30.07 PPG
Career Scoring List: 31,419
Kareem Abdul-Jabbar is the NBA's all-time leading scorer in terms of pure volume, but he isn't even close to Wilt Chamberlain in average. Chamberlain checks in at 30.07 points per game, while Abdul-Jabbar sits at 24.61 points per contest.
Chamberlain is No. 2 on the NBA's all-time scoring average list and No. 1 on the, "Wow, he was dominant," list.
Chamberlain's averaged 50.4 points per game in 1961-62 and 44.8 points per game in 1962-63. He scored 100 points in a single game, won seven scoring titles, and had seven seasons above 30.0 points per game.
When Chamberlain intentionally cut his scoring down in 1966-67, he still averaged 24.1 points on 68.3 percent shooting from the field.
Chamberlain was a 7'1″ and 300-plus pound goliath with superior explosiveness, speed, and agility to Shaquille O'Neal. Thus, the talk that he only dominated because of the era he played in is unfounded.
As previously alluded to, it's Abdul-Jabbar who leads centers—and all players in NBA history—with 38,387 career points scored.
It's Chamberlain whose dominance can be seen in his per game average.
This article originally appeared on