NBA GM Survey is kind to New Orleans Pelicans yet again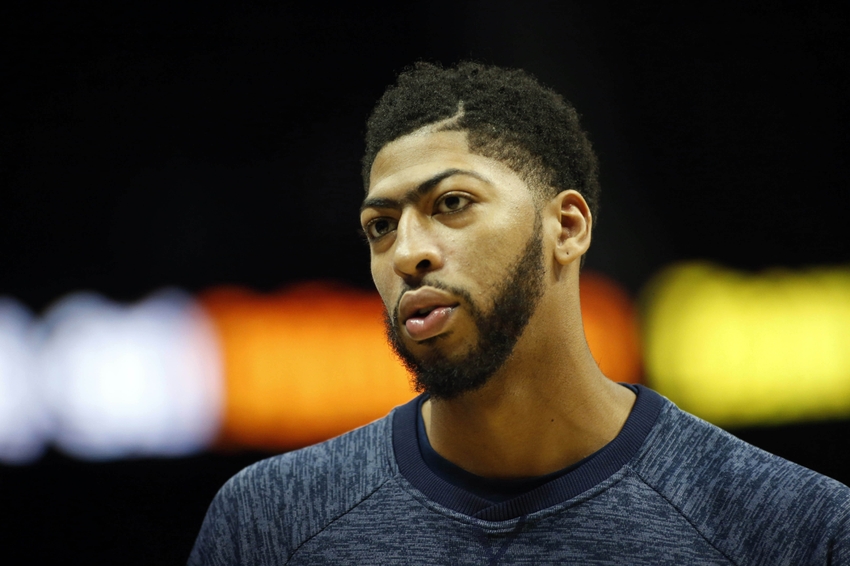 On Tuesday, the NBA released its annual survey of the league's General Managers. As always, it featured high praise for Anthony Davis and the New Orleans Pelicans.
Every NBA fan has their favorite question from the league's annual GM survey. One that strikes me each year is also the one that has favored New Orleans Pelicans superstar Anthony Davis for what feels like a half decade. Although he fell from 86.2% favorite to mere Honorable Mention this season, Davis consistently ranks highly on the list of players that GMs would want to start their franchise. Don't get discouraged; Davis showed up frequently on this survey, joined in one category by a different surprise Pelican.
Somehow, the next category Davis earned votes in was "Player Most Likely to Have a Breakout in 2016-17". I didn't know until today that a guy who had a 30.2 PER two seasons ago still needed to break out, but count me in for improvement on that beautiful season. Kidding– Davis flashing defensive dominance and truly becoming the vocal leader of this team would constitute the best sort of breakout, and GMs around the league seem to see it that way too.
"Which player is most likely to have a breakout season in 2016-17

Devin Booker, Phoenix – 31.0%
Karl-Anthony Towns, Minnesota – 13.8%
Myles Turner, Indiana – 10.3%
D'Angelo Russell, L.A. Lakers – 6.9%
Andrew Wiggins, Minnesota – 6.9%

Also receiving votes: Giannis Antetokounmpo, Milwaukee; Kentavious Caldwell-Pope, Detroit; Anthony Davis, New Orleans; Kevin Durant, Golden State; C.J. McCollum, Portland; Kristaps Porzingis, New York; Terry Rozier, Boston; Dennis Schroder, Atlanta; Marcus Smart, Boston

Last year: Andrew Wiggins – 17.2%"
In a category with quite bit more parity than last year, Davis also finished as the league's top vote-earner at power forward. AD received 29% of the votes, down from an outrageous 82.1% last year at one of the league's deepest spots. In some ways, the new era of NBA basketball that the Warriors and other teams have brought on acts as a disadvantage to Davis in this category. Draymond Green, LeBron James, and Kevin Durant each placed in the top five of this category despite also spending quite a bit of time at another position.
While it would have been nice to see Jrue Holiday on this list at some point, it's clear he doesn't yet belong with the league's top tier of players. Furthermore, many of these categories focus on offseason movement or change, of which Holiday was part of none.
And yet the Pelicans found themselves another representer in the form of their first-round draft choice Buddy Hield. Asked which rookie would win the 2016-17 Rookie of the Year, 13.3% of GMs picked Buddy Love to win:
Who will win the 2016-17 Rookie of the Year?

Kris Dunn, Minnesota – 46.7%

Buddy Hield, New Orleans – 13.3%

Ben Simmons, Philadelphia – 13.3%

Joel Embiid, Philadelphia – 10.0%
Brandon Ingram, L.A. Lakers – 10.0%

Also receiving votes: Marquese Chriss, Phoenix; Jamal Murray, Denver

Last year: Jahlil Okafor – 44.8%
Granted, the executives got this one wrong last season, favoring Jahlil Okafor's post-up prowess and abundance of opportunities over the superior talent of players like D'Angelo Russell, Karl-Anthony Towns and Kristaps Porzingis. Here's hoping that in a suddenly open field (minus Ben Simmons for all intents and purposes), Buddy is able to capitalize within a competitive roster and compete for the award. If there were survey questions about the All-Rookie teams, you best bet you would have found Hield's name up and down them.
The GM survey is a fun exercise that allows just a wee bit of insight into the minds of our league's decision-makers. Its results rarely bare out perfectly and it is mostly based on reputation, but as a pick-me-up for a downtrodden New Orleans Pelicans, Davis and Hield's appearances are perfect. Pray that this year, the GMs' insight comes to fruition.  
More from Pelican Debrief
This article originally appeared on