NBA: Five Players That Need To Be Traded This Season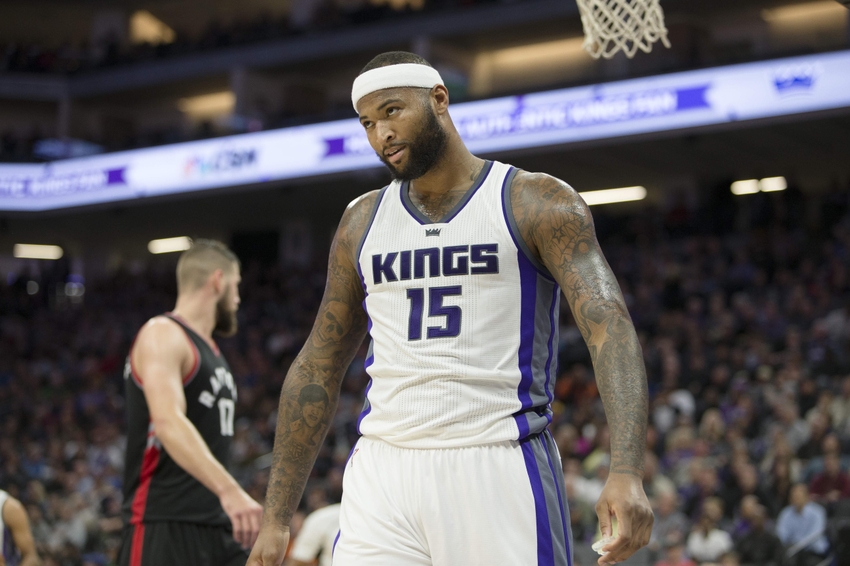 Five NBA players that would greatly benefit from a new start via trade
The 2016-17 NBA season is roughly a month old. Early-season trends are now beginning to become realities.
With that comes the unfortunate realization that this is not going to be THE YEAR for some teams, simply put. Some players are beginning to watch another one of their prime years being flushed down the drain due to incompetent front offices or injury.
Either way, frustration is growing amongst some stars around the NBA. Some of those same players need a new start, a new environment.
We look at five players that would greatly benefit from a trade this season.
DeMarcus Cousins
Stats: 26.9 points, 9.6 rebounds 
It's hard to believe that the former Wildcat is already in his 7th season. The good part, though, is that he is still only 26 years old, so at least his career hasn't been entirely wasted in Sacramento.
Although Cousins does have attitude issues, isn't very coachable and probably isn't the best teammate in the world, Kings management has not done a good job to progress the franchise. The last time they had more than 40 wins was the 2005-06 season – pre-Boogie.
They have been horrific over the course of the past decade. If you aren't winning, your superstars will get frustrated. The abilities and talents of Cousins are going to absolute waste with him in a Kings jersey. Imagine him on a team that actually wins?
Not only would it be fun to watch him on a winning squad, but also his motivation to do well would improve significantly. Cousins desperately needs a new home fast.
Anthony Davis
Stats: 31.7 points, 11.3 rebounds, 2.9 blocks
Anthony Davis is off to a hot start, but the Pelicans are unable to say the same. At 5-10, it looks like the Pelicans aren't heading in the right direction. Jrue Holiday has added a nice spark since returning, and maybe Tyreke Evans can help out when he returns, but it just simply isn't enough.
The Pelicans do not have enough talent on their team to contend in the West. Again, a superstar's talent is going to waste here. Now, how fun would it be to see Anthony Davis playing with some other stars around the NBA?
The asking price for Davis would be through the roof, but Davis is a once in a lifetime talent. His Pelicans future does not seem bright, and even though it isn't very likely, it would be great to see him playing in a new city. It is time for the Pelicans to start over.
John Wall
Stats: 23.5 points, 8.9 assists, 4.0 rebounds 
This may seem somewhat of a surprise because when you think Wizards, John Wall immediately comes to mind. The Wizards underperformed last year with a 41-41 record, and are underperforming big time so far this year with a 4-9 record.
John Wall is a great player, but his time with the Wizards is up. In 2013-14 and again in 2014-15, Wall and the Wizards lost in the Eastern conference semis. In his 7th season, you would think that John Wall would have led the Wizards farther in the playoffs at least one season.
He has put up numbers in his career with the Wizards, but no playoff progress to show for it. A fresh start would benefit both sides. John Wall would get a change of scenery and the Wizards could invest in a new point guard, and then hand them the keys to the franchise.
Nikola Vucevic
Stats: 10.7 points, 10.9 rebounds 
Aside from his rookie season with the Sixers, Nikola Vucevic is averaging a career low in points this season. Vucevic is a solid player, averaging a double-double for the majority of his career.
He is extremely skilled offensively, but he also has the ability to be a force on the glass. With the 4-year, $72 million dollar contract that the Magic gave Bismack Biyombo, it would be smart for the Magic to part ways with Vucevic.
The Magic could have a great defensive tandem down low with Serge Ibaka and Biyombo, and Vucevic could contribute his talents on a new team. He could really help out another team that is in need of a skilled 7-footer.
Greg Monroe
Stats: 8.4 points, 6.3 rebounds 
Lets face it, the Greg Monroe and Bucks marriage has been an absolute disaster. Not only is he averaging a career low in points and rebounds, but Monroe is averaging a career low in minutes.
He is only playing 17.6 minutes per game(!). A player with his skill set should be playing significantly more minutes. Moose is a double-double machine, and can really help a team.
He needs to get out of Milwaukee fast. It seems like he is always in Jason Kidd's dog house.
Hopefully, he is wearing another uniform soon because it hasn't worked out well with the Bucks, especially with the start to this season.
This article originally appeared on