NBA: Five Early-Season Surprises From 2016-17
Through two weeks of the 2016-17 NBA season, we look at the five most surprising developments
There have only been a small amount of games so far in this young NBA season, which means it is the perfect time to overreact from sample sizes and surprises that we probably couldn't see coming two weeks ago.
From the Golden State Warriors trying to find cohesiveness to the likes of the Chicago Bulls and Oklahoma City Thunder looking much-better than many figured they'd be, the young NBA season has offered up a ton to discuss.
What overreactions and hot takes can we infer from the half dozen or so games teams have played across the Association?
Here are the five biggest surprises from the young 2016-17 season.
The Chicago Bulls Aren't Terrible?
Based on conventional wisdom regarding the Modern NBA, the Chicago Bulls should be an abject disaster. Their starters at positions 1-3 are all ball dominant guards with well below league average three point percentages, and neither of their starting bigs (Taj Gibson and Robin Lopez) have ever remotely functioned as floor spacing bigs.
There's very little shooting, spacing, and  its very likely that Rajon Rondo will have his typical (not good) affect on overall team chemistry. Their bench is more offensively proficient, featuring a member of the very specific "European Bigs Named Nikola Who Are Skilled Offensively And Bad Defensively" group in Nikola Mirotic, Doug "Dougie McBuckets" McDermott, Michael "Most Unwanted Rookie Of The Year Ever Besides Anthony Bennet" Carter-Williams, Isaiah Canaan, and Cristiano Felicio.
That entire group besides Felicio, are all plus players offensively but negatives defensively. Seemingly, the only real way to achieve balance with this team is to haphazardly mix their starting and bench caliber players depending on the matchup. That shouldn't theoretically be a recipe for success. And yet, they aren't terrible!
As of this writing, the Bulls are 4-3  with an impressive win over Boston, a close loss to them, and some decisive wins over Orlando, Indiana, and Brooklyn. Somehow, this unbalanced, seeming floor spacing-less mess is 9th in the league in Offensive Rating, and 11th in Defensive Rating; despite them starting two defensive minuses in old Wade and Rondo and a bench almost entirely filled with problematic defenders.
Frankly, the statistical trends making up Chicago's overall ratings do not seem sustainable. With career averages from beyond the arc well below league average, Jimmy Butler and Dwayne Wade are both somehow shooting 43.5 percent from three-point land. That kind of production and resultant floor spacing if sustained would drastically improve Chicago's offense.
However, there is (at least to me) a stench of fools gold here. Having watched a couple of Chicago's early games, it seems like every other team heard about who was on Chicago's roster, and decided to follow the scouting report to a tee and just essentially ignore many of Chicago's open looks from three.
After a 107-100 loss to Chicago, Boston Celtics' point guard Isaiah Thomas basically pointed out that most perimeter NBA players can hit wide open three pointers, and that many of them did. It seems kind of silly that teams would flat out not contest open three point shots, but for many the Bulls, history dictated that doing so was probably  a sound move.
Yet, at least early on, Chicago has made teams pay. It has been a very small sample size, but so far the returns for Chicago have been better than most have reasonably expected.
The Atlanta Hawks- Return Of Superman?
Is Dwight Howard back? In a pleasant surprise for fans of the Atlanta Hawks, seemingly somewhat yes! Over six games, the Dwightmare is currently averaging 17 points, 12.3 rebounds, and 2 blocks  per game while posting a very impressive 26.31 Player Efficiency Rating. He's not as athletic as he was in his Orlando heydays (surprise) but he seems to still be a very athletic and effective roll man who is parlaying his strength and explosiveness into a mildly ridiculous .617 FG%.
Atlanta currently has a very solid 4-2 record, but their wins haven't exactly been over the most impressive collection of squads. The only somewhat impressive win has been over James Harden's defenseless Phoenix Rockets; the Wizards, Sixers, and Kings have not exactly lit the world on fire this year. Will the team continue to win when faced with stiffer competition. Dennis Schroder has been overall underwhelming production and efficiency wise as a starter, will he end up being a playoff-level starting point guard?
Furthermore, no one is averaging more points per game than Paul Milsap's 17.8. Measuring team success by points per game is admittedly a bit arcane at this point but it is very rare these days to see teams have legitimate playoff success without at least one player (preferably two) scoring in the mid 20s per game.
Unless other players match Milksop's quite excellence and Howard's random resurgence, its unlikely the Hawks will have a truly meaningful playoff run. Seeing Dwight dominate (domin8?) for stretches however, has been a pleasant surprise.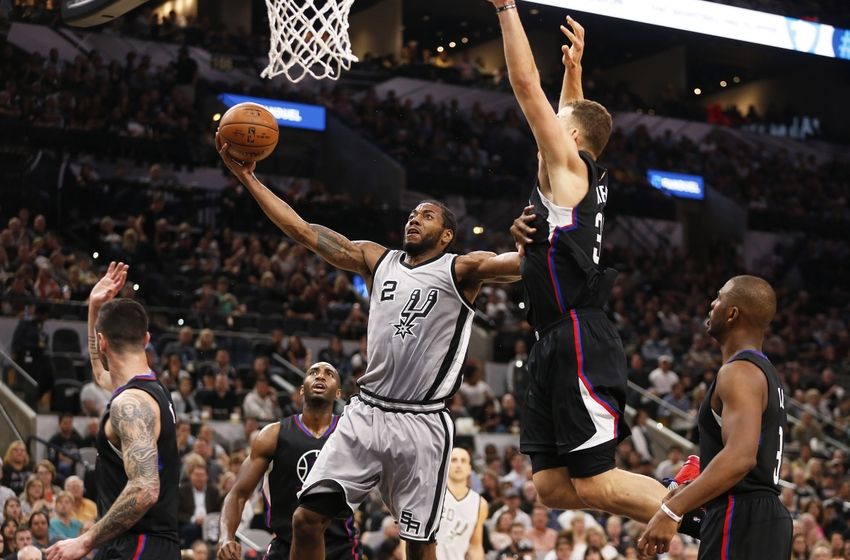 The San Antonio Spurs- Why Is Anyone (Including Me) Even Surprised Anymore?
Honestly, I thought this was the year San Antonio would finally at least for a bit, stop being awesome. Tim Duncan retired, Manu Ginobli is basically done, Parker might be too, and Gasol has produced seemingly empty-ish production (thanks to his impressive inability to guard his position or remotely at all anyone else on screen and switch actions).
It was reasonable to conclude that they may take a small step back. Instead, they demolish the already anointed Golden State Warriors without even batting an eye. Over the first week or so of the season they have a 5-2 record, Kawhi Leonard looks completely ridiculously good averaging 26 points, five rebounds, and three assists with a freaking 35 PER while being the best defender in basketball is simply unfair.
LaMarcus Aldridge is still really really good despite allegedly being some sort of locker room malcontent. And by allegedly I mean according to renowned reporter Jackie MacMullan, "rumors" around the league, and by no one else willing to go public (Aldridge's supposed hotheadedness is one of the most random and ill defined stories of player behavioral problems in recent league memory).
Oh, and 3-and-D extraordinaire Danny Green hasn't even played yet, and Tony Parker has also already been injured. Despite starting the slowest guard in the league (probably) in Kyle Anderson in place of Green, and cement feet enthusiast Pau Gasol, the Spurs are still ranked 12th in the league in defensive efficiency while ranking 6th in Offensive Rating. Once again, the Spurs already look awesome and they will probably only get better.

Why Are So Many People Averaging So Many Points?
If this trend continues, I will likely write a full article exploring this seeming era change. As of right now, five players are averaging at least 30 points per game and the top ten scorers in the league are all scoring at least 25.
Conversely, last year only Stephen Curry passed a daily 30 threshold, and only six players scored at least 25 per game. Two years ago, no one averaged at least 30 and only three players averaged at least 25. So what is going on? To put it briefly, there are two feasible answers.
Either it is a small sample size and I should just calm down, or maybe the league is simply playing faster. I cannot (/will not take the trouble to at the moment) currently back this assertion with data, but it seems that teams are realizing once again that the faster you play, the more possessions you will get and the more open looks you will get, especially from three.
Some of the hardest shots to guard in basketball are transition looks at the rim and from three. Aside from actual basketball alien- Anthony Davis and Demar Derozan, the remaining eight top ten scorers are all plus producers from three who have carte blanch to run and shoot whenever they're open.
Analytics are very trendy these days, and it apparently seems analytically (and logically in my opinion) sound nowadays to give your best weapon the ball in as many and in as many downhill possessions as possible. Yet not everything makes sense, and that leads into today's last surprise takeaway.
Demar Derozan- Huh?
The only crazy production I cannot entirely explain is DeMar DeRozan, who seems to inadvertently be giving a gigantic middle finger to modern basketball sensibilities. He is a ball stopper, averages less than three assists per game, is not a great defender (which is admittedly not entirely related to this discussion about offense, but it still helps drive home how gleefully anachronistic Derozan is), and makes a grand total of 0.3 three's per game.
He is somehow averaging a league leading 33.7 points per game while playing in a fashion that hasn't been in style since Tracy McGrady was still getting sleepy-Kobe Bryant comparisons. He is shooting 52.4 percent from the field and producing insanely on a consistent diet of herky jerky layups, and more indecently, on a seemingly never-ending stream of contested midrange jumpers that almost always look like they shouldn't go in.
To put it mildly, Derozan seems like a bit of an anomaly. Yet anomaly or not, this retrograde throwback of a player is leading the league in scoring, modern sensibilities be damned.
Bonus Surprise- Joel Embiid Is Pretty Good
I doubt I have anything to add about this guy that hasn't been said already.
Just:
Yeah, I think Philly got an alright one over there.
If you made it this far thanks for reading! Feel free to tune in next week when I discuss some early season disappointments. Hint: one of them is a collective low hanging fruit that rhymes with "Phew Fork Picks".
This article originally appeared on