NBA: Early Sixth Man Of The Year Candidates
As the NBA sees a shift in its youth movement, players have taken on new roles off the bench. See which players are making an early push for Sixth Man of the Year.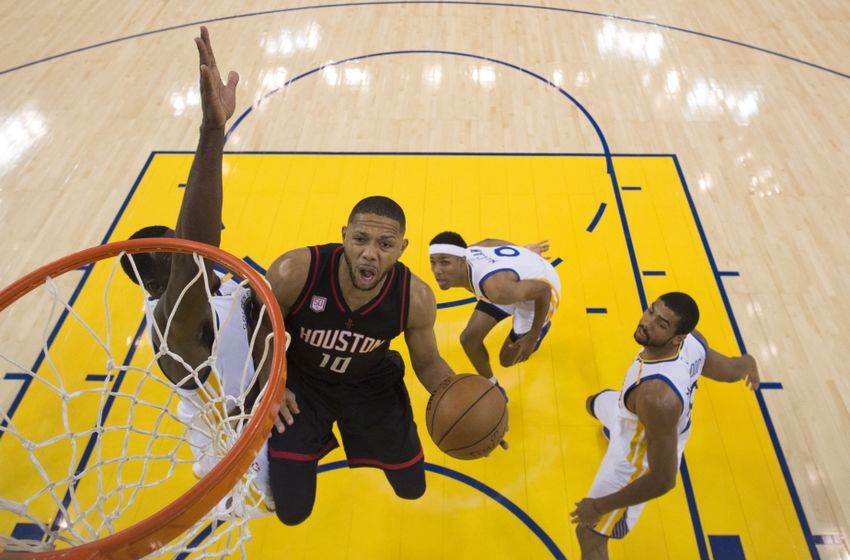 The NBA season is well under way and teams are starting to figure out roles for their players. Bench play is always key when it comes to teams making a deep run in the playoffs.
So teams have started to bring their veterans off the bench for a spark on the offensive or defensive end or in some cases, both.
Typically as players get older, teams want to find minutes for their youth to get experience. Some players find themselves out of the rotation while others embrace the reserve role. While some struggle, others have thrived.
Guys like Los Angeles Clippers guard Jamal Crawford and Los Angeles Lakers guard Lou Williams have turned it into a niche of sorts. It's not for everybody and not always easy but when the sixth man can lead the team to victory, it's always an amazing feat to behold.
Enter a new breed of Sixth Man of the Year candidates, with one former winner on the list. This season's list brings three former starters and two comfortable reserve artists to the mix. On each of their teams, they've been the spark they've been looking for.
Each player has the ability to raise the pace or raise team morale if things are flat.
Here are this season's Early Sixth Man of the Year candidates.
5. Wilson Chandler, Denver Nuggets
Wilson Chandler is having a great return in his 11th season for the Denver Nuggets. He missed all of last season with a hip injury. This season, Chandler is averaging 18.2 points, 7.2 rebounds and 1.7 assists per game.
He is off to the best start of his career, shooting 47.7 percent while averaging a career-high in scoring. Chandler has three double-doubles and the Nuggets are 7-10 with him off the bench this season.
In 30 minutes per game, Chandler has been a useful source of production for Denver. He scored 32 points with 11 rebounds, four assists and a block against the Thunder back on Nov. 25. Unfortunately, the Nuggets lost 132-129.
Chandler did put up another double-double in a victory for Denver. He had 28 points, 11 rebounds, five assists, a block and a steal in a 120-104 win over the Suns.
If the Nuggets find themselves in the playoff picture by season's end, Chandler could be the reason. Look for him to get some Sixth Man of the Year recognition as the season progresses.
4. Enes Kanter, Oklahoma City Thunder
Enes Kanter is still a serviceable big man, especially for the Oklahoma City Thunder. Despite playing just 19 minutes per game, Kanter leads all bench players with six double-doubles. He is averaging 12.8 points and six rebounds per game for Oklahoma City, who are 14-8 this season.
Kanter is shooting 56.4 percent from the field despite the limited minutes he's being given this season. He's scored in double figures in 15 games for the Thunder so far this season. Against the Knicks, he put up best numbers of the season.
He scored a season-high 27 points and grabbed 10 rebounds in the team's 112-103 victory. Six of the boards were of the offensive variety.
The Thunder are 5-1 when Kanter records a double-double. Their lone defeat was a two-point loss to the Los Angeles Clippers, 110-108. The key has been Kanter's ability to crash the offensive glass.
If Oklahoma City can find their way to the top of the Western Conference, look for Kanter to earn some Sixth Man of the Year accolades.
3. Zach Randolph, Memphis Grizzlies
The Memphis Grizzlies are 10-5 when forward Zach Randolph appears off the bench this season. He has missed the past four games to tend to a personal matter. Before his absence, Memphis was on a five-game winning streak.
In his 17th NBA season, Randolph is averaging 14.2 points amd 7.9 rebounds per game. He is shooting 47.9 percent from the floor. Z-Bo has scored in double figures in all but one appearance so far this season.
He is averaging 22.3 minutes per game while this is the first time since his rookie year that he's come off the bench. Not too bad for the gritty 36-year-old forward.
He scored 22 points, grabbed eight rebounds, and three steals in the team's 112-103 victory over the Wizards back on Nov. 30.
When Randolph returns, look for the Grizzlies play to elevate as well. Z-Bo has been a good secret weapon for them to have off the bench.
2. Lou Williams, Los Angeles Lakers
Lou Williams is in his second season with the Los Angeles Lakers. This season, he's been a renewed spark off the bench. In his 12th season, Williams is averaging 18.4 points, 3.5 assists, 2.4 rebounds and 1.3 steals a game. The Lakers are 10-13 this season.
He is shooting 39.3 percent from three while also shooting 45.2 percent from the field, his second highest shooting percentage since his fifth season in the league. His three-point shooting percentage is a career-high for him as well.
Williams is experiencing a career-high in scoring at the ripe old age of 30. Coming off the bench, he's averaging 24.7 minutes per game. Williams scored 20 points with four rebounds, three steals, and two rebounds in the team's 117-97 win over Golden State back on Nov/ 4.
The 2014-15 Sixth Man of the Year has recorded 20 points or more in eight games for the Lakers this season. He has recorded 40 and 38 points, respectively, in their last two games despite them being losses.
As Los Angeles continues to find its identity, look for Williams to be key as a sixth man for them.
1. Eric Gordon, Houston Rockets
It's hard to ignore the work Eric Gordon is doing off the bench for the Houston Rockets. The ninth-year shooting guard is averaging 17.1 points, 2.6 rebounds, and 2.8 assists per game in a reserve role.
He is shooting 44.6 percent from the field and 42.1 percent from three-point land for the Rockets, who are 14-7 this season.
Gordon has stayed relatively healthy this season which bodes well for him on this Houston squad. He has yet to play a full 82 games in his career. He's been a good change of pace with the Rockets young talent off the bench averaging 30.7 minutes per game.
Gordon has scored 20 points or more in six of 13 games and the Rockets are 10-3 with him off the bench. He recorded 23 points and five assists in the team's 132-127 double overtime victory over the Golden State Warriors.
He shot 9-for-19 from the floor, connecting on four three-pointers in the game.
Gordon has found a new groove in his reserve role with the Houston Rockets. If he can keep in it, look for him to steal the Sixth Man of the Year Award this season.
This article originally appeared on