NBA D-League Top 50: Players 20-11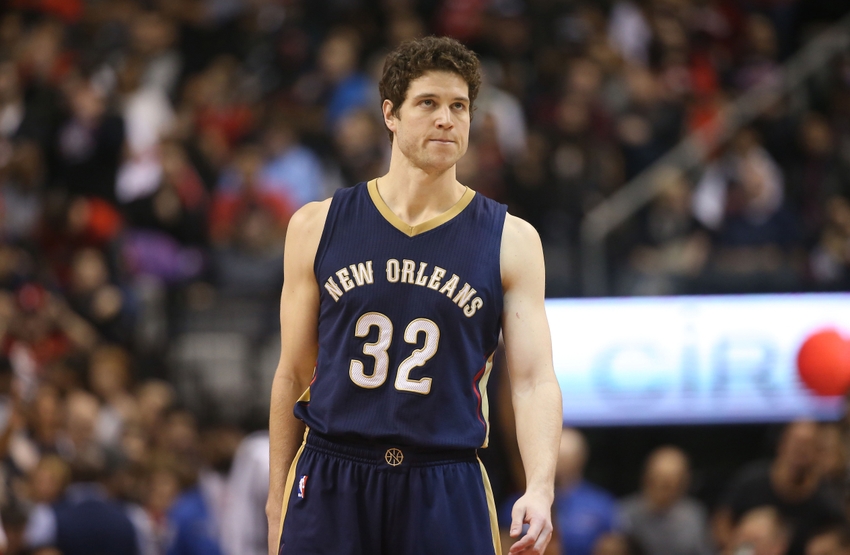 Welcome to the fourth installment of Upside & Motor's inaugural D-League Top 50! Unlike other rankings akin to this one coming out right now, this is a look back at the 2015-16 performance of each player and tabbing them with a subsequent rank. The D-League turnover is such that a lot of new faces will be in the league this season, so putting forth a projection is difficult.
Now, we are getting to the real impact players and although only three of these guys are in NBA training camps, all are viable NBA players at this point in their careers.
The criteria to be eligible for the list was that a player had to play at least 20 games in the NBADL last year and NBA assignees were not eligible. However, some NBA assignees (Jarnell Stokes for example) ended up being waived and signed with the league, so they will be eligible.
Here are the previous ranks:
MORE: Ranks 50-41
MORE: Ranks 40-31
MORE: Ranks 30-21
Now let's jump into the top-20 players!
20. Coty Clarke, Maine Red Claws, SF/PF
2015-16 Stats: 16.3 points, 7.5 rebounds, 2.6 assists
2016-17 Team: Unics Kazan (Russia)
The 23-year-old Clarke had a masterful season for the Maine Red Claws. It took him a bit to get his timing, and really hammer out his role with the team, but once that was clear he took off in terms of production. The team finished 31-19 (after starting the season 14-13!) under head coach Scott Morrison and Clarke was a staple for the team on the offensive end especially.
MORE: Coty Clarke is Using the D-League to Make His Dreams Come True
In 16 games as a starter Coty put up 21.3 points, eight rebounds and 3.1 assists while shooting almost 60 percent from the field and just over 46 percent from 3-point range! That efficiency and his ability to shoot the ball at 6-7, earned him an opportunity with the Celtics. He only managed to get six minutes of NBA time, but he made the most of them knocking down both of his shots from distance. Without an NBA deal, Clarke signed in Russia this offseason, but will surely be back next summer to make another run at The Association.
19. Xavier Munford, Bakersfield Jam, PG
2015-16 Stats: 20.4 points, 4.2 rebounds, 6.4 assists
2016-17 Team: Los Angeles Clippers
Munford is really one of the feel-good stories that are so common in this league. His rookie year with Bakersfield — now the Northern Arizona Suns — he was the backup for Joe Jackson, but he worked to improve his game so much that last season he was the star of a talent-riddled roster. His surface stats are eye-popping, but factor in that he shot 49 percent (14.9 FGAs) from the field and 41.2 percent (4.1 3PAs) from deep and it's easy to see the draw for NBA teams.
MORE: Xavier Munford Q&A from the Las Vegas Summer League
Munford is speedy, athletic and has become so quick with his decision-making skills, that he really is a viable NBA point guard. Hard to believe just three years removed from the University of Rhode Island. Once he turns the corner out of a pick-and-roll he has the athleticism to finish even at just 6-2, and he shot 58 percent from mid-range last season proving he can pull up just as easily. He's in camp with the Clippers and it will be interesting to see if he can stick around in L.A.
18. Will Cummings, RGV Vipers, PG
2015-16 Stats: 20.5 points, 3.6 rebounds, 4.8 assists
2016-17 Team: Aris BC (Greece)
Cummings was right there with Quinn Cook in the battle for the D-League Rookie of the Year last season. He played 49 out of 50 games and was the leader for this Vipers' club all season long. He's only 6-2, 185 pounds but he slithers in and out of the lane with ease, constantly finding open teammates or scoring when the opportunity arises. The 23-year-old rookie was asked to be a scorer so his assist numbers weren't stellar but he has shown the propensity to make plays for others when the situation calls for it.
He shot 38.4 percent from distance and that will need to improve for him to have a real shot at the next level given his position. Almost 63 percent of his made 3-pointers were assisted as well, showing he's a much better shooter off the catch. He has the ability to slide his feet and stay with most players, but his slight frame gets him in a bind every now and then. He will test his abilities over in Greece this season, but keep an eye out for him as he's a quality guard.
17. Alex Stepheson, Iowa Energy, PF/C
2015-16 Stats: 15.4 points, 13.4 rebounds, 1.3 blocks
2016-17 Team: Unsigned Free Agent
Quite simply, Stepheson was a man among boys last season. He's 29-years-old and has the basketball IQ necessary to utilize his frame to propel his strengths, while not exposing too many of his weaknesses. At 250 pounds, he was able to body up with anybody in the league, and consistently come out the victor.
MORE: Quality Centers up for Grabs in the NBA D-League
Stepheson's main asset is rebounding. He led the league at 13.4 per game and notched 26 double-doubles (led league) in just 32 games played! His DReb% was monstrous at 28.6, but it literally felt like he was grabbing every rebound when you watched Iowa's games. His downfall is he isn't particularly great on offense. He stuck around the rim with 324 of his 354 FGAs coming from eight feet or closer. He did manage to make almost 61 percent of those attempts and also proved to possess a solid hook shot, with either hand. He's an enforcer and rebounder and could help a lot of teams with depth at the end of the bench.
16. DeAndre Liggins, Sioux Falls Skyforce, SG/SF
2015-16 Stats: 13.0 points, 6.3 rebounds, 7.0 assists
2016-17 Team: Cleveland Cavaliers
The Sioux Falls Skyforce had a ridiculously, stellar team last season anchored by the best defense in the entire league. The wing duo of Rodney McGruder and DeAndre Liggins was stifling for opponents to go up against and ultimately Liggins took home the Defensive Player of the Year Award. He was able to guard positions 1-4 with plus defense and his impact on the game had zero to do with the box score in the end.
However, Liggins also boasted an improved jump shot as he hit 43.4 percent (4.2 attempts) of his outside shots, a skill he simply did not have previously. That threat opened up driving lanes for Liggins and he was able to use his stout 6-6 frame to penetrate and find open shooters or slashers consistently. Liggins is with the defending champion Cavaliers for training camp and I think he has a real chance to make that roster. The once promising prospect out of Kentucky is now a 28-year-old who is ready and able to contribute at the NBA level.
15. Tu Holloway, Texas Legends, PG
2015-16 Stats: 22.4 points, 3.2 rebounds, 6.3 assists
2016-17 Team: Cremona (Italy)
Holloway is a 6-0, 190 pound ball of energy. The Legends struggled to win games all season long, but Holloway was tremendous showing the ability to finish in the lane, nail 3-point daggers and perhaps most importantly keep the defense in foul trouble. Tu drew almost six fouls per game on his opponents getting him to the line 7.2 times per game where he shot almost 89 percent.
His shooting opens up his entire offensive repertoire and he became more and more potent as the season wore on. The last 19 games of the season he exploded to average around 25 points per game tossed with 6.5 assists to boot. Holloway is an above-average scoring option at the point guard position, however his less-than-stellar defense and diminutive size hurt his NBA outlook. He will spend the season gettin' buckets in Italy for Cremona — good luck Tu!
14. Jimmer Fredette, Westchester Knicks, PG
2015-16 Stats: 21.1 points, 4.4 rebounds, 5.0 assists
2016-17 Team: Shanghai (China)
Jimmermania was alive and well in Westchester this season, and by and large Jimmer did not disappoint. He chucked 30-footers, he dazzled with his dribbling, he shared the ball with teammates, and he did all of it with the flair and pizzazz fans fell in love with when he played for BYU. Westchester had a great season going 28-22 in season two for their franchise and had DaJuan Summers not torn his ACL they could have challenged for maybe 35 wins.
MORE: Jimmer Fredette is the Steph Curry of the D-League
Jimmer did everything he could have done to impress NBA clubs, and even earned call ups with both the New York Knicks and New Orleans Pelicans before finishing the season in the NBADL. Fredette is the quintessential AAAA player — he's too good for the D-League but not good enough for the NBA. That's been his knock his entire career and instead of fighting it for another year, Jimmer will probably average 40+ points a night in the pop-a-shot, point-happy league called the Chinese Basketball Association.
13. Brandon Ashley, Texas Legends, SF
2015-16 Stats: 14.8 points, 6.8 rebounds, 2.1 assists
2016-17 Team: ALBA Berlin (Germany)
Ashley was maybe the most versatile wing in the D-League last season. To that effect, he was the only player in the league to average at least 14 points, six rebounds, two assists, one steal and one block — the only one. At 6-9, 225 pounds he has the frame of an NBA player, but at 22-years-old certainly still has work to do on his game.
One area he really needs to develop is the ability to finish around the rim. He made 58.3 percent of his restricted area attempts (league average was 62.6) last season, and with his size that number simply has to be better. He has a decent frame but his strength is an issue, and sometimes he got pushed around on both ends of the floor. He's a floor spacer, shooting 39.3 percent from 3-point land and he also showed an ability to put the ball on the floor and hit the mid range shot. If he hadn't left last season for ALBA Berlin there's a good chance he would have gotten a call up.
12. Terrico White, Bakersfield Jam, SG
2015-16 Stats: 19.9 points, 5.5 rebounds, 2.6 assists
2016-17 Team: Seoul SK (Korea)
When I hear the name Terrico White, my mind flashes to YouTube clips of elite athleticism, and ridiculous facials. That Terrico still showed up in spurts last season, but the 26-year-old shooting guard has worked tirelessly to become an above-average shooter — a skill he did not possess early in his career. A foot injury derailed his early NBA chances, but I don't think we have seen the last of Mr. White in the NBA.
MORE: Terrico White Ready to Prove he Belongs in NBA
Last season he was a real playmaker for the Bakersfield Jam, but his real value was in his outside shooting. In 43 games he shot almost 49 percent (15.4 attempts) from the field and shot a stellar 42 percent (5.7 attempts) from distance. His footwork on the perimeter is amazing. He can balance his feet off the dribble, off the catch and even showed the ability to hit handoff threes as well. At 6-5 and still holding elite athleticism, he's going to dominate the KBL this year and I hope we see him back for summer league next offseason.
11. Lorenzo Brown, Grand Rapids Drive, PG
2015-16 Stats: 18.3 points, 5.5 rebounds, 5.9 assists
2016-17 Team: Detroit Pistons
Brown is quite clearly an NBA guard at this point in his career and the only glaring weakness –and even this has improved — is his lack of outside shooting. At 6-5, playing the point guard position he brings so much to the table in terms of size, playmaking ability, decision-making skills and his ability to finish in the paint, so it kind of outweighs the outside shooting concern. Still he shot 35.2 percent from three last season in 25 D-League games, which isn't terrible but he's not a threat from there in a defender's eyes.
His playmaking is next-level and last year for the Drive he boasted an Ast% of 29.2, good enough for 9th in the league. At his size he can guard positions 1-3 with success and his lateral quickness allows him to stick with almost anyone. On the other end, he can post smaller guards and while his outside shot isn't consistent, he was able to knock down almost 42 percent of his mid range attempts last year. Brown should make the Pistons and help their depth tremendously.
More from Upside and Motor
This article originally appeared on