NBA D-League Season Preview: Greensboro Swarm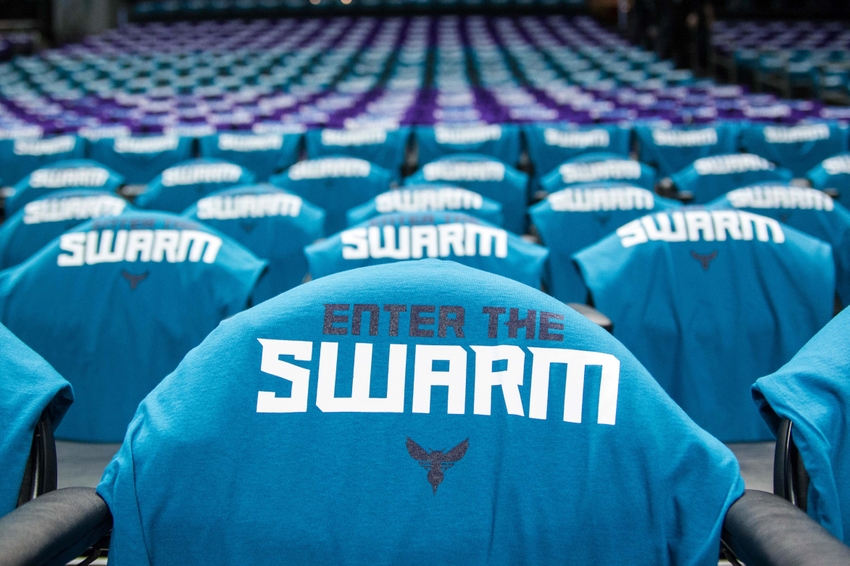 With the Charlotte Hornets' NBA D-League team, the Greensboro Swarm, set to start their inaugural season, there will be plenty of prospects to keep an eye on this year.
The Charlotte Hornets finally have their own D-League team and it should be a huge advantage to their franchise going forward. They now have the ability to send players down to develop and call players up when needed. There will be plenty to look for during the Greensboro Swarm's inaugural season.
The organization did a great job of putting together a roster with a mix of experience and youth. A combination of veterans and young prospects should bode well for them this season. This year is less about winning games for the Swarm and more about developing their young talent.
Greensboro's projected starting five from Ridiculous Upside consists of Xavier Munford, Rasheed Sulaimon, Damien Wilkins, Perry Ellis, and Mike Tobey. A few other players that could see action in the D-League this season are Aaron Harrison, Treveon Graham, and Christian Wood. While they are currently on the Charlotte Hornets' regular season roster, the team would ideally like them to get playing time with the Swarm to continue their development.
More from Swarm and Sting
Charlotte's D-League team will play their home games at the newly-renovated Fieldhouse at the Greensboro Coliseum Complex. The D-League games are a great way to watch a basketball game with pro talent at a cheaper price than NBA games. All D-League games will be streamed for free on Facebook Live. Check out the team's full roster here.
Likely to Get Called Up:
The most likely players to get called up this season are probably Xavier Munford, Rasheed Sulaimon, and Mike Tobey. If the Hornets are short on point guards, Munford is the likely candidate even though he is somewhat more of a scoring/shooting guard.
Rasheed Sulaimon is the man if a wing player (shooting guard or small forward) goes down and Tobey proved that he can be productive enough to man a backup big man role. I think all three of these players could be in the NBA at some point in their careers.
Want your voice heard? Join the Swarm and Sting team!
Assignees:
Aaron Harrison, Treveon Graham, and Christian Wood should all see time in the NBA Developmental league this season. This would have been the perfect landing spot for Harrison last season and with a D-League team now in place, he can grow his game by getting consistent playing time.
While Graham and Wood are less likely to play for the Swarm this season, it isn't out of the realm of possibility. They are both young players who spent time in the D-League last year. Some extra minutes wouldn't hurt their still developing games. Especially Christian who is a still raw talent with rough edges that could be sharpened by Noel Gillespie and the rest of Greensboro's coaching staff.
Players to Keep an Eye on:
Xavier Munford is an intriguing talent as he averaged 20.4 points per game, 6.4 assists per game, and 4.2 rebounds per game in the D-League last season. The 24-year old has NBA experience with the Memphis Grizzlies in 2016. He has the ability to score the ball and can also knock down outside shots as he shot 41.2% from the three-point line this past year. Expect him to lead the team in scoring.
Mike Tobey played with the Charlotte Hornets during the Orlando Pro Summer League this past offseason and he did enough to impress the team. He was brought into the Hornets' training camp and while still pretty raw, he could develop into a nice rotational big man one day. The 7'1 center averaged 10 points, 6.8 rebounds, and 1.6 blocks per game in the summer league. He is a late-bloomer but I wouldn't be surprised to see him on an NBA roster in a few years.
Rasheed Sulaimon is a prospect who looked like a surefire first round pick in college with the talent he possessed. After a falling out at Duke, he transferred to Maryland where he put up solid numbers. After going undrafted in 2016, he played with the Chicago Bulls in the summer league. Now that he's in the D-League, Sulaimon has a chance to steer his career in the right direction. He has enough talent to be a rotation player in the league but it will be about putting it all together going forward.
How Will They Do This Season?
Like I said before, this inaugural season is more about developing talent and implementing a culture than actually winning. But winning some games and going to the D-league playoffs could be a possibility for this team. They have the talent and if Harrison, Graham, and Wood play for the Swarm this year, that could give them an added boost. I expect this team to compete well and probably sneak into the playoffs.
This article originally appeared on