NBA D-League Draft Results for Windy City Bulls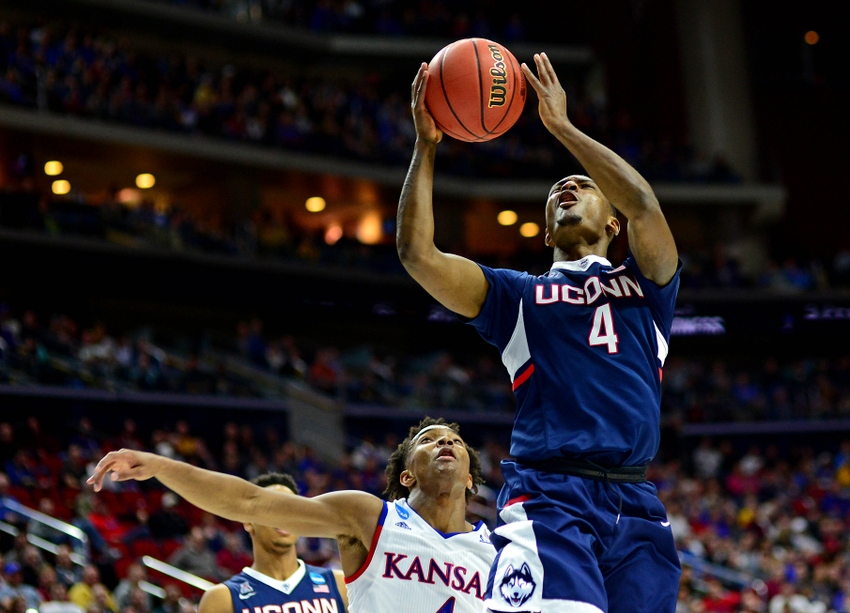 While the World Series rages on and the NFL fights their descent into obscurity, the Windy City Bulls participated in the NBA Development League Draft for the first time on Sunday.
This is different from the expansion draft that took place in August. While that draft was meant to help the D-League's three expansion squads fill out their rosters, this is the official draft that the entire league participates in.
The Bulls had the 12th pick in the first three rounds and then had the 9th pick in the fourth round, foregoing any picks in the final two rounds. Here are the picks that the Bulls made on Sunday:
1st Round, No. 12 – Aaron Thomas, Florida State
2nd Round, No. 12 – Sterling Gibbs, University of Connecticut
3rd Round, No. 12 – Chauncey Collins, TCU
4th Round, No. 9 – Anthony Lee, Ohio State
Here's a quick rundown of each pick to help you get to know the latest additions to Windy City.
Aaron Thomas
Thomas is guard who played three seasons with Florida State before attempting to make the jump to the pros in 2015. Part of the early jump from school stems from Thomas being declared ineligible by the school during his junior year. The initial reports did not indicate the reason for his ineligibility.
The guard played eight games, starting seven, with MLP Academics Heidelberg in Germany during the 2015-16 season. His next move was into Summer League for 2016 with the Brooklyn Nets. Thomas played just two games in the summer, coming off the bench in both of his appearances. Now, he will be one of the guards fighting for a spot in a crowded backcourt at Hoffman Estates that also features Spencer Dinwiddie, Kiwi Gardner and Thomas Walkup.
Sterling Gibbs
Gibbs was a four-year guard in college. He started with Texas, then did two years with Seton Hall before transferring to UConn for his senior year. Often, D-Leaguers aren't well known players, but fortunately the Huskies basketball put together a little video for getting to know their senior transfer in.
His senior season numbers didn't match the same production he had with Seton Hall, but he did play a career-high 36 games, averaging 32.9 minutes per game. After college, Gibbs jumped into Summer League with the Washington Wizards. During the summer, he played four games and averaged just under 14 minutes per contest. His time didn't produce a training camp invite and so Gibbs ended up in the D-League draft and now is with the Bulls where he'll hope to win a spot on the roster. It won't be easy; he'll be facing the same shortage of backcourt playing time as Thomas.
Chauncey Collins
Windy City went after yet another guard in the draft with their third-round pick, Collins. The smallest of the three guards drafted, Collins played two season with TCU before leaving school. He saw a big increase in both games and playing time between his freshman and sophomore seasons and his stats made the jump to coincide.
I enjoy watching that dunk. If Collins has these ups in his bag of tricks that he brings to Hoffman Estates, things could get really fun, really quick. Collins is an intriguing player, one of the few that shoots better from beyond the arc than inside of it, putting up 39.5 percent from 3-point range in 2015-16 for the Horned Frogs.
Anthony Lee
With their final pick in the 2016 D-League draft, Windy City finally selected a forward, Lee. Interestingly enough, this is one player drafted by the Bulls who already has a deal elsewhere, in Europe.
Lee played three seasons with Temple after redshirting as a freshman, then he transferred to Ohio State for his senior year of eligibility in 2014-15. His numbers dropped dramatically in his final year. During his junior year at Temple, Lee played 31.1 minutes per contest over 28 games, averaging 13.6 points and 8.6 rebounds. At Ohio State, things took a turn in his playing time and production. In 21 games for the Buckeyes, Lee averaged 11 minutes with 3.4 points and 2.3 rebounds.
After college, the forward wend abroad and playing with BSC Raiffeisen Panthers Furstenfeld in Austria. He played 19 games, starting one. As of October 3, this year, Lee has signed with Rapla BS of the KML league in Estonia and has played a total of two games with that club. It seems unlikely that Lee will appear with the Bulls in 2016 and any future with Windy City will be put on hold until at least 2017.
The Bulls have a full training camp roster for their upcoming D-League season. With the D-League season kicking off in less than two weeks, they have a lot of work to do.
More from Pippen Ain't Easy
This article originally appeared on