NBA D League All-Star Eric Griffin facing attempted murder charge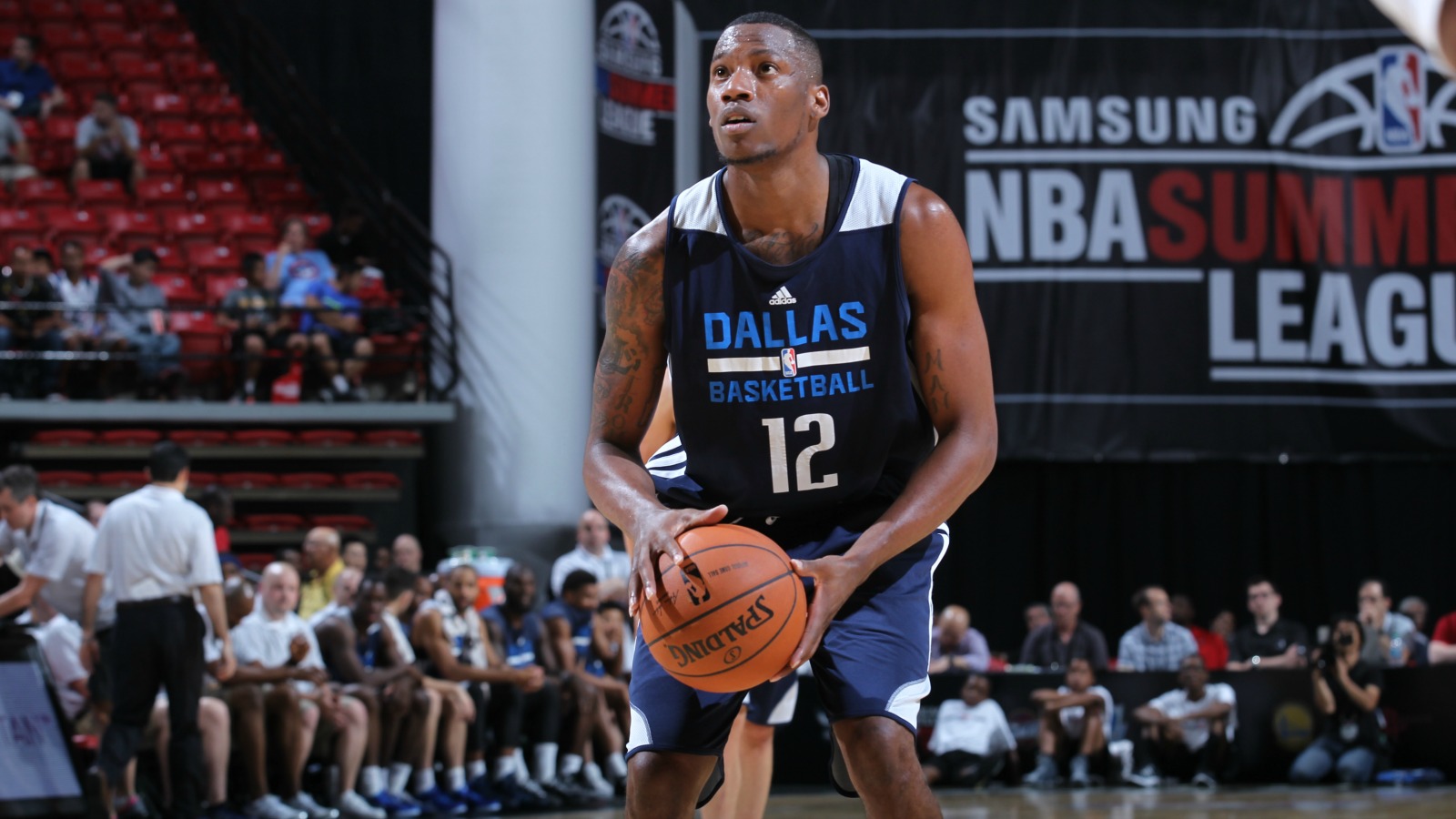 Former D-League All-Star Eric Griffin was arrested Friday on attempted murder charges after he and another man, 23-year-old Daquan Lundy, allegedly fired several rounds at a third individual outside an Orlando, Fla., apartment building.
The alleged victim, 24-year-old Treavor Glover, told police he was approached by two black males as he walked from his car to his apartment at approximately 1:19 a.m. on April 27. Glover stated that the larger of the two men fired two shots in his direction, and the other fired one. Griffin's arrest warrant lists him at 6-foot-9 and 200 pounds, while Lundy is listed at 5-foot-7 and 185 pounds.
Glover told police he attempted to flee to the rear of the apartment complex after the initial three shots but fell to the ground as he ran away, skinning his hand. Glover stated that "at least one" of the men then stood over him and fired four shots at close range, with one shot grazing his forehead. It's unclear based on the incident report which of the two men fired the shot that struck Glover.
Glover also indicated that, after the confrontation, the men got in a dark-colored sedan and drove off. He stated that he did not believe he'd been followed into the complex when he arrived and said that neither of the men said anything or attempted to rob him during the incident.
Additionally, Glover told officers that he'd never met or seen either of the men who attacked him, but informed police that his girlfriend's brother, Gino Nicolas, was murdered in a separate shooting the week prior and claimed that rumors are circulating among Nicolas' friends that Glover is friends with the alleged shooter in that case.
He subsequently signed with the D-League's Texas Legends and became an All-Star, averaging 19 points, 6.6 rebounds and 2.4 blocks over 49 games.
Nicolas, a 24-year-old local youth leader, was killed in a drive-by shooting on April 16 about seven miles from where Glover was reportedly attacked. A total of six individuals were shot in that incident, a group that included Lundy. Griffin was reportedly close friends with Nicolas, as well.
Griffin, 25, and Lundy were taken into custody late Friday night and are still being held without bond in the Orange County jail as of Tuesday morning. Griffin entered a not-guilty plea at his arraignment Monday. Griffin's attorney, Victor Mead, also filed a motion to set a bond in the case. That motion will be heard Wednesday.
Email and phone messages left for Mead Tuesday have not yet been returned.
An Orlando native, Griffin played two seasons at Campbell University before going undrafted in 2012. He appeared in two games for the Los Angeles Lakers during the 2012 Vegas summer league and spent the 2012-13 season playing professionally in Italy. He then averaged 8.0 points and 4.3 rebounds for the Miami Heat in the 2013 Orlando summer league and later signed with the team but was released before the start of the regular season.
After a season split between Puerto Rico and Venezuela, Griffin averaged 11.4 points for Dallas in the 2014 Vegas summer league, earning himself a contract with the Mavericks. However, he was again released during the preseason. He subsequently signed with the D-League's Texas Legends and became an All-Star, averaging 19 points, 6.6 rebounds and 2.4 blocks over 49 games.
It would mean everything to me to make it to the NBA.
Eric Griffin
After another stint in Puerto Rico, Griffin played with both the Los Angeles Clippers and Cleveland Cavaliers in the 2015 summer league. He signed a non-guaranteed deal with the Detroit Pistons in September but was waived in October. Most recently, Griffin played professionally in Dubai, but said he still has aspirations of playing in the NBA.
"It would mean everything to me to make it to the NBA," Griffin told SB Nation in a story published Friday, the day of his arrest. "I genuinely believe that I have the ability to play in the league and contribute on a winning team. I don't have control over when a team will call, so the only thing I can do is continue to work hard. When I get the opportunity, I'm going in."
You can follow Sam Gardner on Twitter or email him at samgardnerfox@gmail.com.