NBA: Catching Up With Schea Cotton And His New Outlook On Life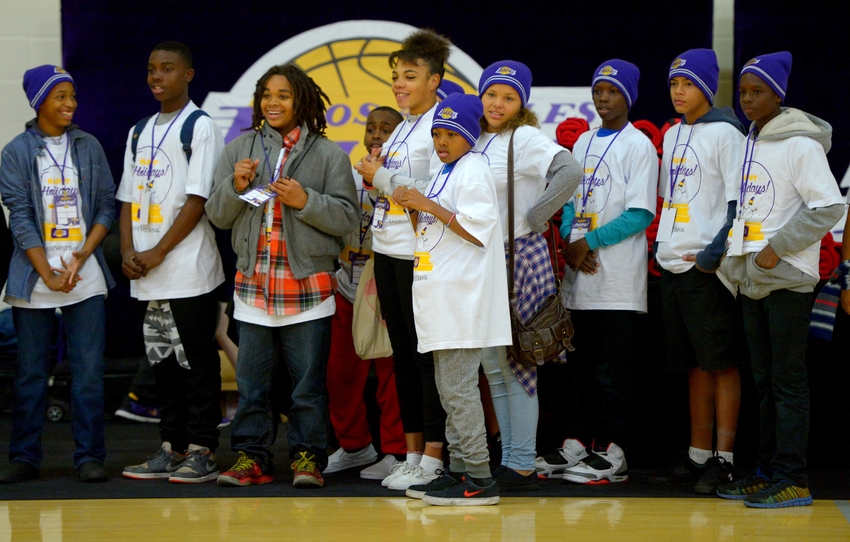 Former high school phenom Schea Cotton might've fallen short of making the NBA, but it only led him to his true destiny in life
Dreams motivate us to become people we want to be. From dreams that reach the mountain top as kids, to ones that become realistic once we're in our teens. Realistic in the sense that we have a rough idea of which career path we'd likely pursue.
For Schea Cotton, it was becoming an NBA player. It was a dream that reached the peak of Mount Chimborazo and was as realistic as any dream could get.
He was a high school sensation before LeBron James, Andrew Wiggins, O.J. Mayo and Thon Maker. There was no social media or broadcasting of high school games at the time. There was only word of mouth, newspapers and watching Cotton's greatness in person. He was a must-see talent during the 1990s, and was easily considered the greatest basketball in the United States.
More from Sir Charles In Charge
Cotton was dubbed the nickname "ManChild," because that's what he was. In sixth grade, he was six-feet tall, weighing around 180 pounds, and was featured in the Los Angeles Times. Three years later as a high school freshmen, he was 6-foot-4 and 220 pounds. His body measurements were 100 percent identical to Chicago Bulls guard Dwyane Wade. Cotton had an NBA body at the genesis of his high school career… That's indeed a "ManChild."
If Twitter existed back then, he'd have thousands of followers, because his following back then was enormous. Everyone wanted a piece of Cotton, because his game spoke for – what should've been – a career in the NBA. As a teenage phenom, he was already treated as if he made it to the league.
On July 25, 1994, Sports Illustrated's Austin Murphy published a profile on Cotton, who had just finished his first year of high school. Not only was Cotton getting the fame very early on in his life, but he was also being treated like a brand athlete by Nike. The company supplied Cotton with 37 pairs of sneakers, a new pair for each game he played. The young star had companies and publications invested in him, because they seen a star developing in front of their eyes.
His high school career was great, as expected, until he unfortunately damaged ligaments in his left shoulder over the summer in an AAU game against Lamar Odom. The injury forced Cotton to miss his senior season.
Some would speculate as to why Cotton was even playing AAU ball during the summer. It's the same reason as to why every athlete, mainly basketball players do: to get noticed and play against the best competition. These days, AAU gets mixed reviews from notable voices such as Paul Pierce, Kobe Bryant and Charles Barkley. Hindsight is 20/20 and it's easy to excoriate the league, but it's a necessary tool for young athletes to get noticed.
"I came up playing AAU," Cotton began to tell me as he drove away from the gym." AAU gave me a lot of opportunities, so I'm not going to be the one bashing the AAU circuit. I think the problems is a lot of people that's in the AAU circuit today aren't in it for the right reasons. That's a big reason why I started my ManChild league, a 12U team. I wanted to put a really competitive team together and keep them together all the way through high school. To help mold them, and hone them, on and off the court."
Cotton's goal with his youthful team is to give them the requisite skills, training and advice as athletes and young men. His life experiences gives the youngsters a PhD education on how to conduct themselves as athletes, and possibly professional athletes. Coach Cotton gets it. Instilling the necessary life altering values in kids while they're young is imperative to their development, as they become teens then adults. It's not so much about developing great athletes, but more so great people.
AAU has created countless opportunities for kids to better themselves and family situations.
"What you see today is a lot of people making a lot of money off of the kids, but when things don't work out for the kids they go somewhere else," Cotton said.
"They can't take away what I did, and the fact that people still talk about the player that I was lets me know that I achieved my goal" – Cotton
Being an AAU member is like being in a relationship. Some people will genuinely care about your well being, while others are simply in it to use their partner for what they can offer or help them with in the future.
Despite the known cons of AAU, Cotton is still a believer in the good it offers. He knows it can change the lives of many kids, by helping their lives and family situations.
"It's a great thing, there's been bad seeds if you look deep enough," Cotton said." I think AAU as a whole gives kids opportunities, that normally wouldn't get chances, maybe whether they're in rural areas, or things like that. If you're good enough, and you're on the circuit, at any give point you could be offered a scholarship. I think that's the best part of this. You see a lot of guys that maybe don't get the opportunity at their high school because of favoritism and playing in the AAU circuit they get looks they normally wouldn't get."
Not only is AAU more of a better avenue for a student-athlete to get noticed, but it's a more known trend today. Many high schools are losing their top athletes due to AAU teams. Reason being is because the AAU teams typically have recruiters, play at a higher level, and the games are typically more intense because the on-court competition is better. In high school schedules, just a few games are competitive for tier-1 athletes, but in AAU each game is competitive. It's a power struggle between the two.
The battle between high school and AAU has more people criticizing the AAU format than high school. AAU is a growing business, and to the older AAU players who came up in the old system, the way it is now is completely different.
"It's very diluted today," Cotton began to say." There's a ton of teams, it wasn't as many teams as before. All these camps, different writers and the publications. Back then, players were a lot more polished and a lot more hungrier because there was less opportunity. I think we took the game a lot more serious. So, we trained countless hours and had to be very coachable, had to have all the intangibles, because if you weren't good enough there was no team that you could just go to. You had to wait until next year, I think that's what made it a lot more competitive."
If it wasn't for Cotton getting hurt the summer of his junior year against Odom, he might've became the next prep-to-pro player. He decided to go the college route to make a major comeback from his minor setback.
"After I suffered my injury my junior summer playing against Lamar Odom's team with the Long Island panthers I just felt like it was necessary for me to really comeback on the scene and take the world by storm. Things happened out of my control, and didn't work in my favor that way. I still played high division one basketball in the SEC at the University of Alabama. I had a great experience as an athlete."
Cotton wouldn't change a single thing about his life. Nothing. He's content with the lifestyle he lives because he's making an impact in the lives of the next generation, in the complex world we all in today. When Cotton thought about a life he could've lived if everything went according to plan with him heading to the NBA he found it "scary."
He's an OG with his mind and heart invested in the kids. If he made it to the pinnacle of professional basketball, his willingness to give back to the community and be around youth might not have become a thing. The Manchild documentary, talks he gives, and AAU team he has might not be a thing if he was drafted.
"I like this a lot better," Cotton said." They can't take away what I did, and the fact that people still talk about the player that I was lets me know that I achieved my goal."
Cotton's ultimate dream of being in the NBA never came true. Instead, thanks to the great man above, his name is impacting the lives of others. Being a mentor in the life of someone is way more valuable than anything else. He's truly making a difference, and that's his legacy.
This article originally appeared on