NBA Award Watch: Russell Westbrook is Oscar Robertson, the Chicago Bulls are good?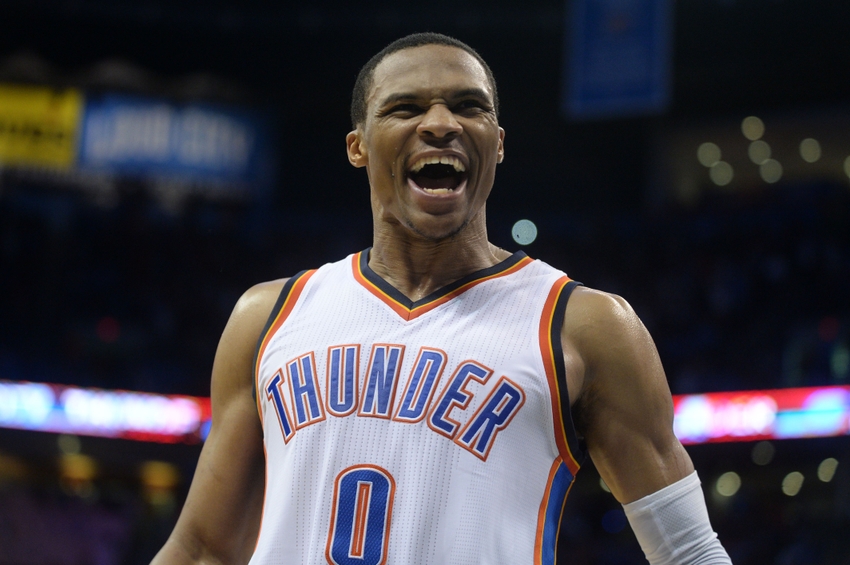 Each NBA team has only played a handful of games, but here are the early leaders for the end of the year awards in the Association.
The 2016-17 NBA season is well under way. Every team has played a handful of games so far. It's not anywhere near a sufficient sample size, but there are a lot of interesting story lines to follow in the early part of the season.
Is the 2017 NBA Finals gearing up to be the Cleveland Cavaliers and the Golden State Warriors for the third year in a row? How does Kevin Durant fit in with the Warriors? What are the San Antonio Spurs going to be like without Tim Duncan? We'll learn all of that in due time.
Through the first of November, here are the early leaders for the NBA's biggest end of season awards:
Most Valuable Player: Russell Westbrook
There are several players that could be the NBA's Most Valuable Player through the October part of the season, but how many of them are averaging a triple-double after losing their best teammate?
Yes, Russell Westbrook of the Oklahoma City Thunder is averaging a triple-double in his first three games of 2016-17. The Thunder started the season 3-0 and are clobbering teams in terms with pace (first in the league) and with defensive efficiency (second). They've also scored over 100 points in their first three games.
Westbrook is leading in the NBA in points per game at 38.7 and is averaging 12.3 rebounds and 11.2 assists per game. If anybody is going to average a triple-double this season like Oscar Robertson did for the 1963-64 Cincinnati Royals, it might as well be Westbrook.
He's a high volume shooter at point guard, so the points and assists should come easy for him. What sets him apart is his tenacity for rebounding at 6'3″, 200 pounds. Keep in mind that he's doing this with an Oklahoma City front court that is elite on the glass.
The Spurs' Kawhi Leonard and the Cavaliers' LeBron James would round out the top three this week. Not only is Westbrook averaging a triple-double, but his Thunder are winning without Durant. This could be a special year for Westbrook and maybe the Thunder are better via Ewing Theory?
Defensive Player of the Year: Dwight Howard
Through November 1, newcomer to the Atlanta Hawks center Dwight Howard edges out the Detroit Pistons' Andre Drummond and Leonard of the Spurs for Defensive Player of the Year. Howard has won this award three times in his likely Hall of Fame career, yet this one could be different.
Howard is playing extraordinarily well defensively for his hometown Hawks. He is leading NBA in offensive rebounding percentage (23.5), block percentage (9.7), total rebound percentage (25.9), blocks per game (3.3), and total offensive rebounds (17).
It's as if Hawks head coach Mike Budenholzer told Howard that Atlanta is going to love you if you play great defense and dominate on the glass. He is doing that fantastically, leading the best defense in basketball.
Every player on the Hawks through three games has been very good defensively and the metrics show it. Will we see a regression to the mean defensively in Atlanta? Without a doubt, but Howard, Paul Millsap, and Thabo Sefolosha look to be top-tier defensive players at their respective positions.
It was hard to not give Leonard the benefit of the doubt, but Atlanta's defensive dominance early on is the story nobody is talking about in the NBA.
Rookie of the Year: Joel Embiid
It hasn't been a great start to the year for many in this 2016-17 NBA rookie class. However, there is one guy that is making a name for himself early despite a minutes restriction: Joel "The Process" Embiid.
Embiid was the No. 3 overall pick by the Philadelphia 76ers in the 2014 NBA Draft. Because of injuries suffered at the University of Kansas and a few setbacks physically along the way, we are now seeing why Philadelphia was so high on this seven-footer from Cameroon.
Though he is only playing roughly 24 minutes a game, Embiid is incredibly efficient on the floor for Brett Brown's 76ers. He is averaging 17.3 points per game and 6.3 rebounds per game. Embiid is shooting 40 percent from three (!!) and 45.9 percent from the field. His PER is an impressive 22.9.
Philadelphia still struggles to win ball games during this well-documented rebuilding process. It has been anything but smooth sailing for the Philadelphia professional hoops team, but Embiid is proving that The Process was worth it. He is a must-watch every time he takes the court for the 76ers. We might be seeing the next Hakeem Olajuwon before our very eyes.
Sixth Man of the Year: Patty Mills
It is very difficult to forecast early on who might end up being Sixth Man of the Year. One guy that is playing very well early this season is San Antonio Spurs guard Patty Mills. In five games, Mills has only started once, but that hasn't mattered for this Australian backcourt player.
It's as if his experience playing in the 2016 Summer Olympic Games in Rio de Janeiro have catapulted Mills seriously into the sixth man conversation. Through five games, he is averaging 12.2 points per game and shooting at crazy clips from all over the field.
Mills has a 51.2 field goal percentage, is 50.0 from beyond the arc, a perfect 100.0 at the line, and has a ridiculous effective field goal percentage of 66.3. This has given a rotational player in Mills 0.6 win shares on this young season and the best PER in the league of any player that doesn't start, at 24.8.
Knowing that long-time sixth man Manu Ginobili wasn't going to be able to do it forever, Spurs head coach Gregg Popovich may have found Ginobili's eventual backcourt successor in Mills. Mills just turned 28 and is clearly in his prime as a sixth man candidate for the 2016-17 Spurs.
Most Improved: Giannis Antetokounmpo
Milwaukee Bucks point forward Giannis Antetokounmpo is not yet 22 years old, but he is entering his prime as a perennial All-Star in the NBA. His team is not elite, but he is. Antetokounmpo is playing like a superstar early on for the 2016-17 Bucks.
He is averaging 23.2 points per game, 9.5 rebounds per game, and 5.8 assists per game. Though he is still a poor three-point shooter at 25 percent, he is shooting the ball quite well inside the arc. Antetokounmpo's field goal percentage so far is 51.4 percent, and he is hitting 82.4 percent of his shots at the line, with an effective field goal percentage of 53.4 percent.
What's really keying his ascendance to superstardom is the increased responsibility. Bucks head coach Jason Kidd has recognized Antetokounmpo's pure talent and has given him the keys to be Milwaukee's floor general.
Most Improved usually goes to a player that was bad and becomes a high-end rotational player. With Antetokounmpo, that's not the case. He's going from a high-end prospect to an NBA superstar. That kind of climb is more exciting and should make the Bucks one of the better League Pass teams this season. The Greek Freak is getting better and that's bad news for the rest of the Eastern Conference.
Coach of the Year: Fred Hoiberg
Of the teams that didn't lose in October, the most shocking undefeated team in the NBA has to be the Chicago Bulls. It's not really that Jimmy Butler, Rajon Rondo, and Dwyane Wade are undefeated that's surprising, it's how the Bulls are winning games this year.
Chicago has the best offense in the NBA. Many thought this team was going to struggle shooting three-pointers. Outside of Doug McDermott and Nikola Mirotic, the rest of the Bulls were kind of sub-par in that part of the game.
While he entered 2016-17 on the hot seat, Bulls head coach Fred Hoiberg would win Coach of the Year if the season ended today. Nobody saw this coming. Chicago had the look of a fringe playoff team, but could end up getting home court advantage in the first round of the 2017 Eastern Conference Playoffs if this kind of offensive firepower is here to stay.
Chicago is No. 1 in offense and No. 5 in defense. Maybe the Bulls front office knew what it was doing in poaching the Mayor of Ames away from the Hilton Coliseum and injecting him into the United Center last year?
To think that the Bulls were going to be this good on offense this early was not predictable. How much credit Hoiberg deserves is debatable, but he certainly deserves some of it.
This article originally appeared on