NBA Award Watch: Russell Westbrook is on fire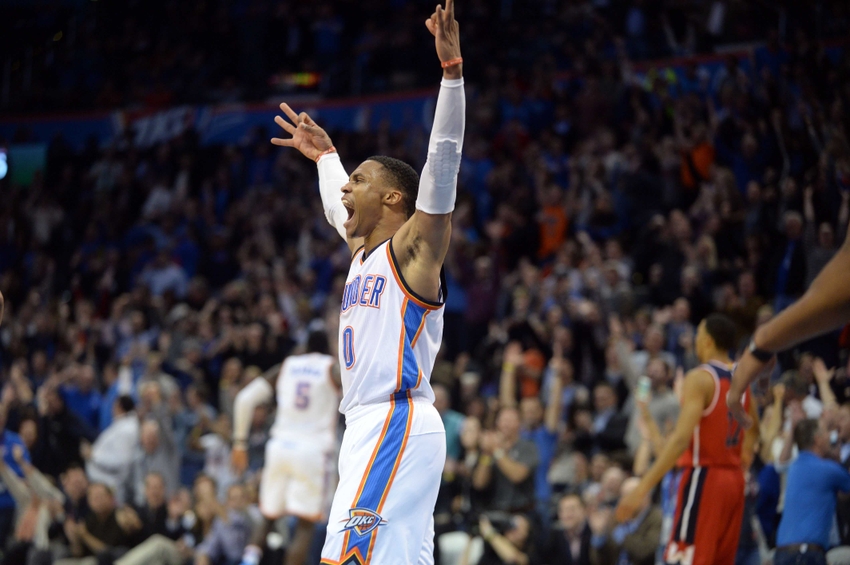 The NBA has had an exciting first two months of the 2016-17 regular season. Here are the front-runners for every major award in this week's NBA Award Watch.
The NBA is roughly a quarter in the books. It is no longer October, nor is it November. We are now into December NBA basketball! That means Christmas is coming soon and the NBA is about to take the American sports psyche by storm.
It's still insanely early, but we've seen some outstanding basketball in these first several weeks of the 2016-17 NBA season. Here are the front-runners for the six major NBA awards through November in this week's NBA Award Watch.
Most Valuable Player: Oklahoma City Thunder PG Russell Westbrook
Remember how through the first few weeks Oklahoma City Thunder point guard Russell Westbrook was averaging a triple-double. Well, through 20 NBA games this season, Westbrook is back to being a triple-double machine.
Oklahoma City is a middle of the pack Western Conference playoff team, but Westbrook is leading the charge with 31.1 points, 11.2 assists, and 10.2 rebounds per game. Though he isn't shooting at a high clip from the field (42.6 percent), Westbrook's PER is through the roof at 30.2.
Westbrook has been everything for this new look Thunder offense. Though he leads the NBA in usage (41.0 percent), he is also leading the NBA in assist percentage (58.1), Box Plus/Minus (14.0), and Value Over Replacement Player (2.8).
Though Oklahoma City is not projected to be a 50-win team this season, having a superstar point guard averaging a triple-double has to make Westbrook the front-runner for NBA MVP. This hasn't happened since Oscar Robertson did it over 50 years ago for the then Cincinnati Royals.
Defensive Player of the Year: Detroit Pistons C Andre Drummond
Through the first two months of the 2016-17 NBA season, Defensive Player of the Year has been a three-man race between three outstanding big men. Hassan Whiteside has been tremendous for a horrendous Miami Heat team. Dwight Howard hasn't been great of late for an Atlanta Hawks team trying to find itself.
At this time, Defensive Player of the Year has to go to Detroit Pistons center Andre Drummond. Drummond is averaging 9.6 defensive rebounds, 1.6 steals, and 1.1 blocks per game playing great defense for Stan Van Gundy's Pistons.
Of his 1.9 Win Shares on the season, 1.4 are coming on the defensive side of the basketball and his Defensive Box Plus-Minus is up to 3.4
While both Howard and Whiteside have had higher defensive peaks this season than Drummond, they have also had some games where they have struggled. Drummond has been a stout defender all year and he would take home the hardware if the season ended today.
Rookie of the Year: Philadelphia 76ers C Joel Embiid
Though he has only played in 12 NBA games to date, Philadelphia 76ers center Joel Embiid would be the clear front-runner for NBA Rookie of the Year. Philadelphia is not a watchable on-court product without Embiid on the floor. He is electric.
On the season, Embiid is averaging 18.2 points, 7.8 rebounds, and 1.5 assists per game on a minutes restriction for the 76ers. His PER of 23.7 is incredible, given that he plays for the worst team in the Eastern Conference. Embiid's shooting splits of .480/.500/.766 ultimately yield an effective field goal percentage of 53.0.
Eventually, the Philadelphia front office will remove Embiid's minutes restriction and he can finally play an unencumbered brand of basketball. Until then, we're just going to have to enjoy The Process when we can get it, roughly 24 minutes per game every five of seven 76ers games.
It is important to point out that there are some other rookies that are playing well in their own right. Embiid's teammate Dario Saric has shown signs of promise early in his NBA career. After missing a ton of shots in his first few games, it has been an aggression to the mean for Denver Nuggets sharp-shooter Jamal Murray. There are still plenty of games left to sort this rookie class out.
Most Improved Player: Milwaukee Bucks SF Giannis Antetokounmpo
It doesn't matter if you can't spell his name or struggle to pronounce it correctly, do your job and figure it out because Milwaukee Bucks forward Giannis Antetokounmpo is amazing. Best known as the Greek Freak and is some small circles the Alphabet?, Antetokounmpo is rapidly becoming a top 15 player in the NBA.
Antetokounmpo is averaging 22.8 points, 8.6 rebounds, and 5.9 assists per game in his first 16 contests for the 2016-17 Bucks. He is improving as a shooter. Not from distance, he's an atrocious 20.6 percent from three, but he's of that DeMar DeRozan two-point efficiency style. Antetokounmpo is shooting 57.5 percent from inside the arc.
It's not just improvements on offense that make Antetokounmpo the front-runner for Most Improved Players, he is becoming a defensive dynamo for head coach Jason Kidd in Milwaukee. He is averaging 2.1 blocks and 2.1 steals per game.
This gives Antetokounmpo a career-best 26.3 PER and an incredible Box Plus-Minus of 8.8. Interestingly, he is balanced with a mark of 4.4 in both Offensive Box Plus-Minus and Defensive Box Plus-Minus. His biggest challenger for Most Improved is Charlotte Hornets point guard Kemba Walker. It should be a close race the rest of the way between these two budding stars.
Sixth Man of the Year: Oklahoma City Thunder C Enes Kanter
It isn't all Westbrook that has made the Thunder a respectable Western Conference Playoff-caliber team in the wake of Kevin Durant's highly publicized exodus. Oklahoma City might have themselves a serious Sixth Man of the Year candidate in the frontcourt.
Backup center Enes Kanter gives the Thunder serious bite off the bench both on the glass and offensively. He and fellow 'Stache Brother center Steven Adams ensure that Oklahoma City is going to have a strong, low-post presence when either is on the floor.
Kanter is averaging 12.8 points and 5.9 rebounds per game coming off the Thunder bench. He is making 56.8 percent of his field goals and has the best PER of any non-starter in the league at 24.5.
Westbrook might garner most of the hype from the Oklahoma City and national media for his nightly triple-doubles, but the Thunder aren't as solid in the early part of the season without Kanter coming off the bench. He has flourished under an outstanding former college coach in Billy Donovan. Expect other Thunder rotational players to pop under Donovan's tutelage.
Coach of the Year: Los Angeles Lakers head coach Luke Walton
Though they are only .500 at 10-10 through 20 games, the Los Angeles Lakers are at .500 through 20 games! While teams like the Minnesota Timberwolves and the Washington Wizards have been massive disappointments in the early part of the year, the Lakers under new head coach Luke Walton have been one of the NBA's most pleasant surprises.
The Lakers are still playing hard every night for Walton. With the Memphis Grizzlies losing Mike Conley for a month and a half and the Portland Trail Blazers playing no defense whatsoever, maybe the Lakers can have staying power in the Western Conference and make the NBA Playoffs as a No. 7 or 8 seed?
Los Angeles is scoring a lot of points playing up-tempo. The Lakers are fifth in points per game at 106.8 and fourth in the NBA in pace at 99.7 possessions per ball game. However, they are still only middle of the pack in offensive efficiency (15th) and one of the worst on defense (26th).
Walton is doing a phenomenal job of taking the coaching tactics he learned with the Golden State Warriors and applying them to the Baby Lakers. This team is about a year or two from really popping, but this team is a fun watch every night. Walton is massively responsible for having the Lakers playing a visually appealing brand of basketball.
More from FanSided
This article originally appeared on