NBA Award Watch: Chris Paul is on a mission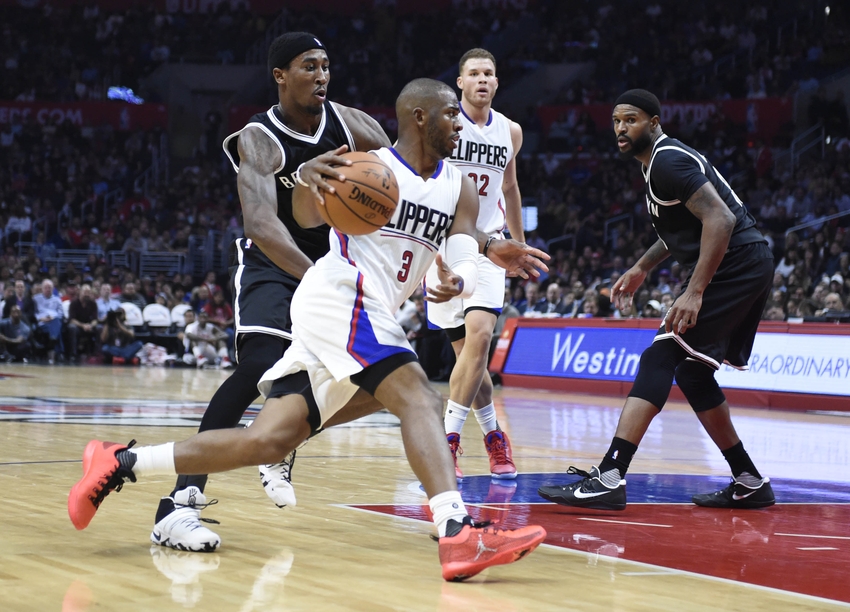 There have been some early shakeups in many of the NBA's award races. Here are the front-runners for the best NBA hardware through roughly the first month.
The 2016-17 NBA season is roughly a month completed. We haven't seen enough of all 30 teams to make serious observations and declarations, but we can gather a decent sample size to have interesting conversations.
Teams like the Charlotte Hornets, the Los Angeles Clippers, and the Los Angeles Lakers are exceeding expectations. Other clubs like the Indiana Pacers, the Minnesota Timberwolves, and the Washington Wizards have been worse than projected.
As of November 15th, here are the front-runners for all the major awards in the 2016-17 NBA season.
Most Valuable Player: Chris Paul
Through 11 NBA games this season, Los Angeles Clippers point guard Chris Paul has elevated his play above everybody else considerably. He's been a top-tier point guard and an All-NBA player for some time. Now Paul is pushing for his first NBA MVP.
Paul is leading the NBA is so many statistical categories. A few of the most jaw dropping have to be PER (33.6), Defensive Win Shares (0.9), Win Shares (2.9), and Win Shares per 48 (.425). Offensively, Paul is averaging 19.2 points per game and 8.5 assists per game, shooting at a .485/.473/.914 clip.
Through defensive excellence and offensive prowess, Paul is the floor general and the defensive anchor for the best team in basketball through November 15th. Los Angeles is playing arguably its best basketball since Paul arrived in a high-profile trade with the then New Orleans Hornets several years ago.
Paul can opt out of his player option this summer, but may inevitably stay in Los Angeles with the Clippers. He seems to be having a blast playing basketball in Los Angeles, as he is playing at an MVP level at age 31.
Defensive Player of the Year: Hassan Whiteside
Paul could win Defensive Player of the Year as well as NBA MVP, but for the sake of giving it to somebody else, it's hard to not make a compelling case for Miami Heat center Hassan Whiteside for Defensive Player of the Year.
Yes, the Heat are an awful 2-8 through their first 10 games, but Whiteside could end up being a first-time NBA All-Star this season due to his defensive prowess. For a team that isn't likely to reach the Eastern Conference Playoffs, Whiteside has a PER of 24.6 and might be the premier shot blocker in the East this season.
Whiteside is averaging 2.3 blocks per game and is doing serious work on the glass as a rebounder. He leads the NBA in rebounds per game at 15.9, as well as a steal per game for the big fellow. His 25.6 total rebound percentage is league best.
Whiteside is getting better offensively, but it has been his defense that has set him apart this season. He already has 0.9 Defensive Win Shares and a Defensive Box Plus-Minus of 2.6. The Heat aren't winning, but it isn't because of Whiteside's defense. He is crushing it on that end of the floor.
Rookie of the Year: Joel Embiid
Though he has only played in seven of the Philadelphia 76ers first 10 games of the season, center Joel Embiid is the clear favorite to winner 2016-17 NBA Rookie of the Year. The guy is clearly light years better than the rest of this year's rookie class.
Embiid is averaging 18.0 points per game, 7.3 rebounds per game, and 2.3 blocks per game despite being on a highly documented minutes restriction carefully managed by the Philadelphia front office.
The biggest question isn't if will Embiid will win Rookie of the Year, but who will honestly end up challenging him for the award and be on the All-Rookie First Team with him? As of November 15th, arguably the second-best rookie in the NBA has to be Embiid's Philadelphia teammate Dario Saric. The New Orleans Pelicans shooting guard Buddy Hield is a distant third to Embiid and Saric.
Philadelphia is probably going to be the worst team in basketball this season. However, they are a must-watch whenever Embiid steps on the floor. Hopefully the Philadelphia brass will remove his minutes restriction so the NBA world can finally see all that Embiid has to offer on the hardwood.
Most Improved Player: Kemba Walker
The Charlotte Hornets have been one of the better teams in the Eastern Conference this season due in large part to the play of their star point guard Kemba Walker. Walker was an Eastern Conference All-Star snub in 2015-16. He should get there this season, as well as be the Most Improved Player of the Year.
Walker's stiffest competition for Most Improved will be the Milwaukee Bucks point forward Giannis Antetokounmpo, who is having a breakout season of his own. Where Walker has the edge is that he is the floor general for a certain playoff team in Charlotte that isn't just a defense-first basketball team anymore.
Walker is breaking through in 2016-17 because he has improved drastically as a shooter. He is averaging a career-high in points per game at 25.8. Walker has never shot better in the NBA from the field (.491), from inside the arc (.500), and from distance (.586). This has helped Walker have a career-best PER of 29.1.
For the Hornets to have success in the NBA Playoffs, they'll need to have the offense to complement their supreme defensive skills. With Walker become one of the best all-around point guards in the East, Charlotte has the ability to win multiple playoff series this spring.
Sixth Man of the Year: Enes Kanter
Losing a superstar in Kevin Durant is a tough pill for the Oklahoma City Thunder to swallow. They'll still be a competitive basketball team in 2016-17 because point guard Russell Westbrook will make them one. However, somebody has to step up to give Oklahoma City a chance at being more than a first-round exit in the 2017 Western Conference Playoffs.
While many have tabbed either Steven Adams or Victor Oladipo as that guy, the Thunder may have a serious Sixth Man of the Year candidate in center Enes Kanter. Kanter has the best PER in the league of a non-starter at 23.4.
In 11 games and not a single start, Kanter is averaging 12.2 points per game and 6.7 rebounds per game. He is shooting the basketball well from the floor at 56.3 percent. Kanter is also improving as a defensive player in his sixth year in the NBA. He already has 0.4 Defensive Win Shares. Kanter has never done better than 2.1 in any NBA season to date.
The Thunder will need to play more like a team now that they are without one of their two superstars for the rest of time. Kanter may eventually force his way into Billy Donovan's starting lineup, but his is giving this Oklahoma City quite the boost coming off the bench.
Coach of the Year: Luke Walton
There are a bunch of really solid coaches in the NBA this season. Fred Hoiberg has his Chicago Bulls looking like a playoff team. Steve Clifford has his Charlotte Hornets as a serious contender in the East. Even first-year head coach Kenny Atkinson has his lowly Brooklyn Nets playing respectable ball.
However, who in their right mind outside of the Staples Center would have though that the Los Angeles Lakers would be 7-5 through their first 12 games in 2016-17? Kobe Bryant was clearly smothering the fire of the young corps in Los Angeles. New head coach and former NBA Champion with the Lakers Luke Walton has been fantastic so far this season.
Walton was a huge part of the success that the 2015-16 Golden State Warriors had when he was Steve Kerr's top assistant. He is taking all that he learned in Silicon Valley and injecting it into this young Lakers team.
The Lakers are going up-tempo offensively and it's working. Los Angeles is fourth in pace at 100.4 possessions per game, third in points scored per game (110.0), and ninth in offensive efficiency (109.6).
If the NBA season were to end today, the Lakers would get the No. 7 seed in the Eastern Conference Playoffs. That is shocking and Walton is definitely a serious candidate for NBA Head Coach of the Year in 2016-17.
This article originally appeared on