NBA Award Watch: Another great week for the Greek Freak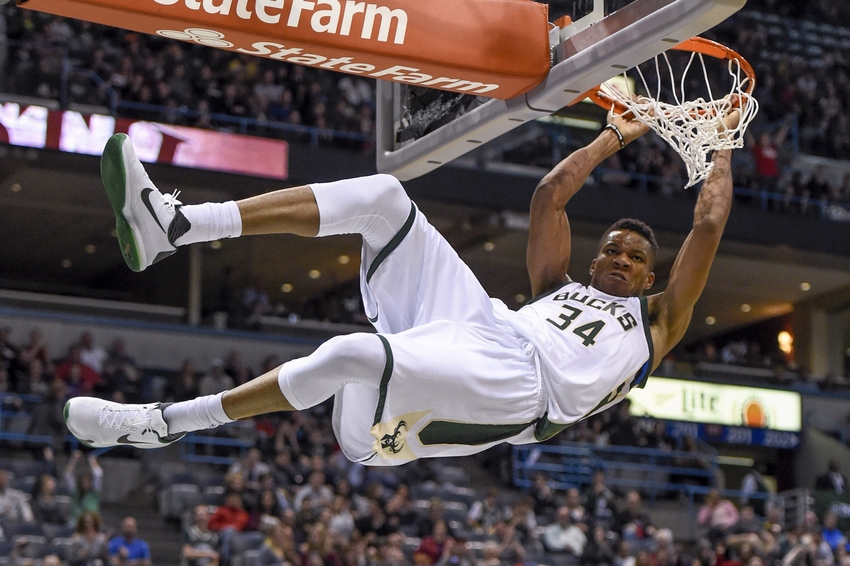 With over two weeks into the 2016-17 NBA season, let's take a look at which players are in the lead for the major end of season NBA awards.
The NBA is well into the 2016-17 NBA season. We've seen enough basketball to almost have a sufficient sample size to make some wild projections with some of our favorite players. That being said, we are starting to see some separation from the good and the bad in the early part of the season.
There are a few guys that stand pat in this week's NBA Award Watch, but there are some that have a new guy leading the way. Here are the front-runners for the major NBA awards through November 8th.
Most Valuable Player: Russell Westbrook
Though it isn't as obvious as it was a week ago, Oklahoma City Thunder point guard Russell Westbrook edges out a handful of great players for NBA MVP through November 8th. Players trailing Westbrook include DeMar DeRozan, LeBron James, Kawhi Leonard, and Chris Paul.
Through seven games, Westbrook isn't quite averaging a triple-double, but his stat line is still very impressive. He is averaging 30.4 PPG, 9.9 APG, and 8.4 RPG. Though he's still shooting 43 percent from the field, Westbrook has improved his three-point percentage to a solid 37.5 percent.
It has been one of the reasons his PER has elevated to a staggering 30.6. His Box Plus-Minus of 17.0 is otherworldly. Westbrook is taking care of business on both ends of the floor one of the better teams in the NBA.
He lost Kevin Durant and Serge Ibaka in the offseason, but Westbrook has been a primary reason that the Thunder have a 6-1 record on the year. Westbrook may not average a triple-double, but he'll be close to doing it all season. Would it be all that shocking to see him will the Thunder to 50+ wins this season? He'll need to do that the win NBA MVP. Let's see him go for it.
Defensive Player of the Year: Chris Paul
Let's be real. Paul has a compelling case to be NBA MVP already. His team is 6-1 through seven games and the Los Angeles Clippers might end up getting to the elusive Western Conference Finals this season.
This week, let's recognize Paul for the effort he is putting forth on the defensive end of the floor. His defensive effort has been among the best in basketball. He is leading the league in steals with 33 and steals per game at 3.3 SPG. This gives him a ridiculous 5.4 steal percentage.
Paul is leading the association in Defensive Win Shares (0.8), Win Shares per 48 (.428), Defensive Box Plus-Minus (6.6), and Box Plus-Minus (18.0). His stout defensive efforts have made the Clippers the best defensive team in the NBA in terms of defensive efficiency at 91.7.
We knew that the Clippers were going to be one of the better teams in the NBA this season. Did we know that Los Angeles would have the best record and defense in basketball? No, but we did know that Paul was an elite defender. We didn't realize that he'd be keying defensive team in Los Angeles. This is Lob City and he's making it Swipe City.
Rookie of the Year: Joel Embiid
Through November 8th, this is a unanimous selection. Philadelphia 76ers center Joel Embiid is the best rookie in the NBA and it isn't even close. Embiid is the only reason to watch the terrible basketball associated with the lowly 76ers. He's borderline unbelievable.
Embiid is crushing his rookie competition so far. In 21.4 minutes per game, Embiid is averaging 17.6 PPG and 6.8 RPG, leading all 2016-17 rookies by a wide margin. He's shooting at a tremendous .483/.667/.765 clip this season, leading all rookies with 13 blocks.
His PER is a ridiculous 24.3 for a guy playing roughly half a game each night. Embiid's efficiency as a basketball player is further demonstrated with an effective field goal percentage of 54.3 percent. He even has 0.1 Win Shares for a club that hadn't won a game in its first six contests. How is that possible?
One could argue that Embiid's stiffest competition for Rookie of the Year would be teammate Dario Saric, but Saric doesn't have the on-court dynamism or the nickname of The Process. It isn't even mid-November yet, but Embiid may have locked up NBA Rookie of the Year in his first five NBA games. This guy has the potential to be an all-time great.
Most Improved Player: Giannis Antetokounmpo
The Milwaukee Bucks are probably going to be a playoff team this year. One could argue that the Bucks can win their first round series should they qualify. This team is young for head coach Jason Kidd, but he has a budding superstar at point forward in Giannis Antetokounmpo.
Antetokounmpo will make his first trip to the NBA All-Star game this season. That is happening. The Greek Freak has taken his all-around game to the next level. He is averaging 21.1 PPG, 8.4 RPG, and 6.0 APG. His PER is fantastic at 27.7 with 1.1 Win Shares on the season.
Though he still doesn't have a clue what he's doing from 3-point land (20.0 percent shooting), Antetokounmpo is shooting 51.3 percent from the field, with an effective field percentage of 53.1 percent.
Antetokoumnpo still has much room to improve, but his leap from 2015-16 to 2016-17 can't go unnoticed any longer. By mid-season, we're looking at potentially a top-20 player in the league that is still on the rise. Milwaukee seems to have found a superstar in the middle of the first round in the Greek Freak.
Sixth Man of the Year: C.J. Miles
The Indiana Pacers have not gotten off to a great start this season, but it's not C.J. Miles' fault. He may eventually usurp shooting guard Monta Ellis in the Pacers' starting lineup, but for now Miles is clearly the front-runner for Sixth Man of the Year.
Here are a few of his ridiculous offensive numbers through the early part of the season: Miles is shooting 54.7 percent from the field, 51.3 percent from beyond the arc, and 90.9 percent from the line. His effective field goal percentage is a scary-good 66.7 percent.
He's averaging 15.7 PPG with a PER of 27.4. Miles' offensive performance probably isn't sustainable, but he should be recognized for his early season accomplishment on a dysfunctional Pacers team. If things don't get better in Indianapolis quickly, Nate McMillan has to start Miles to give his team some much-needed life.
Miles has played in all seven games for the Pacers as of November 8th, but had not started in a single one. To qualify for Sixth Man of the Year, a player cannot start half or more of his team's games. Miles may get forced into the starting lineup, but for now he's Sixth Man material.
Coach of the Year: Steve Clifford
There is a lot of great Coach of the Year candidates, but we have to go with Steve Clifford of the Charlotte Hornets this week. Through November 8th, the Hornets were 5-1 and in second place in the Eastern Conference.
Charlotte is playing outstanding defense for Clifford, arguably one of the most underrated defensive minds in the game. His Hornets are third in defensive efficiency at 97.2 and fifth in opponents' points per game at 96.5.
Keep in mind that Clifford is doing this despite losing three key players from last season's team in NBA free agency. Jeremy Lin signed with the Brooklyn Nets, Al Jefferson plays for the Pacers, and Courtney Lee is the fifth starter for the hardwood quagmire that is the New York Knicks.
Yes, Clifford gets back defensive dynamo Michael Kidd-Gilchrist and a strong defensive big man in Roy Hibbert, but Charlotte seems to be more than that. The Hornets might have two All-Star caliber players in point guard Kemba Walker and small forward Nicolas Batum.
Charlotte should make the 2017 Eastern Conference Playoffs, probably advancing to at least the Eastern Conference Semifinals. If the Hornets get to the Eastern Conference Finals, Clifford needs to win Coach of the Year. He's creating a great basketball culture in the Queen City.
This article originally appeared on