NBA: 5 Rookies To Watch This Season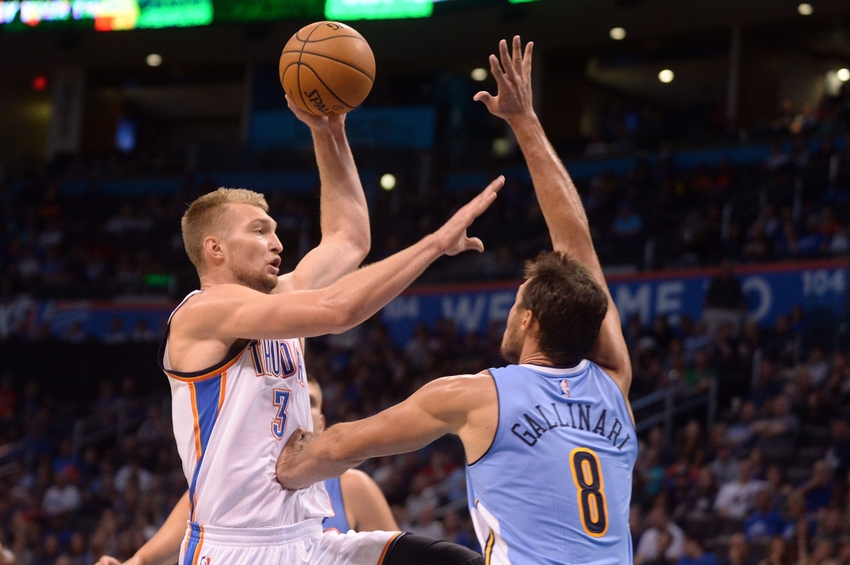 We're almost a month through the NBA season and basketball is in full swing. Here are five rookies to watch.
This season's rookie class has brought an interesting dynamic to the NBA. With more players looking to make a name for themselves, there's a new wave of rookies to watch this season.
There are a variety of rookies to look at but five stand out for their impact on the floor. Some are relatively unknown while others are names followed through the college game.
As the season progresses, these are some rookies that could finish with All-Rookie team accolades before the season is over.
One rookie is the son of a legendary Portland Trail Blazers player. Other rookies may not have the family bloodline connection going for them, but they have shown they have the talent to be on an NBA roster.
Two rookies on the list have bring their talents from Europe. While they may not fresh out of college, they are ready to show what they're able to do for their respective teams.
The final two rookies that round out the list both did their respective body of work in the NCAA ranks. Both players bring their consensus All-American accolades to the table to show they belong.
Here are five rookies to watch in the NBA this season.
5. Malcolm Delaney, Atlanta Hawks
Malcolm Delaney signed an offseason free agent deal to begin his rookie season with the Atlanta Hawks at the age of 27. He's played the past two seasons for Lokomotiv Kuban.
In 31 games, Delaney averaged 16.3 points, 5.5 assists, and 3.4 rebounds. He earned Top 16 Round 1 MVP and Round 2 MVP, 2015-16 Euroleague October MVP, and was named to the 2015-16 All-Euroleague First Team.
Delaney currently leads all rookies in total assists as well as assists per game. He has recorded an assist in every game he's appeared in so far this season. He is playing 16.8 minutes per game off the bench for the Hawks.
The point guard out of Virginia Tech is averaging 5.5 points, 2.0 rebounds and 4.0 assists per game for the Hawks. Delaney has taken on a reserve role after the Hawks traded away point guard Jeff Teague and promoted Dennis Schroder this offseason.
Delaney scored four points and dished out five assists with a rebound and a steal in his NBA debut for the Hawks. His shooting is still a work in progress as he's shooting 36.8 percent from the field and 27.8 percent from three.
4. Kris Dunn, Minnesota Timberwolves
The fifth overall pick from the 2016 NBA Draft, Kris Dunn has turned heads in his first season with the Minnesota Timberwolves. The rookie averaged 16.4 points, 6.2 assists, and 5.3 rebounds per game in his junior season for the Providence Friars.
He put the Friars on the map with his stellar play at the collegiate level. He finished his final season as Big East Player of the Year.
Dunn is averaging four points, 2.9 rebounds, 3.3 assists, and 1.3 steals in his first season as a member of the Timberwolves. He is shooting 32.7 percent from the field and 27.3 percent from the three-point arc in 20.2 minutes per game for Minnesota.
He recorded 10 points, six assists, five steals and four rebounds in his first start of the season for Minnesota. They won the game against Memphis 116-80, their first victory of the season.
The former consensus All-American out of Providence leads all rookies in total steals with 16. He is second among rookies in total assists and assists per game as well.
3. Malcolm Brogdon, Milwaukee Bucks
The Milwaukee Bucks are enjoying the services of the Virginia Cavaliers' Malcolm Brogdon this season. Another former consensus All-American, Brogdon was a member of Virginia's historic run at history these past few seasons.
He was named ACC Player of the Year last season, the first UVA player to receive the award since Ralph Sampson.
Brogdon is also the first player ever to win both ACC Player of the Year and Defensive Player of the Year in the same season. He brings a lot of firsts to a Milwaukee roster looking for a leader on both ends.
The 6-foot-5 guard is averaging 6.9 points, 2.6 rebounds, 2.7 assists and a steal per game for the Bucks in 20.3 minutes per game. He ties for fifth in steals per game and ties for third in total steals among rookies.
Brogdon shot 6-for-10 with 14 points, four steals and four assists in a 117-113 win over New Orleans.
He is shooting 37.8 percent from the floor and 28.6 percent from three, so there's room for improvement there. There was an 0-for-7 shooting performance against Miami that's forgettable. As Brogdon gets acclimated to the pro game, look for him to make some more noise.
2. Domantas Sabonis, Oklahoma City Thunder
There's a new Sabonis in town and he goes by the name Domantas. Son of former Portland Trail Blazers' big man Arvydas Sabonis, Domantas Sabonis is of similar pedigree. He brings a new dimension to the NBA game and it starts at the three-point line.
At Gonzaga, Domantas took a total of 15 three-pointers. This season, as the Thunder's starter at the power forward position, he's 15-for-36 on three-pointers this season.
Sabonis is averaging 7.1 points, 3.2 rebounds and 1.5 assists per game in 22.2 minutes per game for Oklahoma City. He is shooting 44.7 percent from the floor and 41.7 percent from the three-point line.
He is seventh among rookies in rebounds per game and has started all 13 games for the Thunder.
Sabonis is still getting used to the speed and physicality of the NBA game. The younger Sabonis is averaging three fouls per game. He's earned five fouls in two games already but has yet to foul out.
As he learns to play physical OKC defense, look for the fouls to go down and the blocks to go up.
1. Dario Saric, Philadelphia 76ers
The Philadelphia 76ers have another rookie on their roster, and no, we're not talking about Joel Embiid or Ben Simmons. Meet big man Dario Saric, who hails from Croatia. After being drafted by the Orlando Magic in 2014, he finally decided to sign with the Sixers.
Saric spent the last two seasons with Anadolu Efes in Turkey. Last season, he averaged 11 points and six rebounds over 37 games while shooting 48 percent from the floor.
Saric is averaging 10.5 points, 6.4 rebounds, and 1.9 assists per game in 26.8 minutes per game for the Sixers. He is shooting 40.3 percent from the floor and 42.5 percent from the three-point arc on the season. He has started 10 games so far, but has proved more valuable off the bench.
In the past three games off the bench, he's averaging 13 points, 6.3 rebounds, and 2.3 assists per game. He's also shooting 45.2 percent from the floor.
He recorded 13 points and 12 rebounds in a 109-102 win over Washington. In the team's third victory, he had 10 points, seven rebounds and five assists.
As the team looks to improve, look for Saric to develop as one of the key rookies to watch.
More from Hoops Habit
This article originally appeared on