NBA 2K17 Overall Ratings: Russell Westbrook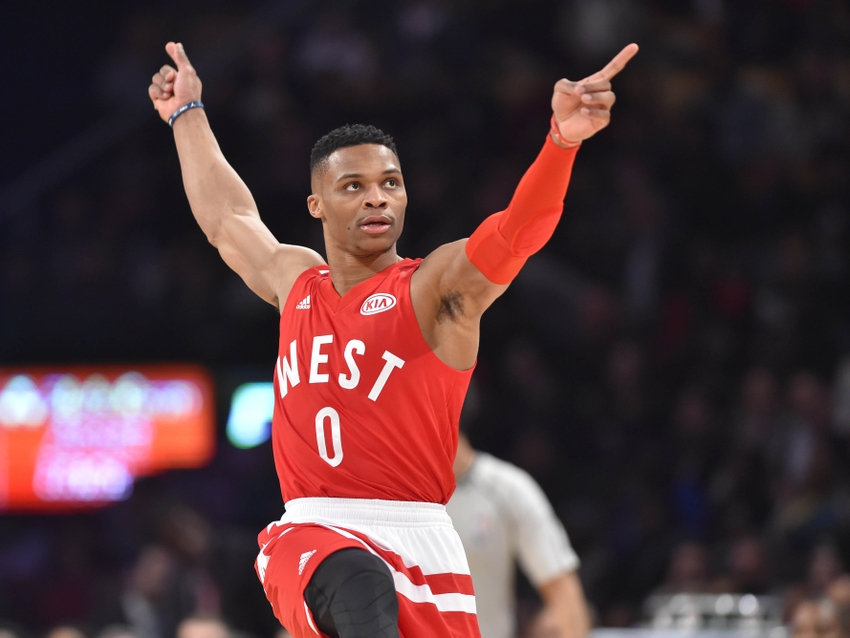 With the highly anticipated NBA 2K17 right around the corner, we got early leaks into some of the top players overall ratings.
To kick things off, Russell Westbrook has an overall rating of 93. Based on the other NBA 2K17 ratings leaks, although not confirmed, Kawhi Leonard and Kevin Durant overall ratings are 93. Steph Curry overall rating is 94 and LeBron James is 96.
The most surprising rating in this group is Kawhi Leonard. While Kawhi is a very good player, nothing screams stand out superstar. Kawhi benefits greatly playing in Gregg Popovich's system with the Spurs. He still has yet to become a consistent scoring off the dribble threat or knock down 3-point shooter. Personally, I don't believe he's worth a 90 plus rating.
More from Thunderous Intentions
Next, Steph Curry is a 94. The reason this is shocking is because Curry is rated higher than Durant. Last year, Curry led the league in player efficiency rating, while Durant was 2nd. Along with this, Curry was the MVP last year. But, is he really better than Kevin Durant? That's something that I can't get behind.
The third biggest shocker is Kevin Durant and Russell Westbrook allegedly having the same 93 overall rating. This past season and off-season there has been a noticeable shift. The once sidekick and to some hindrance to Durant, is finally being viewed as his equal. In some people's eyes, Westbrook is even regarded a little higher than Durant, after Durant signed with the Warriors.
Overall, these ratings mirror pretty closely to the 2017 MVP projections that came out a few weeks ago. Westbrook, Curry, and LeBron are neck-and-neck with one another at the top of the MVP race.
The ratings reflect what we are all expecting this season.
Kawhi officially becoming the main guy in San Antonio.
The continuation of Warriors Dominance.
LeBron James re-establishing himself as the best player in the world.
And the emergence of Russell Westbrook, from Robin to Batman.
This article originally appeared on