NBA 2K17 Edition: Phoenix Suns vs. Philadelphia 76ers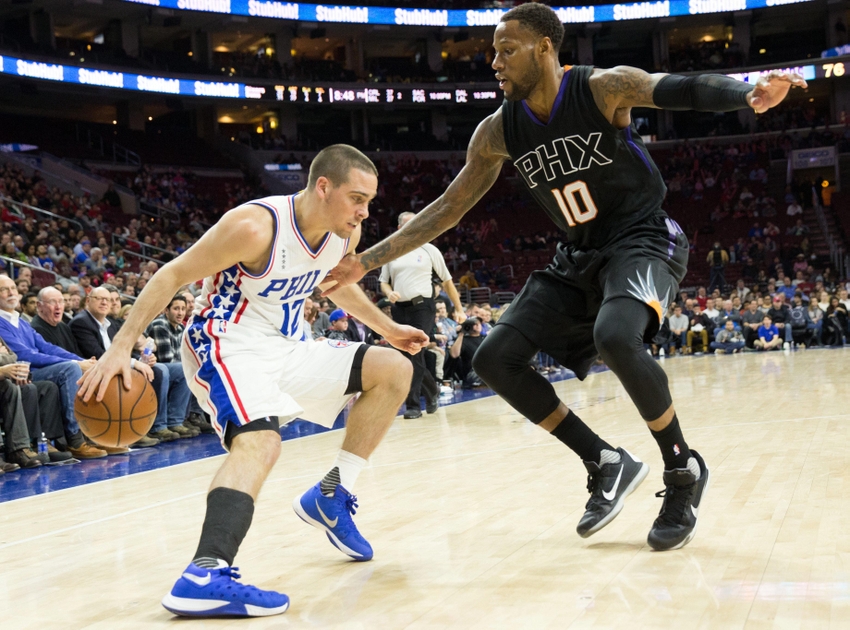 The Phoenix Suns and the Philadelphia 76ers go down to the final minute, in a match up of rebuilding franchises on NBA 2K17.
I was literally standing while playing the last few minutes of this great match up. The contest between the Phoenix Suns and the Philadelphia 76ers is the third installment of my 29 article series. This series covers every opponent that the Sixers will have to match up against this season, on NBA 2K17. There are some ground rules and guidelines that I established in the first article of the series and one rule that was revision in the  second article.
Final Score and Team Comparison
It was a close game with the final score having the Sixers winning 137-130. This simulation was all about offense with both teams making a combined 21 3-pointers. There were multiple lead changes throughout the contest and the biggest lead of 10 points was held by the Sixers.
The Sixers did not lead in the majority of statistical categories at the end of the game. They only led in field goal percentage, free throw making 32/39, 20 fast break points, 72 points in the paint, 45 defensive and 60 total rebounds, and 7 blocks. Despite having a disadvantage in many areas the Sixers were able to win, because of their ability to get to the foul line.
Turnovers where yet again a huge problem for the Sixers. Having 19 turnovers will result in losing the majority of the time. The Sixers also allowed the Suns to make 14 3-pointers while shooting 41 percent on those attempts. The Sixers may be plagued by turnovers again this year as well, because it seems like it is a problem in NBA 2K17 .
Player Of The Game
Jahlil Okafor collected this honor for the third straight game in a row. He ended the game with 22 points, 5 rebounds, 4 assists, 3 steals, 2 blocks, 4 turnovers, and a net score of 11. Okafor had a great defensive game even though his rebounding could have been higher. He also was lights out from the floor shooting 75 percent and making 4 of 5 from the foul line. The four turnovers are concerning, but he was going up against one of the best defensive centers despite his age in Tyson Chandler. The defense is encouraging and might indicate that he might improve on this area this season.
Another player just as deserving if not more is Ben Simmons. The first overall pick had 20 points while collecting, 11 rebounds, 7 assists, 1 block, 2 turnovers, and a net score of 11. He also shot 6-14 from the field, but perfect from the line. This is the normal stat line that fans will want to see on a regular basis, but it is more than likely it might be a while before his scoring will reach this regular high. Honestly, it is a toss up of who deserves this reward with both players having highs and lows.
Notable Players
Joel Embiid stole the spotlight again. He ended the simulation with 18 points, 12 rebounds, 1 assist, 1 steal, 2 blocks, 1 turnover, and a net score of -1. He shot over 50 percent from the floor and 80 percent from the foul line. Joel Embiid's minute restriction really put his upside on hold in NBA 2K17, as well as, real life. There is no doubt that Embiid could have similar production this season, if he stay healthy. Embiid could have been player of the game, if he had played 28-29 minutes that Okafor and Simmons did.
Other players with notable state lines includes the following:
Trends and Game Play
Covington scored the majority of his points in the first half to help the Sixers stay afloat. He was quite dangerous around the rim in this matchup. He could have a new dimension to his game, if this proves to be the case this season. Bayless could put up numbers like this during this season, though it is important to note that he did do the majority of his scoring against the Suns second unit.
Bayless may be best suited for the second unit, if this comes to be true in this up coming season. Henderson had some timely baskets at the end of the game to help the Sixers keep their lead. The shots ended up being mid-range jump shots. There is a good chance that Henderson will do the majority of his damage at mid-range this season.
No In-Editor Preview for 120 Sports Videos
Video Details
ID: 202163798
Source: 120 Sports
Saric did show improvement. He did most of his damage from mid-range and the paint. This stat line would be expected of a European player making the transition to the NBA. Noel played most of his minutes at power forward and had good defensive stats, but he could not defend on the perimeter well.
Noel and Embiid did share the floor during this simulation and if they do during the regular season, then fans should expect Noel stats to mirror these during this season. A trend that is becoming apparent in the game is that Rodriguez might not be one of the top two point guards on the team. He continues to have foul and turnover problems in each contest.
Statistical Highs


Points: Okafor, 22
Rebounds: Embiid, 11
Assist: T.J. McConnell and Simmons, 7
Steals: Okafor and Noel, 3
Blocks: Okafor, Noel, and Embiid, 2
Turnovers: Sergio Rodriguez, Okafor, and Bayless, 4
3-Pointers Made: Covington and Bayless, 2
+/-: Henderson, and McConnell
Surprise Player Of The Game
T.J. McConnell came in when Bayless and Rodriguez were both in foul trouble. McConnell made his biggest impact with 7 assists and no turnovers. He ran the offense perfectly, that is why I ended the game with him and not Bayless. He shoot poorly, but they did not need him for scoring. The Philadelphia 76ers need McConnell to prove he is worth a roster spot in training camp, because they will need a performance like this during the regular season.
Suns Analysis
The Suns would not stop shooting 3-pointers in the simulation and that is to be expected of this years bunch as well. It would not be surprising if first year head coach Earl Watson decides to use both small-ball and tall-ball lineups. NBA 2K17 did not use the tall-ball with the exception of Alex Len and Dragan Bender very briefly. Eric Bledsoe was the leading scoring with 26 points and 13 assists.
Bledsoe starting back court mate was Devin Booker and not Brandon Knight. It will be interesting this season how coach Watson deals with this dilemma. One option is to start all 3 and have Booker play the small forward. This could work for the team since he does have the size for the position. The Suns probably will be a fast pace team and fun to watch, but no threat in the West at the moment. One thing that Phoenix needs to do this season is trade Tyson Chandler to a contender. The team has other veterans to lean on and he deserves to play for a team that's in the playoffs. Having Chandler also clogs the front court rotation for Len and Bender to develop; consequently when he is traded that is when the Suns will see the growth from both players.
The next opponent for the Philadelphia 76ers will be the Miami Heat and stay tuned for more NBA 2K17 updates.
More from The Sixer Sense
This article originally appeared on