NBA 2016-17 Team Preview – Chicago Bulls: Home Town Hero Returns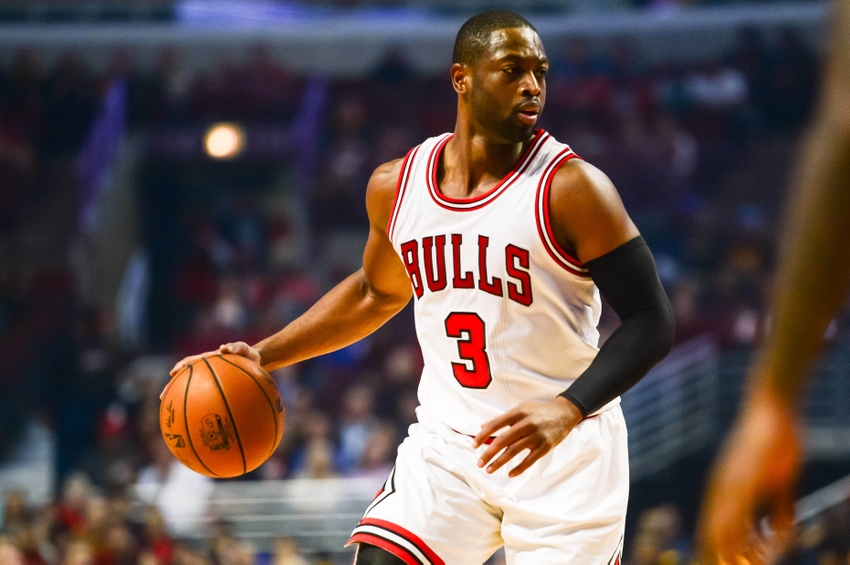 NBA 2016-17 Team Preview – Chicago Bulls
To prepare our readers for the regular season SCS  offers a series entitled NBA 2016-17 Team Preview for each of the Houston Rockets' 29 opponents. Who will return to the playoffs? Which team will fall from grace and who will be the Cinderella team?
Included in each profile:
Where the team finished 2015-16
Key 2015-16 stats
Future draft pick status
Current and future salary rank
Off Season Moves
2017 Free Agents
Schedule, NBA League Pass and Win Projection Ranking
Team Overview entering season (Starting 5, reserves and notable injuries)
When each team will play the Houston Rockets
Strengths, Weaknesses and Prediction
NBA 2016-17 Team Previews now looks at the Central Division Chicago Bulls. With all due respect to Kevin Durant, the true shock of free agency was Dwyane Wade leaving the Heat to return home to Chicago. The newly formed backcourt of Wade and Rajon Rondo has pundits all over the map guessing where this Bulls team could finish.  With that let's look at the team preview.
NBA 2016-17 Team Preview:Chicago Bulls:
2015-16 Record: 42-40
Playoffs:
Finished 9th in Eastern Conference missing the playoffs
Points Per Game: 101.6 (21st )
Opponent Points Per Game:  103.1 (16th)
Pace: 95.7 (15th )
Offensive Rank: 105.0 (23rd)
Defensive Rank:  106.5 (15th)
Three Point Rank:  37.1% (3rd)
Rebounds: 46.3  (3rd)
Assists: 22.8 (12th)
Steals: 6.0 (29th)
Blocks: 5.7 (8th)
Turnovers: 13.9 (13th)
2017 Free Agents
Restricted:
Cristiano Felicio
R.J. Hunter
Unrestricted: 
All free agent updates confirmed via Basketball Reference and Sportrak
Future Draft Picks
Incoming:
2017 first round draft pick from Sacramento
Sacramento's 1st round pick to Chicago (via Cleveland) protected for selections 1-10 in 2017; if this pick falls within its protected range and is therefore not conveyed, then Sacramento will instead convey its 2017 2nd round pick to Chicago protected for selections 56-60 (if this pick falls within its protected range and is therefore not conveyed, then Sacramento's obligation to Chicago will be extinguished) [Cleveland-Sacramento, 6/30/2011; Chicago-Cleveland, 1/7/2014]
2018 second round draft pick from Denver
Outgoing:
2017 second round draft pick to New York
Chicago's 2017 2nd round pick to New York [Chicago-New York, 6/22/2016]
Average Age of Team: 26.1 years (as per Real GM)
Draft Picks
Round 1: Denzel Valentine (14)
Round 2: Paul Zipser (48)
TRADE: Bulls' big move happened Wednesday when they traded Derrick Rose to the Knicks in return for Robin Lopez, Jerian Grant and Jose Calderon.
2016 Free Agents
Unrestricted:
Aaron Brooks
E'Twaun Moore
Moves Made post July 1st:
Incoming:
Exiting:
Vegas over-under for wins: 38.5
Schedule strength:
As ranked by ESPN: 21st with 2.13 extra wins
The Bulls are slotted for the fewest estimated air miles in the league. Also, seven of Chicago's 17 back-to-backs finish at home.
Games versus Rockets:
Friday

February 03 at Toyota Center, in

Houston, TX

at 7PM CT/8PM ET

Friday 

March 10 at United Center, in

Chicago, IL

at 7PM CT/8PM ET
The frontcourt is filled with exciting players who boost the comedy score. Nikola Mirotic and his sweaty beard are good for at least three ridiculous, infuriating pump fakes every game. Bobby Portis is going to be good. Fred Hoiberg has been starting Taj Gibson early in preseason, but Mirotic deserves first crack at that power forward spot; you can't roll out lineups featuring zero guys who shoot 3s. Don't sleep on Portis as a candidate to snag that spot for a stretch.

No one outside Chicago noticed, but Cristiano Felicio emerged late last season as a cinder-block banger with some touch. Can Robin Lopez coax Benny the Bull into a heel turn, forming a tag-team that attacks rival mascots?
Committed Salary
2016: $97,084,493 – 18th ranked
2017: $81,350,472 – 16th ranked
Team Salary Ranking as per Hoops Hype, and team salary overview also via Hoops Hype
Starting 5:
Point Guard: Rajon Rondo – 11.9 points, 11.7 assists, 6.0 rebounds
Shooting Guard:  Dwyane Wade – 19.0 points, 4.6 assists, 4.1 rebounds
Small Forward: Jimmy Butler – 20.9 points, 4.8 assists, 5.3 rebounds
Power Forward: Taj Gibson – 8.6 points, 1.5 assists, 6.9 rebounds
Center:  Robin Lopez – 10.3 points, 1.4 assists, 7.3 rebounds
Reserves:
Guards: Isaiah Canaan, Michael Carter-Williams, Jerian Grant
Wings: Doug McDermott, Denzel Valentine, Paul Zipser
Bigs: Nikola Mirotec, Bobby Portis, Christiano Felicio
Injury News:
Michael Carter-Williams – strained left wrist, will be out 4-6 weeks and targeting December return
All injury news as per rotoworld
Strengths:
Marquette Products: Both Jimmy Butler and Dwyane Wade attended Marquette University and each offers copious assets. There were rumors the 2 didn't like each other, but a call made by Butler to Wade apparently sealed the deal for his return home. How the 2 function will be pivotal to the Bulls outcome this season. That said, Wade remains the best leader in the NBA in being able to adjust his role around other super stars while also getting the most out of youthful prospects. Look for Valentine to bend Wade's ear often for insight on how to escalate his growth.
Wing Depth: Certainly the glut of wings works to lesson the depth at the point and center, but it also allows for numerous wings capable of shooting threes, running the wings and offering various line-ups changes. The challenge for Hoiberg will be getting each of them playing time unless he plans on utilizing copious small ball line-ups. Each year I begin saying the Bulls have too many wings and will trade one to foster their point and center. Yet each year the Bulls don't make the trade. Could this be the season that changes?
Carrying over defense and rebounding: This is a precarious choice given the Bulls need to replicate their defense and rebounding from last season all while the teams focus is on offense.
Weaknesses:
Leadership uncertainty: How will Butler meld to working with Rondo and Wade? Last season Butler and Derrick Rose never found a working rhythm and were minus -104 in their minutes spent together on court or minus -3.9 net rating. Conversely, when Butler was on the floor alone he had a plus +4.5 net rating where as Rose was a minus -4.7. I'm on record as saying Dwyane Wade is the best leader in the NBA, so Butler's best bet would be to utilize that expertise, but will his ego get in the way.
Wing heavy: Once again the Bulls enter the season with a lack of depth at the point and center and a plethora of wings. Though the small forward has become arguably the most important position in the Association not having enough depth at the top and bottom of the roster line-ups could be their undoing.
Defense: With the loss of Joakim Noah the Bulls not only have to replace his energy an leadership but his anchoring of the defense. With Coach Hoiberg intent on pushing pace and utilizing a roster who doesn't necessarily provide the elements for his style the area most likely affected will be the defensive end of the floor.
More from Space City Scoop
Prediction:
I'm of a different mindset than most the pundits. Fred Hoiberg's desire to run with pace, space the court and shoot multiple threes doesn't necessarily translate to his roster options. I'm not convinced Rondo still has the chops to be a top defender. I point you to his league high assists on a Kings team who only managed to translate that into 33 wins. Further Wade's health is always an issue. Factor in Jimmy Butler's reported ego and I wonder how this is all going to work out.
Best Case: Wade stays healthy, Hoiberg figures out a way to marry the vets with the youth and the Bulls achieve a home court seed.
Worst Case: Wade and others get injured, Hoiberg isn't able to bring his high paced offense to the court and gets fired. Worst Rondo's penchant for being a locker room cancer combined with the power struggles of Butler result in major chemistry issues.
Personally I'm not buying how the Bulls can maintain any sense of defense with a coach and team bent on focusing on offense. As much as I'm a huge Wade fan with Butler intent on taking the leadership reigns will that offset Wade's value?  Sure they've gotten out of the gate well and have a great team roster should they make it to the slower paced  half court focused playoffs but I'm convinced they replicate last seasons ninth place finish.
Want your voice heard? Join the Space City Scoop team!
Make sure to check out our entire NBA preview series.
This article originally appeared on