NBA 2016-17 forecast: Northwest Division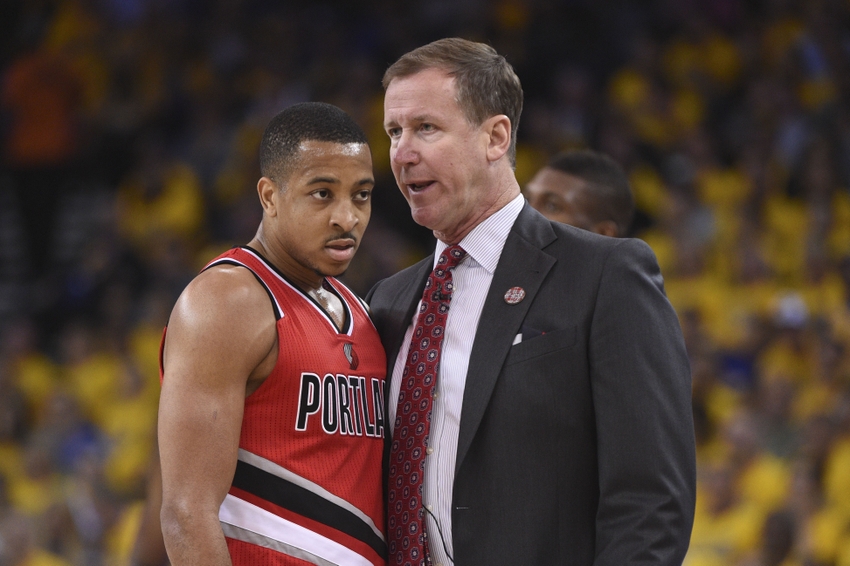 We are going Division by Division through the NBA, providing a 2016-17 forecast on each. Let's consider the Northwest.
The NBA season approaches ever more quickly. As we complete our examination of the Western Conference, we'll examine some serious upstart teams in the Northwest. This Division isn't filled with glamour teams, but there aren't any weak ones either.
More from Raptors Rapture
As always, we'll begin with the worst and finish with the best.
DENVER NUGGETS
Last season: 33 – 49
This season: 38 – 44
I struggled with this team before settling on a record showing mild improvement. There's a lot to like about the youthful Nuggets. They have a couple of European centres, Nikola Jokic and Josef Nurkic, who both look like they can play and then some. Will Barton emerged from obscurity last season to become a Sixth Man of the Year candidate. He can shoot the lights out.
They would be easier to take seriously if Danilo Gallinari could ever come close to playing 82 games, or if Kenneth Faried rediscovered his early-years magic. I have no idea what to expect from guard Emmanuel Mudiay, for whom the Nuggets have high hopes. If Jameer Nelson plays a lot of minutes early, they are in trouble.
I like where this team is headed, but they won't arrive this year, unless Canada's Jamal Murray is a Rookie of the Year candidate – and he might be.
OKLAHOMA CITY THUNDER
Last season: 55 -27
This season: 41 – 41
Russell Westbrook is staying on the prairies. If there's other good news, I've missed it, or it doesn't matter.
Kevin Durant left OKC for Golden State, which leaves Russ as the only young gun left. Remember when those two and James Harden were about to rule the world?
Serge Ibaka was moved to Orlando, and Victor Oladipo came the other way.  A backcourt of Westbrook and Oladipo has serious potential, but they could clash as well. There's only one ball.
Steven Adams gives them some inside muscle, and he can score a little. But too many elements of the roster look old (Nick Collison, Nazr Mohammed) or inexperienced (Josh Huestis, Semaj Christon). I don't think they will coalesce in time to grab a playoff spot.
MINNESOTA TIMBERWOLVES
Last season: 29 – 53
This season: 42 – 40
Their future's so bright, they need to wear shades. The last two winners of the Rookie of the Year award are T'Wolves, and Andrew Wiggins and Karl-Anthony Towns weren't flukes. The upside for swingman Wiggins and centre/forward Towns is almost frightening.
They have some help this year. Ricky Rubio is like Jason Kidd used to be, a gifted point guard who's a poor shooter. Regardless, Rubio is a superb passer and defender whom they would be foolish to dump. He'll need to hurry to impress the T'Wolves hard-to-please new coach, Tom Thibodeau. Otherwise, team President Thibodeau might trade Ricky and promote Tyus Jones or rookie Kris Dunn.
Gorgui Dieng is another gifted young T'Wolf up front. If he develops into a top-rank rim protector, scoring on this bunch will be a challenge. They have veterans to lean on, like Tayshaun Prince and (maybe) Kevin Garnett.
I'm calling for a 13-game improvement, and perhaps a playoff berth. After a mind-bending 12 years without post-season play, the fans of Minnesota might have something to cheer about.
 UTAH JAZZ
Last season: 40 -42
This season: 44 – 38
Sometimes you knock at the door, and it takes a little while to open. The rebuilding, or perhaps rebuilt, Jazz have been just outside the playoff picture the past 3 seasons. I think they are in the postseason this time.
Utah has a compelling mix of youth and veterans. In the latter camp is the versatile Gordon Hayward, as consistent as they come. Joe Johnson has moved to Salt Lake City, as has Boris Diaw. Both of them can still contribute. I'm not a George Hill fan, but he has some value as a play-within-his-limits point guard.
The kids are led by the Stifle Tower, Rudy Gobert, who's a major force in the paint. Rodney Hood and Derrick Favors will make their presence felt. Dante Exum might be ready. The biggest X-factor of them all is power forward Trey Lyles. If he steps up, this team's depth will be hard to match.
There's enough proven firepower combined with quick and aggressive defense to convince me this year's Jazz is ready.
PORTLAND TRAIL BLAZERS
Last season: 44 – 38
This season: 45 – 37
Portland might have enjoyed the most pleasantly surprising season of any NBA team last season. They were expected to crash and burn after losing most of their starters in the off-season. Led by Most Improved Player winner C.J. McCollum, they did no such thing.
They will hold their ground this year. Their backcourt of McCollum and Damian Lillard can shoot the lights out. The Blazers will never be too far behind in any game.
Allen Crabbe emerged from obscurity to display some shot-making as well. We'll see if he was a fluke.
Their front court is crowded with decent but not great contributors like Al-Farouq Aminu, Festus Ezeli, Ed Davis and Meyers Leonard. While those names don't pop out at you, their cumulative value is considerable.
Terry Stotts is a proven coach, and will get the most out of his deep group.
Limit the opponents' scoring opportunities, and get the ball to the gunners. You can win like that.
Coming soon: The Eastern Conference forecast
This article originally appeared on