NBA: 10 Early-Season Storylines T Keep An Eye On
One of the cardinal sins of NBA analysis is making too much of a small sample size. Still, early results are often red flags for something bigger and tangible.
Every season, a handful of players jump quick out of the gates only to peter out in the later weeks and months of the regular season.
The first couple of weeks of the season produces noisy results. It's easy to lose the forest for the trees when a bad team wins its first three games or a player scores 40 points on opening night. Perspective is key when discussing early season trends.
With roughly two weeks of the NBA season in the books, we consider which early-season trends are a bunch of hot air and which are here to stay.
*All statistics and records discussed here are current to November 5, 2016
1. Russell Westbrook is almost averaging a triple-double!
That's right! The most popular hot take of the entire offseason has come to fruition. With Kevin Durant moving on to more golden pastures, many boldly claimed Russell Westbrook would become just the second player ever to average a triple double over an entire season.
Westbrook has not disappointed, currently averaging an impossible 33.1 points, 9.7 assists, and 9.0 rebounds per game. The number that really jumps here is the rebounds. Westbrook is pulling down a full rebound per game more than Steven Adams, the team's starting center.
A guard, even one as explosive as Westbrook, won't average double-digit rebounds over an entire season. Centers and power forwards are able to net so many boards in part because they are already stationed in the paint. When Westbrook skies for rebounds, he darts from the perimeter and leaps over big men with a full head of steam. Westbrook's total workload is so intense that he would be smart to dial these moves back some. His energy would be better spent elsewhere.
Though, Westbrook has never been one to dial back his athleticism. For better or worse, Westbrook will more often than not crash into the paint for contested boards. It's just in his nature. Even so, house money is on Westbrook falling short on the triple double. Yet, there is a more interesting, yet less publicized feat which he is in line to compete for with his former backcourt mate…
2. James Harden is trying to lead the league in scoring AND assists!
While Westbrook has to this point been the more electrifying scorer, Harden has been more successful in finding looks for his teammates. Harden was my preseason pick to lead the league in assists, and he has done just that through five games. Harden is averaging a cool 12.3 assists per game while also scoring 31.5 points. These marks would have both been good enough for tops in the league last season.
Just as Oscar Robinson remains as the only player to average a triple double for a whole season, Nate Archibald's 1973 campaign has stood the test of time as the only instance of a player leading the league in scoring and assists per game. This one is right up Harden's and Westbrook's alley. The two both possess dynamic offensive talent which opens the floor for their teammates, to whom they have delivered the ball to at an elite clip for years.
The big difference this year has been pure reps. Westbrook brings the ball up court every possession. The offense seems to run through him and him alone. He currently has a usage rate of over 44 percent, which is basically a cute way of saying that over 44 percent of the time, Westbrook has the ball. Nobody has ever had that kind of offensive workload. Ever.
In the whole history of the league. And it's not even particularly close. He is bound to collect gaudy offensive stats. Harden's offensive responsibility has been equally ridiculous to this point. Both stand a good chance at entering Nate Archibald's rarefied air.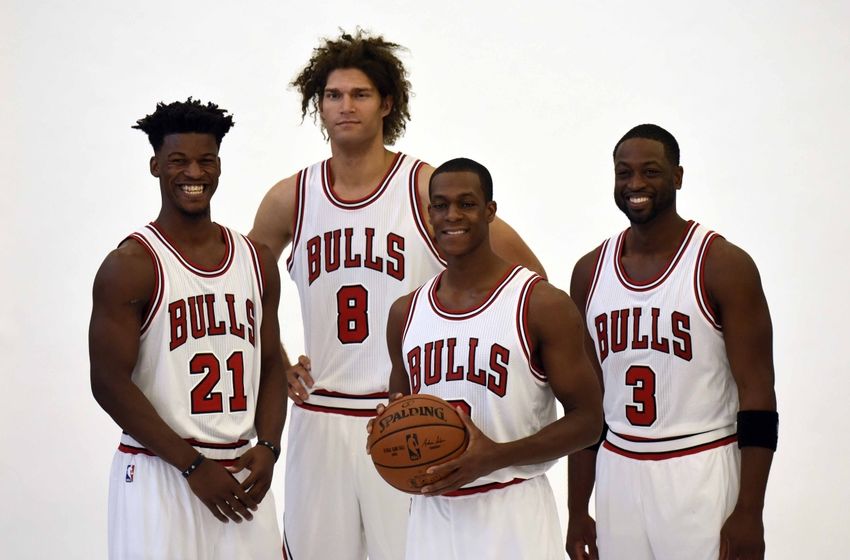 3. The Bulls are a top Eastern Conference team!
The ultimate example of a small sample size clouding what a team actually is. I'm still skeptical, but maybe the Bulls will have a successful season. Dwyane Wade comes from a very successful pedigree and the combined talents of him and Jimmy Butler will just flat-out overwhelm some teams when they're both on.
I have my doubts, but it's not outside the realm of possibility. The confusion does not arise from the team's success in general, but rather how they've been able to manufacture wins.
The prospect of a Wade-Rajon Rondo backcourt raised eyebrows around the league this offseason. Two ball-dominant guards with broken three point shots now had to share the ball with each other. Somehow, this team has been one of the best offenses in the league and is shooting the cover off the ball. Wade, a career 29 percent (!!) three-point marksman, is shooting a blistering 48 percent from the arc thus far.
Almost as crazy, Butler, has shot 48 percent from long range thus far. If the Bulls finish near the top of the Eastern Conference this season, it won't be because Dwyane Wade suddenly became Steve Kerr in season 13. The body of work of these players is just too strong. Expect the law of averages to correct this one.
4. DeMar DeRozan is an MVP candidate!
Another story which was hard to see coming. The Raptors stumbled through two and a half rounds of Playoff basketball last season, in large part due to DeMar DeRozan's untimely struggles. DeRozan shot under 40 percent from the field for the entire postseason. Not a good look. And not a particularly reassuring indicator of what to expect from the All-Star going forward.
Yet, DeRozan has managed to bury these skeletons along with practically every shot he has put up this season. The Raptors guard leads the league at an astonishing 35.8 points per game with incredible efficiency. In fact, DeRozan has yet to have an outing of less than 30 points through five games.
Toronto as a team has essentially matched this level of success, winning out excluding a tightly-fought contest with the undefeated Cleveland Cavaliers (more on them later). History has shown that if you want to win the MVP, your team better be contending for the title.
Even if the Raptors can't beat Cleveland, they've got a great chance of returning to the Eastern Conference Finals. If you're making back-to-back trips to the Conference Finals, you're a contender. Time will tell if DeRozan can sustain something close to his current form.
5. The Timberwolves are outside the West Playoff Picture!
The Timberwolves currently sit near the bottom rung of the Western Conference at 1-4. The team had tough early road losses to the Kings and Grizzlies before losing to the Nuggets at home in the final seconds. It's worrying that the Wolves have dropped three games to beatable teams, but the record is misleading.
Minnesota ranks comfortably as a top-10 defense. They've been scoring at about a league average rate, but have been playing at a snail's pace. Only the Utah Jazz have hoisted up less shots than the Wolves. This much was to be expected. Tom Thibodeau has never been one to break new Earth on offense.
Karl-Anthony Towns is averaging close to a double-double. Wiggins has been great, hovering around 24 points a game. Zach LaVine has been a delightful surprise, averaging over 20 points per contest as his usual athletic self. The young guns are not the problem here. Rather, it's the teammates around them. With Ricky Rubio injured, the Wolves' bench units are getting blasted. Once everyone gets healthy and comfortable in Thibodaeu's smothering defensive schemes, the wins will come.
6. The Nets aren't the Worst Team in the League!
This one may be a little more anecdotal than factual. The Nets looked like a sure thing for one of the worst records in the league heading into this season. Lopez has looked great so far during his annual 10 games before a season-ending injury.
Jeremy Lin had been averaging career highs in points, rebounds and assists before going down for the foreseeable future with a hamstring injury. Brooklyn has wins against the Pacers and Pistons, to probable playoff teams, to its name.
Brooklyn will get a couple wins here and there, especially while many teams use the early weeks of this season to flush out an identity. Some teams with a worse or equal record than the Brooklyn Nets: the Knicks, the Mavericks, the Timberwolves, the Kings and Suns – all teams with either brand new rosters or incredibly challenging early schedules. Once the dust settles, Brooklyn should begin to show their true colors.
7. Julius Randle is the Lakers' best player!
Randle has been a force in the first handful of games for the Lakers. Many expected this to be the year D'Angelo Russell would assume control of the franchise, now free from the shackles of Byron Scott.
Russell showed flashes of elite pick-and-roll play last season, but has struggled early this year with his shot. You could make reasonable arguments that he or Jordan Clarkson have been more important to the team's success. Clarkson does well to get into the lane but continues to struggle with thinking on the fly.
The point guard tends to get tunnel vision when penetrating, not focusing on how he is bending the opposing defense in the process.
On the other hand, this has perhaps been Julius Randle's greatest skill so far this season. Randle has effectively found teammates on cuts and pin-down shots while operating in the high post. His vision thus far has been reminiscent of a young Blake Griffin.
Additionally, Randle has had a great touch around the rim thus far, shooting over 60 percent from the field through five games. These are all great signs for a player who has struggled to find an NBA footing after breaking his leg only minutes into his rookie campaign. Should he stay healthy, expect huge growth from Randle this season.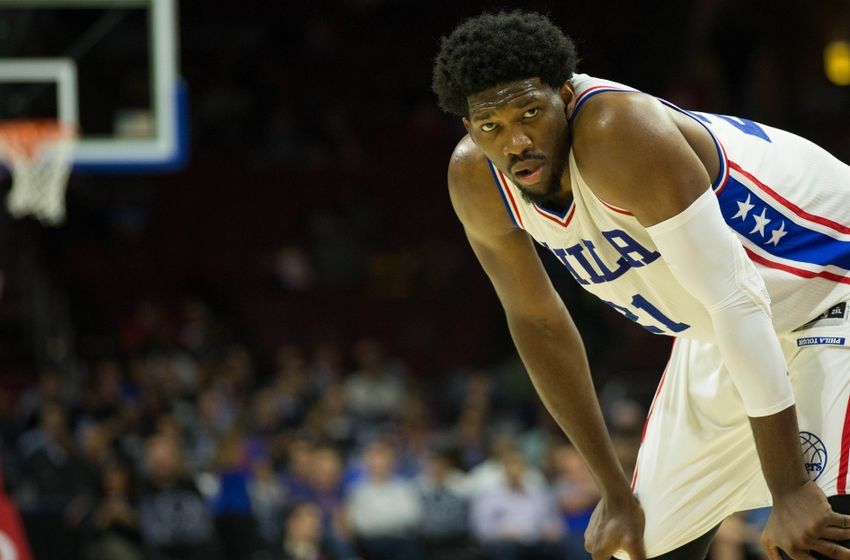 8. Joel Embiid is the Rookie of the Year favorite!
After two long years of injuries and rehab, Embiid is finally more than a Twitter handle for Sixers fans. The social media guru has been excellent in his infant NBA action – knocking down threes and flat-out bullying NBA centers in the post.
Embiid's offensive versatility and polish have been amazing for a player lacking any professional experience. His defensive presence has also been noteworthy. Embiid currently ranks second in the NBA with 3.0 blocks per game. Embiid was to sure to affect opponents on the drive just by his sheer colossal frame. Yet, it has been his quick recoveries and agility on switches that has allowed Embiid to cover ground and contest shots.
The most surprising part of Joel Embiid's early success has been his unexpected workload. Sixers coach Brett Brown has been vocal about keeping Embiid on a strict minutes limit for the majority of this season. So far, Embiid has averaged about 20 minutes per game, well in line with the organization's expectations. However, the Sixers have been sure to get their money's worth when the center does see the court. Embiid is second in the entire league in usage rate, trailing only the aforementioned Russell Westbrook. Joel Embiid uses an incredible 37 percent of Sixers' possessions while he's playing. This is totally uncharted territory for a rookie.
There were two big arguments against Joel Embiid winning Rookie of the Year coming into this season. One: he and teammate Ben Simmons would split votes. And two: his minutes limit would prevent him from accumulating the raw stats necessary to take home the trophy. Simmons won't play until at least 2017 with a broken foot.
Also, Embiid has the ball so much on offense when he plays that he has still managed to score 18.5 points in his short work. That's nearly one point every minute! No other rookie has come close to challenging Embiid's production thus far. The award is his to lose.
9. The Orlando Magic have too many big men!
An obvious one, but at least now there's actual proof. This Orlando Magic team is assembled like a fantasy team desperately trying to win the weekly rebounds category. They are one persuasive phone call away from starting a center at point guard.
The Serge Ibaka trade was a strange one. The Magic parted ways with arguably their best player in Victor Oladipo and threw in a lottery pick for good measure to rent Ibaka for one year. The Bismack Biyombo signing was a classic example of a team overpaying a player for one good playoff performance. Nikola Vucevic, last year's starting center, fits in awkwardly with these acquisitions as a ball dominant, back to the basket center.
Aaron Gordon, the Magic's centerpiece of the future, has been shoved into the small forward spot with the new frontcourt log jam.
None of this makes sense. Gordon has grown into the perfect candidate for small-ball power forward, yet the Magic can't find minutes for him there with a team full of power forwards and centers. New coach Frank Vogel was expected to turn the Magic into a defensive juggernaut this season with his new defensive-minded toys, but no one consistently sees the court enough to build continuity for his system.
Orlando should be proactive in moving one of their excess big men and not risk stunting Aaron Gordon's growth.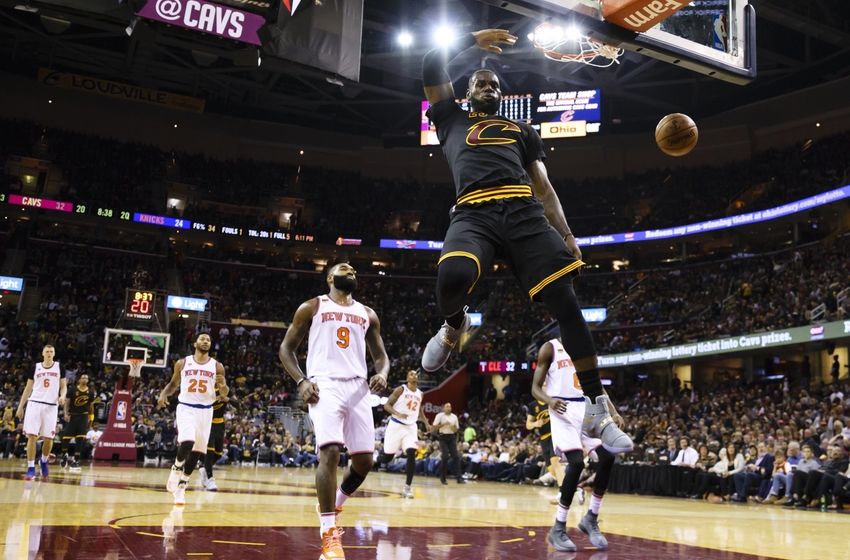 10. The Cleveland Cavaliers are the best team in the NBA!
The incumbent NBA Champions are playing like the incumbent champions. This should come as a surprise to no one. Yet, with all the buzz around Golden State's new super team this summer, many lost sight of Cleveland's excellence. This is year three of the Cleveland project, and the team appears to be clicking on all cylinders from a chemistry standpoint.
The more this teams plays, the more reminiscent they become of the 2012-13 Miami Heat. That Heat team was also in year three of a well-documented LeBron James acquisition as well as the returning champions.
More from Sir Charles In Charge
This was the year everything clicked for the Heat. They fully embraced their identity. Wade was the slash-and-kick secondary ball handler. Bosh spaced the floor as a three-point threat and defended the rim. LeBron played a ton of minutes at power forward and hunted down efficient looks for himself and his teammates. That team fully realized their potential.
This rendition of the Heatles finished the regular season 66-16, ripping of a memorable 27-game win streak in the process.
Fast forward four years and another LeBron James experiment is finally being unveiled to the world. It took three full years for the Miami Heat to realize who they were. Cleveland now plays with that same level of cohesion that makes you think, "I get it now. This was the plan all along." This team was designed to grandfather LeBron James into a new chapter of his career. However, the mistake people have made is assuming this LeBron would be any less dominant.
LeBron James is the Cavalier's third leading scorer, behind Kyrie Irving's 26 points and Kevin Love's 22. Putting two elite scorers, especially one as individually dynamic as Irving, around LeBron gives him the liberty to focus on the auxiliary skills which have made him such a terror for the last decade.
For all the headlines Westbrook has stolen, LeBron is averaging 22.8 points, 10 assists, and 9 rebounds on the season. With his reduced scoring load, he may finally have the freedom to average a triple double. In his 13th season! Though even if he doesn't, that is the model for this Cleveland team. After three years, that much is clear now. Miami went on to win the title in year three. The Cleveland Cavaliers are well on their way to repeating that history.
This article originally appeared on