Myles Turner Thrives as the Indiana Pacers Last Line of Defense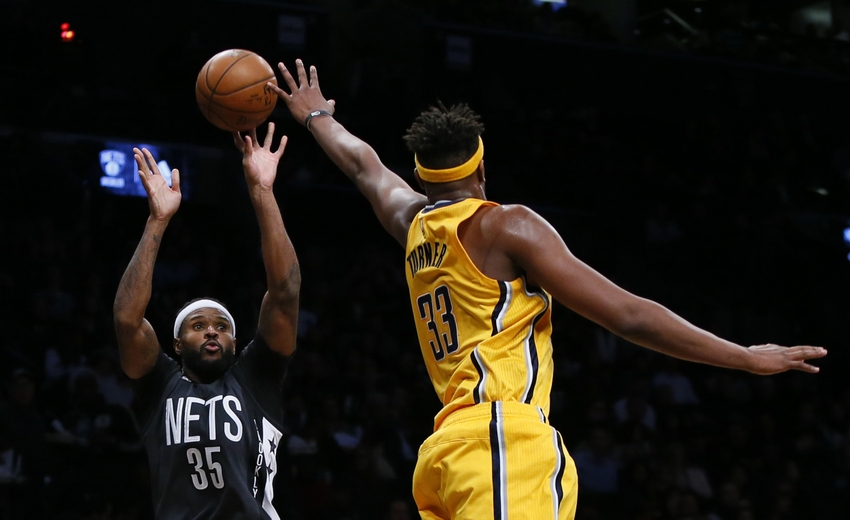 Despite being called into action more often than most, Myles Turner is already defending the rim at a high level for the Indiana Pacers.
Few teams allow more shots at the rim than the Indiana Pacers, but few teams have someone like Myles Turner protecting the rim.
Despite facing the third most shots at the rim than anyone else in the NBA, opponents shoot 49.6% at the rim, putting him in similar territory as Tristan Thompson, Robin Lopez, and Gorgui Dieng. While some of the NBA's elite rim protectors (Hassan Whiteside, Rudy Gobert, and Joel Embiid) still rank ahead of him, he's currently in good company.
For fans of the Myles High Club, there is no surprise in the fact he's fourth in this group of top rim-defenders he ranks fifth with 2.4 blocks a game. He could work on his rebounding, but so far he's doing his main job — protecting the rim — at a high level.
Turner's post-up and pick and roll defense is still a work in progress, but once opponents get to the rim it isn't as easy as they'd expect to finish the play off with points.
On top of these obvious benefits, there is an intimidation factor that Turner is bringing to the Pacers' defense, at least at the rim. When opponents see Turner continue to absolutely destroy some shot attempts, they begin to think twice.
According to the data from NBA.com, the Pacers opponents' starters average two fewer drives against the Pacers and two fewer points. Teams also pass the ball more against Indiana on drives
Those aren't huge numbers, but that's still a solid indication that Turner has an effect on how opponents approach Indiana's defense. Perhaps if the Pacers' defense as a whole had fewer issues Turner's effect on the game would be more readily apparent.
Turner is only 20-years old, and still a work in progress, but he's already got one skill he can perform at a high-level on defense. If he can add a few more tools in his tool box on defense, he can become a high-level defender — not just a rim defender and shot blocker.
More from 8 Points, 9 Seconds
This article originally appeared on