Myles Turner is the Future of the Indiana Pacers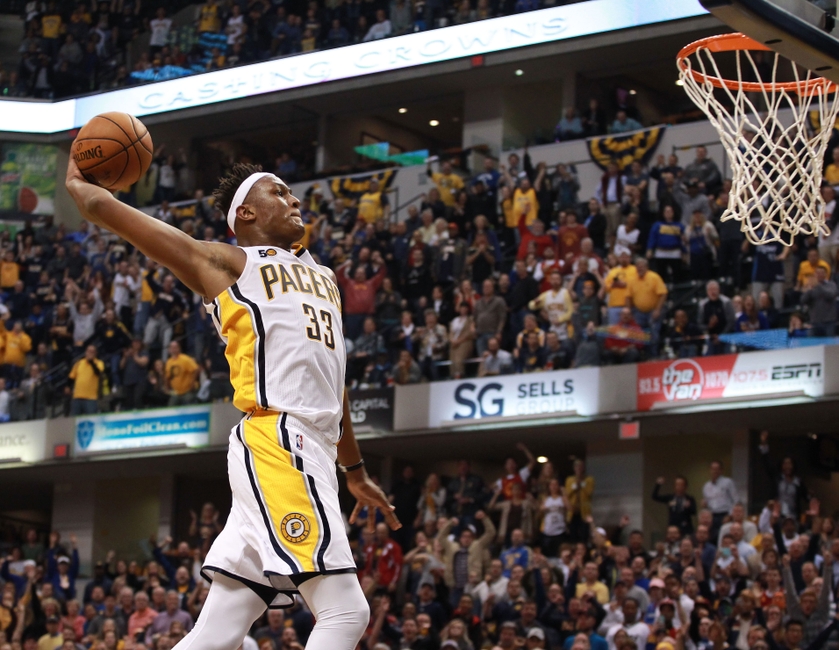 Will Myles Turner take a leap forward this season? The Indiana Pacers certainly hope so.
A year ago, one of the biggest questions about Myles Turner was whether he could even run properly.
Now the question is if he has what it takes to be a cornerstone for the Indiana Pacers' future.
He answered that first question last season, but the answer to the second one plays a very big part in what the team can do going forward.
In Indiana's season opener, he might have given us an answer.
His 30 point, 16 rebound, 4 block performance was arguably the best game of his young career as he only had 20+ points or double-digit rebounds in a handful of games in his rookie season.
So far, through three games, he's averaging 21 points a game, scoring no fewer than 13 points in these 3 games. He's averaging 10.3 rebounds and 3.3 blocks while defending the rim at an elite level.
He has the shooting range to expose big, immobile centers who try to guard him, especially once he starts knocking down 3-pointers consistently. He can feast on smaller bigs in the paint, showing more physicality than he did a season ago and he can learn from Al Jefferson as a mentor while he further develops his post game.
He shouldn't be expected to suddenly put up monster lines night in and night out, but he has raised expectations for what he can do.
And by doing that, he is raising expectations for what the Pacers can do.
The Pacers have players who can contribute both as starters and off the bench, but we know the limits of players like Monta Ellis, Al Jefferson, and the rest of Indiana's roster outside of Paul George.
But Myles is a player with an unknown ceiling. We know he can go off like he did against Dallas, but we don't know how often or how consistently that can happen. We know he's going to take a jump forward this season, but the question is still how far.
And the answer to that question will tell us a lot about the Pacers' future. If they now have a player who can grow into something similar to a DeMarcus Cousins, Chris Bosh, or something even greater, then Indiana's future looks incredibly bright. If Turner is liable to go off for 20 points and 10 rebounds on any given night, then the Pacers have another star on their hands.
More from 8 Points, 9 Seconds
And that means a lot for the star they already have, Paul George.
PG needs a running mate. Someone who can swing games on a regular basis like he can. Turner doesn't have to become a top 10 player to do that, but George needs to know he's got someone who can carry the weight on nights that he can't. That's what can keep PG in Indiana for his next contract.
George is going to get paid handsomely when he signs his next deal. The question is whether that contract will be with Indiana or not. He could have left a few seasons ago, but he stuck around because he was on a team that had a chance to make the NBA Finals (and for the extra money only Indiana could offer). A lot has changed for the Pacers since then, but I imagine PG's priorities have not. LeBron James is still in Paul George's path. PG needs Myles Turner to step up in the same way Kyrie Irving is the right-hand man of James if they want to get past the Cleveland Cavaliers.
If George does end up leaving, Turner's growth is even more important for the Pacers' future. They'll need a star to build around if George leaves, and Myles becoming a top-flight center is where Indiana has their hopes right now.
After three games, that's looking like a good bet for the Pacers. But it is only three games. He still needs to work on his pick and roll defense, but that isn't impossible to fix. If Turner can keep this up, however, then the Pacers' future is much, much getting brighter.
The question about his ability to run properly will become a distant memory. In its place will be this question: How many All-Star Games will Myles Turner play in?
This article originally appeared on