Mychal Thompson savors success of sons with Warriors, Dodgers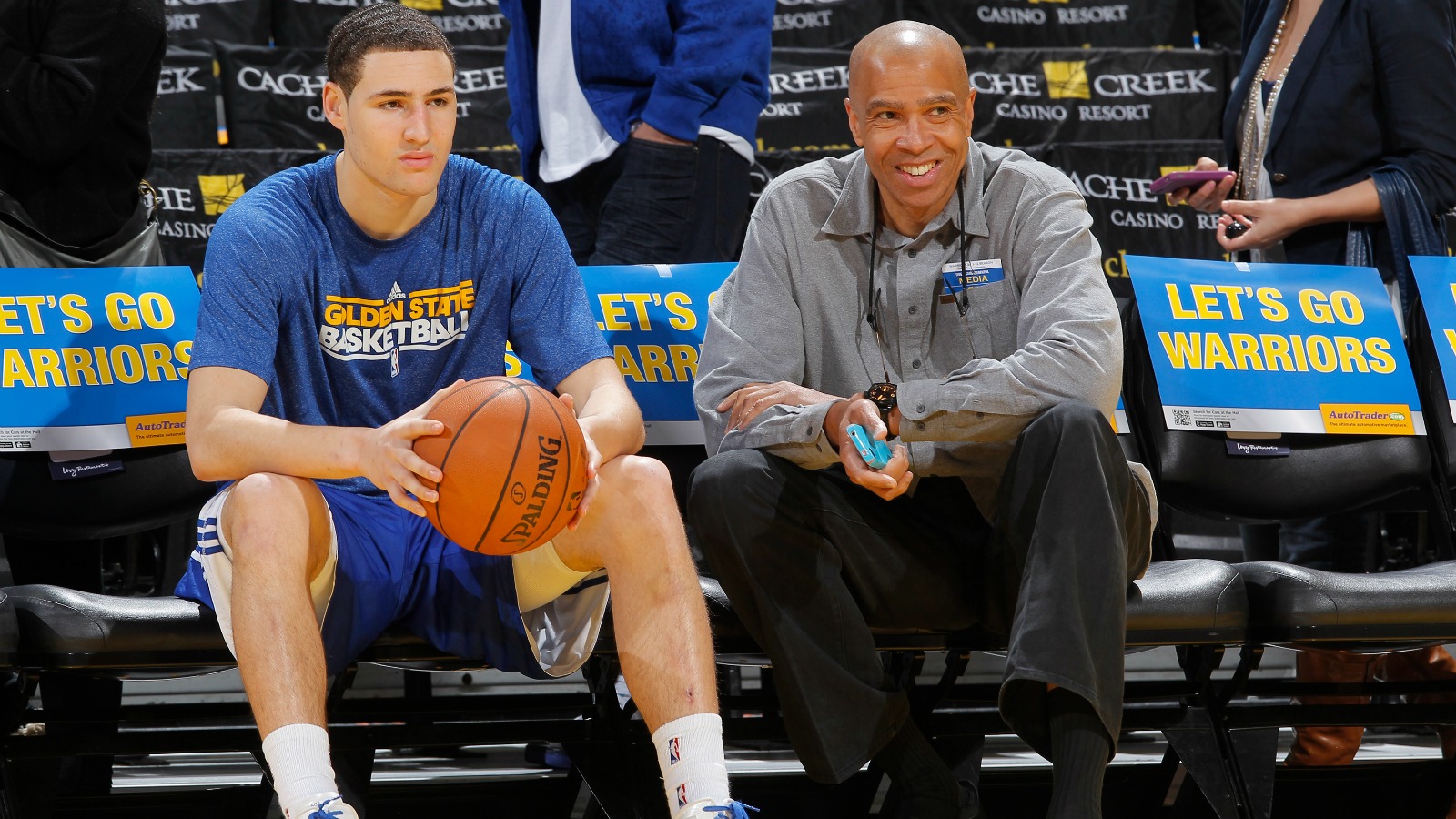 You don't have to be the father of an athlete to revel in your kids' accomplishments, but when it comes to dads in sports, there's no one prouder these days than Mychal Thompson.
A longtime NBA big man, Thompson spent eight seasons with the Portland Trail Blazers in the 1980s and won two championships during his five years with the Los Angeles Lakers. He's also the father of Golden State Warriors shooting guard Klay Thompson and Los Angeles Dodgers outfielder Trayce Thompson.
And while it's Klay who generally grabs the headlines as one of the NBA's sharpest shooters on one of history's greatest teams, it's Trayce who's stolen the spotlight in recent days, with three home runs in his last five games, including a pinch-hit, walk-off homer against the New York Mets on Tuesday.
"It's great if you're a parent and you see your child realizing their dreams, no matter what their profession is," Mychal Thompson told FOX Sports in a phone interview Wednesday. "The difference with me is that watching my kids pursue their dreams and achieve their goals is a public setting because they have very public jobs. But I'm no different than any parent who has a child who is able to obtain or reach their goals. Any parent can understand how I feel."
It's great if you're a parent and you see your child realizing their dreams, no matter what their profession is.
Mychal Thompson
Now an LA-area radio host and Lakers radio analyst, Thompson said he makes it to about 90 percent of Trayce's home games at Dodger Stadium. It's one of the benefits of the three-team deal in December that sent Trayce to LA while his old team, the Chicago White Sox, acquired All-Star third baseman Todd Frazier from the Cincinnati Reds.
Thompson was there Monday for Trayce's fourth-inning blast off Mets starter Steven Matz but missed the game-winner Tuesday. As a result, he had to settle for digitally congratulating his son after the game rather than doing so in person, and Thompson said the response was typical of Trayce's personality.
"I texted him after the game and said, 'So how did that feel?' and he just said, 'Neat,' " Thompson said with a laugh. "Trayce is very understated, keeps everything in perspective, doesn't get too high or too down, because he knows baseball is such a tough sport. You revel in the moment, but you've got to quickly put it aside and start thinking about the next one."
Trayce is hitting .277 in 65 at-bats for the Dodgers, who entered play Wednesday at 17-16. Most of that damage has come over his last 11 games (including eight starts), a 33-at bat span that has seen the 25-year-old hit .303 with all four of his 2016 homers and nine of his 12 RBIs. That recent success, according to his dad, is simply a matter of finally adjusting to his new surroundings.
"That's baseball and learning the league — and obviously being in the American League is a bit different than being in the National League," Thompson said. "So it's learning the National League pitchers and learning the way the game is played over here in this league and feeling more comfortable and confident in the box. This just comes with repetition and getting opportunities."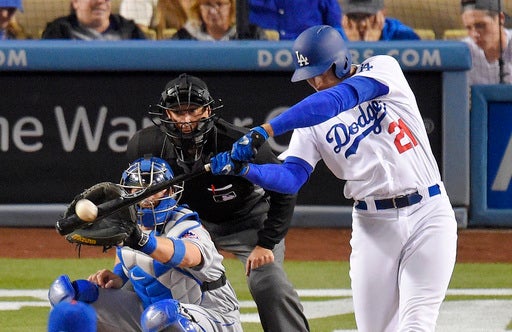 Klay, meanwhile, has looked more than comfortable in the NBA since the Warriors took him 11th overall out of Washington State in the 2011 draft — earning an All-Star selection each of the past two seasons and seemingly getting better with each passing year.
The other half of Golden State's "Splash Brothers" duo along with two-time MVP Stephen Curry, Thompson has made 42 percent of his career 3-pointers and averaged 22.1 points per game this season. In Curry's absence during the first three games of the Warriors' current playoff series with Portland, Thompson thrived, scoring 33 points per game on 45.9 percent shooting from 3-point range.
"Klay embraces the challenge," Thompson said of his son. "He understood that the had a much larger role to play in Steph's absence — the whole team did. Everybody had to step up and do 10 to 20 percent more than they usually do, and he relishes that challenge. He doesn't shy away from that at all. That's what all the great ones do, all the competitors do."
With a win Wednesday, Golden State will advance to the Western Conference finals against either San Antonio or Oklahoma City. There are some who are already scheduling the Warriors' coronation as back-to-back NBA champs, but Thompson said he's cautioned his son against getting too confident. And Thompson should know — his two championships came in back-to-back years, 1987 and 1988, as well.
"It's much tougher because now you have a target on your back, and you've got to stay more focused than ever," Thompson said, recalling his advice for Klay. "But when that happens, at least you have some experience now in what it takes to be a champion, and that helps you toward that second championship. Now you know what it takes, you've been through it, and as long as they don't lose focus and you stay healthy, they should be able to do it again."
We're really blessed, and that's why I tell my boys to be thankful for every moment.
Mychael Thompson
In addition to Klay and Trayce, Mychal's oldest son, Mychel, is also an athlete. The former Pepperdine standout appeared in five games for the Cleveland Cavaliers in 2012 and most recently played for the Santa Cruz Warriors of the NBA D-League. Mychal said the hope is that his son will be able to break camp with an NBA team next fall.
"Mychel is a player who is being very overlooked by NBA scouts," Thompson said. "He's a 6-foot-7 combo player that could definitely play in this league. … He knows that he's good enough to play in the league as he continues to pursue that dream, and if he keeps working hard, he will get another opportunity."
In the meantime, the Thompson family is enjoying the success of both Klay and Trayce on the court and the diamond, respectively. And while he downplays his own role in his sons' athletic success — giving most of the credit to his wife, Julie, a former college volleyball player, for the men they've become — it's clear he's enjoying every minute of it.
"We're really blessed, and that's why I tell my boys to be thankful for every moment," Thompson said. "Because this does not last long. So make sure you don't waste a second of your opportunity."
You can follow Sam Gardner on Twitter or email him at samgardnerfox@gmail.com.